LA LA LAND
Damien Chazelle's musical romance La La Land is a grand, lush, candy-colored dream of a movie, and I'd mean that as even higher praise if the lingering effects of dreams lasted longer than they actually do. Don't get me wrong: I devoured this movie so hungrily and happily that I half-wished my admission ticket came with complimentary silverware and a napkin. Yet as of this writing, four days have passed since I saw it, and I find the film's delirious charms and plaintive melancholy slowly but surely evaporating, only resurfacing when I play one of its tunes on YouTube, or enjoy a millionth viewing of the trailer. Writer/director Chazelle's follow-up to Whiplash is a great time, but I'm not altogether convinced it's a great movie, despite knowing that I'll likely, eventually, watch it 20 or 30 more times in an attempt to decide.
In many ways, La La Land is a prototypical boy-meets-girl story, even if the duo's first encounter finds the boy cutting the girl off in traffic and the girl giving the boy the finger. Following their gridlock-based introduction on a Los Angeles freeway, struggling pianist Sebastian (Ryan Gosling) and struggling actress Mia (Emma Stone) will meet-cute again and again and again, their initial loathing morphing into blasé disinterest, then irritation, then tentative affection, then culminating in true love. And as we join the starry-eyed show-biz hopefuls on their respective journeys – Sebastian wants to own a jazz club, Mia wants a role in freakin' anything – we're treated to their burgeoning relationship as a lavishly scaled musical of yore, with the stars and multitudes of extras frequently breaking into spontaneous song and dance, and past the bounds of reality. There's aerial choreography and hillside tap numbers, plus a dramatic audition piece that magically becomes a spotlit torch ballad. There's kitschy smooth jazz and Whiplash-y real jazz, and an '80s cover band with Sebastian – miserable in rolled-up sleeves – forced to play A Flock of Seagulls' "I Ran." There are big breaks that go spectacularly well and passion projects that wither and die, and flash-switches in time and perspective that keep you constantly alert. Most of all, there's the nuclear charm bomb that is the pairing of Gosling and Stone (their third screen collaboration), and the obvious skill and enthusiasm that Chazelle brings to every single shot. What's not to like?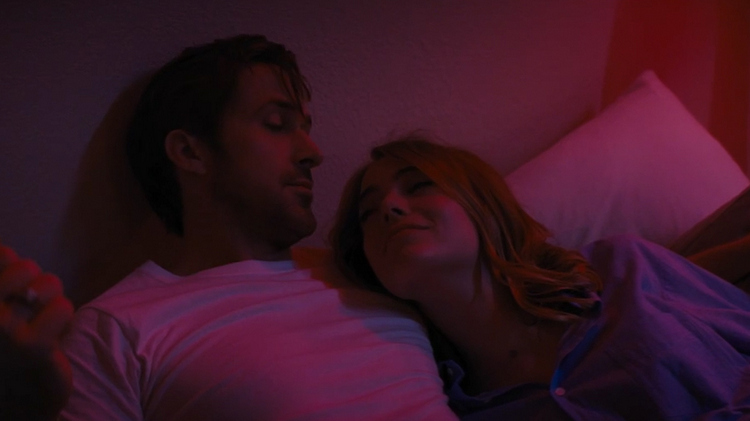 Well ... nothing, really. I just wish there were more to it all; the movie is a delicious bonbon that considers itself a three-tiered wedding cake. It's clear that Chazelle intends Sebastian-and-Mia to be a capitalized Romance for the Ages, and Heaven knows Gosling and Stone have the talent and charisma to pull that off. (Even their mild deficiencies as musical performers work to the actors' combined advantage; Gosling and Stone croon and hoof just well enough to be impressive, and just awkwardly enough to be touching.) But as characters, Sebastian and Mia are almost too insular to be interesting. It's impossible not to notice that they don't play particularly well with others; both feel hampered by oppressive systems that won't let them achieve their personal dreams, yet neither seems motivated to collaborate, either. (It's telling, I think, that Sebastian's goal is to be a nightclub proprietor with complete say about what music gets performed, and Mia, after numerous failed auditions, writes herself a one-woman show.) And because no friends or family members have much impact on our leads, John Legend, Rosemarie DeWitt, and everyone else who isn't named Gosling or Stone are given almost no opportunities to make an impact. Truly great musicals, be they Singin' in the Rain or Moulin Rouge!, feel full-to-bursting. Despite the reams of energetic chorus kids, La La Land, at least in retrospect, feels weirdly empty.
Still, for fans of this genre, it would be ridiculous to look Chazelle's gift horse in the mouth, and from the one-take miracle of that brilliantly choreographed traffic jam to the swooning, wordless perfection of its stars' re-imagined relationship at the climax, La La Land is a two-hour bliss-out that a friend succinctly described in a text of a dozen smiley-faced emoji. (I have qualms with the movie, but not while I was in that auditorium, I didn't.) The dream may eventually fade, but the dreaminess of this risky and rewarding endeavor, with its mouth-watering Linus Sandgren cinematography and marvelous Justin Hurwitz score, is genuine. In the film's finest moments, it might very well leave you – just like Gosling and Stone – dancing on air.
WHY HIM?
Watching director John Hamburg's Why Him?, I was reminded, yet again, of just how little can turn a potentially noxious comedy into a surprisingly bearable, even modestly enjoyable one. On paper, this farcical vehicle for Bryan Cranston and James Franco would seem to have "Abandon hope all ye who enter here" written all over it, although perhaps with a couple of F-bombs placed before "hope" and "enter." Cranston plays an overprotective father whose 22-year-old daughter (Zoey Deutch) falls head-over-heels for Franco's heavily tattooed, ceaselessly profane billionaire, and in a world where things made sense, every proscribed wacky encounter in Hamburg's and Ian Helfer's formulaic script would have left sentient viewers quietly muttering, "Why us?!" Obviously, however, we live in a far less sensible world, because I certainly couldn't have predicted that this crass yet sentimental slapstick would prove so offhandedly humane.
Dad may detest his baby girl's pushy, obnoxious beau, but Cranston never overplays the comedic panic; the man's grievances appear just, if one-sided, and his behavior scaled for what a real person encountering a Steve Jobs/Marilyn Manson hybrid might feel. And Franco may be enacting several different bad-boyfriend clichés at once, but his natural sweetness and clear desire for acceptance make the character unexpectedly winning regardless; he's like a puppy with a platinum card and slightly less limited vocabulary. There are plenty of things that don't work in Why Him?, from the unconvincing introductory scenes to a prepped-for-then-abandoned running gag involving Franco's houseboy to the cameo by two members of Kiss that seems to last longer than an entire Kiss concert. But I was still glad to have seen it for Deutch's dry wit and staunch refusal to act the victim, and Keenan-Michael Key doing one of his peerless specialty turns, and Megan Mullally lasciviously stoned off her gourd ... . These may have been surface pleasures, but they were also believable pleasures, and Cranston and Franco prove themselves an unexpectedly nimble comedy team even when their routines are predictable or worse. All told, the movie is not-bad enough to be pretty good, with bonus points for Kaley Cuoco as a Her-like operating system named Justine who winds up celebrating Christmas in the Midwest and promptly bitches about the cold. Those things are becoming more human every day.