I SAW THE LIGHT
The opening credits for I Saw the Light reveal that writer/director Marc Abraham's bio-pic was adapted from Colin Escott's book Hank Williams: The Biography. That "Just the facts, ma'am" title would've been perfectly fitting for Abraham's staid, logy, passionless movie, too – although Hank Williams: The Skimming of the Artist's Wikipedia Page would've been even more appropriate.
I'm not sure I've ever before seen a film tackle a great artist's life, let alone a great musician's life, with so little regard for what made that artist great. Abraham's offering, however, is a strange, truly unfortunate thing: a "celebration" of a country-music legend wholly disinterested in both country music and the legend. We're not even given one scene of Williams (Tom Hiddleston) so much as working on a composition, let alone taking one from inception to finished product; time and time again, he merely shows up with a new tune, flashes his megawatt smile, and makes the recording a popular success. If you trust the film, the only truly noteworthy occurrence in Williams' life was that he married a shrill no-talent whom he was consequently forced to cheat on and drink in order to forget. But even if the movie's unsavory conception of Audrey Williams is at all accurate, it doesn't allow the gifted Elizabeth Olsen to emerge as anything beyond a royal pain, while poor Cherry Jones is stuck with an even more loathsome role as Williams' angrily disapproving mama. Nearly every character here seems designed to make us pity the adulterous, alcoholic sad-sack Williams, but that might not have been a deal-breaker if the film made any degree of narrative sense. It doesn't.
Every few minutes, a date and locale will flash on-screen and some biographical tidbit will be staged, yet none of them appear emotionally connected to the scenes that come before or after; in one especially noxious bit of shortcutting, a shot of Williams drunk on the porch leads directly to a shot of him writhing with DTs in a hospital bed, which leads directly to a shot of him standing fully sober. (So all of this happened on the same date in the same locale, then?) The devastatingly handsome Hiddleston has charisma by the truckload, but he's hopelessly, if understandably, unable to latch onto any kind of character arc, and matters aren't helped by the geographically miscast actor being vocally miscast, to boot. You can't help hearing the performer's British dialect occasionally poke through his twang, and even when he's close to note-perfect on songs such as "Hey Good Lookin'" and "Lovesick Blues," he lacks the necessary vocal fire and insinuating devilishness. (Hiddleston's Williams replicant is a very polite interpretation.) It may be titled I Saw the Light, but in this dreary compendium of event without context, illumination is precisely what's missing.
MEET THE BLACKS and GOD'S NOT DEAD 2
I Saw the Light, just like Eye in the Sky and Hello, My Name Is Doris, opened in larger markets earlier in March, and this cinematic trio finally made its collective way to local screens this past weekend. So what national releases did studios instead treat us to on the first day of the new month, cowering as they obviously were from the (presumed) threat of Batman v Superman's continued popularity? Meet the Blacks and God's Not Dead 2. I've endured April's Fool Day pranks before, but this one, I gotta say, took the cake.
2013's low-budget horror hit The Purge, with its conceit that allows American citizens 12 hours of legal lawlessness, is a movie ripe for parody, and making the intended victims an affluent black family in posh Beverly Hills is an idea brimming with satiric possibilities, especially in this year of #OscarsSoWhite outrage. But Meet the Blacks – a terribly generic, misleading title for a Purge spoof – is a soul-crushing waste of an opportunity, its ideas of hilarity including George Lopez appearing on TV as a gun-toting "President El Bama," and a morbidly obese assassin falling dead on the floor with a flatulent thud. Even for an intentionally goofball, throwaway entertainment, director/co-writer Deon Taylor's outing is almost pitifully amateurish; in one scene, lead Mike Epps tells his screen family that they have to hide from their purge-ing neighbors, and in the very next scene he's telling them to calm down, because there is no purge in Beverly Hills. But what's worse is that Meet the Blacks isn't funny. Grateful though I was for Epps' refusal, for the most part, to be the cartoonish imbecile that Marlon Wayans always is in his genre spoofs, he and several co-stars – particularly Zulay Henao as Epps' wife and Charlie Murphy as a Chicago drug dealer – are too heavy-spirited to be amusing ... not that their consistently insufferable material would work even with a feather-light touch. It's all just uninspired dick jokes and fart jokes and weed jokes with a depressing paucity of boundary-pushing, and just when you think events can't possibly sink any lower, Mike Tyson pops up as a menacing birthday clown whose breath, Epps informs us, "tastes like ear." Taylor's movie tastes like something else entirely.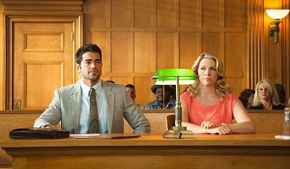 As for God's Not Dead 2, the sequel to 2014's unexpected faith-based smash, it's certainly an easier sit, but only in the way that sitting through a two-hour sermon is preferable to 90 minutes in a dentist's chair. This one finds a high-school teacher played by Melissa Joan Hart in hot water after she makes a benign comment about Jesus in class, with a student's parents – perhaps fearful of some sort of Sabrina the Teenage Witch-craft? – demanding her immediate firing. Whats results is everything fans of God's Not Dead might hope for: a few lucid, a few ludicrously contrived arguments for the existence of a higher power; loads of dovetailing subplots that are mostly immaterial to the main action; endless pithy bromides about the tenets of faith and tolerance; Newsboys. I kind of enjoyed the original's messy but earnest presentation, and some of that film's finest elements – principally the nicely laid-back David A.R. White as the misfortune-prone Reverend Dave – are on display here, too. But they're not enough to disguise director Harold Cronk's laborious, overtly pushy staging, or to make up for the plodding pacing and many of the weaker performances, with Hart a continual wet blanket and Adrian Grenier lookalike Jesse Metcalfe almost laughably insufficient as what must be America's most inept trial lawyer. Still, there are perks. Ernie Hudson, as the requisite tough-but-fair black judge, is one of them. Pat Boone is another. (My embarrassing thought when I first saw him: "He's still alive?!") And while I'm well aware that, in my reviews, I find far more excuses to reference Twin Peaks than I probably should, I'd be lying if I didn't admit to giggling with joy practically every time Ray Wise showed up as a hateful prosecutor who gets to hiss the inevitable "God ... is dead!" line. The first time you see Wise here, it's while he's stepping out of a car, and the man adjusts his tie, lowers his chin, and grins with such terrifying Killer-Bob-as-Leland-Palmer malevolence that it took all my will not to scream. Or laugh. Either being a stronger gut-level reaction than anything the rest of God's Not Dead 2 inspired.