AMERICAN HUSTLE
You wanna have a good time this winter? Grab some friends, see American Hustle, hit the coffee shop or bar of your choosing, and enjoy a spirited debate over which performer in director David O. Russell's con-man (and -woman) comedy gives the best, funniest performance. Better yet, enjoy a spirited debate over which performer has the best, funniest hair. Either way, there are no wrong answers.
Written with slaphappy dynamism by Russell and Eric Warren Singer, American Hustle is a moderately fictionalized detailing of the notorious late-1970s Abscam sting operation - a complex, borderline-ridiculous affair involving the FBI, a pair of two-bit hustlers, faux Arab sheikhs, and bribes purportedly taken by six congressmen and a senator. (As the cheeky opening title card to Russell's film states: "Some of this actually happened.") Christian Bale and Amy Adams are lovers Irving Rosenfeld and Sydney Prosser, kindred-spirit grifters whose fleecing of unsuspecting saps gets them in hot water with the feds. Bradley Cooper is the obsessive and manic Richie DiMaso, a low-rung bureau agent who recruits - i.e., blackmails - the couple into participating in his sting. Jeremy Renner plays Carmine Polito, a benevolent, man-of-the-people mayor in New Jersey who serves as DiMaso's chief target. Jennifer Lawrence portrays Irving's stay-at-home wife Rosalyn, a blowsy mess with an accidental knack for starting kitchen fires. And when you swirl them all together - which Russell does, brilliantly, for two hours and 10 minutes - you're presented not only with the high-comic acting ensemble of the year, but a wildly entertaining, hellzapoppin' celebration-slash-condemnation of late-'70s greed, ambition, and corruption that's also, almost without your realizing it, about a little thing called love.
Much has already been made about the film's surface resemblance to GoodFellas, and it's certainly not hard to recognize links to Scorsese's gangland masterpiece: the he-said/she-said voice-over narration; the whirling-dervish camerawork; the use of upbeat pop numbers to underscore dirty dealings; Robert De Niro. (Made up to resemble a bespectacled shrunken-apple head, the actor is more intimidating and scary here than he's been in years.) Yet ever since The Fighter, Russell has proven himself something of a maestro of nearly operatic emotional states, and there's a deep romanticism on display in American Hustle that both heightens and grounds the comedy; the movie is GoodFellas with less stylized mayhem and a more furiously beating heart. You feel the difference in the tortured, 'til-incarceration-do-we-part exchanges between Irving and Sydney, and in the impassioned fervor of DiMaso, who falls for Sydney so fully and desperately that he hits on her even while handcuffing her. But it's also there in Carmine's achingly sincere affection for his working-class constituents, and in Irving's growing affection for Carmine, the patsy whose gradual downfall fills the con man with self-loathing. And it's even evident in the seemingly nutjob Rosalyn, whose drunken, motor-mouthed ramblings are laced with legitimate pathos. She may be a wreck with heavy eyeshadow who defiantly tosses metal in the microwave (or, as she and Irving hilariously call it, the "the science oven"), but her heartbreak is real.
Everything in Russell's latest feels real, actually, which is quite a feat considering that this lightly profound work is also such a beautiful screwball-comedy contraption with so many flourishes - including those happily hideous '70s hairdos - providing instant diversion. You giggle at Bale's monstrous comb-over and Renner's swooping pompadour and the tight curls that Cooper appears to have applied to both his head and his chest, and chortle at the film's wonderfully protracted running gags (the finest being the continued effort of Louis C.K.'s dyspeptic FBI agent in telling an ice-fishing story that seemingly has no end). Yet given the sterling, fearless work of Russell's cast, and the director's obvious adoration for the dubious "heroes" whose tales he's telling, your laughter here is neither mean-spirited nor judgmental. In the thorough joy that is American Hustle, it's the vocalized equivalent of a warm, empathetic hug.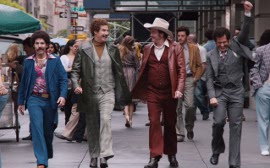 ANCHORMAN 2: THE LEGEND CONTINUES
Anything-goes slapsticks such as Anchorman 2: The Legend Continues - the sequel, if one needs to be told, to 2004's Will Ferrell vehicle Anchorman: The Legend of Ron Burgundy - are frequently described as "hit and miss." And director Adam McKay's second go-round with Ferrell's almost criminally clueless anchor, a man now dealing with the advent of 24-hour cable news, could be described that way, too, considering Burgundy's satiric Guess Who's Coming to Dinner dinner (not funny enough) and the taking-the-bandages-off kicker to the Burgundy-goes-blind subplot (not funny at all). Yet whenever you're not cackling at Anchorman 2, it's almost a relief, considering that 100 solid minutes of its grandest belly laughs would no doubt put you in an early grave. So go ahead and call it "hit and miss." That doesn't come close to suggesting the infectious, full-throttle hilarity of Ferrell's vainglorious douchebaggery, or Steve Carell's Brick eulogizing at his own funeral, or Paul Rudd's Brian describing his night with Florence Henderson ("I gave her a Brady bunch o' crabs"), or Kristen Wiig's subtly alienating weirdness, or the news-team brawl involving a dozen hugely surprising guests, or the traffic accident involving bowling balls, live scorpions, and a deep fryer ... . As labels go, could "HIT!!! and miss" maybe become a thing?
Follow Mike on Twitter at Twitter.com/MikeSchulzNow.