THE POSSESSION OF HANNAH GRACE
Forty-five years after The Exorcist, we can still count the number of legitimately great demonic-possession movies on the fingers of one hand. (And that's including works that employ the conceit only tangentially, as this past summer's phenomenal Hereditary does.) Consequently, in regard to this particular horror-flick sub-genre, it's easy to be grateful for the little things, and Dutch director Diederik Van Rooijen's The Possession of Hannah Grace, although fair-to-middling overall, actually boasts a number of little things worthy of gratitude. It's doubtful you'll remember much about the film a day after seeing it, but while you're there, it's an inoffensive way to pass 85 low-expectation minutes.
Even Hannah Grace's first seconds inspire some thanks, given that, unlike movies ranging from The Conjuring to The Rite to The Exorcism of Emily Rose, we're not presented with one of those eye-rolling title cards stating "the following is based on a true story." Instead, the prelude appears based on the climax of The Exorcist, with an elder priest and a younger priest attempting to extract an evil entity from the writhing body of our shrieking, bed-ridden title character (Kirby Johnson). We don't, of course, know anything about these people this early in the film, so it's impossible to truly feel for the holy men, the girl's anguished father (Louis Herthum), or the girl herself as she growls in an electronically enhanced approximation of Mercedes McCambridge. Yet the sound effects, especially as Hannah's body contorts and her bones crack and crunch, are startling, the emotions feel legit, and Van Rooijen clearly knows where to position his camera and how long to hold his shots. While this opener may not be novel, it's at least promising, and for its next half hour, the film manages to stay that way.
When events pick up three months later, we meet our heroine Megan (Shay Mitchell), a traumatized former cop and recovering addict who accepts a job working the graveyard shift as a morgue's intake liaison. (A neon sign places her at Boston Metro Hospital, where not one staffer speaks in anything close to a Boston accent.) Van Rooijen effectively establishes the geographical layout and the details of Megan's fingerprinting and cadaver-storage chores, and also introduces a neat plot point that will pay dividends throughout, with the overhead lights and restroom hand driers all functioning on motion sensors. With its production design by Paula Loos, Hannah Grace's morgue – the entire hospital, actually – delivers a foreboding chill of icy blues and barely illuminated gray concrete. And between the locales, the directorial intelligence, and the unexpectedly strong cast (with the focused, empathetic Mitchell equaled by Stana Katic, Grey Damon, Nick Thune, and Max McNamara), there's every reason to be jazzed when there's a drop-off made late in the night, and Megan is confronted with the mutilated corpse of Hannah Grace, whom we last saw, three months prior, being smothered by her dad.
It turns out that the demonically possessed 22-year-old was only mostly dead, and now needs freshly deceased bodies to fully regenerate, so you can likely guess what happens next, with screenwriter Brian Sieve making it too easy to predict to whom it will happen, and in what order. (Hint: If a supporting character is given a lengthy scene underlining his or her fundamental decency, he or she is probably next on the chopping block.) And while it would be nice to say that the solid prep leads to an equally solid fright-film whole, it unfortunately doesn't. Though the majority of the hospital scenes are eerily, blessedly quiet, Van Rooijen still puts too much stock in loud jolts and quick, violent slayings that don't much scare or surprise you, the bare-bones narrative borders on the nonexistent, and the truncated action finale is a true head-scratcher; it feels like 10 to 15 minutes of the movie somehow went missing in the editing room.
Johnson, at least, crawls about the floors and ceilings with a creepy, visual-effects-enhanced fluidity that makes the "Grace" surname well-earned, and her director does an amazingly artful job of hiding the nudity so the role doesn't feel exploitative. But we're given no idea what, in the end, Hannah's malevolent host wants. If it's simply to possess Hannah and kill those around her, mission accomplished. If there's a larger game plan, we're kept in the dark about it. Still, particularly for a film of its type, The Possession of Hannah Grace has its moments, from the brutally unsettling closeups of pallid, veiny corpses to those motion sensors causing lights (and hand driers) to pop on when there are no humans in sight. Plus, I got a kick out of Hannah's undead eyes turning piercingly blue whenever her Satanic boss took over, with the pigment described by Hannah's father as "the demon's mark." Paul Newman's ocular magnetism explained at last.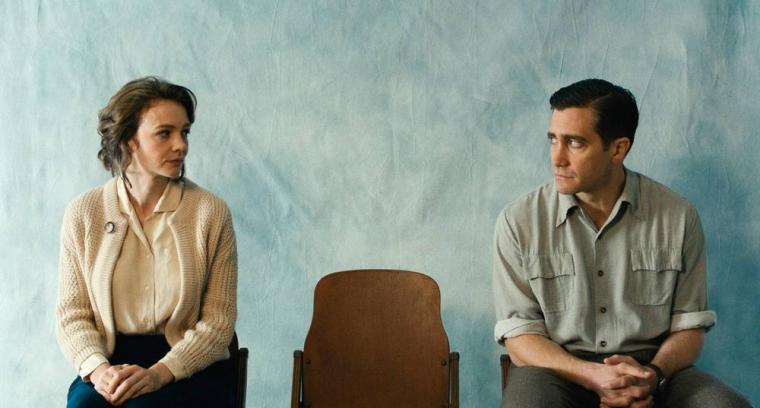 WILDLIFE
Like a lot of movie geeks and Oscar hounds, I oftentimes wish I was a voting member of the Academy of Motion Picture Arts & Sciences. But man oh man am I glad not to have to choose a top five among those competing for this year's Best Actress prize. To date, I'd already be hard-pressed to decide who to leave off a list of options that includes The Wife's Glenn Close, Hereditary's Toni Collette, Widows' Viola Davis, Eighth Grade's Elsie Fisher, Private Life's Kathryn Hahn, A Star Is Born's Lady Gaga, Can You Ever Forgive Me?'s Melissa McCarthy, Where Is Kyra?'s Michelle Pfeiffer, and The Hate U Give's Amandla Stenberg. I haven't yet seen a bunch of other, already-lauded contenders, among them Roma's Yalitza Aparicio, Mary Poppins Returns' Emily Blunt, The Favourite's Olivia Colman, Support the Girls' Regina Hall, Destroyer's Nicole Kidman, If Beale Street Could Talk's Kiki Layne, Ben Is Back's Julia Roberts, and Mary Queen of Scots' Saoirse Ronan. And this past weekend, after a visit to Iowa City's FilmScene, I'd have to add the work of Wildlife's Carey Mulligan to the mix – a portrayal of such nuanced heartbreak and confusion and desire that, in most years, the previous Oscar nominee (for 2009's An Education) would immediately scoot to the top, or near-top, of any Best Actress field. This is not that year. But whether Mulligan is Oscar-cited or not, she can at least rest assured that her performance in this period drama won't be forgotten any time soon.
Wildlife itself, the directorial debut of actor/writer Paul Dano, may not be so lucky, and not just because I keep forgetting its title and mistakenly calling it Wildfire. (A chief subplot finds the forests of Montana engulfed in a treacherous statewide blaze, so at least my confusion makes some degree of sense.) Based on the Richard Ford novel and adapted by Dano and Zoe Kazan, the film, set in 1960, tells of a friendly, mostly ineffectual husband and father (Jake Gyllenhall) who leaves – temporarily? – his family to fight the aforementioned forest fires. Meanwhile, his wife (Mulligan) is left to find a job and care for their teen son (Ed Oxenbould), and engages – temporarily? – in an unhidden affair with a wealthy businessman (Bill Camp), making her child implicit in her adultery. While its storyline arc has the narrative simplicity and dysfunctional air of a short fiction by Raymond Carver, the film lacks the punch and bite of Carver, its messy emotions compromised by overtly artful tableaux and a portrayal by Oxenbould so internalized that he almost seems on the verge of sleep. (Given how many times I yawned during my screening, I was right there with him.) Gyllenhaal and the never-less-than-marvelous Camp keep you watching, and the period detail feels just right, yet Wildlife really only comes to life when Mulligan is playing her unfulfilled 1960 mom thisclose to a nervous breakdown, which she thankfully does a lot. In her film roles over the last decade, Mulligan has generally been too tearfully tremulous for my tastes. Yet she's utterly impeccable here, filling her characterization with so much desperation and marital and maternal complexity that you wish the performance was in a movie to match it. Dano's debut feels like life, but only Mulligan manages to make it feel sufficiently wild.