THE CHOICE
Arriving just in time for women and gay men not entrenched in Super Bowl hoopla, this past weekend brought with it the debut of director Ross Katz's The Choice, the 11th (!) adaptation of a Nicholas Sparks weepie to hit cineplexes since 1999. This one finds its rain-drenched North Carolina romantics portrayed by the Georgia-born Benjamin Walker, which is regionally close-enough, and Australian actress Teresa Palmer, which is regionally not-even-close. Oh, and British actor Tom Wilkinson plays Walker's homily-spouting father. I'm fine with Walker's casting. But have these things really become so noxious, and obnoxious, that we can no longer find Americans willing to play major roles in Sparks movies, forcing us to farm those assignments out to foreigners? Is Trump aware of this?!
The latest from the Nicholas Sparks assembly line finds Walker's cheerful cad Travis fallin' head over heels for Palmer's uptight Gabby, the sparks – or rather, Sparks – of their eventual Passion for the Ages ignited when the latter accuses the former's dog of impregnating her pooch. Besides telling you that the accusation proves unfounded, as Travis' devoted Moby has been snipped, are there any other surprises I can unfairly reveal? I'm presuming, after all, you already guessed that (a) Travis' and Gabby's mutual hostility will bloom into romantic ardor, (b) Gabby will have a fiancé (Tom Welling) there to complicate matters, (c) said fiancé will conveniently depart so our stars can kiss in the rain, (d) a harrowing disease or accident will impede our leads' love, and (e) every shot will look like an approved postcard image from the North Carolina travel bureau. Would you be shocked to learn that the veterinarian whom Travis recommends to Gabby is actually his dad, and that Travis himself is a vet in the same pop-and-son animal hospital? That the tensely wound Gabby will, while listening to cello concertos by Bach, spend her free time making wind chimes out of seashells? That Katz will punctuate scenes with dogs staring at their romance-minded owners, anthropomorphically suggesting "Aw, just go for it already!"? No? Really? Hmm. Moving on, then.
Personally speaking, these near-annual Sparks-ian deluges would be far more irritating if I didn't get so much not-so-secret joy at pinpointing what's ridiculous about them: Travis looking generically contemplative on his boat, and then on his lawn chair, and then on his porch swing; Travis telling Gabby it'll take "two-and-a-half shakes" to do the dishes, when he starts them in full daylight and doesn't finish 'til night has fallen; Wilkinson's Dr. Shep, who also happens to be a church pastor, surreptitiously replacing a child's dead lizard with a living one because "She's 10 years old – she doesn't know what death is." (Beyond never again wanting to see Tom Wilkinson play a grossly misguided physician, I also never again want to see him play a character named "Shep.") And until a Sparks adaptation comes around that's miraculously worse than 2008's Nights in Rodanthe, I feel compelled to admit what's not terrible about the latest one – here, it's Walker's occasionally spirited, comically graceful line readings, and the playful rapport he exudes with Maggie Grace as Travis' spitfire sister. But anyone who's actually been forced to make The Choice that Sparks (and screenwriter Bryan Sipe) herald in the title is bound to find the movie and it's "Oh, gimme a break!" ending almost unbearably insulting, and anyone hoping for even moderate fireworks between its badly mismatched leads is bound to be insulted, too. Forget Gosling and McAdams in The Notebook, and Tatum and Seyfried in Dear John. Walker and Palmer don't even approach Hanks and the volleyball.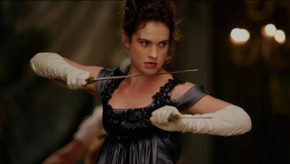 PRIDE & PREJUDICE & ZOMBIES
The Choice's Benjamin Walker played the title character in 2012's Abraham Lincoln: Vampire Hunter, the rare movie with a truly amusing title that offered, rather perversely, almost nothing in the way of actual amusement. Given its action-packed, awkwardly humorless trailer, I worried the same would be true of Pride & Prejudice & Zombies, director/co-writer Burr Steers' adaptation of the 2009 literary phenomenon (by credited co-screenwriter Seth Grahame-Smith) that, to cheeky effect, infiltrated Jane Austen's comedy of manners with the brain-eating undead. Astoundingly, though, the fitfully hilarious, unexpectedly moving P&P&Z works, and oftentimes works quite well, for a simple reason: It's been designed far more for Austen fans than zombie-movie fans. When the film is really rolling, it's easy to forget the zombies are even there.
They are, of course, and the movie's biggest bummer is that Steers shows so little facility in staging their attacks on Elizabeth Bennet, Mr. Darcy, and the rest of Austen's well-bred romantics and fools. The violent attacks are incoherently edited and Steers' camera seems to be playing a constant, losing game of catch-up with the zombies and their prey, and the film is so murkily lit that it's nearly impossible to gauge exactly what's happening to whom. (In one sequence, I was positive that Jack Huston's scoundrel George Wickham had been devoured by a murderous horde, yet he somehow showed up – smug as ever but decidedly unharmed – in the very next scene.) Also, barring the early shiver of Elizabeth's newly deceased acquaintance hissing, "I have something to tell you ... ," the zombies are neither scary nor particularly threatening, Steers having immediately introduced the Bennet sisters' bad-assery in a slow-motion warrior shot that suggested the dreaded second coming of Sucker Punch.
Ditch the zombies, though, and you're left with a rather handsomely mounted Pride & Prejudice, with Steers' cast demonstrating that they could've done sensational justice to Austen's classic even without all the gruesome bite marks and lopped-off heads. As she was when starring in last spring's Cinderella, Lily James, as Elizabeth, is a marvel, again proving overwhelmingly gifted at shaking the cobwebs off familiar characters and making them feel newly vital and filled with interior life. Sam Riley navigates the tricky role of the initially unpleasant, romantically brooding Darcy with finesse. And there are more-than-fine turns by Bella Heathcote, Douglas Booth, Sally Phillips, the requisite Game of Thrones alums (Charles Dance and Lena Headey), and a riotous Matt Smith as Parson Collins, his subtextual crush on Darcy no longer subtextual at all. There's a very funny scene here in which one of Elizabeth's and Darcy's verbal battles of wits is re-imagined as a physical one, but that may be the only time the movie gets big laughs through its zombified premise. The rest of the time, what you're laughing at – and, I'm embarrassed to add, getting a little teary-eyed at – is pure Jane Austen, which is the biggest, most heartening surprise in the whole of Pride & Prejudice & Zombies. When the film reached its author-ordained Happily Ever After, I braced myself, waiting for one last zombie assault to ruin the fun. Not to spoil anything, but as the end credits rolled, I certainly left the theater with a bigger smile than Dawn of the Dead and 28 Days Later ever allowed.