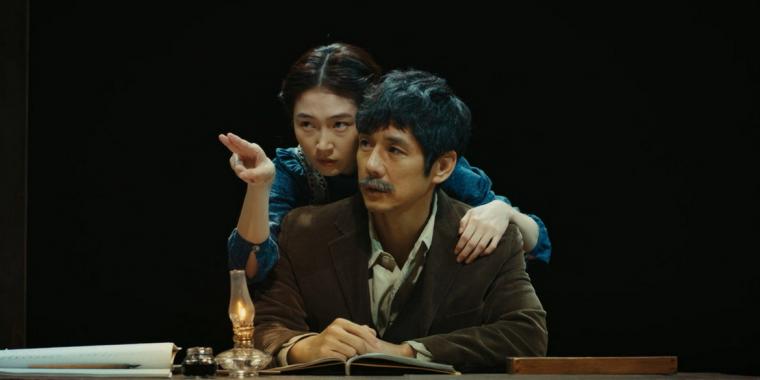 Thursday, January 26, 6:30 p.m.
Figge Art Museum, 225 West Second Street, Davenport IA
With the final presentation in the Figge Art Museum's current Film at the Figge series - its lineup having boasted award-winning international works that deal with death, loss, and grief in unexpected ways - a modern masterpiece and last year's winner of the Best International Feature Oscar will be screened on January 26 in Drive My Car, writer/director Ryusuke Hamaguchi's superb Japanese drama that The Guardian awarded five stars and called "an engrossing and exalting experience."
Two years after his wife's unexpected death, Drive My Car's protagonist Yusuke Kafuku (Hidetoshi Nishijima), a renowned stage actor and director, receives an offer to direct a production of Anton Chekhov's Uncle Vanya at a theater festival in Hiroshima. There, he meets Misaki Watari (Toko Miura), a taciturn young woman assigned by the festival to chauffeur him in his beloved red Saab 900. As the production's premiere approaches, tensions mount amongst the cast and crew, not least between Yusuke and Koshi Takatsuki – a handsome TV star who shares an unwelcome connection to Yusuke's late wife. Forced to confront painful truths raised from his past, Yusuke, with the help of his driver, begins to face the haunting mysteries his wife left behind, resulting in a film that the New York Times said "sneaks up on you, lulling you in with visuals that are as straightforward as the narrative is complex."
Based on Haruki Murakami's short story "Drive My Car" and other stories from his 2014 collection Men Without Women, Drive My Car had its world premiere at the 2021 Cannes Film Festival, where it competed for the Palme d'Or and won three awards, including Best Screenplay. Hamaguchi's film went on to receive widespread critical acclaim, with many declaring it the best feature of 2021, and It was nominated for four Academy Awards, including Best Picture, Directing, Adapted Screenplay for Hamaguchi and co-screenwriter Takamasa Oe, and International Feature Film, the latter of which it won. It was the first Japanese film to ever receive a Best Picture nomination, and Hamaguchi became the third Japanese director nominated for Best Directing, following Hiroshi Teshigahara in 1965 and Akira Kurosawa in 1985. Drive My Car also became one of only seven films (and the first non-English-language film) to win the Best Picture trifecta from all three major U.S. critics groups: the Los Angeles Film Critics Association, the New York Film Critics Circle, and the National Society of Film Critics. This places Hamaguchi's work among esteemed company that includes Goodfellas, Schindler's List, L.A. Confidential, The Social Network, The Hurt Locker, and, as of this January 7, TÁR.
Drive My Car will be presented in the John Deere Auditorium on January 26, admission to the 6:30 p.m. screening of the release intended for mature audiences is free, and more information on the Film at the Figge series is available by calling (563)326-7804 and visiting FiggeArtMuseum.org.