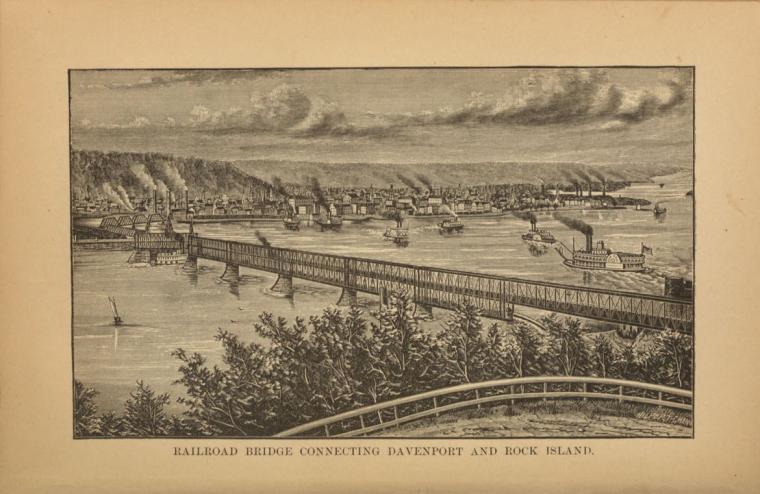 Thursday, August 31, 5 & 7 p.m.
Figge Art Museum, 225 West Second Street, Davenport IA
Produced by the local non-profit Heritage Documentaries, director Julie Wine Johnston's 51-minute documentary tells the story behind the bridge that first connected Rock Island to Davenport in 1856, with details including Abraham Lincoln's successful defense of railroad's right to cross the river in the trial that followed the bridge's completion.
East Meets West features interviews with Lincoln historian Douglas Wilson and historian/author Douglas Brinley, as well as bridge engineer Bill Ashton, Rock Island Arsenal historians George Eaton and Paul-Thomas Ferguson, and local residents with family connections to this significant site of the United States' westward settlement. As Brinkley has stated: "If I were to pick the symbol, to put my thumb on a map of where that connection between East and West began, it was not at the arch in St. Louis. The real beginning of connection east and west was the bridge that connected Rock Island, Illinois, with Davenport, Iowa."
The documentary's local premiere is being supported by River Action, and the film's free 5 and 7 p.m. screenings include complimentary appetizers and a cash bar. For more information on East Meets West: The First Railroad Bridge to Cross the Mississippi and its area premiere, visit FiggeArtMuseum.org or the event's Facebook page.