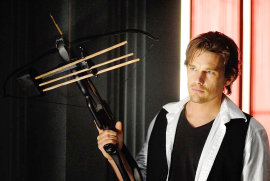 DAYBREAKERS
There are probably perfectly valid reasons that I'm unaware of, but for all the wonders that CGI effects have delivered over the years, why is it so hard to produce a decent fireball?
Written and directed by Peter and Michael Spierig, the vampire thriller Daybreakers opens with a series of sensationally creepy, evocative images, as a "young" bloodsucker -- she looks to be about 13 -- prepares to commit suicide. The girl composes her farewell note, walks out the front door of her rural farmhouse, and waits for the sun to rise, and the haunting, In Cold Blood-style compositions are so elegant and eerie from the start that you're all but caught completely off guard. Damn, you think, this movie might be really good. But then the sun does rise, the vampire child bursts into flame, and the distractingly phony, cartoonish conflagration -- the type that helped make Ghost Rider such a chore to sit through -- undercuts the movie's style and seriousness even before the opening credits. Damn, you think, it's not going to be as good as I hoped.
Thankfully, it's still not bad. Set in a futuristic world where the undead rule and the blood supply is dangerously low, Daybreakers benefits from a nifty premise -- a human-friendly vampire (Ethan Hawke) seeks a cure for eternal life against the wishes of those who don't want to be cured -- and boasts a surfeit of enjoyably gruesome visuals and clever details. (Cream and sugar, it turns out, are not exactly the coffee enhancements of choice.) The movie is imaginative and frequently startling, and features another in a recent series of riotous portrayals by Willem Dafoe, a hoot here as a sardonic, crossbow-wielding ex-vampire nicknamed "Elvis." (Who could've guessed, back in his Platoon and Last Temptation of Christ days, that Defoe would eventually emerge as one of our most reliable and accomplished comedians?) It all eventually falls apart, with those subpar CGI fireballs getting quite a workout during the film's rote, action-heavy final reels; since when does a stake through the heart cause a vampire to explode? But Daybreakers remains a mostly engaging, low-rent genre piece, and earns kudos for being the rare modern vampire tale that finds the undead invisible in mirrors and occasionally morphing into bats. True, they're really, really big bats, but in the era of Twilight, I'll take whatever traditionalism I can get.
YOUTH IN REVOLT
Back when he was co-starring on Arrested Development, I was somewhat hoping that Michael Cera would reprise his nervous, dithering, extraordinarily endearing George-Michael Bluth for every role he'd subsequently take on. For better and/or worse, it's starting to feel like that wish has come true, but Youth in Revolt suggests that the actor actually can stretch, at least a little. In director Miguel Arteta's comedy, Cera plays the prototypical Michael Cera character -- an awkward, stammering, lightly sarcastic virgin -- and as usual, he's quite good at it; his Nick Twisp, a gangly pseudo-intellectual desperately in love with like-minded cutie Sheeni Saunders (the terrific Portia Doubleday), is quick-witted and empathetic and funny. Also as usual, at least of late, Cera is so practiced at the art of milquetoast that he's not a very interesting screen presence. So it's with great relief that the movie gives his unlucky-in-love simp a bad-boy doppelgänger in François Dillinger, an apparition with tight white slacks and a pencil moustache who goads Nick into winning Sheeni's love by behaving like ... well ... like the anti-Michael Cera.
Youth in Revolt is a bit messy and unfocused, and a few of its comedic conceits, such as the late-film turn of events that finds Nick pulling off an unlikely drag act, are more amusing in theory than in execution. Yet the movie is still a lot of fun. Adapting C.D. Payne's novel, screenwriter Gustin Nash provides reams of quirky, hysterically prickly conversation -- Nick mocks Sheeni's boyfriend, a master at "futurist percussive" writing, for his talent at "smashing ungraceful words together and calling it a poem" -- and the supporting cast is loaded with talent. (There are deliriously eccentric turns by the likes of Jean Smart, Fred Willard, Zach Galifianikis, Steve Buscemi, M. Emmet Walsh, Mary Kay Place, Justin Long, and the radiant Ari Graynor, and Ray Liotta, for his part, steals an entire scene with a perfectly timed grin.) As for Cera, there's no arguing that his shtick has grown overly familiar. Blessedly, though, that shtick remains effective, adorable, and oftentimes hilarious, and Cera's brazen confidence as François suggests that this young performer still has plenty of surprises in him; Youth in Revolt may be a trifle, but here's hoping that, for its leading man, it's also a major turning point.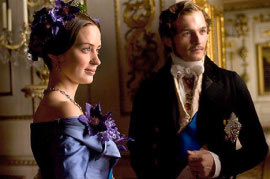 THE YOUNG VICTORIA
British period films, especially those involving royalty, generally boast a more than healthy share of perks: lavish sets and costumes, literate dialogue, top-tier actors. However, as we were reminded in last year's The Duchess, they can also be boring as sin. So if you're inclined to nod off at the mere title to The Young Victoria -- director Jean-Marc Vallée's historical drama about Queen Victoria (Emily Blunt) and her ascendancy to the British throne -- you should know that this lightweight outing is nowhere near the grueling sit it might've been. It is, in actuality, an exceptionally lovely one. Focusing on Victoria's early years in power and her deep love for eventual husband Prince Albert (Rupert Friend), the film looks expectedly gorgeous and, with much credit to gifted screenwriter Julian Fellowes, sounds superb, and heaven knows the cast is aces, with Miranda Richardson, Paul Bettany, and Jim Broadbent particularly outstanding. But what truly keeps The Young Victoria from falling victim to the British-period-flick doldrums is the touching, graceful byplay between Blunt and Friend, who enact a romance that truly does feel like one for the ages. (The scene in which Albert proposes marriage to Victoria, or rather vice versa, is a wonderful tear-jerker.) With enormous feeling yet exquisite delicacy, the performers make their royals' relationship both credible and moving, so much so that it might not be until hours after seeing the film that you remember that Victoria and Albert were not only husband and wife, but first cousins. Thanks to Blunt and Friend, you don't even feel a reflective urge to gag.
WILD OCEAN 3-D
Over the years, fish have occasionally served as movie protagonists -- Nemo, Ponyo, Ariel -- but until Wild Ocean 3-D, I'd never seen a film in which the heroes were sardines. As you may have guessed, they're not the most expressive of stars, yet this new documentary at the Putnam Museum & IMAX Theatre is so visually arresting that the leads' lack of personality barely matters. Directors Steve McNicholas' and Luke Cresswell's outing follows the migration of billions of sardines up the coast of South Africa, detailing the threat they face from aquatic and airborne predators (plus those pesky humans who enjoy putting them in cans), and even at 40 minutes, it feels oddly padded. The underwater ballets and sequences of dolphins cavorting seem to last twice as long as necessary, and the movie's final five minutes are a greatest-hits montage of everything we saw in the opening 35; for all of its beauty, Wild Ocean 3-D is a little dawdling. But damn is it beautiful. There are spectacular vistas on display and some fantastically vertigo-inducing shots -- in one of the finest ones, we scale a waterfall and eventually find ourselves staring down upon it -- and a scene of thousands of native birds diving for their dinner that's literally breathtaking, like a big-screen, avian take on the video game Asteroids. Best of all is the astonishing swirl of mossbunker fish that resembles nothing so much as an enormous, underwater twister, a bit of real-life magic that's more fascinating and striking than anything you'll see at the cineplex; James Cameron could only wish for a visual effect that extraordinary.