THE GIRL ON THE TRAIN
Given how much fiction I get in my weekly movie-going, home-video, and streaming intake, I'm generally – make that awfully – negligent about getting it from books. Last fall, however, I made an exception for author Paula Hawkins' bestselling mystery/thriller The Girl on the Train, and now that Tate Taylor has directed a film version, I can (for once!) share a reasonably educated opinion on the inevitable "Which was better?" query: They're pretty much the same. By which I mean both works are ludicrously plotted, overly reliant on convenience and cliché, and, despite their considerable flaws, sometimes trashily entertaining.
Arriving as it did so closely on the heels of Gillian Flynn's 2012 literary smash, and also telling of a missing beauty whose hubby may have done her in, Hawkins' The Girl on the Train was destined to be compared to Gone Girl, especially in its employment of rotating narrators and its fractured chronology. But I prefer to think of the novel as a grim, female-driven take on The Hangover – a "What did I do last night?!" saga that mines blackout-drunk confusion for fear rather than slapstick – and Taylor's movie certainly follows suit. During her daily commutes, the titular girl and depressed alcoholic Rachel routinely passes the home of young lovers Megan and Scott, whose balcony embraces and living-room sex convince our jealous, obsessive witness that they're the perfect couple. One day, however, Rachel sees Megan kissing another man. Not long after, Megan is reported missing. And while Rachel could tell the police about the possible affair, she probably shouldn't, considering (a) she has a history of prowling Megan's block while stalking her ex-husband Tom, (b) she boozily disembarked the train in that very vicinity the night Megan disappeared, and (c) she recalls nothing about what happened beyond a few violent flashes, waking up the next morning bruised and covered with blood. Could Rachel, without remembering it, have committed murder?
This was a moderately suspenseful question in print. But while I can't attest to how well the mystery now works for those unfamiliar with the book, I'm guessing that few would consider Rachel capable of such an atrocity given the casting and performance of the helplessly empathetic Emily Blunt. This isn't a blight on her portrayal, and when she's given a go-for-broke scene – particularly Rachel's restroom meltdown that's delivered with nearly Shakespearean grief and rage – Blunt is extraordinarily effective. Erin Cressida Wilson's screenplay, however, is too beholden to Hawkins to ever allow the performer, or character, to be truly intriguing. Blunt spends so much time in states of teary-eyed, mascara-smeared sadness and panic that Rachel quickly becomes an almost literal wet blanket, and The Girl on the Train, in both book and film forms, is so under-populated that it's remarkably easy to guess the deeply contrived and rather laughable climax long before it arrives. Taylor and Wilson don't do anything wrong, per se, given that it's borderline-impossible to make a successful thriller out of what is essentially a domestic weepie with random thriller attributes. But they never transcend the material, either. It's exactly the kind of solid, faithful adaptation the novel's fans will likely be grateful for, even if those of us who mostly shrugged at the book will leave mildly (and predictably) dissatisfied, and those who never read it will perhaps ask what all the literary fuss was about.
Still, Blunt's a tremendously affecting presence with occasional bursts of brilliance, and there's certainly fun to be had in the movie's mostly on-the-nose casting – even if, in the cases of Justin Theroux as Tom and Edgar Ramírez as Megan's shrink, the casting is too on-the-nose. I especially admired Haley Bennett's brave disinterest in making Megan the least bit likable, but Rebecca Ferguson lends considerable emotional weight to the sadly underwritten role (both in print and on-screen) of Tom's new wife Anna, and the sharp, honest turns by Allison Janney, Laura Prepon, and Lisa Kudrow combine to make this, despite its shortcomings, at least one of the more expansive outlets for female dramatic talent that Hollywood movies have offered in ages. This Train may go off the tracks, but I sure dug its passengers.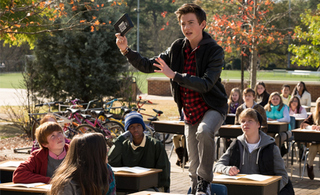 MIDDLE SCHOOL: THE WORST YEARS OF MY LIFE
Recently, in the wake of Netflix's enjoyable '80s-flick homage Stranger Things, a friend and I were wondering why we so rarely get movies boasting teams of young-adolescent heroes anymore – those largely comedic adventures that our generation seemed to be treated to almost weekly in the era of The Goonies and Explorers and Stand by Me. Now that they're even rarer after the demise of the Diary of a Wimpy Kid franchise, I was actually looking forward to Middle School: The Worst Years of My Life for the chance to appreciate some tween and new-teen talent ... only to be disappointed that the comedy's gifted youths were really the only things worth appreciating. A down-with-the-establishment slapstick every bit as pandering, obvious, and unfunny as its director Steve Carr's Daddy Day Care and Paul Blart: Mall Cop – and yes, Carr's credits should have been all the warning I needed – the film showcases a handful of appealing, emotionally present youths who will no doubt go on to better things: Griffin Gluck, Thomas Barbusca, Alexa Nisenson, and the particularly winning Isabela Moner. But this tedious frolic with its awkwardly late-breaking and unearned dead-sibling subplot is an otherwise major bummer. We're asked to believe in our hero's impossible, Banksy-esque artistic subterfuge while also investing in his human-scaled pain; we're goaded into family-trauma tears minutes after barrages of animated mayhem, flatulence gags, and Rob Riggle. And through the whole of this tiresome Middle School, we're stuck with a smarmy-asshole principal (an overworked Andy Daly) who thinks he God's gift to society and routinely works our nerves with his threats of disbanding the government, reinstating law and order, insisting that global warming is a hoax ... . I swear, you can't escape the guy anywhere these days.