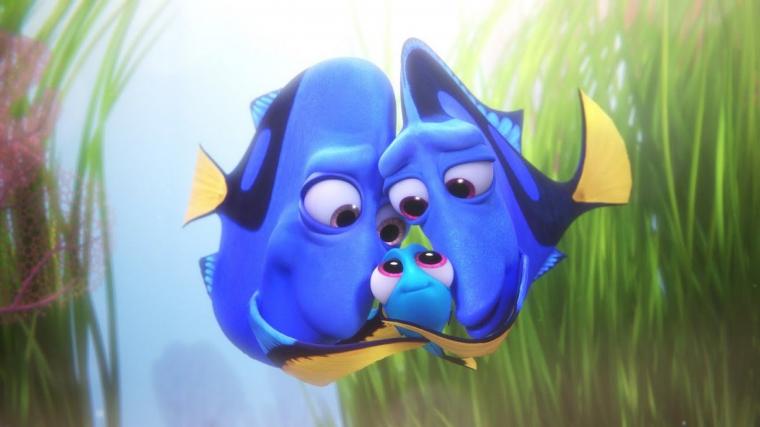 FINDING DORY
Taken on its own, Pixar's Finding Dory is a delightful time: smart, clever, entertaining, gorgeously animated, and, Pixar being Pixar, all but guaranteed to get you weepy on at least three occasions. But I also can't help feeling just a little bit pissed at it, if only because of how irrevocably it might change the experience of its predecessor.
Remember how endearing and hilarious Ellen DeGeneres' blue tang fish was as Albert Brooks' comic-relief sidekick in Finding Nemo? Well, she's as endearing as ever in directors Andrew Stanton's and Angus MacLane's follow-up, an adventure comedy that finds Dory on the hunt for her long-absent mom and dad. But with Dory's short-term memory loss – a source of much merriment in 2003 – now being addressed as a legitimate point of concern, a malady, there's no longer any hilarity in watching the poor thing struggle with her disorder. That's hardly a deal-breaker for the movie, and one of its canniest, subtlest touches lies in its introduction of so many new characters, like Dory, facing physical and mental challenges: Ed O'Neill's seven-armed octopus Hank; Kaitlin Olson's near-sighted whale shark Destiny; Ty Burrell's recently concussed beluga whale Bailey; Idris Elba's and Dominic West's lounging sea lions who suffer, respectively, from nasal parasites and anemia. (Though the credits reveal Elba's and West's characters to be "Fluke" and "Rudder," fans of The Wire might prefer "Stringer Bell" and "McNulty.") Yet while it's easy to root for Dory, the plaintively hopeful vocals of DeGeneres and the paralyzingly adorable Sloane Murray (who voices Dory as a young child to parents Diane Keaton and Eugene Levy) combined with the newly serious-minded emphasis on our heroine's disability make the character poignant but no longer terribly funny. Which makes you wonder: Can we ever again laugh at Pixar's 2003 masterpiece in quite the same way? After David Fincher's entry in the Alien franchise, it became nearly impossible to enjoy the triumphs of Ripley, Hicks, and Newt in Aliens knowing they'd all by dead come Alien 3. Will our first sight of DeGeneres' fish in Finding Nemo forevermore set off immediate waterworks, like hearing the first strains of Michael Giacchino's prelude in Up?
I guess we'll see. In the meantime, there's Finding Dory, and all the significant joys that accompany it. The visual astonishment of the film's Marine Life Institute, an aquatic theme park nearly as magical as the ocean depths. The comic horror of the park's "touch pool," with Hank demonstrating why kids may not want to squeeze an octopus. The high-comic dudgeon of Brooks' worrywart Marlin, who, unsurprisingly, appears to have forgotten all the life lessons he learned in Nemo. The welcome returns of Bob Peterson's Mr. Ray and several favorites whom you'll have to stick through the end credits to see. The dialogue's cheeky blend of amusement and education. ("For someone with three hearts," Dory tells Hank, "you're not very nice.") The inspired employment of Louis Armstrong's "What a Wonderful World." The satiric tension of an air-duct encounter with a monster, parodying a certain Ridley Scott sci-fi hit from 1979. And a woozy Dory adrift in the ocean, and snapping to attention upon hearing the greeting "Hi, I'm Sigourney Weaver." Apparently, I'm not the only one with Alien on the brain.
CENTRAL INTELLIGENCE
Given the projects he tends to wind up in, those of us who love Dwayne Johnson on-screen have had plenty of reason to presume that movies were never going to fully do right by him – that they'd never provide the proper vehicle for his singular blend of charm, charisma, decency, self-effacing humor, and brick-shithouse physique. Somewhat astonishingly, director Rawson Marshall Thurber's Central Intelligence proves to be that vehicle. As a CIA-themed action comedy, it's pretty inept, boasting incoherently staged combat, completely unsurprising narrative twists, unpleasantly pummeling PG-13 violence, and yet another of those damned climaxes involving possession of a flash drive. As a buddy comedy, though, and even as a character comedy, it's aces.
You might think the entire joke of this Johnson/Kevin Hart outing would lie in its tagline ("Saving the world takes a little Hart and a big Johnson!"), and you wouldn't necessarily be wrong. Wittily, however, screenwriters Thurber, Ike Barinholtz, and David Stassen turn that joke on its ear by making Johnson's Bob Stone not only a former fat-kid nerd who idolizes Hart's Calvin Joyner – the only kid who wasn't mean to Bob in high school – but a newly bulked-up nerd who's every bit the fawning goof now that he was then. With his unwise fanny pack and adoration for Sixteen Candles and unicorns ("the most dangerous animal on Earth"), Bob is like Grease's Eugene cast as Charles Atlas, and Johnson is outrageously funny and endearing in the role – all big grins and easily hurt feelings and doe-eyed adoration for the former cool kid who stands a foot-plus shorter than him. Hart does his shrieking-apoplexy thing and does it typically well. But he's an even better straight-man foil for Johnson, and while there are sharp turns by the likes of Amy Ryan and a comically loathsome Jason Bateman, Central Intelligence is at its best in the stars' scenes of alternately spiky and touching camaraderie. "You're a power couple!" says an awed Bob of Calvin's marriage to his high-school sweetheart. "You're like Taylor Swift and whoever she's dating now!" Guess that would make Hart Tom Hiddleston.