SAVING MR. BANKS
Saving Mr. Banks concerns the efforts of the crinkly-eyed Walt Disney (Tom Hanks) in getting the persnickety, Hollywood-averse British author P.L. Travers (Emma Thompson) to sign over the book rights to Mary Poppins. (Spoiler Alert: He does.) And as it's a Disney movie about a Disney movie with Disney products and Disney people - including Uncle Walt himself - popping up nearly every time you blink, the cynic in me resisted director John Lee Hancock's dramatic comedy for as long as humanly possible. Then Thompson's seemingly impenetrable Travers broke down while watching the Banks family sing "Let's Go Fly a Kite" at Mary Poppins' first public screening, and I was a goner. Aw crap, I thought while wiping away tears. Two more minutes and I would've been fine.
Until that moment, and despite Thompson's excellent performance and Hanks' very good (if inherently limited) one, I felt the movie was actually quite easy to resist; while we should really never expect nuance either from the studio or the director behind The Blind Side, I'll readily concede that I was pretty offended by this latest Disney offering. The behind-the-scenes activity regarding Mary Poppins' screen creation - with Bradley Whitford portraying screenwriter Don DaGradi and Jason Schwarzman and B.J. Novak as composers Richard and Robert Sherman - felt ceaselessly false, with inspiration coming in magical, out-of-the-blue bursts, and the collaborators apparently feasting on diets composed solely of frosted sweets and Jell-o squares. (This Disney brain trust looks at Travers with bewilderment when she deigns to ask for a pot of tea.) The flashbacks to Travers' life of childhood squalor in Australia - with a sweet but patently unconvincing Colin Farrell as the author's alcoholic, ne'er-do-well father - were fraught with too-obvious psychological baggage and, as with the early-'60s scenes at the Disney studio, boasted no true sense of period, or even basic realism. (In scene after scene here, the production design looks as artificial as that old-timey town on Disney's back-lot tour, and no one's clothes look as though they were worn for longer than the two minutes before Hancock yelled "Action!") The film, with its original script by Kelly Marcel and Sue Smith, sets up promising battles-of-wills between Travers and Disney and his team only to chicken out when push finally comes to shove, as when the author insists that she will not allow Mary Poppins to become a musical, and the very next scene finds her resignedly attending a music rehearsal. (Couldn't some comedy have been mined from that concession?) And I grew as appalled as Travers was, although not in a comical way, when confronted with the relentless, forced perkiness of her California hosts - including Paul Giamatti as her über-friendly chauffeur - and whenever the movie attempted to link our snippy heroine's writers' block with the horrors of her unhappy past. (Maybe Travers could write again, I mused, if she'd just stop peering into the distance while having golden-hued Down Under flashbacks.)
But it's the damnedest thing about Mary Poppins: If, while flipping channels, you land on that irresistible picture for even five seconds, you're almost physically compelled to watch it to its end. And for all of Saving Mr. Banks' considerable flaws, it, too, is an incredibly easy film to sit through, even if your engagement has more to do with Mary Poppins than the movie that Hancock, Marcel, and Smith have created. To be sure, Thompson and Hanks deliver professional, routinely delightful odd-couple comedy, and there's always something fun in watching a stiff-upper-lip type thaw under the convivial attention of a tireless sweetie-pie. (Not for nothing is the film's title not-so-subtly reminiscent of Driving Miss Daisy.) Mary Poppins, though, is the reason you're there, and - especially whenever the strains of the Shermans' incessantly hummable score filter through - it's the reason this new film works as well as it does. Saving Mr. Banks may traffic in usurped enchantment, but it's enchantment nonetheless. And even if the Disney-fication of it all makes you want to gag, you can still leave the auditorium in a mostly chim-chim-cheery mood.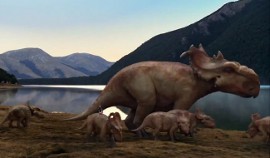 WALKING WITH DINOSAURS
As a grade-school dino-fiend, I probably would have killed for the chance to see Walking with Dinosaurs, the family adventure that features impressively CGI-animated creatures migrating along real (and gorgeously photographed) landscapes, and that introduces its various species with pop-up information defining their names and revealing them to be carnivores and herbivores and such. As an adult viewer of directors Barry Cook's and Neil Nightingale's outing, though, I wanted nothing more than to shove popcorn in my ears for the movie's entire 80-minute running length, given that these astounding beasts just wouldn't stop yammering. There are quite a few visual pleasures on hand, and I was happy to see that, even as an educational diversion aimed squarely at children, the filmmakers weren't completely softening the experience; the scene in which an overpowered pachyrhinosaurus bit the dust in a burning forest was effectively disturbing in a say-goodbye-to-Bambi's-mom kind of way. But with Justin Long whining as a runt-of-the-litter pachy named Patchi, and John Leguizamo shrieking as a prehistoric bird (and, unfortunately, our chief narrator), and the vocalized plot following the Lion King blueprint to the letter - complete with the requisite romance and untrustworthy relative - Walking with Dinosaurs is a dismal chore to listen to. Especially, perhaps, whenever our Mesozoic wanderers found it necessary to yell "Awesome!", or "Medic!", or "You snooze, you lose!" I'm not ashamed to admit it: I lost.