CRIMSON PEAK
You gotta give director Guillermo del Toro credit: When he wants to make a movie in which the central character, for all intents and purposes, is a haunted house, this man does not mess around.
The English gothic mansion at the heart of del Toro's new Crimson Peak is a flabbergasting sight - three stories of gray, decaying walls with grand staircases that appear never to have been swept, and an enormous open airway where the roof should be, allowing dead leaves and snowflakes to topple through and rest in the foyer. Rooms are bathed in rich scarlets and browns and blacks, and the illumination for musty, darkened hallways can only be provided by candelabras, with the hope that the omnipresent breeze won't blow out the flames. In the basement, cauldrons bubble with thick red slime, samples from the clay deposits that lie beneath the mansion and are causing the house to sink. Moths race between dust-covered sitting rooms. Water, before eventually turning clear, spurts from the faucets in bloody clots. (Ah, that pesky clay.) The kitchen features not one surface that you would eat off. Oh, yes, and there are ghosts - some appearing as floating, billowy figures of black, some as shrieking, crawling cadavers dripping crimson sludge. All told, this domicile and its contents make for an astonishing dwelling and a miracle of production design, and I would've enjoyed the locale even more if it didn't turn out to be, by a considerable margin, the most interesting thing about Crimson Peak.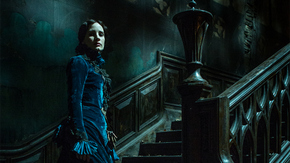 Del Toro and co-screenwriter Matthew Robbins certainly deserve applause for their moxie in crafting a big-budget, post-Victorian soap opera (albeit one with gory visuals) in the vein of such genre classics as Rebecca and Gaslight - hardly au courrant inspirations for today's multiplex audiences. I just wish they had a more intriguing story to tell, and a way to tell it without employing quite so much needless voice-over narration and clichéd horror-flick beats. Set in the early 20th Century, Crimson Peak concerns Edith Cushing (Mia Wasikowska), a young, wealthy, independent-minded novelist who falls under the spell of the handsome, penniless, and mysterious Thomas Sharpe (Tom Hiddleston). Events lead to Thomas taking Edith to his family home, the aforementioned haunted mansion, where they're to live with Thomas' icy sister Lucille (Jessica Chastain). Add ghosts and goo and stir. But the plotting, sadly, isn't even as gripping as that bare-bones synopsis suggests, and while the spirits boast some queasy beauty, the shocks are purely perfunctory - your standard clanks and booms on the soundtrack, and shots of wide-eyed Wasikowska screaming at spectral visions and hideous voices (and still refusing to vacate the house).
Unexpectedly, del Toro fares better in the early, legitimately romantic sequences between Wasikowska and Hiddleston, who share charming chemistry and an impressive waltz in which they spin around the dance floor without the flame from their held candle being blown out. But they eventually get lost amidst all the formulaic "Boo!"s and "Eek!"s, and Chastain is so determined in her affectless, unblinking deadpan that by the time the performer gets around to some actual acting late in the film, you've practically forgotten about her. (Is anyone else really missing the Jessica Chastain who co-starred in The Help? For years now, she's been so dour in picture after picture - even, for the most part, in the lighthearted The Martian - that it's getting nearly impossible to remember how fresh and funny she can be.) Narratively, presentationally, and mostly performance-wise, Crimson Peak is a slog. Heaven knows, though, that del Toro's evocation of the Sharpes' manse makes it a fantastic-looking slog. The movie may not win any Oscars, but hopefully a citation from Architectural Digest isn't out of the question.
BEASTS OF NO NATION
A few scenes in Crimson Peak - particularly the one that finds a man's head meeting the business end of a restroom sink over and over again - are so brutal and bloody that you may feel compelled to look away. That's how I felt during at least two-thirds of Beasts of No Nation. The tale of a west-African boy (Abraham Attah's Agu) who, in the midst of his country's civil war, loses his family and is forced to commit atrocities as a child soldier, writer/director Cary Joji Fukunaga's drama is, at it should be, a painful sit, rife with unsettling images and visualizing the equally unsettling process of a young, initially happy boy turning into a dead-eyed killer. Yet as much as I may have wanted to, I didn't look away, because the film's sterling artistry didn't really let me. Despite the unrelenting grimness, Fukunaga (who's also credited as Beasts' cinematographer) supplies lush colors and some staggeringly lovely compositions, and he keeps his camera moving with restless panache. (Fununaga is probably best known as the director of True Detective's first season, and while no moments here quite rival that already legendary, six-minute tracking shot from the "Who Goes There" episode, a few come awfully damned close.) You may not always want to watch, but you'll also rarely want to blink.
And while Attah is heart-rending and soulful as a youth thrown into the midst of chaos, Idris Elba, playing an army leader known only as the Commander, is mesmerizing as the frequent cause of all that chaos. Monstrous, yes, yet also deeply charismatic and strangely solicitous - exactly the type of perverse father figure whom a young, displaced boy would find both terrifying and devoted - Elba delivers a tour de force portrayal here, and it's only a shame that, for most audiences, his work won't be witnessed on a screen big enough to deserve him. As most people have likely heard, Beasts of No Nation is the first feature film to be distributed by Netflix simultaneously through its streaming service and on a handful of specialty-house screens nationwide. This experiment is causing some to cheer (because it's doubtful that Beasts' material would have gotten the movie much in the way of a wide release anyway) and some to curse (because of, you know, The Death of the Cineplex and all that). Personally speaking, I'm happy to take Fukunaga's powerful movie any way I can get it - though unlike a lot of streaming titles I love, I'm not sure how quickly I'll be up for a repeat viewing.
I'LL SEE YOU IN MY DREAMS
Speaking of Netflix, the service recently enabled me to rent the new-to-DVD I'll See You in My Dreams, a moderate summertime hit that, rather surprisingly, never made it to our area. In this small-scale dramedy, a widowed senior citizen learns to embrace life and love after the passing of her beloved pooch. I have a dear friend who refuses to even think about watching a movie if a dog is going to die, and to her - and the rest of you like-minded souls - I'd advise skipping the film's first five minutes, which made even this frequently jaded reviewer sob like a baby. But I encourage you to pop in directly after. Not only is director/co-writer Brett Haley's offering a ceaselessly delightful (if formulaic) entertainment, but its simple, nearly inarguable appeal can be effectively boiled down to one thing, or rather, one person: Blythe Danner.
Haley's film follows Danner's seemingly contented Carol Petersen as, in the wake of her dog's death, she tries to continue enjoying her moneyed solace, her perhaps-unhealthy devotion to white wine (a plot point that Haley's and Marc Basch's script seems studiously uninterested in exploring), and her bridge games with fellow seniors played by Mary Kay Place, Rhea Perlman, and June Squibb. Complications arise in the forms of Carol's new pool cleaner Lloyd, played by Martin Starr, and the flirtatious, mustachioed Bill, played by Sam Elliott. Carol also receives calls and a late-film visit from her daughter Katherine, portrayed by Malin Akerman. Plot-wise, that's about it. Given the aforementioned cast, I hope you agree that's all the "it" you need. No matter which narrative thread you're launched into in I'll See You in My Dreams, Haley's actors make you sensationally happy to have arrived, and the performers' merely functional roles prove secondary to the joy you get in seeing them. Who knew that Starr, positively unrecognizable from the teen dweeb he once played on Freaks & Geeks, could be so handsome and manly and deeply soulful? Who knew that Elliott would be granted a glorious aging-tiger role so soon after performing similar duties with Lily Tomlin in Grandma? Who knew that Place, Perlman, and Squibb could make bridge look like the most bewitching game on Earth? (Kudos, too, to Haley's and Basch's scene of the bridge players hopped up on medical marijuana, the sitcom-ery of which is transcended by the performances and graceful writing.)
And really, after a career spanning 43 years in film, who knew that cinematic powers-that-be would finally deem Tony- and Emmy-winner Blythe Danner worthy of a top-billed lead in a motion picture? I like the sharp-witted, insightful, humane I'll See You in My Dreams a lot. I love it because it stars Danner, who gets to show off her incandescent gifts for comedy and drama, and is allowed to perform a gorgeously throaty "Cry Me a River" at a karaoke bar, and enjoys a hugely sexy screen romance with Sam Elliott, and is photographed so lovingly that it sometimes appears as though the72-year-old is still in her 20s. Daughter Gwyneth Paltrow may have Goop, but mom Blythe Danner may be the best advertisement for healthy living anyone's yet come up with.