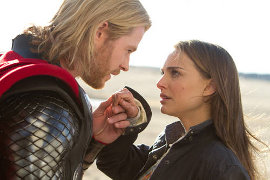 THOR
Prior to the film's release, I wouldn't have thought any director a worse candidate for helming the hugely budgeted comic-book adaptation Thor than Kenneth Branagh, that frequent interpreter of Shakespeare whose one foray into Hollywood-blockbuster(-wannabe) terrain was 1994's monstrously terrible Frankenstein. In retrospect, I'm not sure any director would have proved a better choice. Two days after seeing Branagh's grandly produced yet subtly frisky entertainment, I'm still a bit shocked at how strong the results are; against all logic, Thor's director has successfully melded his movie's wildly disparate elements into an action-packed thrill ride (in 3D!) that, incredibly, also manages to be emotionally satisfying, and oftentimes funny as hell.
Christopher Reeve's Superman and Robert Downey Jr.'s Iron Man make the competition tough, but has there ever been a piece of superhero casting as magically right as Chris Hemsworth's Thor, that Nordic god of thunder with the flowing blond tresses and fearsome hammer? In this script devised by no less than five co-authors, Thor is introduced as a short-tempered Viking brute with devil-may-care insouciance, and the young Australian actor plays this vainglorious archetype with considerable brio. Yet when Thor - ousted from the heavenly kingdom of Asgard - finds himself exiled to the New Mexico desert, this deposed, newly powerless demigod becomes the ultimate big fish in a fish-out-of-water comedy, and Hemsworth's already-witty performance begins yielding extraordinary benefits. Whether braying of his invincibility before being zapped unconscious by a taser, or striding into a small-town pet store demanding, "I need a horse!", the intimidatingly brawny Hemsworth proves to be a magnificently inventive and confident light comedian in Thor. And with his stoically goofball demeanor and impossibly sweet smile, you wind up liking the actor so much that when Thor becomes anguished - grieving at the presumed death of his father (Anthony Hopkins), realizing the duplicity of his vengeful stepbrother (Tom Hiddleston), separating from the helpful research scientist (Natalie Portman) he grows to love - damned if his torment doesn't carry legitimate weight.
Hemsworth adds so many layers to his seemingly one-dimensional character that you barely mind, or notice, that none of his enjoyable co-stars - including Stellan Skarsgård, Kat Dennings, Clark Gregg, Idris Elba, Colm Feore, the too-long-absent Rene Russo, and (in cameos teasing Thor's appearance in the forthcoming superhero spectacle The Avengers) Jeremy Renner and Samuel L. Jackson - is given a similar opportunity. But Thor's director stages the low-key comedy scenes, the Machiavellian (and Shakespearean) intrigue, and the requisite apocalyptic showdowns with equally masterful finesse; an early, 15-minute mêlée on frozen tundra is the finest piece of large-scale choreography Branagh has pulled off since 1989's Henry V.
Plus, just when you may have thought you'd lost all interest in visual-effects "wonders" in comic-book extravaganzas, Branagh reminds you that when imaginatively and powerfully rendered - as when Thor's hammer spins with such ferocious velocity that you fear for your auditorium's ceiling - the timeworn miracle of CGI can, on occasion, still suggest actual miracles. I had an absolute blast at Thor. Like its hero's weapon, it's a movie that soars, and swings, and has the capacity to knock you on your ass.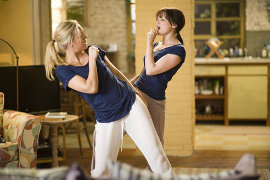 SOMETHING BORROWED
In the deathly formulaic yet unexpectedly prickly romantic comedy Something Borrowed, the longtime friends played by Ginnifer Goodwin and Colin Egglesfield discover they're crazy about each other despite his being newly engaged to her BFF, and the pretty, blandly acceptable leads are easy enough to forget about. So what say we do? Despite her earnestness and friendliness, and despite his uncanny, distracting resemblance to Tom Cruise, Goodwin and Egglesfield do precious little for director Luke Greenfield's adaptation of Emily Griffin's novel. Co-stars Kate Hudson, Steve Howey, and John Krasinski, though, do so much that they perhaps inadvertently make this tired tale of unrequited love a good deal more interesting than it has any right to be.
As a noxious party girl with mischief and veiled distrust in her eyes, Hudson sinks deeply into her bride-to-be's meanness and pettiness, and comes through with a vibrant, knockout caricature that's riskier, and more successful, than anything the actress has attempted in years. Howey, with his consistently unpredictable line readings, is sensationally charming as a serial lothario who's really just a harmless, wide-eyed doofus; of all of its characters, Howey's Marcus is treated to the movie's happiest ending, and, you feel, is the character most deserving of it. And in the role of Goodwin's male (and straight) confidant, Krasinski - with his peerless, put-upon deadpan - makes you feel the ache and anger of someone watching a dear friend make one disastrous life choice after another. In an amazingly rare moment of honesty for its genre, Krasinski rails against Goodwin for being a doormat to her bitchy pal and her on-the-fence beau, and urges her to be proactive with an incensed, "You're all going to hell anyway, so you may as well do something for yourself!" Something Borrowed may be mostly standard stuff, but for all of its slapstick silliness and weepy acoustic montages, it has actual blood in its veins.