COWBOYS & ALIENS
A full six writers are credited with the script and screen story for director Jon Favreau's sci-fi/Western hybrid Cowboys & Aliens, which, based on the evidence, averages out to them contributing roughly half a fresh idea apiece. And I'm including the inspiration to call its saloon-keeper, rather than its doctor, "Doc."
Seriously, they must have had hundreds of genre conventions, and subsequent mergers of those conventions, to choose from. Was a storyline in which gruffly heroic cowboys (led by Daniel Craig), gruffly swarthy cowboys (led by Harrison Ford), and gruffly stolid Apaches team up to rescue their loved ones from alien captivity really the best this screenwriting sextet could do? The film's effects are mostly fine, and I liked the unstressed motif that found the space invaders acting just like their 19th Century human counterparts, prospecting for gold and capturing their prey in ways indistinguishable from cattle-roping. Yet every narrative beat in this predictable, retrograde wannabe-blockbuster lands right on schedule, and its tonal vacillations between tongue-in-cheek comedy and portentous seriousness are so random that, from scene to scene, you don't how how to take the movie - except as another bland, big-screen genuflection at the altar of executive producer Steven Spielberg. (Like the equally dispiriting Super 8, Cowboys & Aliens references Close Encounters with obnoxious regularity.) As popcorn entertainment goes, the movie's an epic drag, but at least features some savvy support in Sam Rockwell, Keith Carradine, Paul Dano, Clancy Brown, Justified's great Walton Goggins, and, as the Wide-Eyed Boy Who Grows to Be a Man, The Last Airbender himself, Noah Ringer. I knew it was Shymalan who was making the kid look talentless!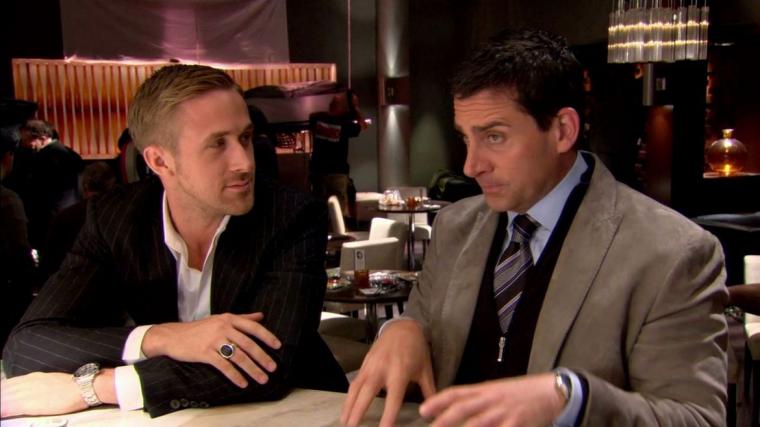 CRAZY, STUPID, LOVE
Near the end of the fizzy, unexpectedly enthralling Crazy, Stupid, Love, the recently and unhappily separated character played by Steve Carell interrupts his son's middle-school graduation with an impromptu speech about life and love, delivered in the presence of his visibly moved soon-to-be-ex-wife (Julianne Moore). It's a scene that, in slightly different incarnations, you've seen in dozens of its romantic-comedy forebears. But the difference here is that right before Carell launches into his declaration, he takes a moment to fully realize the ridiculousness of what he's about to do, and whispers an extended "Shi-i-i-it ... " beneath his breath. That, in a nutshell, is the heartfelt and heartening wonder of Crazy, Stupid, Love; nimbly directed by Glenn Ficarra and John Requa and smartly written by Dan Fogelman, it's a movie about people well aware of how uncharacteristic and asinine their behavior is, yet also helpless to change that behavior. In other words, it's a movie about actual humans, and in the lightly touching, truthful, supremely funny work of Carell, Moore, Ryan Gosling, Emma Stone, Marisa Tomei, Analeigh Tipton, and Jonah Bobo, a more inspired group of humans you'd be hard-pressed to encounter. I'm planning to see the film again soon, but in the meantime, I'll happily treasure Carell's and Moore's lovely parental shorthand and Gosling and Stone enjoying the best first date ever, and acknowledge that The Move perfected by Gosling's lothario - the one he says never fails to seal the deal - likely left the entire audience at my screening thinking, "Yup, that would do it." Take note, guys.
THE SMURFS
I never got into the '80s Smurfs craze and know little about the characters' origin, so permit me a question: Were they created as a way to keep young children from swearing? Because it's not tough to glean what expletive is being covered up in director Raja Gosnell's The Smurfs movie when every other sentence seems to be some variant on "Don't Smurf with me!" or "I'll be Smurfed!" or "Where the Smurf are we?!" If, indeed, these little blue creatures and their irritating conversational style have resulted in kids screaming "Smurf you, Mom, I'm not eating my Smurfing peas!" instead of the alternative, I wholeheartedly approve, and can consequently forgive the movie for being such a crass, annoying, synthetic time-waster. There's really no point getting into it, as you probably know what's in store: labored slapstick, rampant product placement, maudlin sentiment of the "never give up on family" variety, and a climax in which our wee heroes kick the ever-lovin' crap out their nemesis and his cat with the computer-manipulated face. To be sure, I'm grateful that the movie at least features terrifically likable humans in Hank Azaria (legitimately amusing as Gargamel), Neil Patrick Harris, Jayma Mays, and Sofía Vergara, and delivers a fair amount of cheeky self-mockery; Harris' exasperation over that maddeningly catchy Smurfs theme is especially satisfying. I'm also disturbed, however, that after Zookeeper, The Smurfs is the second family comedy in a month to solicit laughs by showing a grown man, surrounded by well-dressed onlookers, relieving himself in the middle of a crowded upscale venue. While we're teaching kids not to curse, couldn't we teach them a little something about the perils of whipping it out in public?