Restrepo would be supremely noteworthy even if it weren't a documentary on modern warfare in Afghanistan that somehow found its way to a Quad Cities cineplex.
Directed and produced by reporter Sebastian Junger and photographer Tim Hetherington, this fascinating, heartbreaking achievement debuted at this year's Sundance Film Festival (where it won the prestigious Grand Jury Prize) and opened in larger metropolitan areas in late June; the movie eventually made its way to cities that don't traditionally screen docs of its type, including Clarksville, Tennessee; Columbus, Georgia; and Harker Heights, Texas. On September 3, Restrepo premieres at Rave Motion Pictures Davenport 53, and the film turns out to be much like its stealthy nationwide release strategy; Junger's and Hetherington's vital, necessary work boasts a power that sneaks up on you and hits in continually unanticipated ways.
Titled after both a deceased private and a hilltop outpost in Afghanistan's Korangal Valley, Restrepo follows the American troops of Second Platoon, Battle Company as they serve a 15-month deployment in what is described by the company's Captain Dan Kearney as "one of the most dangerous postings in the military." Unbearably hot in the summer and bitterly cold in the winter, with little vegetation found amidst the rocky, vertiginous cliffs, the Korangal Valley would be an inhospitable environment under any circumstances. Yet as we learn in the film's nerve-racking opening minutes, the men of Battle Company have far more to contend with than their locale; well-armed members of the Taliban - none of whom is ever seen in Restrepo or, with one exception, even seen by the troops - have the company surrounded, and open fire on the soldiers every single day.
Recording these assaults on video, Junger and Hetherington serve as witnesses to the nightmarish unpredictability of Battle Company's situation, and frequently (and accidentally) capture nightmarish images, such as the miniature plastic skeleton that dangles from a soldier's Jeep, and eerily sways back and forth following a roadside attack. Yet what reads even stronger than the soldiers' terror, and even stronger than their unequivocal bravery, is their utter, wholly understandable confusion: Where is this gunfire coming from? With no clear enemy in sight, and bullets coming from all directions, Restrepo offers an unforced metaphor for the futility and madness of the war in Afghanistan; the film isn't overtly political, but it manages to say more about this particular overseas conflict than any number of rhetorical stump speeches on the subject possibly could.
Although the battle sequences are frightening and effective, they make up only a small portion of the movie's speedy, 95-minute running length, as the scenes set in Outpost Restrepo - named after 20-year-old medic Private First Class Juan S. Restrepo, who was the first of the company's soldiers to be killed - underscore not only the danger of the men's daily existence, but its unremitting sameness. Long, mostly idle hours pass as the company waits for the next attack, with the tedium occasionally broken by good-natured rough-housing, or random, seemingly meaningless chores, or meetings with local village elders, who listen impassively as Captain Kearney explains how the Americans' presence will lead to new jobs and a better standard of living for the Afghanis. (Junger and Hetherington, who wisely allow for several laughs in the film, encapsulate the ridiculousness of these summits with one shot of an Afghani elder struggling to figure out a juice box.) You sense that what keeps the soldiers sane amidst the tension and boredom - in addition to their admirable devotion to country - is their inspiring, fiercely moving devotion to one another. From their affectionate joshing of a teenaged, "cherry" recruit to their spontaneous dance while listening to Samantha Fox's "Touch Me" to their wrenching misery at the death of a fallen sergeant, the camaraderie among the men of Battle Company is deeply felt all throughout Restrepo.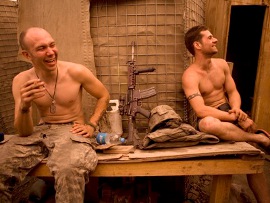 Still, what might linger in your head and heart even beyond the filmmakers' extraordinary video footage are the post-tour interviews conducted with the soldiers, snippets from which we're given every few minutes. In them, the soldiers attempt to describe their experience at Outpost Restrepo and explain exactly what purpose their 15-month stint in Afghanistan served, and we gradually realize that it's impossible for most of the men to do either; their nervous smiles and haunted, faraway gazes suggest the half-forgotten recollection of a disturbing dream that troubles you for hours after you wake. Yet for the men of Battle Company, of course, memories of their deployment prove to be lasting far longer. One private reveals that he's taking four different types of sleeping pills to get through the night, and another says that he can't get an especially horrifying mission called "Rock Avalanche" out of his thoughts, but doesn't want to, as it reminds him to appreciate all the good things in life. Junger's and Hetherington's Restrepo is most certainly one of them.
For Restrepo showtimes and tickets, call (563)359-1314. For more information on the film, visit RestrepoTheMovie.com.