FAMILY CAMP
Without question, better movies have been released this year. Yet I can't think of a single one that has delivered a more unexpected great time than the pro-faith comedy Family Camp, an utterly winning, only slightly maudlin slapstick made by people who are clearly overjoyed to be involved – and you can see why. Nothing, and I mean nothing, about its trailer and production details filled me with hope: the complete absence of name performers (or so I thought) and recognizable behind-the-scenes talent; the threat of manic hyperactivity dovetailing with a feature-length sermon; the anthropomorphic beaver that looked like an unconvincing second cousin to the gopher from Caddyshack. But damned if I didn't grin and giggle at this disarmingly genial entertainment from the very start, and damned if I didn't get misty-eyed on a couple of occasions – though given the film's leanings, I should probably be saying "darned." I'll try to remember that if, or more hopefully when, we get a sequel.
Regarding its leads, Family Camp is the first feature to showcase a pair of comedy partners who bill themselves as the Skit Guys: Tommy Woodard and Eddie James, middle-aged pastors who have been best friends since high school. They're quite the duo – Woodard looks like a genetic blend of Jon Hamm and Ed Helms; James looks like the friendly dude you hire to service your pool. But while both were previously unknown to me, they're significant figures in the field of contemporary-Christian entertainment, having collaborated on dozens of books, videos, play scripts, and other merchandise celebrating the oft-referenced "lighter side of Christianity." In most multiplex works of the God's Not Dead and I Can Only Imagine variety (to name two of the better ones), that sort of lightness is generally restricted to a handful of jokes and one-liners shoehorned into pious, frequently constrictive melodramas. Here, however, the gags are the main course, and working from a script by Rene Gutteridge and director Brian Cates, Woodard and James make a wholly satisfying meal of them. Although their characters (helpfully named Tommy and Eddie) are nearly always in competition or actual combat, the performers themselves are delightfully unable to hide their genuine off-screen affection, and the sweetness they exude – their shared, giddy sense of "We're movie stars now!" – carries you through even the lackluster comic bits and less-inspired narrative detours.
For the record, there are quite a few of them. If you've seen the trailer, you no doubt know the film's hook. (If you haven't, you're really better off.) Strong-armed into attending a week-long church retreat with his neglected wife Grace (Leigh-Allyn Baker) and their distracted kids Hannah and Henry (Cece Kelly and Jacob M. Wade), work-obsessed Tommy Ackerman decides to vie for "best family at camp" honors with the obnoxious patriarch Eddie Sanders, whose seemingly perfect clan has won the trophy two years running. Naturally, the families are forced to share a crowded, air-conditioning-free yurt; naturally, Team Sanders harmonizes on spirituals while the Ackermans bicker and whine about the lack of WiFi. Yet even when, in these early scenes, the comedic mismatches and slapstick inevitabilities are being set up far too neatly, clever little touches keep bubbling to the surface. I'm thinking of the camp director's wake-up alarm that's a nonsecular version of the Baby Shark theme song, and the Sanders' diet plan that's simply the acronym "WWJE" – flourishes that inspire unanticipated laughs not despite, but because of, their Christian bent, and are funny regardless.
Yet in an even more welcome development, Family Camp proves far smarter than its marketing, because Cates' debut feature turns out to be only nominally interested in which clan wins bragging rights as Camp Katokwah's finest. Before the film is even a half-hour old, pre-teen Henry, a budding auteur, accidentally records a marital spat between Eddie and his wife Victoria (Gigi Orsillo). Before long, Tommy sees this video footage, and when he does, any seasoned moviegoer will know exactly what to expect: Tommy will sit on the discovery until desperation strikes, at which point he'll confront Eddie with the footage as proof that the Sanders aren't the unimpeachable Christians they claim to be. But that's not at all what happens. Without telling anyone what he's witnessed, Tommy promptly erases the recorded fight, opting instead to leave the Sanders – principally the annoying, uncouth Eddie – with privacy and dignity intact. That is a beautiful gesture of kindness and Christian love. Coming from Tommy, who wants nothing more than to humiliate Eddie the way he himself has been routinely humiliated, it's also a marvelously surprising one. And surprises, against all expectation, prove to be Family Camp's stock-in-trade.
Make no mistake: To fully enjoy and appreciate the movie, you're going to have to put up with a lot of aggressive silliness. There are the trophy tournament's requisite, pratfall-heavy competitions (including an oppressively shot game of Bubble Ball), and some shrieking nonsense when Eddie stumbles onto a bee-infested honeycomb, and an initially promising poke at a pair of Duck Dynasty wannabes (Myke Holmes and Weston Vrooman) that just becomes awkward and a little ugly. We're given an unrealized, out-of-nowhere romance between the camp's director (the sincere, adorable Robert Amaya) and gruff cook (Heather Land), plus a subplot involving Tommy's snaky business rival (Brandon Potter) that's irrevocably dropped before the guy ever receives his running gag. There's that unnecessary and irksome CGI/puppet beaver, whose own subplot is strangely abandoned. (Or was I the only one who expected his early chewing of a bridge's wooden legs to eventually result in the bridge's collapse?)
But you know what else we get? Legitimately thoughtful conversations on faith, obligation, and commitment that don't sound moralistic or like preaching to the choir, with even the wise words of the church's Pastor Dave (the wonderfully low-key Mark Christopher Lawrence) free of sermonizing. Moving performances across the board, with Baker, Orsillo, and Kelly and Wade – both kids having been granted solid individual plotlines – all delivering fresh, empathetic portrayals. Genuine, affectingly played heart-to-hearts between Tommy and Eddie that somehow don't feel out of synch with the goofiness of their farcical shenanigans, and that don't bypass the fact that both characters frequently act like assholes. An archery sequence more exciting than anything in Doctor Strange in the Multiverse of Madness. Family sentiment more honestly moving than anything in a recent Best Picture winner I could name.
And, not for nothing, laughs. A bunch of 'em. Even if the sight of James' swollen, bee-stung face doesn't tickle you, you're likely to get a kick out of any number of inventive gambits here: Tommy and Grace chuckling over a Sanders blessing they sarcastically label a child sacrifice; Henry's subtitled dialogue when speaking with a humongous s'more in his mouth; Eddie wincing at Tommy's reference to evolution, explaining that uttering the "e" word is the swiftest boot out of church camp. It takes a truly brave comedy to turn its sources of contemporary-Christian humor so confidently inward, and before viewing the complete treat of Family Camp, I never thought I'd see a film in this genre to boast this sage piece of religious certainty: "Whenever God closes a door, he opens a Chick-fil-A." That notion may outrage or terrify some of us, but still: Killer line.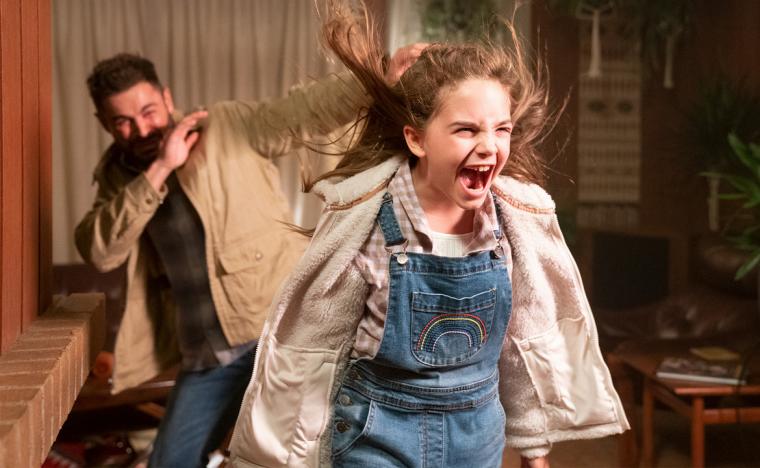 FIRESTARTER
As director Keith Thomas' Firestarter gets underway, you might almost be convinced that it isn't going to suck – or, at the very least, that it'll be a significant improvement on the dreary Stephen King adaptation from 1984 that cast Drew Barrymore as a pyrokinetic child hunted by a nefarious government agency. Nothing about the new film's opening was thrilling, necessarily. But there was an acceptable-enough dream sequence that climaxed with an infant's head bursting into flames; and Barrymore replacement Ryan Kiera Armstrong was doing some lovely introvert acting as Charlie McGee, who's basically a premenstrual Carrie White; and one shot suggested both narrative intelligence and macabre wit when we were shown a collection of family photos strategically positioned next to a fire extinguisher. This was already enough to make me hope for the best. But then the next 80-ish minutes kicked in … and the movie is only 90-ish minutes long.
Because Firestarter, first published in 1980, is one of King's earliest novels, it's oftentimes misremembered as a horror classic, when it's really just a moderately juicy potboiler that one would think couldn't help but be improved with a first-rate film version. That didn't happen in '84, though, and it hasn't happened 38 years later, either – maybe because the material now plays so much like an aborted idea for an X-Men sequel (and has been refashioned for so many underwhelming genre titles of late) that the best course of action might've been to leave this particular King property alone. Still, you can't blame King's narrative for the complete lack of conviction on the part of Thomas, who fails to give emotional or storyline urgency to even one sequence, or for the astoundingly prosaic screenplay by Scott Teems, whose dialogue, astonishingly, is even more stultifying than King's usually is. (I say this as a fan, but while the horror legend can clearly write, he's never been great at writing the way people actually talk.)
In the manner of so many Blumhouse productions that begin promisingly only to go speedily and irrevocably south, this Firestarter gets worse and worse – and duller and duller – as it progresses, and by its finale, I no longer had the energy to bemoan the embarrassingly cheesy effects, or the tired repetition of the plotting, or top-billed Zac Efron's bizarrely vacant portrayal of Charlie's similarly empowered father Andy. (Sadly, I also lost the will to adequately praise co-star Gloria Reuben, whose eccentric, intriguingly sexualized readings as our chief villain are the movie's only source of humanity.) Worse still, this horror reboot is so lethargically presented that it nullifies even your attempts to laugh at it – which, in a livelier outing, I absolutely would have whenever Andy's psychic feat known as "The Push" was preceded by the man quickly cocking his head to the left with that satisfying crack! revered by cinematic bad-asses and chiropractors the world over. Andy's "gift," by the way, causes his eyes to bleed. I'm reasonably sure that Firestarter caused my brain to bleed.
THE SURVIVOR
For those who follow the annual Emmy Awards, the once-prestigious Outstanding Television Movie category has become the black hole of show-biz relevance, the last five winners being, in chronological order, three decent-or-better episodes of Black Mirror; the embezzlement drama Bad Education whose only other nomination was for lead actor Hugh Jackman; and last year's Dolly Parton's Christmas on the Square. (You remember that one, right? It was on Netflix? It co-starred Christine Baranski and Jenifer Lewis? Debbie Allen choreographed? No?) Clearly, at least at present, we're no longer in the not-so-long-ago halcyon days of Game Change and Behind the Candelabra and The Normal Heart. The tide may finally be starting to turn, however, with the recent release of HBO Max's The Survivor, which may not be any kind of new classic for the medium, but which has definitely been pulled off with considerable sensitivity and skill, especially when you consider how many ways it could have gone grossly wrong.
Based on true events – a warning flag for "prestige" movies and TV is ever there was one – The Survivor recounts the experiences of Harry Haft (Ben Foster), a Polish Jew who survived his World War II imprisonment at Auschwitz through Nazi-regimented boxing matches against fellow Jews. (It should go without saying that whomever didn't prevail in these fights was either killed in the ring or killed via a German bullet.) After the war ended and Haft escaped to the United States, he began a career as a semi-professional boxer in Brooklyn, and not long into director Barry Levinson's flashback-infused tale, a reporter (Peter Sarsgaard) convinces Haft to share his survival story in advance of the man's bout with Rocky Marciano. At this point, mere minutes into the movie, I may have silently groaned. The subject matter and protagonist were inarguably worthy of our attention, but I dreaded two hours of harrowing, unbearably violent concentration-camp reenactments (shot in black-and-white, no less), and worried, kind of deeply, that Levinson was going to put himself in the position of being comparatively judged alongside the Spielberg of Schindler's List.
Blessedly, my fears were almost completely unfounded. Haft does indeed tell his tale to that reporter, but only kind of, as this flashback recollection lasts maybe five minutes of The Survivor's 125-minute running length. The rest of that well-used time is spent in infinitely more-satisfying ways: Haft's prep for the Marciano fight and his subsequent decision to retire from boxing; his burgeoning romantic affection for the helpful Jewish case worker (Vicky Krieps) whom Haft enlists to help him find his long-departed love; Haft's efforts in dealing with survivor's guilt in all its myriad forms. (Once his past is revealed in print, it turns out that not all Brooklyn Jews are understanding of what Haft had to do – and who he had to sacrifice – to get through the war.) Levinson's movie, with its incisive and affecting script by Justine Juel Gillmer, may sound unendurable, yet it has been crafted with such delicate consideration of both history and an audience's willingness to view it that the end results never physically hurt – not even when they perhaps should. There have been stronger Holocaust dramas than this one. As post-Holocaust dramas go, however, it's one of the best in years.
As much as I wish that Levinson would make another Diner again (and as much as I blame his Rain Man Oscar win for possibly convincing him he shouldn't), the filmmaker has done himself proud here. Although The Survivor's flashback structure is a tad disorienting – we open in 1963, then go back numerous years, then go back numerous years before that – Levinson elicits a tremendous sense of his varying eras' geographies and atmospheres, and while the Auschwitz scenes aren't as distinctive as the ones set in Brooklyn, they don't feel derivative, either. (Billy Magnussen plays Haft's German "benefactor," and gauche as it is to say, I'm amazed that it took the blond/blue-eyed Aryan ideal this long to be cast as a grinning, malevolent Nazi.) Dune Oscar winner Hans Zimmer, who composed the music for Rain Man, provides an appropriately, alternately sinister and sympathetic score. And as usual, Levinson proves fantastic with actors, evincing every last ounce of delicate, fretful charm from the typically excellent Krieps and enticing strong work from Sarsgaard, John Leguizamo, Saro Emirze, and Danny DeVito, who may not have been this lovely on-screen since Levinson's Tin Men in 1987.
Best of all, thankfully, is Ben Foster, and it's to his and his superlative makeup team's credit that had I not been aware of his participation ahead of time, I wouldn't have known it was Ben Foster until 20-plus minutes in, when the first of the Auschwitz flashbacks landed. (While he's horrifyingly gaunt in those concentration-camp sequences, at least his face was recognizable.) Foster's physical transformation isn't totally akin to DeNiro's in the latter-day-Jake scenes of Raging Bull, but it's still extraordinary, and so is the actor's portrayal – a picture of such exquisitely detailed exterior and interior pain that, by the end of The Survivor, I was left nearly blindsided. At age 41, Foster is still way too young for career-capping work. But right now, the mind kind of boggles at what this career might someday be capped by.