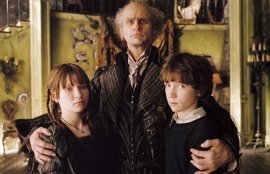 LEMONY SNICKET'S A SERIES OF UNFORTUNATE EVENTS
A friend recently introduced me to the considerable joys of Daniel Handler's Lemony Snicket novels, the first three of which have been adapted for the new Jim Carrey vehicle Lemony Snicket's A Series of Unfortunate Events.Handler rivals Roald Dahl in his talent for concocting exquisitely macabre and funny children's stories, and the Unfortunate Events series is almost embarrassingly enjoyable reading. (I'm currently on book nine of, thus far, 11.) The novels follow three orphans - Violet, Klaus, and baby Sunny - as they're whisked from relative to relative while evading their evil uncle, Count Olaf, a demented character actor attempting to murder them for their inheritance, and the surprising intricacy of the books' plotting is matched by their wit and humor; after reading them you feel jazzed and alert, like waking from an oddly funny nightmare.
I love the Lemony Snicket series, so it's almost high praise when I say that the film version isn't completely misguided. In fact, it's not bad. The young actors who portray the orphans are especially fine; Emily Browning, who plays Violet, is as subtly expressive as the Horse Whisperer-era Scarlett Johansson. The film's art direction and effects have a terrific, storybook phoniness to them, and a few other performers - such as Meryl Streep as Aunt Josephine and Timothy Spall as Mr. Poe - deliver engaging caricatures. And as the murderous Count Olaf, Jim Carrey certainly earns a few laughs - he's particularly amusing when impersonating Billy Connolly's nebbishy lab assistant. Mr. Carrey, though, also gets laughs that he doesn't earn. The frequency and predictability of his "spontaneous" breaking of character brings to mind Robin Williams at his most grating; you never feel fully connected to the material because it doesn't seem like the star is connected to it, either. Carrey does clever things throughout, but he's too relentlessly "on" for the movie's good. With the uber-sentimental Brad Silberling - he of Moonlight Mile - at the helm, Lemony Snicket's A Series of Unfortunate Events was never going to replicate the books' delirious sense of gothic squalor (though Jude Law works mighty hard to do so in his voice-over narration), and it's more sincere and sentimental than it needed to be (in a way that Handler's books most certainly are not). The filmmakers have botched the material a tad, yet the results, even at their worst, are still pretty entertaining; hire a director with some vision and keep a leash on Carrey, and the inevitable sequel will probably be even better.
PHANTOM OF THE OPERA
Joel Schumacher's crass and laborious film version of Andrew Lloyd Webber's Phantom of the Opera is a chore to sit through, which is especially shameful because you can feel the audience really wanting to like it. From the first chords of Webber's notorious dun-dun-dun-dun-dun!!! score, the audience is alive to Phantom - many moviegoers are avid for another Chicago - and the film sneaks by on that goodwill for several reels. (In a show of good faith, audience members even laugh politiely at Minnie Driver's unfunny mugging as the Italian diva.) Yet it gradually dawns on you, while watching the seemingly endless clinches between the Phantom (Gerard Butler), Christine (Emmy Rossum), and Raoul (Patrick Wilson), that this Phantom is a complete drag, a stiff, stilted experience that fails to generate an ounce of romance or passion, and it exacerbates all the flaws inherent in Webber's score. (Upon leaving the theater, you feel like you've been listening to the same three songs over and over for two and a half hours, which, in effect, you have been.) Too bad, because Rossum has a lovely soprano and gives a surprisingly nuanced performance, and Wilson is in fine voice (though, by doing this wounded-puppy-dog number so soon after similar turns in Angels in America and The Alamo, he's in danger of becoming our leading cinematic simp). Butler, though, has neither the dramatic nor vocal chops required for his role, and establishes no rapport with the camera; he lacks the charming intensity of an Antonio Banderas in Evita or an Ewan McGregor in Moulin Rouge, and without a charismatic Phantom, your Phantom is as good as dead.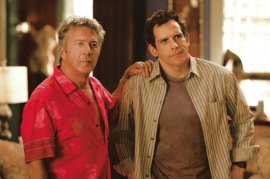 MEET THE FOCKERS
After the lugubrious gloom of Phantom of the Opera, the ultra-bright, sitcom-y blandness of Meet the Fockers almost comes as a relief. The film is, of course, the follow-up to 2000's Meet the Parents; now that Ben Stiller's ever-put-upon male nurse has bonded with his fiancée's folks (Robert De Niro and Blythe Danner), it's time for her parents to meet his. Enter Dustin Hoffman and Barbra Streisand as the fun-lovin' hippies who find more than a few new ways to humiliate their son. As Hollywood comedies go, Meet the Fockers isn't terrible. True, director Jay Roch doesn't give the movie any visual life, and as in the original, the film's running gags run on past the point of exhaustion. But the cast - which includes Teri Polo as Stiller's intended - is a seasoned group of pros who, through a smart line delivery, can make even unfunny material seem borderline witty, and Streisand and Hoffman are enjoyable additions to the troupe. Streisand is saddled with much of the movie's more obvious dialogue, yet she's a delightful, effervescent presence here, and Dustin Hoffman is really something; playing an unapologetically happy man who can't understand why everyone's not as happy as he is, Hoffman gives what must be his most sheerly likeable performance since 1982's Tootsie. Almost everything that happens in Meet the Fockers is predictable, yet the re-emergence of Dustin Hoffman as an inspired comedian, particularly in a tame little sitcom like this, is something that no one could have expected.
SPANGLISH
And while we're on the subject of sitcoms, allow me a blunt question: What the hell has happened to James L. Brooks? Brooks is a sitcom legend, and quite nearly a sitcom-movie legend, with those well-crafted dramedies Terms of Endearment, Broadcast News, and As Good As It Gets on his résumé. Yet Brooks isn't the most prolific of writers-directors, so his latest project stands as his first feature film in seven years. Frankly, I wish he had waited another seven, because Spanglish is an absolute nightmare, so grossly misdirected and performed that it's almost shocking. Nothing works in this movie; Spanglish is awkwardly structured, lackadaisically staged, and almost all of its dialogue is sanctimonious twaddle - no wonder the actors look so miserable. As the movie's neurotic-career-gal-turned-stay-at-home-mom, Tea Leoni gives the ensemble's most appalling performance, so off-the-charts histrionic that even Adam Sandler, as her husband, has to duck for cover. (Some have praised Spanglish for giving us a more "mature" Sandler, but his character here is actually just a slightly grown-up version of the traditional Sandler basket case, as he vacillates between foggy mumblings and wild outbursts of emotion.) Somewhere within this mess, there's a potentially touching story involving Paz Vega's hard-working domestic attempting to raise her teenage daughter, who is becoming enamored with a life of wealth and privilege that Vega's character can never provide. But that the film touches on some very real issues - parental, cultural, and economic - without even trying to grapple with them honestly only makes Spanglish all the more infuriating. We expect sitcoms to be glib, but glib mixed with inept is just plain unbearable.