MOANA
There's a throwaway joke in Disney's Moana that comes right after the titular Polynesian is referred to as "Princess," and the headstrong girl – soon to be her tribe's first female chief – bristles at the chauvinistic comment. "If you wear a dress and you have an animal sidekick," explains the chauvinist, "you're a princess." A bit later, this guy, a heavily tattooed demigod named Maui, notices Moana looking wistfully at the sea and grumbles, "If you start singing, I'm going to throw up." These laugh lines are amusing and all, but have Disney's animated musicals finally become so oppressively clichéd that even their own characters are tired of them?
To be sure, there's a lot to like and admire about the studio's latest cash-gobbler, most of which concerns Moana's and Maui's oceanic trek to return a stolen stone. As voiced by the debuting Auli'i Cravalho, a 16-year-old native Hawaiian, our feisty protagonist sings beautifully and displays a laudable knack for snappy repartee. Dwayne Johnson is fiendishly funny, and rather unexpectedly touching, as the blowhard traveling companion Maui, and as an apparent reward for his efforts, is even granted the movie's best song – a Lin-Manuel Miranda-penned ode to egocentrism titled "You're Welcome" that Johnson performs with ingratiating relish. (In a great touch, Maui's tattoos act as a sort of voiceless Greek chorus, alternately inspiring and ribbing their human host at every conceivable opportunity.) There's a lovely opener involving a receding waterfront and an intense closer with a gargantuan lava monster, plus all sorts of delightful fringe touches: the attack by a marauding crew of ambulatory coconuts; the shrieking apoplexy of Alan Tudyk's goggle-eyed chicken; the hysterical Jemaine Clement as a crab with an affinity for all things shiny. And, of course, it's all wildly colorful and magnificently animated – though, by this point, the bigger news would be landing on a Disney movie that somehow wasn't.
But with all due respect to Moana and its many talents, and from the perspective of an admittedly jaded adult, I have to ask: This again? Another empowerment saga with a heroine whose existence we're meant to applaud merely because she isn't a perky white gal with an 18-inch waistline? Another pair of mismatched girl/boy adventurers whose initial loathing slowly morphs into genuine devotion? Another wacky-animal sidekick – or two, if you count the early scenes with Moana's pet pig? (Or even more if you extend the "animal" designation to include Maui's tats and the ocean waves that continually rescue the princess and give her high-fives?) Another introductory production number with a huge group chorus – this one uncomfortably reminiscent of the happy-slave crooning in 1973's Lost Horizon – followed by a "You go, girl!" anthem followed by a witty patter song followed by a tender ballad followed by a breathless action climax followed by an exultant heavenly choir followed by the Lion King-y "Thunk!!!" of the movie's title as the credits roll? As directed by Ron Clements and John Musker (with two co-directors cited) and written by Jared Bush (with no less than seven "story by" contributors cited), Moana has its charms. But they're nearly all regurgitated charms, and excepting Johnson's and Clement's vocals, the unfortunate familiarity of the goings-on keeps the movie from ever being truly surprising. There's professional polish aplenty yet little real shine.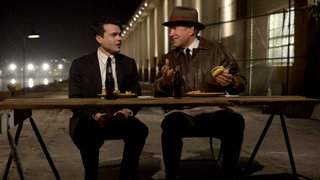 RULES DON'T APPLY
It's hard not to feel bad for Warren Beatty these days – even if he is, you know, Warren Beatty – given that his first movie since 2001's Town & Country, and the first he's directed since 1998's Bulworth, is Rules Don't Apply, a salute to Howard Hughes and bygone Tinseltown whose wide release couldn't even crack the weekend's box-office top 10. It would be easier to feel bad for him if the movie itself weren't so resoundingly meh. A mildly comic, mildly tragic tale of an aspiring ingénue (Lily Collins), the chauffeur who loves her (Alden Ehrenreich), and the billionaire eccentric who keeps thwarting their dating plans, Beatty's long-overdue latest could almost be a litmus test for how glass-half-full you're willing to be toward a film. "The scenes don't play ... but the editing sure is sharp! The compositions are stagnant ... but Caleb Deschanel sure photographs them well! The performances are all over the map ... but there sure are a lot of them!" (Beyond the aforementioned, Beatty also finds room for real-life spouse Annette Bening, Michael Badalucco, Alec Baldwin, Haley Bennett, Candice Bergen, Matthew Broderick, Dabney Coleman, Steve Coogan, Oliver Platt, Paul Schneider, Martin Sheen, Paul Sorvino, and the husband-and-wife team of Ed Harris and Amy Madigan – the former for about 20 seconds, the latter for a wordless reaction shot.)
As my brother correctly summarized after we saw the film, the movie is like the second coming of Trumbo – easy enough to sit through, but weirdly airless and empty, and oddly cheap-looking considering the lavish Hollywood lifestyles represented. The whole thing would be a complete wash if Beatty didn't deliver such a touching, lightly melancholic portrayal of Hughes. It's a treat to again hear the star's singularly abashed, almost apologetic readings and to see that age (he's 79, if you can believe it) has done nothing to impede his gifts for comic loquaciousness and slightly dazed conviction; the only thing really keeping Beatty's turn from being one of his greatest is the unfocused mess of a screenplay he himself wrote. Better to quickly forget about Rules Don't Apply than to dwell, and to hope that it's not another decade and a half before Beatty is on-screen again. If, the next time we see him, he's again romancing a Lily Collins type, but this time at age 94, I might start worrying about the guy's vanity.