The Alps (not rated) - The people have chosen, and the people chose good. Last fall's winner of the Putnam Museum's "Everyone's a Critic" series - which follows climber John Harlin's attempts to scale the north face of the Eiger mountain, where his father perished in 1966 - is such a breathtaking spectacle that watching it makes you a little dizzy; not from the Eiger's treacherous inclines and precipitous drops, which are (enjoyably) vertigo-inducing enough, but from the dazzling visual rush provided by director Steve Judson and his remarkable team of camera operators. Judson re-creates Harlin's ascent with jaw-dropping skill - you'll fight the urge to blurt out "How on earth did they film that?!" repeatedly during The Alps' 45-minute running length - and he and his crew photograph the Swiss mountain ranges with crystalline perfection; I'm not sure any movie has ever looked better in IMAX format. When the film turns to matters of geology and the historic make-up of the mountains, things get a little stodgy, but you're quickly returned to the awe-inspiring vistas, an unexpectedly touching human element courtesy of Harlin and his understandably worried wife and daughter, and, believe it or not, a series of marvelously employed Queen tunes that - in this format, at least - suggest what the elevator ride to heaven would sound like.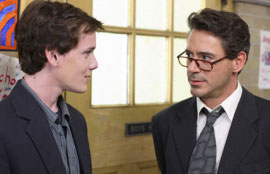 Charlie Bartlett (R) - Ferris Bueller on Ritalin. And Prozac. And maybe Xanax, Vicodin, and Percoset. There's an intriguing idea at the heart of this high-school comedy, in which a privileged teenage malcontent (Anton Yelchin with sharp, fast timing) becomes a combination pharmacist-therapist to his fellow students; Charlie Bartlett's notion that prescription medications are the younger generation's new drug of choice - drugs designed to deprive them of their individuality and make them "just like everyone else" - is richly satirical. Yet the character of Charlie, entertaining though he is, never makes much sense (he's an eccentric goof both on and off the pills), and the storyline turns saccharine just when it should toughen up; director Jon Poll's movie flatters its youthful audience by telling them how unique they are, but gives them the same teen stereotypes that were already old hat when John Hughes was foisting them on us two decades ago. Despite its flaws, though, the film is amusing and independent-minded enough to more than hold your interest, and it's always well-performed. Among the younger cast members, Kat Dennings (as Charlie's girlfriend) and Tyler Hilton (as the school bully who becomes Charlie's business partner) are particularly strong, Robert Downey Jr. is excellent as an exasperated principal with a flinty sense of morality, and Hope Davis, as Charlie's flaky boozehound mother, makes for a supremely endearing monster. "I know!" she exclaims, attempting to cheer her son after his expulsion from private school. "Let's go to a wine tasting! We haven't done that since you were a kid!"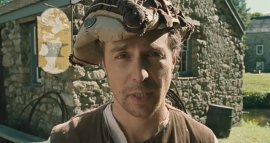 Choke (R) - It's adapted from a novel by Fight Club author Chuck Palahniuk, and it plays a little like a sitcom version of Fight Club. Thankfully, though, it's a really smart, Arrested Development-type sitcom, so you don't mind one bit. Clark Gregg's weird, rude, and wildly entertaining movie finds Sam Rockwell playing a sex addict with a host of (totally understandable) mommy issues - he's Bateman with a boner - and the actor is so funny and tortured and sad that his performance easily stands alongside his portrayals in Confessions of a Dangerous Mind, Joshua, and The Assassination of Jesse James by the Coward Robert Ford as the most unjustly uncelebrated of his career. Actually, nearly everyone here - especially Anjelica Huston, Kelly Macdonald, and Brad William Henke - performs first-rate balancing acts between tragedy and tragicomedy, and Gregg, in his debut as a writer/director, oftentimes lends his set pieces the razor-sharp wit he delivers as an actor. (His work is particularly great in the date-rape scenario that goes horribly awry, and the scenes set in the film's Colonial Dunsboro theme park - where Rockwell's character makes his living - are priceless... partly because Gregg is also acting in them.) The movie's a little sloppy and meandering, and it aims for more empathy than it really earns. But Choke is still a huge kick, and while the film won't net him the acclaim (or the box office) he deserves, Rockwell is pretty damned amazing in it. Ah, well. One more to add to the inevitable Lifetime Achievement Award montage, I guess.
City of Ember (PG) - It would take more words than I have the energy for - perhaps more words than the Internet allows - to fully explain director Gil Kenan's kiddie adventure City of Ember, a futuristic doomsday tale made family-friendly through spectacular gizmos, gargantuan sets, oversized insects, oversized rodents, hidden treasures, log rides, and Bill Murray. Beyond its vaguely anti-technology bent, I don't think I ever fully understood this adaptation of Jeanne DuPrau's children's book, but I certainly didn't mind it in the least; the movie exudes a playful (if grimy) spirit, zips along harmlessly, and always provides something interesting to look at (including the faces of Saoirse Ronan, Tim Robbins, Martin Landau, Mary Kay Place, Marianne Jean-Baptiste, Toby Jones, and Mackenzie Crook). It's like Children of Men meets Mr. Magorium's Wonder Emporium meets Brazil, yet nowhere near as unbearable as that sounds.
Eagle Eye (PG-13) - I know, I know... we're all supposed to suspend our disbelief when it comes to fast-paced, action-packed, intentionally overwrought popcorn entertainments such as Eagle Eye. But for the love of all that's holy, exactly how much disbelief are we expected to suspend here? Though infinitely dopier, director D.J. Caruso's paranoid thriller is like a high-tech variant of David Fincher's The Game, in which a series of astounding coincidences drive our lead (Shia LaBeouf here) exactly where he needs to be at every given moment. Unfortunately, you can't buy this movie for a moment - not when the plot establishes its convoluted identical-twin scenario, not when LaBeouf's copy boy and Michelle Monaghan's paralegal begin comically bantering within two minutes of their introduction, not when the malevolent computer behind the film's villainy begins huffing like a GPS with serious attitude, not when the stars turn into unlikely (yet laughably confident) action heroes, and not when the movie's omnipresent electronics begins functioning in ways that electronics simply can't. Thank God for Billy Bob Thornton, who provides weight and eccentricity, and is actually given some good lines. ("You couldn't have picked a worse time to be of some goddamned use... .") He's a fantastically smart presence in a movie that's dumber than hell; I think I lost brain cells at this thing, and I'm pretty sure it's because they committed suicide.
How She Move (PG-13) - Aw, man, I was so hopeful. For almost the entire first hour, director Ian Aqbal Rashid's pick-yourself-up-by-your-bootstraps-and-dance! drama is surprisingly great. It's the exact same formula you've seen (or, at least, have seen the trailers for) dozens of times before, but it's missing something that movies like Stomp the Yard have in spades - slickness. And that's the best thing about it. How She Move has a more naturalistic, found-moment appeal than you may be expecting, and it's beautifully assembled; the cuts are sharp, the dance moves are great, and lead Rutina Wesley is phenomenal, a marvelously unaffected anchor. This Canadian movie (called Step there, which is a much better title) is so good for so long. Why the hell did it have to turn so Hollywood? By the final reels, the movie embraces every deadening triumph-of-the-underdog cliché it had previously avoided successfully - even the final dance number is a big-budget, slow-mo extravaganza - and it makes you angry for putting so much initial faith in it. When I saw the movie, the teen audience stopped talking when the movie began, and promptly started at the one-hour mark. Had I not seen it solo, I might've done the same thing.
Igor (PG) - I'm not sure what I expected from the computer-animated Igor, which is about a put-upon hunchback (voiced by John Cusack) eager to win a mad-scientist contest, and which looks a little like a Tim Burton take on Mary Shelley. But here's what I didn't expect: Eddie Izzard voicing the vaguely pansexual baddie Dr. Schadenfreude. Sean Hayes as a mobile brain-in-a-jar whose name, misspelled in its glass encasement, reads "Brian." Steve Buscemi as a suicidal (yet unkillable) rabbit who escapes traps by gnawing off his feet. Molly Shannon as a 10-foot, indestructible behemoth with a yen for Annie and the temperament of an eight-year-old pageant princess. ("I need to write this down in my sense-memory journal! Where did I put my glitter pen?!") The James Lipton cameo - and not just his voice, but the actual guy - in which he waxes euphoric on the intimidating acting challenge that is Blanche DuBois. Igor's Bride-of-Frankenstein-esque invention choosing, for her first point of attack, the Home for Blind Orphans. ("Blind orphans get everything," mutters Hayes.) And a finale in which the Happily Ever After involves the grand opening of a community theatre, with the blind orphans - most of whom are facing the audience - singing "I Can See Clearly Now." With its script credited to Chris McKenna, director Anthony Leondis' movie is unnecessarily complicated, and even borders on the incoherent. Yet with its imaginative (albeit color-restricted) visuals and throwaway wit, Igor comes nearer to the madcap, this-close-to-totally-nuts spirit of old Looney Tunes shorts than anything since parts of 2006's Hoodwinked, and maybe even Disney's The Emperor's New Groove in 2000. (At one point, Buscemi's bunny takes a rifle and shoots himself in the face, and the moment is as disturbing and hysterical as anything in Bugs', Daffy's, and Elmer Fudd's "Duck Season!"/"Rabbit Season!" outings.) The film is occasionally pokey and awkwardly sentimental, but it's impossible not to (sort of) love a movie that climaxes with a monstrous whirligig laying waste to a coliseum full of evildoers by delivering a rousing rendition of "Tomorrow."
Mamma Mia! (PG-13) - In this adaptation of the Broadway smash, Meryl Streep spends most of her screen time, even her happy moments, looking pale and red-eyed, as if she'd been weeping mere seconds before director Phyllida Lloyd yelled "Action!" I'm assuming the star had seen the rushes? No movie featuring a wall-to-wall soundtrack of ABBA tunes can be all bad, even when they're as (occasionally) poorly sung and (frequently) poorly staged as they are here, and there are definite highs to be had: a joyful performance of "Dancing Queen"; Christine Baranski delivering a hilariously lascivious "Does Your Mother Know"; an agreeably silly take on "Take a Chance on Me." But sweet lord, does this movie look atrocious. Mamma Mia! is incoherently edited, horribly lit, and the musical numbers have barely a whiff of musicality; not only are the shots sloppily assembled, but the choreography, if one can call it that, is so mindlessly frenzied that it seems indistinguishable from a mass seizure. How on earth does a moviemaking team film a giddy, lighthearted musical on the sunny beaches of Greece and wind up with something this ugly? When they're not shrieking at the top of their lungs (which, unfortunately, is often), Streep, Baranski, and Julie Walters have some engaging, seemingly improvisational moments, and Amanda Seyfried's bride-to-be is adorable. But the trio of Pierce Brosnan, Colin Firth, and Stellan Skarsgård is made to look foolish at almost every given opportunity; they're so often seen grinning vacantly while standing side by side by side that they may as well have been directed to hold hands. (Oh, wait... in one scene here, they were.) No one, though, is making Brosnan look ridiculous when he pulls out his loudest Joe Cocker impression and launches into a full-throated rendition of "S.O.S." The actor is ridiculous all on his own, thank you.
Meet Dave (PG) - Eddie Murphy stars in yet another depressingly formulaic and insipid family movie. (Do you want to alert the rest of the media, or should I?) For almost an entire reel, though, you might be fooled into thinking otherwise. Playing a human-sized spacecraft modeled after the miniature alien who's captaining it, Murphy pulls off some inspiring physical shtick in the film's early scenes. His first attempt at walking (after crash-landing on earth) is like a modern-dance variant on Steve Martin's gonzo All of Me thrashing, and he makes gloriously goofy faces while his eyes remain robotically immobile - for nearly 15 minutes, Murphy delivers an impressive, and occasionally very funny, comic turn. To the surprise of no one, though, the movie eventually sucks all the fun out of it -- Meet Dave is saddled with the de rigueur, blander-than-bland romantic foil (two of 'em, actually, played by Elizabeth Banks and Gabrielle Union), the "adorable" tyke (Austin Lynd Myers... ugh), the static staging (by director Brian Robbins), the witless plotting, the ugly cinematography, and the lame sentimentality that we've come to expect from Murphy's family-oriented offerings. I'd place this one somewhere above The Haunted Mansion and Daddy Day Care and below the Dr. Dolittles on the star's frequently regrettable filmography, but it does get docked extra points for his climactic good-bye to the movie's irritating young moptop: "You taught me the true meaning of friendship and courage." Please please please tell me Murphy's not planning a remake of The Wizard of Oz.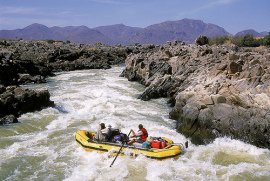 Mystery of the Nile (not rated) - When I first learned that the title of the Putnam Museum's latest IMAX presentation was Mystery of the Nile, my initial thought was, "There's only one? But that thing's huge!" Yes it is - as we get to discover through a series of rather extraordinary aerial shots composed by director Jordi Llomport - but it turns out that the singular "mystery" of the title is appropriate. Exploring the question of "But where does the Blue Nile's water supply stem from?", the film follows geophysicist Pasquale Scatturo as he leads an expedition from the river's source in Ethiopia to its final destination in the Mediterranean, and by keeping the movie's focus very specific, Llomport and his team fashion an educational and thoroughly enjoyable 50-minute travelogue. There are gorgeous shots of the team navigating treacherous rapids and rappelling down cliffs, and while you're never in doubt as to the eventual fate of the explorers - this is a family-friendly endeavor, after all - there's a surprising amount of tension, especially after one of the rafts topples over mid-stream and we're informed that, by the way, there's a crocodile or two hanging out nearby. (We're told that Nile crocs eat more Afrikaners annually than all other animals combined, and the occasional shots of these toothy beasts are enough to give grown-ups the willies right alongside their kids.) Mystery of the Nile features its share of the expected IMAX corn - the awkwardly "naturalistic" conversation, the penchant for gush like "the waters of the Nile nourish the soul" - but it's a sharp and spirited piece of work, and includes some terrific trivia, to boot. At one point, we're told (and shown) that "one sure way to get a laugh in Ethiopia is to carry a rubber raft on your head." I'd been wondering what the secret was.
Nights in Rodanthe (PG-13) - The latest adaptation of a Nicholas Sparks novel isn't as offensive as the author's The Notebook and isn't as boring as his Message in a Bottle - this one is god-awful terrible in its own special way. Director George C. Wolfe's romantic (ha!) drama (ha ha!) finds lonelyhearts Richard Gere and Diane Lane hurting and healing at a fabulously ramshackle beachfront inn during hurricane season, and if you can make it through more than two successive minutes without rolling your eyes, you're a stronger person than I. How in the name of heaven did it take two writers - Ann Peacock and John Romano - to translate this drivel to the screen? It's not that the conversation, if you can call it that, is romantic mush; it's that it's completely unfelt romantic mush - the dialogue is nothing but recycled platitudes from dozens of other, better romances, and the stars' disinterested, autopilot performances make it sound all the worse. (And just wait 'til you get to the letter-writing montage, in which Gere and Lane recite their maudlin goop in voice-over - it might mark a new career low for both.) I'm not sure I've ever seen a Hollywood weeper produced with this much laziness and cynicism; the whole thing would be laughable if its obscene waste of talent didn't make you want to bawl your head off. With supporting turns by James Franco and Viola Davis, both of whom might very well be up for Academy Awards this year... for Milk and Doubt. Not for this fraudulent piece of crap.
One Missed Call (PG-13) - These Americanized versions of Japanese horror flicks crack me up. Seriously. In this do-over of a Takeshe Miike release that I'm happy to have avoided, Shannyn Sossamon and the ever-constipated Ed Burns ascertain that an evil spirit is striking vis-à-vis a series of cell-phone messages... from the soon-to-be-deceased themselves!!! Do our heroic morons ever discuss, you know, how this is possible? Nope. Instead, they spend their time trying to glean the identity of the supernatural murderer, so they can... what, exactly? Capture it in their Hoover Dirt Devil? Ask it really, really nicely to stop? Unfortunately - or fortunately, depending on your tolerance for campy horror swill - that crushing central idiocy is just one of dozens to be found in director Eric Valette's asinine, scare-free mishmash of "creepy" leitmotifs (millipedes, porcelain dolls, red marbles bizarrely masquerading as candy) and laughably inept "surprises," and even the great, demonic Ray Wise, as a frenzied TV producer, is of no help. Only those with perennially lousy cell-phone service might find some enjoyment here, as phones are ripped apart, stomped on, thrown across the room, whipped down a street gutter, tossed into a fish tank, and worse; in One Missed Call, Valette and screenwriter Andrew Klavan seem to be doing little more than spending 90 minutes working out their issues with Verizon Wireless. Hey, so long as the movie was good for something.
Penelope (PG) - Even for a movie about a girl cursed with the snout of a pig, Penelope is pretty strange. Though the direction for this modern-day fairy tale is credited to Mark Palansky, it seems to have been helmed by three or four different directors, none of whom bothered to check if their styles would mesh; tender, subtle sequences sit uncomfortably beside hideously over-the-top ones, the mixture of Victorian and American sensibilities (and accents) is confounding, and the performances are of wildly varying quality. (Peter Dinklage and Reese Witherspoon provide likeably low-key portrayals; Simon Woods and a maddeningly shrill Catherine O'Hara are thoroughly unappealing.) Yet while the film is a mess, and the Don't Judge Others by Their Appearances moral is hammered at us in a way that might cause even grade-schoolers to roll their eyes, Penelope isn't without charm, especially in the scenes between Christina Ricci - with her cute-as-a-button piglet schnoz - and James McAvoy; their sweet, cautious flirtation radiates all the magic that the rest of Palansky's offering can't quite muster.
Pride and Glory (R) - As if its title wasn't generic and unmemorable enough, director Gavin O'Connor's and co-screenwriter Joe Carnahan's cop drama opens by clicking off the genre clichés one after another - drug busts gone wrong, massive corruption in the NYPD, brothers torn against brothers, a ruddy Irish police chief with a serious stranglehold on a Scotch glass... . Even if you haven't seen Pride and Glory before, you've probably already seen it. Or so you'd think. But about 20 minutes in, the busy plotting all but stops for an extended Christmas-dinner scene where characters finally get to talk (rather than shout) at one another, and from that moment on, everything that happens packs a much bigger emotional wallop than you were initially led to expect. O'Connor proves masterful at mixing unexpected violence with emotional violence - in a terrifying scene, Colin Farrell's vicious officer holds a steaming iron mere inches from an infant's face after punching the child's mother in the mouth - and the tricky editing rhythms constantly keep you on edge, but the movie wouldn't be worth much without the subtle emotional shadings of its cast: Edward Norton, Jon Voight (better than he's been in years), Noah Emmerich, Jennifer Ehle (splendid as a mother ravaged by cancer), John Ortiz, and several others are so strong that they're practically reinventing their stereotypes. The movie climaxes on a credibility-crushing note of macho-blowhard silliness, but it's an edgy and surprisingly riveting entertainment until then, and would've been even better if Farrell had attacked his role with the wit and imagination of his turns in Cassandra's Dream and In Bruges earlier this year. Of course, this long-shelved movie was completed nearly two years ago, so maybe he should be forgiven for his mannered and repetitive work here, but Pride and Glory already finds the actor cast in the prototypical Robert De Niro role - was it really necessary for Farrell to also deliver a full-scale De Niro impression?
Seven Pounds (PG-13) - It's pretty easy to see why so many critics are lambasting this sentimental drama: The movie is an unholy mess. It takes at least a half hour for director Gabriele Muccino's post-Pursuit of Happyness offering to make any sort of narrative sense, and even then it's dicey. (Oddly, it's also a full half hour before the film's voice-over narration kicks in.) Grant Nieporte's script is top-heavy with sanctimony and self-sacrifice while painfully lacking in lightness and variety; the audience, desperate to laugh at something, occasionally giggles at moments not meant to be funny. Will Smith, as a mysterious I.R.S. agent with a philanthropic agenda, plays a character whose motivations and personality appear to change, willy-nilly, from scene to scene. (Whether or not they actually do can probably only be gleaned on a second viewing, and I doubt many will bother.) Oh, and that title? I still don't get it. As unholy messes go, though, Seven Pounds isn't all that bad. Though you may detest where the movie eventually leads, Muccino handles the trek itself with a suspenseful deliberateness that never turns to tedium, and his work is filled with piquant, haunting images that linger - the aching, unexplained misery in Barry Pepper's eyes; a serene, otherworldly shot of an aquarium tank filled with jellyfish. And thankfully, Seven Pounds is blessed with the presences of Smith and the great Rosario Dawson, two actors with the rare gift of never, ever being boring. Smith lends considerable wit and enormous empathy to his head-scratcher of a role, and Dawson, who pulls off several incredibly tricky emotional transitions, is so blazingly alive that she practically burns a hole through the screen. In one of the movie's few moments of levity, she comments on the beauty her character has lost to frequent illness, and tells Smith's agent, "I used to be really hot. Like inauditably hot." She still is.
Space Chimps (G) - As one of many in the area recently left without electricity for several days, I thought I'd escape my unilluminated dwelling for an evening, and wound up catching a screening of the animated Space Chimps. I'm now thinking that sitting in the dark with a fifth of vodka would've been a much smarter way to go. Granted, I'm hardly the age demographic the film is aiming for, and die-hard fans of monkey puns won't want to miss it, as the script by Rob Moreland and director Kirk DeMicco features roughly 17,000 of them over the course of 80 minutes. (It also features, again roughly, the 17,000th fatuous animated character that Patrick Warburton has voiced, and his shtick is getting really tiresome.) But for such a short movie, it's achingly difficult to sit through. The lead simian (voiced by Andy Samberg, who doesn't even seem to be trying) is a generic smart-aleck with absolutely no personality, the plotting vacillates between incoherently busy and depressingly stagnant, and even with a vocal cast that includes Jeff Daniels, Cheryl Hines, Stanley Tucci, and Jane Lynch, there are no laughs to be had - wouldn't you think one of these people might've garnered a chuckle accidentally? There's exactly one enjoyable element in this witless cinematic baby-sitter: A sweetheart of a vocal turn by Kristen Chenoweth, who plays a squat, lightly pink... thing... with a gigantic head, and who unleashes a wild, speedy soprano trill whenever her cherubic weirdo gets nervous. Chenoweth's fluttery warble didn't make me laugh, but I did smile - it was a nice break from the stone-faced misery with which I watched the rest of the film.
Tyler Perry's The Family That Preys (PG-13) - The titular writer/director's latest, in which Kathy Bates' über-rich Southern matriarch deals with financial (and adulterous) scheming amongst her extended family members, is like an entire season's worth of trashy-nighttime-soap episodes. It's also about as preposterous and ridiculously enjoyable as modern movies get. I'll admit, though, that the film's opening hour had me worried. Despite wonderfully sincere work by Bates, Sanaa Lathan, Robin Givens, Cole Hauser (whose casting tells you all you need to know about the character), Rockmond Dunbar, Kadee Strickland, the always-great Taraji P. Henson, and the film's auteur himself (most of whom come thisclose to caricature without, thankfully, ever getting there), the first half felt unusually dry for a Perry outing. But then Lathan's hateful hussy hissed to Dunbar's wronged spouse that their child wasn't really his, and Dunbar backhanded her over a café countertop, and the audience (myself included) went nuts, and all was right with the world. The emotional and physical violence on display here would be offensive if it wasn't presented with such a knowing wink, but Tyler and his cast are having such fun both emulating and outdoing the movie's Dynasty-esque predecessors - and with a proudly non-secular bent, to boot - that the results are just about irresistible. And the film earns huge bonus points for providing the genius performer (and way-underused) Alfre Woodard with a new leading role onscreen. You won't be seeing the actress' name among this year's Oscar nominees for Best Actress, but if you miss Tyler Perry's The Family That Preys, I guarantee you'll be missing one of the freshest, most touching, and most singularly effective female performances of the year.
Untraceable (R) - Gregory Hoblit's thriller is the most irritating type of genre entertainment - a hectoring one. The set-up here finds a madman running live, streaming videos of those he kidnaps on the Internet, with the added twist being that you - yes, you! - help off his victims with every visit to his Web site. Despite the numerous labor-intensive, slow-death contraptions on display, Untraceable features a stupid yet not completely far-fetched horror conceit, but the movie would be a lot more entertaining if a), the script didn't keep reminding us how plausible it all was - listening to the expository dialogue is like spending 100 minutes with the tech-support serviceman from hell - and b), it didn't keep reminding us how sad it all was. A mopey Diane Lane, a mopier Billy Burke, and others deliver resigned sentiments about the miserable state of the computer generation (including the inevitable "What the f--k happened to the world?"), and by the time the psychopath tells one of his prey, "The whole world wants to watch you die, and they don't even know you," you've been all but completely guilt-ed out of your enjoyment. What, exactly, is the point in a shame-based serial-killer flick? Aren't audiences supposed to have fun at these things? Director Hoblit - who's helmed one cinematic bummer after another since his first-rate Primal Fear debut - lends the film a suitably creepy atmosphere, but aesthetically commendable crap is still crap.