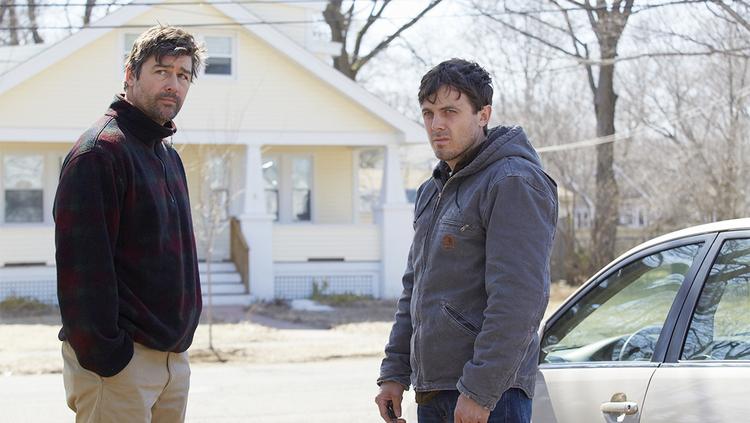 Looking over my list of favorites from the recently ended movie year, I was trying to find something – anything – that connected them beyond my admittedly eclectic tastes. I mean, seriously: low-budget drama next to Disney animation next to indie horror next to teen comedy next to musical romance next to cops and robbers next to sci-fi next to a woman being transformed into a Shetland pony ... . What the hell kind of cinematic Top 10 is this?
It turns out that the only thing connecting them is their collective presence on a 10-favorites list in which, for the first time ever, I didn't see a single favorite on the big screen more than once; there wasn't a Brooklyn repeat or Boyhood three-peat or No Country for Old Men four-peat in the entire bunch. Consequently, regarding the six included titles that I don't yet own on Blu-ray, I'm currently revisiting them solely through memories.
But, oh, what memories, starting with those of a certain title I'm betting will prove impossible to forget ... .
1) Manchester by the Sea. Everyone familiar with this thunderously affecting third feature by writer/director Kenneth Lonergan will no doubt have instant recall of The Michelle Williams Scene. Playing Randi, the ex-wife of Casey Affleck's morose custodian Lee Chandler, Williams actually has several scenes in the film. But the scene finds her running into Lee on a sidewalk on a chilly Massachusetts morning, and what starts out as pleasant if slightly strained small talk turns into a miniature aria of sorrow, regret, desperation, pain, and many, many tears – quite possibly the most memorable five minutes of the movie year. What's truly astounding, though, is just how many sequences in Manchester by the Sea give that devastating encounter a run for its money: Lee's inability to stop the rush of flashbacks when he's named guardian to his 16-year-old nephew Patrick (Lucas Hedges); Lee resting his head against the shoulder of the beloved brother (Kyle Chandler) he's going to lose too soon; Patrick's unforeseen breakdown as he wrestles with some frozen steaks. Then there's the Mack Daddy of emotional killers – perhaps even topping The Michelle Williams Scene – as Lee suffers through a tortured explanation and too-easy police inquiry, and performs a sudden, horrifying action that stops your heart right before shattering it. You'd think Lonergan's drama would be the apex of misery. Yet while it was neck-and-neck between this film and Moonlight for my 2016 favorite, I finally opted for Manchester because it has the added benefit of also, at times, being really funny. Bantering with the relaxed wit of seasoned comedy pros ("What happened to your hand?" "I cut it." "Oh, thanks. For a minute there I didn't know what happened."), Lee and Patrick, for all of their mutual suffering, share a hilariously tetchy bond. And Lonergan, who incisively communicates the role humor plays in the grieving process, keeps finding laughs in unexpected places, as when Lee can't remember where he parked, or when Patrick says there's no reason his father's body needs to be stored in a mortuary freezer – they could just plop him in the frigid backseat of Lee's crappy car. Given the peerless script, elegant direction, desolate wintry beauty, unimpeachable portrayals by Williams, Hedges, Chandler, Gretchen Mol, and others, and towering magnificence of Casey Affleck, Manchester by the Sea is, for me, the movie of the year. Just think: Lonergan's You Can Count on Me led to Margaret led to this. I can barely wait for the guy's next one.
2) Moonlight. My determining factor in choosing Manchester over Barry Jenkins' ravishing character study might suggest that Moonlight isn't at all funny, and it really isn't. But if there was a warmer movie released in 2016, I sure didn't see it. Part of that warmth is geographic, as cinematographer James Laxton captures the film's Miami milieu with such richness and specificity that you can practically feel the sunlight on your skin and smell the ocean air. But for a work largely populated by drug dealers, crack addicts, and public-school bullies, this coming-of-age drama is so overflowing with tenderness, curiosity, and empathy that I left feeling I knew its central figure Chiron – in all three of his incarnations – and those close to him at least as well as some members of my own family. Playing Jenkins' black, gay, lower-middle-class protagonist as he morphs from a skinny and confused grade-schooler to a yearning teen to a sad and lonely young man with a bodybuilder's physique and intimidating gold fronts, Alex Hibbert, Ashton Sanders, and Trevante Rhodes are fiercely present performers whose collective reticence barely disguises their startling emotionalism. And while the majestic portrayals of Mahershala Ali and Naomie Harris have received deserved acclaim and are in line to receive more, praise should also be extended to André Holland and Janelle Monáe for filling more-low-key roles with seemingly ceaseless reserves of humanity and kindness. (With her performances here and in Hidden Figures, few film actors have enjoyed a more arresting screen-debut year than Grammy-nominated chanteuse Monáe.) Directing only his second feature film, Jenkins proves himself a master conductor, orchestrating his cast's beautiful portrayals to fit seamlessly into this world lovingly created alongside co-screenwriter Tarell Alvin McCraney. We may be seeing life through a prism of Moonlight, but rarely has it looked clearer, brighter, or more beautiful.
3) The Lobster. Hands down, the year's most hysterical screen bummer. Unless it's the most agonizing laugh-riot. Either way, with his first English-language feature, Dogtooth director Yorgos Lanthimos delivers a singularly surreal tale of thwarted love, mutual compatibility, societal pressure, and paralyzing fear of loneliness that's as shockingly appalling as it is delightfully absurd. Colin Farrell, with his nearly unshakable deadpan and admirably protruding gut, has never been more moving or offhandedly funny than he is portraying Lanthimos' and co-screenwriter Efthymis Filippou's timid sad-sack who agrees to become a crustacean if he can't find his romantic ideal. Exquisite support comes from Rachel Weisz, John C. Reilly, Olivia Colman, Ashley Jensen, Léa Seydoux, Ariane Labed, and Ben Whishaw, the latter, during my Iowa City FilmScene screening, eliciting 2016's biggest vocal yelp when demonstrating the means by which he snagged his new beloved. (For 2016's most aghast vocal reaction, I would direct you to that same screening, and the fate of Farrell's brother at the hands – or, rather, feet – of the worst person on Earth.) And with the compositions impeccably crafted and the dialogue practically leaking with quotables – "If you encounter any problems you cannot resolve yourselves, you will be assigned children" – The Lobster is a tour de force of unforgettable sights, sounds, and ideas to keep your brain active for days, from the opening assassination of a donkey to the climactic image of a solitary individual in a café booth. That shot, by the way, would answer our lingering questions if it lasted just one second longer than it does. Damn that Lanthimos.
4) The Witch. Writer/director Robert Eggers' feature-film debut isn't just the most effective, and scariest, horror movie I've seen in ages. It's also, by a considerable margin, the bravest. Who would have thought that, in 2016, such prolonged, bone-deep fright could result from yet another Crucible-esque exploration of the Salem-witch-trial era, to say nothing of a movie whose intentionally stilted and potentially off-putting dialogue is wholly free of contractions? (I did not and could not see that happening, I am here to say.) But up to and including its jaw-dropping final image, The Witch routinely delivers magic, if black magic, in spades. As in the darkest fairytales and Grimm-est fables, we're plunged into a family nightmare that questions whether evil can, in fact, be a physical entity, and deprived of any traditional ironic or comedic escape routes, I felt the claustrophobia, madness, and terror of Eggers' victimized Puritans in every instant of their struggles against nature, instinct, and God. Filled with wrenching character work by Anya Taylor-Joy, Ralph Ineson, Kate Dickie, and the unbelievably committed teen Harvey Scrimshaw, this slow-motion panic attack spends nearly 90 minutes twisting your stomach into knots before a fiendishly foul billy goat named Black Phillip provides the swallowed scream of the year. I praised the creature in my original review, and after posting a link to the article on Twitter, was perked to see it re-tweeted – until I noticed that it was re-tweeted by @BlackPhillip. And people wonder why I'm so hesitant to tweet.
5) Fences. A stage adaptation so powerful and immediate that you can practically feel the actors' sweat and spit. I certainly understand some reviewers' complaints that director/star Denzel Washington's take on August Wilson's most-popular achievement is too theatrical, considering its reams of lyrically loquacious dialogue, its small cast, and our rare moments of escape from its Pittsburgh-backyard setting. But as a lifelong cinephile who, four times out of five, would still rather be at a play than a movie, I'm nothing but grateful that a film of Wilson's staggering family drama – one of 20th Century literature's crowning achievements – finally exists after almost three decades of false starts. And I'm floored that one exists with performances this bloody good; after the show's 2010 Broadway revival won Tonys for Washington and co-star Viola Davis, premium tickets skyrocketed to $396.50 apiece, and that now seems like a bargain. Regarding their movie portrayals that will cost you some $385 less to witness, Washington is at career-finest strength as Wilson's larger-than-life patriarch, and while Davis' done-deal Oscar will be testament to her long-suffering-spouse perfection and general, unassailable awesomeness, it also feels too puny for what she does here. (Could we maybe name a school after Viola Davis? Or that recently discovered planet?) Yet lengthy essays could also be written on the level-headed deference of Stephen McKinley Henderson (who also pops up in Manchester by the Sea), and the inscrutable smoothness of Russell Hornsby, and the damaged joviality of Mykelti Williamson, and the understated angst of Jovan Adepo ... and the whole glorious experience of Denzel Washington's Fences. Total standing O.
6) The Edge of Seventeen. Telling of a sardonic high-school drama queen forced to deal with all manner of personal, familial, and romantic woes, The Edge of Seventeen is Kelly Fremon Craig's writing/directing debut. Is it possible that after close to three decades, we finally, finally, have someone to officially pick up John Hughes' mantle? I adore plenty of 2016 movies, but none of them delivered the wholly unanticipated shock of Fremon Craig's comedy – a seemingly by-the-numbers teen flick so wise, so clever, so honest, and so unfailingly funny that the only lines of dialogue I didn't appreciate were the ones I couldn't hear over my cackling. Giving a superb, multi-dimensional portrayal that could easily stand side-by-side with Emma Stone's performance in Easy A – and coming from me, there's no higher praise – Hailee Steinfeld emerges as the luminous leading-lady talent we True Grit fans always hoped she'd become, and she's surrounded by a ceaselessly winning cast that includes Kyra Sedgwick, Blake Jenner, Hayden Szeto, a heartbreakingly sweet Haley Lu Richardson, and the sandpaper-dry wit Woody Harrelson. Fremon Craig's voice, however, is the one that registers the loudest, and with the most inspiring, expansive joy. She clearly gets how, for a put-upon teen, every major hindrance can feel like the end of the world and even minor setbacks can make you feel like the butt of an endless cosmic joke, and she treats her characters (and audience) accordingly – with respect, empathy, and self-effacing humor to spare. I'd have happily asked this movie to prom. But it would've been too cool to go with me.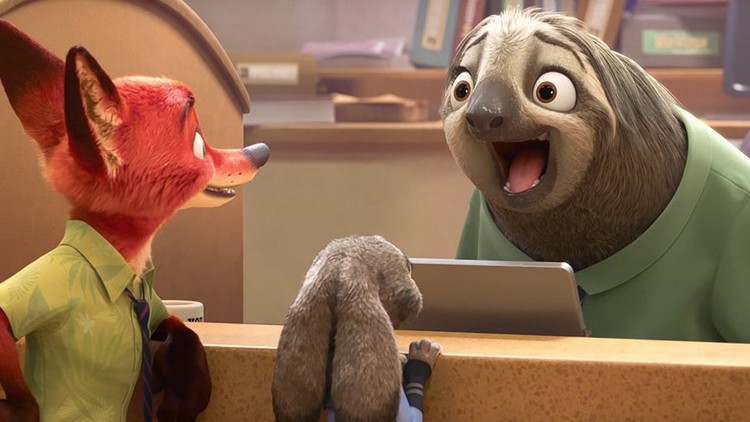 7) Zootopia. In the words of Flash, everyone's new-favorite DMV employee: "Ha ............... ha ............... ha ............... !" To be sure, that genial sloth and his barely ambulatory brethren delivered Zootopia's – hell, all of 2016's – most brilliantly sustained scene of anti-slapstick. Yet from beginning to end, this animated Disney comedy by directors Byron Howard and Rich Moore was more hilarious, imaginative, touching, and satisfying than we had any right to expect. What was amazing in March, especially considering how long it takes for animated features to go from conception to screen, was how timely the movie felt, landing exactly when unreasonable fears about immigrants as The Other were dominating certain political rallies and press cycles. So many months later, the film feels positively essential, particularly for young viewers, in its vision of a society in which fear and distrust can be transformed into acceptance and respect, and traditional notions of predator and prey are vanquished through patience, compassion, and a kick-ass Shakira number. (A boy can dream, anyway.) The stunningly well-animated Zootopia is a treasure trove not only of first-rate vocal performers (Ginnifer Goodwin, Jason Bateman, Idris Elba, Jenny Slate, J.K. Simmons ...) and inventive narrative spins, but comic gambits so uproarious that I recently laughed harder on a third viewing than I did on my first, and it wasn't even Flash who wrecked me; it was crime boss Mr. Big and his peerless Don Corleone cadences. Someone please make that pint-sized shrew a spin-off offer he can't refuse.
8) Arrival. It may "only" be ranked at number eight, but if there's one 2016 release I kick myself for not catching at the cineplex at least twice, it's director Denis Villeneuve's unusual, challenging, hugely gratifying science-fiction drama that inspires all sorts of oxymoronic descriptions – "gravely exciting," say, or "thrillingly somber." Those of you who saw the film likely understand why a second viewing feels so essential, as it's one of the rare modern movies whose final minutes actually do change the scope of everything you've previously witnessed, and with far more resonance than a typically crowd-goosing "Bruce Willis was dead the whole time!!!" wrap-up. But I also would've gladly paid to see it again just for the sheer enjoyment of the experience ... and we're talking about a film that opens with Amy Adams grieving over the prolonged illness and death of her daughter. ("Solemnly electrifying"? "Intoxicatingly gloomy"?) As Adams' linguist and Jeremy Renner's scientist attempt to communicate with a race of outer-space drop-ins and glean the purpose of their visit, Villeneuve and his sterling production team provide seemingly no end of incredible images and, especially, noises; one viewing or not, I can still hear that juicy thunk!!! as the aliens' tentacles hit solid glass. Arrival, though, is also a miracle of contrasting moods, one moment intense and serious, another giddy and awe-inspiring, and always complemented by the disciplined precision and emotional expressiveness of Amy Adams. This movie is so good that I totally forgave it, and him, for co-star Forest Whitaker's unfathomable accent. Besides, Rogue One was just around the corner.
9) La La Land. There aren't many characters. The characters we get don't have much depth. The muddy sound mix in the opener drowns out some lyrics. The climax's narrative design is retrograde and mildly sexist. Neither lead is an effortless singer or dancer. Ryan Gosling, when dancing, keeps staring at his feet. And while watching writer/director Damien Chazelle's lavish salute to, and re-imagining of, the golden age of big-screen musicals, it would've taken a sandblaster to wipe the shit-eating grin off my face. I think it's safe to say I'm not alone in adoring La La Land the way I do; as of this writing, the movie's soundtrack is number one on the iTunes chart, its box office has been increasing week by week, and it just earned a record-setting clean sweep of seven wins at the Golden Globes. I also couldn't be more jazzed that Chazelle's Whiplash follow-up is heading toward monster-hit status, given that one scene after another inspires the sort of marrow-deep pleasure you imagine was felt by Singin' in the Rain's first audiences. Between cinematographer Linus Sandgren's dazzling color palette and Justin Hurwitz's thrilling original songs and score, this tale of Hollywood hopefuls is such a breathtaking visual and aural marvel that you feel as if both it and you might just explode from happiness. Meanwhile, as they radiate chemistry and affection by the bucket-load, Gosling and the incandescent Emma Stone ensure that Chazelle's vision is as emotionally acute as it is ballsy. This film is a dream that only the grumpiest of souls would ever want to wake from.
10) Hell or High Water. Having caught Jackie in Chicagoland over the holidays, I thought about using my number-10 spot to promote the impending area release of director Pablo Larraín's Jacqueline Bouvier Kennedy bio-pic considering its overall excellence and star Natalie Portman's intelligent, empathetic, slightly terrifying titular portrayal. (And promote it I shall: Coming January 27 to Iowa City's FilmScene!) Instead, though, I'm opting for director David Mackenzie's and screenwriter Taylor Sheridan's sleeper hit about bitter cons and languorous cops partly because the movie is so much fun, and partly as apology for having totally underrated it the first time around. Back in August, I called Hell or High Water "a work that suggests The Fugitive performed at 16rpm" and "an action thriller with heatstroke," perhaps because I was suffering heatstroke of my own. But having seen the movie several times since, I've fallen in love with how its sun-baked deliberateness plays off the scruffy wit of Sheridan's conversation, and I more and more admire Mackenzie's staging of unexpected bursts of violence, from a surprise sock in the jaw at a gas station to a bullet hitting its mark, tragically, at a time and screen position in which we're not remotely ready for it. Jeff Bridges' Texas Ranger, meanwhile, only gets saltier and more moving on repeat viewings, and while Chris Pine, Ben Foster, and the especially wonderful Gil Birmingham seem to get better and better the more I watch them, Margaret Bowman, as the flintiest of dust-bowl waitresses, doesn't; she was always perfect. Would that my ability to immediately spot great movies was, too.
And an Honorable Mention – O.J.: Made in America. ESPN's thematically sprawling, insanely comprehensive, obscenely entertaining O.J.: Made in America – all seven-and-three-quarter hours of it – has already won Best Documentary citations from 17 critics' organizations nationwide, and director Ezra Edelman's offering is currently on the short list of 2016 titles in contention for this year's Oscar for Best Documentary Feature. Even though ESPN televised the opus in June, it's in the running for movie awards because it received a one-week qualifying release in May. But I'm sorry, this is not a movie; it's a limited series for TV that's benefiting, somewhat cravenly, from a technicality in the Academy Awards rulebook. (I can't imagine what the producers of 13th and Weiner and Gleason and other normal-length docs must be feeling knowing this eight-hour gorilla will likely wind up crushing them all.) Consequently, because I originally watched the thing with breaks for sleeping and eating, and with endless promotion for that dreadful Jason Bourne (just like most of you), I'm keeping it off my 10-favorites list. If I did, however, include this trenchant exploration of race, celebrity, power, the media, and about a million other hot-button topics, it would be firmly seated at number one. There's hardly word-space to do justice to this phenomenally engaging, enraging work of art without testing your patience further. Let me just say that if Edelman's historic achievement is eligible for Best Documentary Feature, it should also have been considered a major threat for Director, Original Score, Film Editing, and most definitely Best Picture. And let me add that part of the reason I didn't get around to viewing anything at the cineplex twice in 2016 was because I was too busy watching this 467-minute cultural necessity a full four times ... which I pretty much did in between at least as many repeat viewings of FX's fiendishly enjoyable, 10-part The People v. O.J. Simpson: American Crime Story. In 2016, I may have officially been obsessed with the O.J. story. I was too engrossed to care.
As for (Much of) the Rest of 2016 ... :
10 Runners-Up to the 10 Favorites: 13th, Barbershop: The Next Cut, Doctor Strange, Everybody Wants Some!!, Eye in the Sky, Hail Caesar!, Jackie, Kubo & the Two Strings, A Monster Calls, Weiner.
10 Great Performances in Really Good Movies: Tom Bennett (Love & Friendship), Jessica Chastain (Miss Sloane), Marion Cotillard (Allied), Ralph Fiennes (A Bigger Splash), Viggo Mortensen (Captain Fantastic), Daniel Radcliffe (Swiss Army Man), Susan Sarandon (The Meddler), Michael Shannon (Elvis & Nixon), Molly Shannon (Other People), Meryl Streep (Florence Foster Jenkins).
10 Great Performances in Underwhelming Movies: Emily Blunt (The Girl on the Train), Bryan Cranston (The Infiltrator), Robert De Niro (Dirty Grandpa), Idris Elba (The Jungle Book), Brian "Sene" Marc (White Girl), Kate McKinnon (Office Christmas Party), Edgar Ramírez (Hands of Stone), Shawnee Smith (Believe), Patrick Stewart (Green Room), the wiener-dog (Wiener-Dog).
10 for Some Good Laughs: Bad Moms, Bad Santa 2, Central Intelligence, Ghostbusters, Keanu, Mascots, The Nice Guys, Popstar: Never Stop Never Stopping, Sausage Party, Storks.
10 for a Good Cry: Eddie the Eagle, Gleason, Lion, Loving, Finding Dory, Miracles from Heaven, Pete's Dragon, Queen of Katwe, Sing Street, Trolls.
10 Good Creep-/Freak-Outs: 10 Cloverfield Lane, The Boy, Don't Breathe, The Forest, Lights Out, Ouija: Origin of Evil, The Purge: Election Year, The Shallows, Snowden, Tickled.
10 That Are Just-Plain-Fun: Almost Christmas, The BFG, Captain America: Civil War, Hidden Figures, Kung Fu Panda 3, The Legend of Tarzan, The Magnificent Seven, Miss Peregrine's Home for Peculiar Children, Southside with You, Whiskey Tango Foxtrot.
10 That Are Just-Plain-Fun If You, Too, Have Wide Parameters for "Fun": Anthropoid, The Brothers Grimsby, City of Gold, De Palma, Denial, Holy Hell, Indignation, The Phenom, Pride & Prejudice & Zombies, Tyler Perry's Boo! A Madea Halloween.
10 Not-Bad Ways to Kill a Couple Hours: Deadpool, The Finest Hours, Free State of Jones, Hello My Name Is Doris, A Hologram for the King, Hunt for the Wilderpeople, The Little Prince, Money Monster, Now You See Me 2, The Perfect Match.
10 That Are Better Than You May Have Heard: 13 Hours: The Secret Soldiers of Benghazi, Assassin's Creed, The Bronze, How to Be Single, Keeping Up with the Joneses, The Neon Demon, Nerve, Ratchet & Clank, Risen, Why Him?.
10 That Didn't Deserve Such Big Bucks: The Accountant, The Conjuring 2, Fantastic Beasts & Where to Find Them, Hacksaw Ridge, Moana, Passengers, Rogue One: A Star Wars Story, The Secret Life of Pets, Star Trek Beyond, Sully.
10 from Directors Who've Done Way Better: Billy Lynn's Long Halftime Walk (Ang Lee), Café Society (Woody Allen), Demolition (Jean-Marc Vallée), Inferno (Ron Howard), Knight of Cups (Terrence Malick), The Light Between Oceans (Derek Cianfrance), Midnight Special (Jeff Nichols), Nocturnal Animals (Tom Ford), Rules Don't Apply (Warren Beatty), X-Men: Apocalypse (Bryan Singer).
10 That, in a Perfect World, Would Kill Their Franchises: Allegiant, Blair Witch, Bridget Jones's Baby, God's Not Dead 2, Jason Bourne, Jack Reacher: Never Go Back, My Big Fat Wedding 2, Ride Along 2, Suicide Squad, Zoolander 2.
10 That, Thankfully, Won't Spawn Franchises (I Think ...): The 5th Wave, Absolutely Fabulous: The Movie, The Boss, The Darkness, Fifty Shades of Black, Kevin Hart: What Now?, Masterminds, Max Steel, Meet the Blacks, Middle School: The Worst Years of My Life.
10 That Would've Been Least-Favorites If 10 Others Weren't Somehow Even Crappier: Alice Through the Looking Glass, Bleed for This, The Hollars, I Saw the Light, Incarnate, Independence Day: Resurgence, The Program, Shut In, Teenage Mutant Ninja Turtles: Out of the Shadows, When the Bough Breaks.
My Least-Favorites of 2016:
10) Mike & Dave Need Wedding Dates. Zac and Adam need career advice.
9) Hillary's America: The Secret History of the Democratic Party. On the plus side, Dinesh D'Souza might now have no reason to make another movie for four years.
8) Criminal. As Kevin Costner's somnolent psychopath says, twice, "You hurt me, I hurt you worse." Man, we must've really, really hurt Costner, huh?
7) Batman v Superman: Dawn of Justice. DC v Humanity: Annihilation of Time, Money, Patience, & Hope for This Series.
6) Collateral Beauty. Its poster reads: "We Are All Connected." Not with those who liked this maudlin garbage, I'm not.
5) Ice Age: Collision Course. An animated franchise installment I might've enjoyed had the course been set for that Titanic-sinking iceberg, and the iceberg again won.
4) Gods of Egypt. A huge budget. A planet-devouring space worm. A CGI-ed ancient Egypt. A copious lack of Egyptians. A miserable-looking Geoffrey Rush. An eight-foot Nikolaj Coster-Waldau. Gerard Butler. What could possibly go wrong?!
3) Nine Lives. Mean ol' Kevin Spacey gets reincarnated as a cuddly feline. Watching the film, it wasn't a hairball I coughed up.
2) Mother's Day. R.I.P. Garry Marshall. For calling your final film "hopefully (pleasepleaseplease) the completion of an unofficial trilogy," I am sorry. But not that sorry.
1) London Has Fallen. This action sequel starring Gerard Butler was a sizable hit. Patrons at my packed screening, most of them seniors, gasped and laughed and applauded throughout. The terrorists have officially won.
And a Dishonorable Mention – Hardcore Henry: For being the first movie in more than 25 years to make me bolt its auditorium before the halfway point. And for giving me motion-sickness for the rest of the eff-ing day.