BAD MOMS
Despite the film's silliness and inconsequentiality, the experience of Bad Moms does prompt an almost existential question: If a crummy comedy makes you laugh out loud at least three-dozen times, can it even be considered crummy in the first place?
In this unexpectedly sentimental outing by the writers of The Hangover, Mila Kunis plays a harried 32-year-old with two kids and a career who, fed up with striving for having-it-all perfection, finally says screw it – she's gonna be ... wait for it ... a bad mom. But don't let the title of writers/directors Jon Lucas' and Scott Moore's sweetnatured slapstick fool you, as Kunis's Amy Mitchell doesn't go bad in the way of Billy Bob Thornton's Bad Santa or Cameron Diaz's Bad Teacher. She just learns to start saying no to unrealistic expectations – no, I will not do your school project for you; no, I will not work six days a week when I'm being paid for three – and yes to carving out more time for herself and her equally stressed pals and fellow mothers Kiki (Kristen Bell) and Carla (Kathryn Hahn). If anything, the movie should be titled "Bad" Moms, as the ladies' frequently salty language is the only potentially off-putting thing about them. (Well, that and their terrorizing of a grocery-store security guard during a drunken shopping spree.) It's actually the movie itself that's off-putting, rife as it is with tiresome slow-motion effects, slack plotting, obvious contrivances – naturally, a charming, handsome widower (Jay Hernandez) walks into Amy's life the minute her odious slacker husband (David Walton) walks out of it – and at least a dozen supporting figures who could be generously described as cartoonish.
Cartoons, however, can be awfully funny, and for all of its flaws, Bad Moms is awfully funny, too. While there may not be a single surprise in the narrative, Lucas and Moore still provide plenty in their writing, sometimes just by having characters voice thoughts you imagine their real-world counterparts having. (When Kiki described her secret wish for a car accident and two weeks of hospital bed-rest, the empathetic laughter at my showing suggested this may not be an uncommon fantasy.) More often, though, it's the performers who make you cackle. The poised, impossibly gorgeous Kunis may be the film's anchor, but she's in no way its straight (wo)man, emerging as the sort of radiantly confident comedienne she hasn't really been allowed to be since Forgetting Sarah Marshall. Bell, who co-starred with Kunis in that 2008 hit, manages to make fundamental decency vibrantly comedic, and Jada Pinkett Smith and Annie Mumolo (as a pair of aging Mean Girls), Clark Duke, and Wendell Pierce are all in top form. As Amy's bitchy, back-stabbing rival Gwendolyn, the superb Christina Applegate delivers a crisp and hilarious caricature of a bake-sale despot. And finest of all is Hahn, who proves as indispensable to the proceedings as Melissa McCarthy in Bridesmaids and Kate McKinnon in the Ghostbusters reboot; every last moment with her is a joy. Crass, brash, and unfailingly riotous whether pounding shots or using Kiki and her sweatshirt to demonstrate the handling of an uncircumcised penis (I'm not kidding), Hahn is masterful here, and such an emotionally accessible actor that when Carla gives the requisite cornball speech of encouragement toward the finale, damned if her soulful delivery of it doesn't make you well up. Prior to Bad Moms, you may have previously seen and enjoyed Hahn in movies and on TV and asked, "Where do I know her from ... ?" After Bad Moms, you'll no longer ask. You'll just know.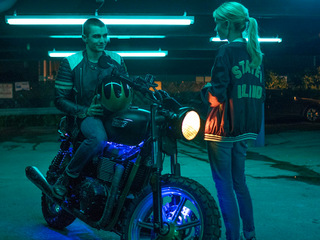 NERVE
For about three-fourths of its length, the mostly lighthearted cyber-thriller Nerve is a lot of fun – like what you'd get if John Hughes had directed David Fincher's The Game. In it, Emma Roberts portrays a goody-two-shoes high-schooler who decides to take a walk on the wild side by participating in the social-media competition of the film's title – a series of escalating dares monitored by cell phone, with cash prizes awarded to the brave. It all starts innocently and adorably enough, with Roberts kissing handsome stranger – and, as it happens, fellow Nerve player – Dave Franco and him, in turn, publicly serenading her with Roy Orbison's "You Got It," followed by the pair racing around Bergdorf's in their underwear. (Directors Henry Joost's and Ariel Schulman's staging of this sequence feels like a direct nod to the Breakfast Club's hallway evasion of Assistant Principal Vernon.) But before too long, we're talking blindfolded motorcycle rides at 60 miles an hour, and walking on a ladder from one high-rise-apartment to another, and Machine Gun Kelly, and other such frights, and it's all zippily paced and edited with panache. It's also quite well-acted, with the usually blah Roberts loosening up in the presence of that charmer Franco, and providing the movie with a strong, endearing lead while occasionally ceding the spotlight to Juliette Lewis, Miles Heizer, and the magnificent spitfire that is Emily Meade. Unfortunately, though, we end up paying for our early good times in Nerve's final quarter, which finds the game's online watchers – and, by extension, the audience – both indirectly and verbally castigated for their enjoyment of the players' terror, and shamed, in an unfortunate speech, for their entire culture of anonymous, social-media-driven egomania. It's not that the message is unwarranted; it's that it's so clumsily executed, and by the film's finale, the plot has swerved into utter techno-hysteria nonsense, like a teen-thriller take on Jason Reitman's ghastly Men, Women, & Children. There's no tried-and-true formula for making a successful movie, but generally speaking, it's probably best not to insult the very demographic whose money you're seeking.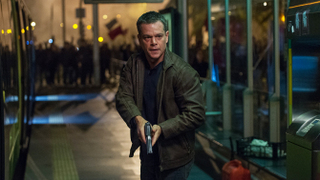 JASON BOURNE
Hard as it is to believe, the last time star Matt Damon and director Paul Greengrass presented us with a Jason Bourne spy thriller was in the summer of 2007. Partly, perhaps, because of 2012's Damon- and Greengrass-less The Bourne Legacy, it really doesn't feel like nine whole years have passed. The duo's new Jason Bourne, however, absolutely does feel like the passing of nine years; I may have actually spent more time yawning at this thing than not. The series' fans know what to expect: a feature-length game of "Who's got the flash drive?" featuring loads of car chases, shoot-outs, broken glass, PG-13 pummelings, and grim-faced figures staring at computer screens. Disappointingly, though, that's all you should expect. Greengrass' staging of Bourne's globe-hopping adventures is typically kinetic, but, for the first time, not at all exciting, and the dialogue is so lacking in wit and humor that a photo of the script should accompany the dictionary definition for "perfunctory." Damon's Bourne, meanwhile, is a somnolent, nearly mute mope this time around, and among a cast that includes Jones, Vincent Cassel, and Julia Stiles, only Riz Ahmed offers a shred of personality; Alicia Vikander, for her part, is twice as robotic here as she was in Ex Machina. All told, Jason Bourne is just a repetitive, endless drag culminating, of course, in a he-man fistfight, and grossly overflowing with clichés, such as characters barking "Meet me at my office in an hour!" and "Meet me at the plaza in 15 minutes!" into their cells and angrily hanging up. Just once – just once – I want one of those impatient guys to get an immediate return call: "Hey, I can't do 15 minutes ... . Could we make it 20?"