THE JUNGLE BOOK
Nearly all action movies, even those in which the action is determinedly family-friendly, live or die by their villains, and director Jon Favreau's remake of Disney's The Jungle Book has a phenomenal one: the Bengal tiger Shere Khan, voiced by Idris Elba. Scarred from a murderous tussle with a human and left with only one functional eye, this creature – created, as all the film's animals and landscapes are, via the magic of CGI – prowls his kingdom with lithe, dangerous authority, and manages to one-up even Jeremy Irons' Lion King meanie in terms of fierceness and frightening malevolence. Yet Shere Khan's visage and movements aren't half as scary as Elba's maliciously insinuating vocals that fall somewhere between a purr and a growl, and while listening to these deliciously evil readings, I had a perhaps heretical thought regarding this movie and its reported $175-million budget: Wouldn't all this have worked much better as a radio play?
Of course, no one produces radio plays anymore, and certainly The Jungle Book's target demographic of pre-teens wouldn't have the faintest idea about what a radio play is(/was). But I had such a great time listening to Elba and the rest of the film's beautifully cast vocal performers that I couldn't help being disappointed that Favreau's pricey achievement didn't look nearly as good as it sounded. To be sure, this CGI marvel – with Neel Sethi's wild child Mowgli the only truly living thing in sight – is visually impressive; the computer-generated jungle and desert denizens are as lifelike as such neo-animals ever are on-screen, and there are plenty of gorgeous, evocative images. (Watching a pack of elephants slowly emerge from a misty enclave was an early highlight.) The movie's mostly admirable realist bent, however, comes with a downside. Because even though Rudyard Kipling's famed characters talk and, yes, occasionally break into song – Baloo's "The Bare Necessities" and King Louie's "I Wanna Be Like You" having survived the update from 1967's animated version – their expressions, for the most part, aren't similarly anthropomorphic. Barring a few doleful looks from Baloo and the wolf cubs, and the hypnotic stare of the snake Kaa, The Jungle Book's non-human figures generally exude the same mildly bored focus whether they're scared, delighted, or mournful; I barely registered the moment in which Akela got killed, because none of his wolf friends appeared at all bothered by his passing. (Favreau's CGI animals are so relentlessly deadpan that they may as well all be cats.) The agreeably hammy Sethi faux-emotes his little heart out, but with Mowgli the only character remotely allowed to, too much of the film – even with its blockbuster-ized waterfalls and stampedes and forest fires – is serviceable yet kind of dull, and in no significant way an improvement over Disney's 49-year-old cartoon.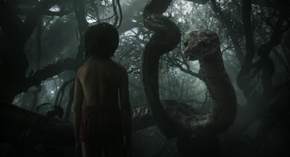 Still, even if the movie isn't much worth seeing, it's certainly worth listening to, with Favreau's vocal cast doing an overall remarkable job of suggesting the expressions that the CGI denies us. Elba deserves best-in-show honors for his shiver-inducing baritone rumble, but if she had more than her one magnificent scene, a case could have easily been made for Scarlett Johansson and her sinister, come-hither sultriness as Kaa; it's as if the performer's sentient OS from Spike Jonze's Her were reincarnated as the world's deadliest reptile. Bill Murray, as that adorable honey-guzzler Baloo, is at his comically passive Bill Murray-est, and there are smart, on-point turns by Ben Kinglsey as the panther Bagheera and Giancarlo Esposito and Lupita Nyong'o as wolves Akela and Raksha. (It's as much of a treat hearing Nyong'o's character-rich work here as it was when she "played" the pirate Maz Kanata in Star Wars: The Force Awakens, but is there any chance we'll eventually get to see the Oscar-winner again?) Had I been consuming popcorn at my screening, I might have choked on it upon hearing the first words spoken by the fumbling porcupine Ikki, whose endearingly neurotic nasality could only have come from the late and already-much-missed Garry Shandling.
And while I was seemingly the only one at my packed screening to do so, I giggled to the point of tears when the primate King Louie – himself blockbuster-ized from 1967's orangutan to this new film's 10-foot-tall gigantopithecus – showed up. Shot, in Favreau's wittiest touch, as a cheeky goof on Marlon Brando's first appearance in Apocalypse Now, this behemoth ape is first seen lazily devouring mangoes in almost complete shadow, greeting Mowgli with half-whispered, non-sequitur-laden bemusement. I was already practically beside myself at the visual homage, but the verbal one was incredible, too. It's not quite a Brando parody, I thought, but who is that approximating Brando's bizarre pauses and inflections? What other Hollywood actor is that eccentric? And then I realized exactly who it was: Christopher freaking Walken. The Jungle Book, as a whole, is fine, if disposable. Its five minutes with Walken are priceless. I would've given anything for this Louie, at some point, to have grimaced before telling us he swallowed a bug.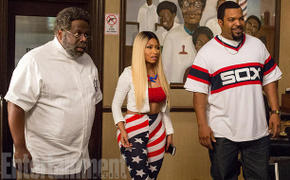 BARBERSHOP: THE NEXT CUT
I've seen better movies this year (at least two or three of them), but with the possible exception of Zootopia, I can't think of a single one that left me as colossally, profoundly happy as Barbershop: The Next Cut, the rare sequel – a third sequel, no less – that returns to a previously established universe yet emerges as a grand, glorious achievement all its own. A sort of companion piece to Spike Lee's devastating Chi-raq, albeit a far less incendiary work, director Malcolm D. Lee's continuation brings us back to the bustling barbershop – now a unisex one – that Ice Cube's Calvin first assumed proprietorship of back in 2002. Now, however, with 14 years having passed, the series' South Side of Chicago locale is teeming with gang violence and daily homicides, and the shop's cheerily contentious employees and customers are by no means immune to it. Like Barbershop, 2004's Barbershop 2: Back in Business, and 2005's Beauty Shop, most of this follow-up is devoted to scenes of loose, quick-witted, and frequently riotous comic banter. But in a fantastically wise move, Malcolm D. Lee and screenwriters Kenya Barris and Tracy Oliver immerse the franchise's old and new characters in an environment rife with real-world pain. It's the same barbershop, and Barbershop, that fans will immediately recognize. Yet the events and conversations now feel so wholly, wonderfully true that their also being dramatically forceful and sublimely funny is almost beside the point.
That's not to say that the series' sitcom bent has been entirely eliminated. There's plenty of good-natured goofball humor courtesy of J.B. Smoove's questionable entrepreneur One-Top and Anthony Anderson's genial food-truck driver J.D. (Calvin suggests that the name of J.D.'s street business – Gangsta Grub – might not necessarily be the best choice for the neighborhood), and Lamorne Morris is hysterical as a newbie shop employee whose sexual leanings no one can quite figure out. But even the setups that seem wholly laugh-track-driven – such as the possibly misconstrued flirtation between Common's married man Rashad and Nicki Minaj's single beautician Draya – are enacted with honesty and a refreshing lack of slapstick pandering. And in Calvin's growing insecurity about the fate of his beloved shop, and the legitimate fear he feels for his teenage son (Michael Rainey Jr.), Ice Cube gives what is easily the finest dramatic performance of his quarter-century screen career – and somehow, simultaneously, one of the funnier ones, to boot. This is a film, though, in which one participant after another delivers career-high work. Nothing on Lee's résumé (its highlight being his 1999 directorial debut The Best Man) remotely prepared us for a movie this lived-in and emotionally expansive, and he orchestrates the barbershop's alternately convivial and fraught conversations with masterly control. But there are also the marvelous turns by Regina Hall, Eve, Utkarsh Ambudkar, and Margot Bingham to consider, to say nothing of the contributions of Common and the ever-incomparable Cedric the Entertainer, both of whom, in a fair world, would find themselves in Best Supporting Actor contention next February. Angry, joyous, thoughtful, and sensationally smart, Barbershop: The Next Cut is a superb entertainment, and, not for nothing, a superbly spiky entertainment – though Bill Cosby's and R. Kelly's lawyers might well disagree.
CRIMINAL
In the first scene of Criminal, Kevin Costner, in growly voice-over, recites the mantra that his sociopath Jericho Stewart will repeat twice more over the course of the film: "You hurt me, I hurt you worse." As one-liners go, that one's hardly in the "Go ahead ... make my day" realm of cinematic bad-assery, but I must say the sentiment stuck with me: Was this Jericho's threat toward his enemies, or Costner's threat toward his critics? Because God knows I was hurt, at least mentally, by director Ariel Vromen's über-violent action flick, a staggeringly stupid and senseless work that seems designed to make those of us who panned recent Costner showcases such as 3 Days to Kill and Draft Day suffer all the more.
The niceties of the narrative, which are just as generic as the film's title, aren't worth recounting; suffice it to say it's yet another theoretical techno-thriller that finds Euro-accented figures with stringy hair pointing guns at people and demanding, "Give me the flash drive." (How is it possible that, in 2016, the plans of movie terrorists are still so routinely thwarted by a storage device you can purchase at Radio Shack for under five bucks?) What makes Criminal ludicrous beyond belief is actually its central conceit – that Costner's madman Jericho is given, for all intents and purposes, the brain of a deceased CIA agent, and asked to use said agent's memories to stop an impending missile attack. In other words, it's basically just another body-switching movie – albeit an unnecessarily grim and unpleasant one – in the vein of those Ryan Reynolds duds Self/less and The Change-Up ... and with, honest to God, Ryan Reynolds himself playing this new dud's brain donor. What, if I may ask, is going on here? Why does Reynolds keep gravitating toward these strangely similar, equally lunatic projects? Criminal is terrible for a bunch of reasons: Gary Oldman delivering one of his patented all-shouting-all-the-time portrayals; Tommy Lee Jones not being allowed even one moment of wit; the grisly prospect of watching Costner's tic-ridden psycho Learning to Feel Again through the aid of Gal Gadot and her adorable young daughter. (We're told that a childhood accident impaired Jericho's ability to experience emotion – "He feels nothing ... no hatred, no love ... ." – but from the start, emotions such as anger, impatience, and horniness are clearly in his wheelhouse.) But although, luckily for him, the actor gets to exit the film early, Vromen's outing is most annoying as an unofficial continuation of a certain celebrity's ego parade. Jason Bateman got to be Ryan Reynolds. Ben Kingsley got to be Ryan Reynolds. Now Kevin Costner gets to be Ryan Reynolds. With options like The Change-Up, Self/less, and Criminal, why would anyone want to be Ryan Reynolds?