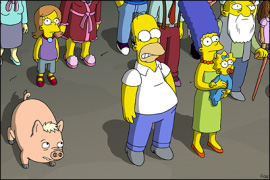 THE SIMPSONS MOVIE
The Simpsons Movie is perfect, by which I mean it's like a really good, really long episode of the show.
There are animated advancements - beautiful, deliriously large-scale panoramas of Springfield and its many, many denizens - but none that call undue attention to themselves; nothing on a par with the "3D" Homer of "Treehouse of Terror VI."
There are "too risqué for television" moments - we hear one word that (I think) wouldn't be allowed on Fox, and briefly see Bart's doodle - but none used for unnecessary shock appeal; the movie doesn't take undue advantage of the TV censors' absence.
There are big-name celebrity voices - Tom Hanks, Albert Brooks, the members of Green Day - but not so many that they prove distracting; nothing about the stars' involvement suggests the producers boasting, "We're finally doing a movie ... and look who we got for it!"
In short, it's just another day spent with Homer, Marge, Bart, Lisa, Maggie, and a few hundred of their friends and neighbors. And God bless.
A few of you may be thinking, "I can't believe we're paying to see something we get on TV for free!" Certainly Homer Simpson is, as he bellows that sentiment while watching an Itchy & Scratchy feature during The Simpsons Movie's prelude. But really, is $10 too much to pay for something this witty and wise, this hysterical and humane? (Not if the film's opening-weekend box-office is to be trusted.)
No, the world may not have "needed" a Simpsons movie, and you won't hear me argue that 88 consecutive minutes of yellow-hued antics are necessarily preferable to the standard 22-minutes plus commercials. But does anyone honestly think they'll see another film in 2007 that delivers this many belly laughs, this much earned sentiment, and this level of political, sociological, and intellectual sophistication?
The enduring genius of The Simpsons has hardly been ignored; not for nothing did Time magazine label it the finest television program ever. Yet even those of us who've been watching Matt Groenig's and James L. Brooks' creation since the days of The Tracey Ullman Show might still be overwhelmed at their product's spectacular consistency. How, 18 years later, can The Simpsons still be this sharp?
When, in The Simpsons Movie, Bart takes his notorious nude skateboard ride through the streets of Springfield, he passes the brainlessly chipper Ralph Wiggum, who looks at him and chirps, "I like men now!" With one attempt, the movie pulls off the type of joke I Now Pronounce You Chuck & Larry spent 100 minutes not pulling off. (It would constitute Ralph's best moment in The Simpsons Movie if he didn't open the film by singing along with the 20th Century Fox theme music.) When, as happens with many luminaries, Green Day meets their demise in Springfield, the church organist serenades them to the Great Beyond with "American Idiot: Funeral Version." (It's lovely.)
As with any first-rate episode of The Simpsons (and I'd be curious to see what a second-rate episode is like), the jokes in the movie come so fast, and are so relentless, that you barely have time to recognize how smart they are, and how pointed their satire is. When Lisa delivers her environmental tirade against the evils of water pollution, the film manages to mock both Al Gore's self-aggrandizement (Lisa's sermon is entitled "An Irritating Truth") and those too obtuse to look beyond the self-aggrandizement. (During the presentation, bartender Moe rasps, "This is why we should hate kids!") When the town appears to be facing the apocalypse, patrons from both Moe's Tavern and the First Church of Springfield rush outside to stare at the heavens; the barflies seek refuge in the church, and the parishioners run into the bar. (The catastrophe is alarmingly described by newscaster Kent Brockman as "a crisis so serious it has its own name and theme music!")
Plus, let's not ignore the film's exquisite silliness: Krusty the Clown touts his fast-food chain's new burger, the Clogger, with, "If you can find a greasier sandwich, you're in Mexico!" And its bursts of delirious, unanticipated violence: Homer's three attempts at hammering a nail yield surprised laughs every single time. And its unbridled emotionalism: The kicker to Homer's and Marge's latest, most serious marital crisis made me cry (and I'd be hugely surprised if I was the only one at my screening who did).
I realize that I haven't yet mentioned the plot. I haven't spent any time discussing the continued brilliance of Dan Castellaneta, Julie Kavner, Nancy Cartwright, Yeardley Smith, Hank Azaria, Harry Shearer, and the rest, and I haven't duly acknowledged the film's 11 writers or director David Silverman. And I'm thoroughly aware that I may now have ruined a number of great jokes and plot surprises for you. Don't fear; The Simpsons Movie features about 300 more just like 'em. The film's end credits find Maggie uttering a one-word question. My response to her would be, "I certainly hope so."