Friday, April 7, 10:05 a.m.-ish: To misquote Dickens, 10:05 proves the best of time and the worst of time. The best because I'm currently seated next to my favorite movie-going companion under the age of three. The worst because the movie we're seeing is the animated Smurfs: The Lost Village, which turns out to be like the live-action Smurfs from 2011 and 2013 if you surgically removed Hank Azaria, Neil Patrick Harris, and Jayma Mays. In other words: awful.
There's always been something gross about the origin story for Smurfette, whom the nefarious Gargamel created out of clay to infiltrate and help destroy the Smurfs before their inherent goodness so warmed her heart that she turned into a blond. Yet while director Kelly Asbury and screenwriters Stacey Harman and Pamela Ribon may think they're doing damage control by giving our generically feisty heroine (Demi Lovato) an all-girl village to romp about in, their plot so insistently casts her as a non-Smurf "other" in need of rescue that she's still treated rather insultingly. (I'd also call the film's "You matter even if you're not a boy!" moral insulting if there weren't stupider ones on hand, among them "Don't save mean people from drowning!" and "If loved ones die, cry a little and they'll come back to life!") Smurfs: The Lost Village is just as manic as you'd expect, particularly when we're being Avatar-ded by trippy jungle creatures and besieged by protracted slapstick mayhem and the shrieking antics of Clumsy Smurf, voiced by a too-aptly-named Jack McBrayer. But this adult didn't find it the least bit charming or funny, and even my two-year-old pal appeared far less invested than she was at The Boss Baby or even Rock Dog – although she did cackle at one of this family comedy's de rigueur fart jokes. "He tooted!" she happily exclaimed. Yes, honey. The whole movie tooted.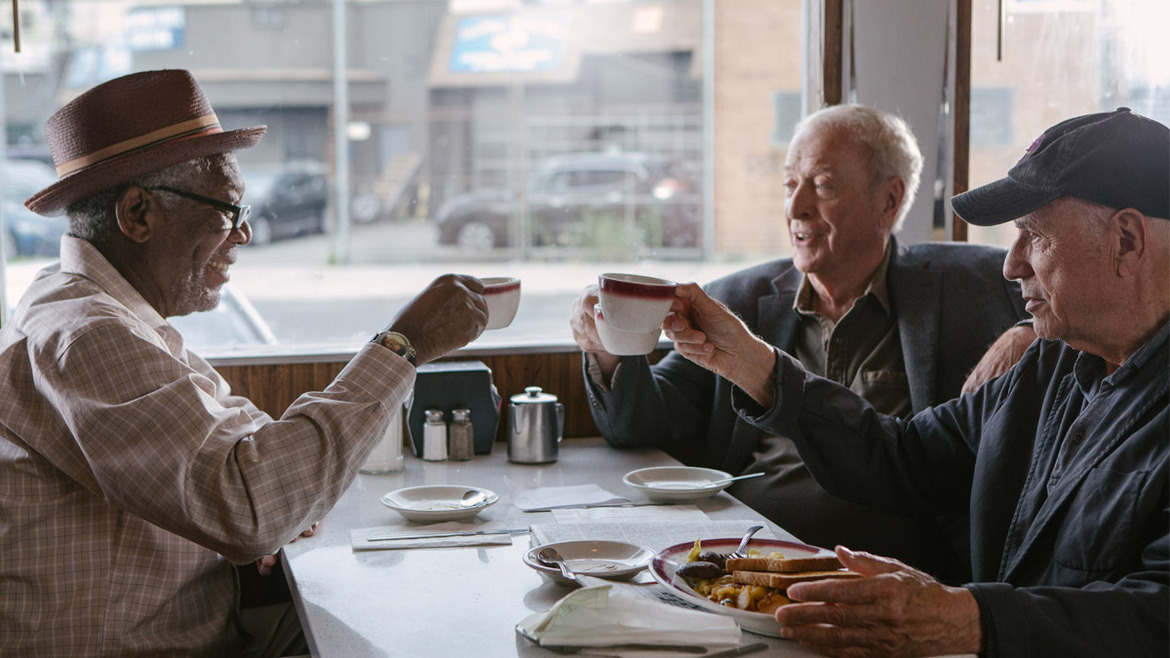 11:45-ish: I haven't seen 1979's elderly-bank-robbers comedy Going in Style in at least 35 years, but my childhood memory of Lee Strasberg suffering a fatal heart attack on a park bench remains vividly scary and sad. Consequently, the thought of watching Alan Arkin play out that same scene was almost enough to make me dread director Zach Braff's Going in Style remake, until I remembered 2017's infinitely more squeamish and mercenary Hollywood: Ain't no old man gonna die on no park bench, especially if he could be conceivably recruited for a sequel. Heaven knows any excuse to see Arkin, Michael Caine, and Morgan Freeman in leading roles can't be a wholly bad one, and as they formulate a plan to screw a bank that's been screwing its customers, these three pros share a relaxed camaraderie that gets you through even screenwriter Theodore Melfi's most-maudlin situations and lamest jokes. Yet especially when compared to the original, Braff's update is obvious, crass, and condescending, and doesn't blink at wasting the unusually fine supporting crew of Ann-Margret, Matt Dillon, Joey King, Peter Serafinowicz, John Ortiz, Kenan Thompson, and Siobhan Fallon Hogan. Of the film's entire cast, the only one who makes me laugh is Christopher Lloyd. But I must admit that I (and my fellow patrons) laugh a lot, because what Lloyd delivers is nothing less than Taxi's Reverend Jim Ignatowski 40 years on, as pop-eyed and addled and riotous as ever. If a Going in Style sequel is in the offing, please let Lloyd be the first one asked to return, and please let his answer be "Okey-DOKE!!!"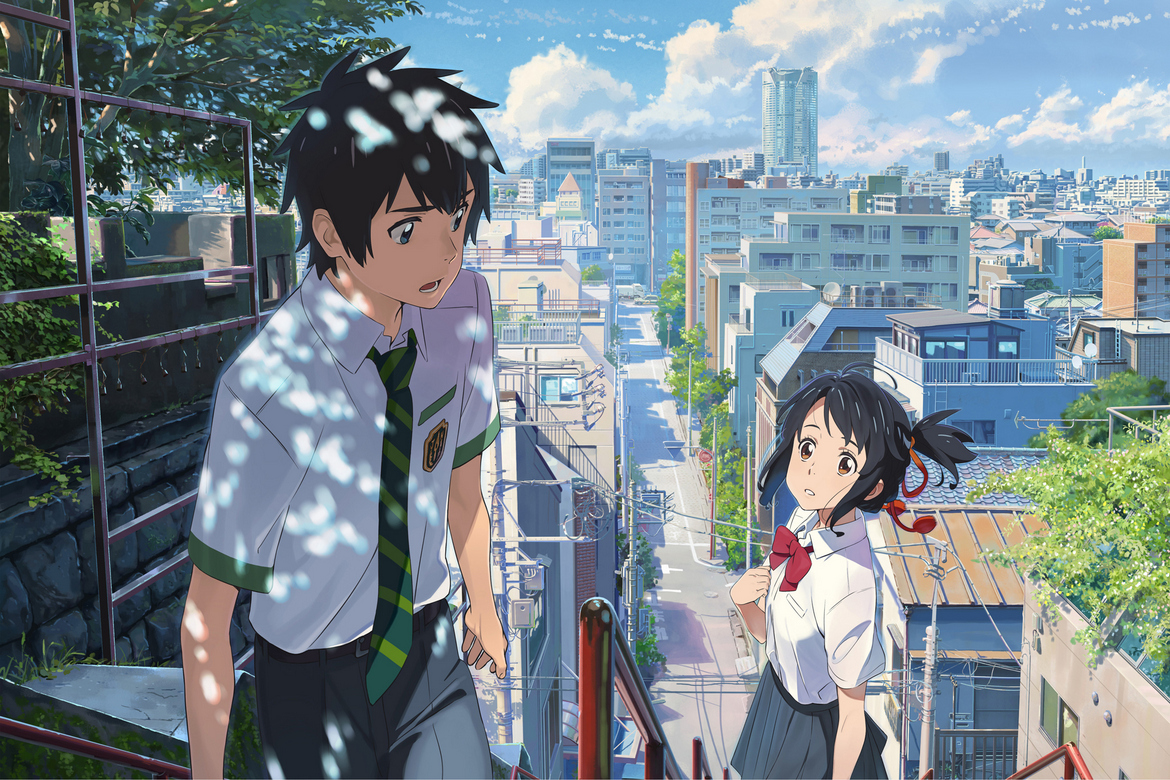 1:35 p.m.-ish: Just before the under-promoted Japanese anime Your Name begins, two patrons enter the auditorium, and one of the pair – noticing the paltry few already sitting – says, "Oh, man, there's actually people here." I know! I was shocked, too! By film's end, though, I'm feeling sympathy for everyone who isn't there, because writer/director Makoto Shinkai's achievement is utterly glorious – an unclassifiable genre mash-up that emerges as a bold, devastating, hugely entertaining original. (Shinkai's movie was in contention for the 2016 Animated Feature Oscar, and how it didn't make the final lineup I'll never know.) Although it takes an impressively long time for the narrative to become clear(ish), you may initially think you're at a gorgeously animated Freaky Friday, with protagonists Taki and Mitsuha – the former a teen male living in Tokyo, the latter a teen female living in its rural outskirts – magically trading bodies back and forth after each night's sleep. This leads to sweetness, cheekiness (Taki can't stop fondling "his" boobs every morning), chuckles, and lovely, understated metaphors for the confusing experience of adolescence. But it's also only the start of Your Name's surreal journey, which goes on to borrow elements from Memento, then Twelfth Night, then (gulp!) The Lake House, then Back to the Future ... . And right when you think you finally have the wildly inventive Your Name pegged, it does one final flip with scenes on a train car and at a crater lake and on a flight of stairs, and turns into a romantic tearjerker to rival An Affair to Remember. By the time the credits roll, I've spent about 15 minutes crying buckets at this thing, and would've made a successfully dignified exit had I not opened the theater door to four cineplex employees all clearly aware of the nearly 50-year-old man wiping away tears. Damned ushers. Always there when you don't want 'em.
3:35-ish: Decision time. I can either stick around Davenport for the 4:20 screening of The Case for Christ, or make a mad dash to Moline, miss 15 minutes of (likely) non-secular trailers, and catch a 3:35 showing there instead. Not choosing option three – skipping the movie altogether – I hightail it to Illinois and wind up glad I did, as my Your Name high isn't ruined in the slightest. If anything, it's intensified, because director Jon Gunn's faith-based drama is unexpectedly terrific, and so superior to Gunn's 2015 Do You Believe? that it's almost as though the man was engaged in a body-switching ritual of his own. In its telling of how former Chicago Tribune reporter and atheist Lee Strobel waged an investigative war on Christianity after his wife became a true believer, the film is a bit dawdling, and there are some distracting syncing and looping issues; as a movie, it has obvious flaws. None of them, though, involve the 1980 period design and details, which are so no-sweat excellent that the film doesn't even make passing comment on the Strobels and their young daughter tooling along the highway sans seat belts. (Lee aerosol-spraying his perfect 'do in place was also a nice touch, as were his jean-shorts-and-black-socks ensemble and our seeing the period's beloved "Uh-one, uh-two, uh-three ... !" Tootsie Pop commercial.) Screenwriter Brian Bird provides loads of funny, telling details, such as Lee's Chicago-based snobbery in not wanting to travel for interviews in Wisconsin and Indiana. And good God but The Case for Christ is well-acted, with the supporting cast boasting L. Scott Caldwell, Robert Forster, Frankie Faison, and Faye Dunaway (!), and leads Mike Vogel's and Erika Christensen's marital squabbles ceaselessly passionate and truthful. In terms of moving and memorable screen couples, this duo may not be Taki and Mitsuha, but as actual humans go, they more than suffice.
5:40-ish: Driving home happy – particularly upon realizing I finished a quadruple-feature and still didn't put in a full eight-hour work day. Please don't tell my boss.