Before proceeding, allow me to share my amazement in a weekend happenstance I hadn't previously experienced over nearly three decades of reviewing: I saw five new movies and enjoyed them all – a lot. Even the horror prequel whose predecessor debuted fewer than six months ago. Even the reboot of a planned Chevy Chase franchise that died in 1989. Either my standards are getting lower (possibly), or we simply lucked into the heartening, certainly accidental release of five terrifically strong works on the same day. I may have to take to my fainting couch. Not that, you know, I have one of those … .
In escalating order of shock at the amount of fun I had:
THE WOMAN KING
Director Gina Prince-Bythewood's new period action drama is many things at once: a fascinating exploration into little-known 19th-century history and an equally ill-known tribe of powerful women warriors; a moving melodrama concerning long-buried secrets and aching maternal grief; a sensational showcase for Viola Davis and a trio of gifted actresses whose performances match or, astoundingly, even exceed the star's. But at heart, The Woman King is nothing so much as a thrilling, emotional, crowd-pleasing popcorn entertainment – perhaps the most radical traditional epic I've ever seen.
Set in West Africa in 1823, the film introduces us to the Agojie, the all-female fighting unit dedicated to protecting their kingdom of Dahomey from neighboring factions and European slave traders. As blockbusters and blockbuster-wannabes tend to, Prince-Bythewood's opens, middles, and closes with grandly scaled battle scenes, the stunt choreography and effects here both visceral and profoundly refreshing given the absence (or invisibility) of CGI. A steady diet of superhero flicks can make you thankful for the mere presence of gravity, literal gravity, and watching the Agojie tear into their oppressors with startling ferocity while obeying the laws of physics proves wildly gratifying. There's more than brutality in the vicious skirmishes involving machetes and spears and really sharp fingernails – there's a strange sort of elegance, and it also extends to the more formulaic training sequences and one-on-one clashes. At the screening I attended, however, it wasn't the violence that inspired patrons in my crowd to applaud on three separate occasions. Unless I'm mistaken, it was the story.
There's a special kind of quiet you instinctively feel when a movie is working true magic on a large audience. Part of that quiet in The Woman King no doubt comes from viewers actively concentrating on screenwriter Dana Stevens' dialogue, as the heavy West African dialects all but force you to pay more attention to the words than you may be accustomed to. (In a refreshing change of pace, most of the subtitles are reserved for the film's one white figure – a European slaver played by Hero Fiennes Tiffin.) Yet the almost breathless, utterly deserved focus in my auditorium seemed to stem from a bunch of additional factors, as well: the compelling plotline in which Davis' Agojie general Naniska pleads for their king (a wily, amusing John Boyega) to initiate less exploitative trade; the rich character arc for Agojie-in-training Nawi (the sublime Thuso Mbedu) as she inches her way from troublesome to essential; the electrifying portrayals of Lashana Lynch as the protectors' feral yet convivial warrior Izogie and Sheila Atim as Naniska's devoted lifelong friend Amenza. The latter manages to steal a scene through one perfect, subtly comedic double take, a moment that underlines one of The Woman King's many unanticipated pleasures: There are laughs, and solid ones.
In several respects, the film is too beholden to formula in the conventional manner of Gladiator and Braveheart. Composer Terence Blanchard's score is uncharacteristically generic in its rousing sweep, the narrative progression is fairly typical, and I certainly could have done without the extraneous romance that develops between Nawi and the half-Dehomey trader (Jordan Bolger) whose torso was clearly shaped through a 21st-century workout regimen. Still, The Woman King is a blast – not for nothing did the movie receive an A+ grade from viewers polled by CinemaScore – and it should go without saying that its mere existence is something to celebrate, considering that a major action vehicle front- and back-loaded with Black female talent isn't just unusual; it's unprecedented. Prince-Bythewood's achievement would be one for the Hollywood history books regardless of quality. Happily, the quality on-screen is more than abundant.
GOD'S COUNTRY
Another fierce woman of color dominates God's Country, but as opposed to The Woman King's blend of blazing action spectacle and unbridled emotionalism, writer/director Julian Higgins' taut indie drama serves up generous helpings of resentment, paranoia, fear, and nihilism. I gobbled it up with a spoon.
Thandiwe Newton stars as Sandra Guidry, a New Orleans transplant and professor at a small college in rural Montana who lives in a remote, spacious A-frame with barely a neighbor in sight. Her mother having recently died, Sandra appears reasonably content with her life of solitude until she notices a red truck parked on her property, its passenger(s) likely hunting in the nearby woods. She leaves a curt yet not angry note under the truck's windshield wiper requesting that they not park there again, and the next day, finds the truck gone and the note crumpled into a ball, seemingly flecked with blood stains. But the truck eventually returns, as do the mildly threatening hunters (Joris Jarsky and Jefferson White). Harsh words are exchanged; a deputy sheriff (Jeremy Bobb) gets involved; an arrow is shot into Sandra's front door. And before you know it, what began as a modestly benign territorial dispute has grown into a slow-motion horror tragedy, with the chill you feel hardly caused by the wintry Montana landscape.
I should probably offer a preliminary warning to potential viewers, including my dear friend Angie, who refuse to watch anything in which a dog might die: Sandra has a big, cuddly pooch whom she adores, and the instant I saw him, I developed a foreboding knot in my stomach that ultimately proved prophetic. (That's not a spoiler; sadly, that's scare-flick screenwriting 101.) Yet God's Country is intense and involving enough to overcome its occasional obviousness. The scenes with the hunters, either on Sandra's turf or their own, are fittingly chilling and packed with bigoted menace; you can't tell if their stoic hostility is based on Sandra being a woman, or Black, or an intellectual, or an outsider, or some combination therein.
Yet they're slowly revealed to have hidden, contradictory aspects to their characters – as does the lawman, as does Sandra's obsequious department head (Kal Lennox), as does Sandra herself. In her simmering, stunningly controlled portrayal, Newton is able to suggest years of barely contained anger and indignation. Barely a frame passes in which Newton doesn't appear, and the escalating panic and terror of Higgins' and co-screenwriter Shaye Ogbonna's script (based on the James Lee Burke short story "Winter's Light," in which the protagonist is a white man) are mirrored in the performer's white-hot gaze and quietly rendered integrity. In the end, and especially in the exquisitely protracted final shot, you may not like Sandra. You may, however, be hard-pressed to ever forget her. Ditto her film.
SEE HOW THEY RUN
"Where are all the happy movies?" This was a recent text query from my mother after too many weeks of me reviewing bloody horror films and grim action thrillers and dramas involving quadriplegics and their service monkeys. (In truth, I only reviewed one of those, but to Mom, it might have felt like more.) Consequently, the moment I left my screening of director Tom George's See How They Run, I texted my mother the good news. It's a mystery comedy! A happy mystery comedy! And it's pretty awesome! She and my dad went to see it – and enjoy it – within the hour. Were I with them in Chicagoland, I would have cheerfully joined them for a second go-'round myself.
Written by Mark Chappell, the film's setup is an ingenious one: a 1953 murder mystery set in the London theatre that's staging Agatha Christie's The Mousetrap, itself the most wildly successful murder mystery of all time. (Barring its pandemic-forced closure of a year-plus, the show has been consistently running in the West End for nearly 70 years.) The victim, who also amusingly serves as our occasional off-screen narrator à la Joe Gillis in Sunset Boulevard, is Leo Kopernick (a wonderfully scuzzy Adrien Brody), the Hollywood director, lush, and lothario assigned to helm a film version of Christie's play. The suspects are voluminous, with the murderous options including: stage producer Petula Spencer (Ruth Wilson); movie producer John Woolf (Reece Shearsmith); Woolf's second wife Edana (Siân Clifford); Woolf's secretary/mistress Ann (Pippa Bennett-Warner); screenwriter Mervyn Cocker-Norris (David Oyelowo); head usher Dennis (Charlie Cooper); the play's married stars (Harris Dickinson and Pearl Chanda, whose characters Richard Attenborough and Sheila Sim actually were the leads in the original Mousetrap); and – who knows? – maybe even Agatha Christie herself (an ideally cast Shirley Henderson). The investigators, meanwhile, are Sam Rockwell's grouchy, soused Inspector Stoppard and Saoirse Ronan's perky, chatty Constable Stalker. It's entirely possible that Stoppard himself is our killer. We know Stalker isn't, though. She's our savior.
It takes a while to get on-board with See How They Run's presentation, which feels like a Wes Anderson recipe – complete with the presences of Brody and Ronan – that accidentally left out a few crucial ingredients. George routinely frames his images with a symmetrical visual precision and stylized falseness reminiscent of Anderson's, and his quirky ensemble figures appear lightly zonked out in the familiar Wes fashion; all of the suspects, particularly Dickinson's blissfully self-absorbed Attenborough, seem to have just taken a mild hit of something enjoyably debilitating. Yet the effect is more reminiscent of a carbon copy than something genuine, and Mark Chappell's script is sometimes too blatantly proud of its own cleverness, as when the screenwriter rails against flashbacks and "three weeks later" title cards … a tirade that takes place in a flashback that concludes with a "three weeks later" title card.
Still, George's lightweight charmer gets so many big things right that it's easy to ignore your quibbles. Not only is Chappell's mystery inventively constructed and legitimately mysterious, but it works specifically in its relation to The Mousetrap, borrowing key elements from Christie's tale that both rekindle your fondness for her artistry and make you blanch, a bit, at the unfair liberties she may have taken with her inspired-by-true-events story. Better still, Chappell is able to do this without revealing the ending to The Mousetrap itself, which – given the plethora of scenes from the play we're given – is quite the feat. And best of all, with everyone from the endearingly blotto Rockwell to the divinely prissy Oyelowo appearing to have a high old time, Saoirse Ronan is an absolute, show-stealing delight. She's so earnest, so dogged, and so darned funny as an out-of-her-element cop that she makes even lackluster scenes play through sheer gumption, magically suggesting the best of Lucille Ball and Gracie Allen in one winning, Irish-lilted package. Christie famously wrote dozens of adventures for her sleuths Hercule Poirot and Jane Marple. If Chappell wanted to write a few dozen for Ronan's hilariously tenacious, gregarious Constable Stalker, I'd be the last one to bitch.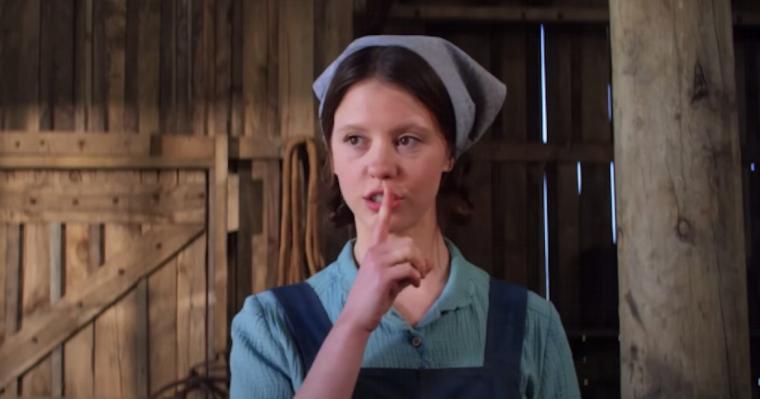 PEARL
This past March, writer/director Ti West debuted his salute to '70s slasher flicks X, in which Mia Goth played the wannabe porn starlet Maxine and also – a spoiler for those who haven't seen the six-month-old film yet – the ghastly, murderous senior Pearl, co-inhabitant of the rambling Texas farmstead where a group of horned-up Hollywood hopefuls met their maker. The movie was good, Goth was great, and even before the film's release, it was revealed that West had simultaneously shot its prequel – one that would explain how Pearl became the homicidal maniac that helped drive X's plot. West's Pearl is that prequel. And even though its premise is more constrictive and its focus more narrow, I may have enjoyed the new release even more than its forebear for the simple fact that Goth gives one of the ballsiest, most heartbreaking, most thunderously powerful genre performances I've ever seen. Ever. If she doesn't become an unassailable horror-film icon after this thing, it'll only be because not enough people will have seen it. But I'm betting that, eventually, they will. When they do, they'll be floored.
Opening with a sweepingly majestic score (by composers Tyler Bates and Chelsea Wolfe) and bold cursive title cards that bring to mind the ravishing Douglas Sirk melodramas of the '50s, Pearl tells of how Goth's titular farm girl, in 1918, endured a suffocating life with her strict German mother (Tandi Wright) and immobilized, voiceless father (Matthew Sunderland), and longed to be cast in a touring dance show sponsored by the town church. Excepting Pearl's existence as a presumed World War I widow and the presences of the nearby town's handsome movie-theater projectionist (David Corenswet) and Pearl's well-meaning sister-in-law (Emma Jenkins-Purro), that's all I'll say about the plot. It isn't really pertinent. Three other things, however, very much are.
The first is that West so effectively captures the style of Sirk that the performers, settings, dialogue, et cetera, not only look and sound believably 1918, but believably mid-1950s, as well. While the whole movie boasts a heavily italicized stylization, the earnestness of the period(s) completely comes through. Ignore the gruesome bloodshed and full-frontal nudity and you could totally buy Pearl as the product of the old-Hollywood studio system complete with boxy presentational format, fantasy musical numbers, and an ingénue lead who might've passed as Judy Garland's double on the Wizard of Oz set. If, you know, Garland opened Oz by feeding her pet goose to a hungry alligator.
The second essential point of discussion is that no other movie, to date, has so completely rendered our collective experience of the past two years in the context of a story set more than a century ago. A newspaper headline early in the film warns us about the continued threat of the Spanish flu, and from then on, the allusions are everywhere. Pearl's mother reminds her to wear a face covering when she's in town. The patrons at the movie Pearl sneaks off to are completely masked. (Pearl briefly lowers hers to take a sip of her father's liquid morphine.) That handsome projectionist tells Pearl that he'll happily take the young woman with him to Europe "as soon as this damned pandemic is over." Pearl thinks she may see her beloved husband trudging his way toward the family ranch, but can't quite tell because his face is mostly hidden. Two years ago, I mistakenly thought that contemporary movies were going to be forced to have characters wearing, or at least commenting on, the pandemic and hassle/necessity of wearing masks. They mostly haven't. Leave it to that clever sadist West to make a movie set a hundred-plus years ago to finally, unflinchingly address the issue.
As for the third essential point? It's Mia Goth. It's all Mia Goth. From start to finish here, she's lyrical, nightmarish, and soul-crushing, more or less in that order. On at least three occasions, however, she's all three at once: when Pearl reacts to the verdict on her church audition; when West grants her – I kid you not – a monologue about her upbringing and fears for her sanity that lasts a full 10 minutes without a single cutaway; and when, during the climactic image of Goth's face adjoined to the closing credits, poor, sad, terrifying Pearl works so hard at a dynamically ebullient smile that the cracks show and she can't stop crying. During both that hellishly extended end-credits image and for several minutes in that showstopper monologue, I was right there with her, quietly bawling my eyes out. Pearl is a more-than-decent period scare flick. It's also one of the most emotionally overwhelming films of its type I've yet seen, and with apologies to Elvis' Austin Butler and several of the Everything Everywhere All at Once castmates, it boasts the single finest film performance I've yet seen in 2022. Obviously, despite wholly deserveing one, Mia Goth won't be getting an Oscar for this. Is my now-eternal fandom any kind of consolation?
CONFESS, FLETCH
Why, during and after the run of Mad Men, did Jon Hamm not become a major movie star? Is it because he looks too much like Superman to be believably cast as anyone else – and Henry Cavill currently has dibs on the role? Given that the new film he produced and stars in might conceivably have left our area by the time I finish typing this, it's probably a moot point. But Hamm is so fiendishly hysterical in Confess, Fletch – a horribly titled continuation to the two investigative-reporter comedies, based on the Gregory Mcdonald novels, that Chevy Chase headlined in the 1980s – that I feel the need to raise the issue regardless. The film's central mystery is middling and unnecessarily complex; the compositions and lighting are bland; a few running gags never score past the level of "Oh, a running gag – noted." But as the bumbling, alias-obsessed, frequently barefoot reporter I.M. Fletcher, Hamm is a total riot, and because writer/director Greg Mottola is working with the skill he brought to his superior comedies Superbad and Adventureland, the film largely is, too. For just over an hour-and-a-half, I giggled like hell. If the laughs at my screening sounded unusually hollow, it was only because there was no one around to laugh with me.
From its woebegone title to its near-invisible release strategy to the decision to resurrect a slapstick-buffoon character that most viewers wisely chose to abandon more than 30 years ago, nothing about Confess, Fletch suggested anything but a heaping pile of instantly disposable garbage. The "instantly disposable" part, I'm disheartened to say, is probably correct. Yet there's practically no end to the treats that Mottola's movie delivers, starting with its riotously inspired lead. By now, it's hardly a newsflash that Hamm is a brilliant comedian, and, considering his GQ-model looks, still a somewhat unexpected one. Yet while he was joyously goofy on 30 Rock and Unbreakable Kimmy Schmidt (plus, of course, in Bridesmaids), the actor has never before been granted a feature-length distillation of his comic gifts. This one proves worth the wait. Whether being actively funny, as when huckstering a pair of street artists to detail Fletch's van, or reactively funny, as he is in Fletch's quiet nervous breakdown when Annie Mumolo's Boston beatnik almost burns her house down, Hamm is a marvel. Thank the gods, he never attempts a Chevy Chase. (There are no outlandish wardrobe selections, fake teeth, or exaggerated accents in this Fletch's arsenal.) Instead, Hamm gives us a smart, clever professional occasionally reduced to slapstick silliness, and everything he does is, somehow, concurrently sincere, snarky, and steadfastly nuts. I'm not sure how Hamm pulled off the trick of making the licking of an ice-cream cone hypnotically comedic, but dammit, the guy found a way.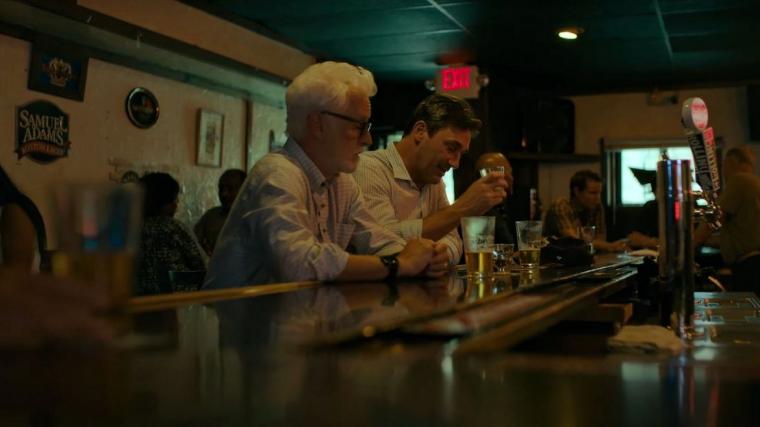 Yet thanks to the ingenuity of Mottola (who co-wrote the script with Zev Borow) and the madly accomplished supporting cast, this reboot is positively teeming with pleasures. Kyle MacLachlan, now silver-haired yet as devastatingly handsome as ever, is suave silliness incarnate as an art-financier germaphobe with a fondness for EDM. (Asked if COVID caused his phobia, MacLachlan's friendly weirdo replies, "Nope. Touch screens. Haven't had a cold in 20 years.") Lorenza Izzo is a hoot in the traditionally thankless role of Flecth's current girlfriend, with Marcia Gay Harden a saucy riot as the young woman's Italian stepmonster, who comes on to Fletch like he's the one promoting the flirtation and teasingly pronounces his name as "Flesh." The oftentimes overripe Lucy Punch is a scaled just right as an unaware victim of Fletch's disguise fetish (Hamm does his best work as the vaguely swishy "style editor" interviewing her); Roy Wood Jr. and Ayden Mayeri are a deliciously mismatched team as cops who suspect Fletch of murder; John Behlmann, as the owner of Fletch's Boston sublet, is one of few actors in recent times to garner an enormous laugh through an unanticipated F bomb.
And as if to answer an unvoiced prayer, Hamm's Mad Men co-star John Slattery shows up as Fletch's former newspaper editor, slyly parodying his Spotlight role as Ben Bradlee Jr. (he loathes the pandemic for giving his charges an excuse to work from home) and, yet again, acting as formidable friend/foe to his younger, less seasoned ally. Along with many, many others who should see the film, I hope Mad Men creator Matthew Weiner gives Confess, Fletch a look. Maybe it'll give him some ideas for the future.