DEADPOOL
Your ability to find the superhero comedy Deadpool funny is dependent on your being a 14-year-old, or more precisely someone who can easily access his or her (most likely his) inner 14-year-old. For director Tim Miller's new Marvel adventure, I couldn't quite. But I also can't deny the obvious pleasure many are getting from this cinematic, deservedly R-rated comic book. And if we must endure future origin stories – and trust me, we do – I'd prefer they all shared this one's anarchic spirit and happy willingness to trash, within studio-approved reason, the tenets that make so many of them boring as sin.
The obvious, not-unenjoyable hook is that its superhero is actually a superasshole – petty crook Wade Wilson (Ryan Reynolds), who, after a terminal-cancer diagnosis, signs up for an untrustworthy cure and is given the power to instantly heal himself, with the side effect of, as best buddy Weasel (T.J. Miller) opines, looking "like an avocado had sex with an older avocado." The rest of Deadpool concerns the newly costumed Wilson seeking vengeance on the monster (Ed Skrein) who ruined his Sexiest Man Alive looks, making him theoretically hideous to devoted girlfriend Vanessa (Morena Baccarin). Blood is spilled, viscera flies, and through it all Deadpool never stifles his Reynolds-honed wisecrack-ery, either within the scenes' "reality" or, just as frequently, in fourth-wall-busting asides to the audience. I found Miller's movie repetitive and not half as clever as it seems to think it is. But at least it's not Ant-Man-tedious, and at least the line-o-ramas – those cheerfully vulgar, heavily improvised verbal assaults that will inevitably be gathered for the movie's DVD and Blu-ray editions – occasionally keep you from acknowledging how formulaic this origin story actually is.
Things never get wittier, in truth, than the opening credits, in which the participants' names are replaced with descriptions of their expected functions: Baccarin is "The Hot Chick," Skrein is "The British Villain," Tim Miller is "The Overpaid Tool," et cetera. (Amusingly, screenwriters Rhett Reese and Paul Wernick receive the only fulsome noms de guerre.) But the joke spoils when you realize that Baccarin, in the end, is merely playing "the hot chick," and Skrein is a stereotypical British villain – I won't comment on director Miller's salary or possible tool-dom – and that while Deadpool may point out its clichés, it doesn't truly subvert them. There's still a climactic slugfest, a pummeling between the good and bad females, a debris-strewn landscape that's wildly overwrought for the piddly battles ... . And speaking of overwrought, so are Reynolds' gags when buried under Deadpool's mask. Because you can't see the actor's face, and expressions such as comic incredulity are consequently impossible, Reynolds is forced to oversell even the most throwaway bits, and lines that might've sounded viciously snarky instead come off as generically raunchy, obvious, and unduly loud.
When unmasked, though, Reynolds is quite excellent whether delivering one-liners at warp speed or indulging in surprisingly earned emotionalism, and he and Baccarin create a legitimately potent and oftentimes riotous romance; their montage of holiday-themed sexual exploits is the movie's most well-sustained joke. (The film's two funniest words may well be "Happy Lent.") T.J. Miller also made me chuckle a lot, his strangely vital stoner-slacker presence as welcome here as it is on Silicon Valley, and some of the pop-culture cues were priceless, as when reference was made to Professor X and Deadpool countered, "McAvoy or Stewart?", momentarily frying my brain. But I still exited Deadpool's auditorium origin-story-exhausted, if at least hopeful that subsequent installments won't be so bound to comic-book-flick mandate. "Deadpool," says Weasel when Wilson invents his alias. "That sounds like a f---in' franchise." For better or worse: Yes. Yes, it does.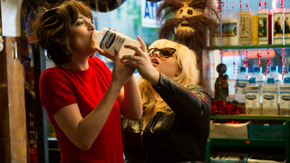 HOW TO BE SINGLE
How to Be Single, a comedic tale of four unmarried women looking for love and booze in the Big Apple, is not Sex & the City. We know this because one of those women chides another for thinking that New York life will be just like Sex & the City. But let's be honest: It's Sex & the City, albeit with a Charlotte (the atypically forced Alison Brie) who never meets her gal pals, and some blurriness involving who's Samantha and who's Miranda. In any case, it's not bad – certainly not as bad as the migraine-inducing Sex & the City 2. And despite being predictably overrun with dreary pop-music montages and voice-over BS about how director Christian Ditter's movie will "tell it like it really is" for these stereotypes posing as real people, it's filled with lovely things.
Despite being several years older than the new college grad she's playing, Dakota Johnson again proves that she possesses mom Melanie Griffith's screen charisma but more acting talent, and Leslie Mann, as Johnson's sister, gives one of her most affecting, least hysterical portrayals in ages. Rebel Wilson is Rebel Wilson, which is always wonderful. There are loads of terrific supporting dudes: Anders Holm, Damon Wayans Jr., Nicholas Braun, Jason Mantzoukas, and that charmer Jake Lacy, who I'm beginning to think could forge screen chemistry with a potted plant. And Christian Rein's cinematography is rich and warm; if a fireplace weren't available, you could handily snuggle up to his film's lighting. But How to Be Single is purportedly a celebration of women's individuality and self-worth; did nearly every conversation here really need to be about boys? Ditter's film may pass the Bechdel test, but a D-plus is barely passing.