KINGSMAN: THE GOLDEN CIRCLE
Director Matthew Vaughn's action thriller Kingsman: The Golden Circle opens with a high-speed taxicab melee underscored by Prince's "Let's Go Crazy," and I initially presumed it to be par for the Kingsman course – more hyper-edited, ultra-violent nonsense involving cartoonish CGI and an iconic pop tune. But it turns out that this particular scene, with this particular song, is actually serving as the film's mission statement, because for 140 minutes, Vaughn's follow-up to 2015's Kingsman: The Secret Service is undeniably crazy. Not good, not even half-good, but certifiable nonetheless.
The guy we're theoretically rooting for in that opener is, naturally, Taron Egerton's franchise hero Gary "Eggsy" Unwin, the former street tough who's now an upstanding member of England's elite spy unit the Kingsmen, having been trained, in the previous movie, by Colin Firth's debonair, now-deceased Harry Hart. (Cinematic comic book that this is, don't be surprised when Harry's "deceased" status deserves those quotation marks.) Following a murderous attack on the organization, this new adventure finds what's left of the Kingsmen teaming with their American counterparts the Statesmen in order to prevent a psychotic drug lord from killing hundreds of millions of people – a narrative that sounds like a textbook case of Hollywood-sequel super-sizing. But The Golden Circle, to both its credit and detriment, doesn't subscribe to "bigger is better" so much as "bughouse is better."
If it didn't, would we have Julianne Moore as chipper cartel queen Poppy Adams, whose secluded Cambodian-jungle headquarters has been fashioned into an Eisenhower-era community christened Poppy Land? (Its Main Street – which appears to be its only street – boasts a salon, one-screen movie theater, and diner where Poppy gleefully grinds offending goons into hamburger.) Would we have Eggsy, now in a committed relationship with The Secret Service's Princess Tilde (Hanna Alström), planting a tracking device on/in his subject by going to third base? Would we have Harry Hart resurrected as an amnesiac lepidopterist? Would Channing Tatum and Jeff Bridges be on hand as, respectively, a sharpshooting redneck named Tequila and a drawling bigwig named Champagne? Would the film's emotional apex come from Mark Strong singing John Denver's "Take Me Home, Country Roads"? Would Elton John, for the love of God, have a major supporting role as a kidnapped Elton John, and performing takes to the camera like a feather-wearing Jim Halpert?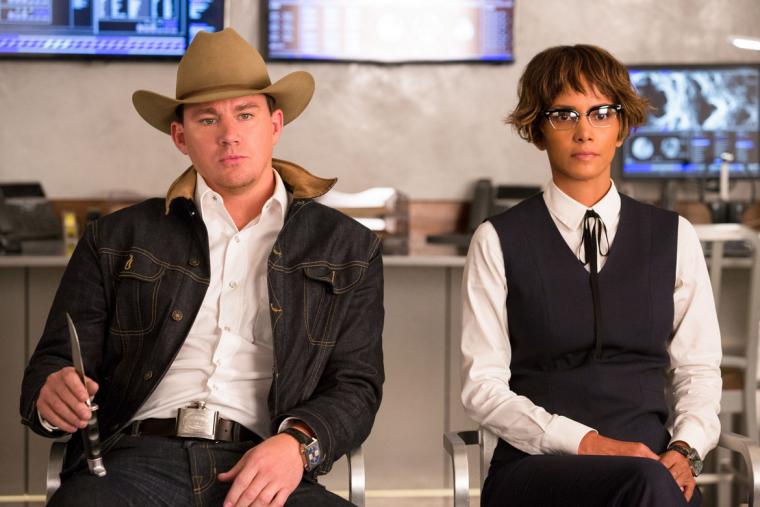 Given all this, it's astounding that I could've ever been bored by The Golden Circle. Your jaw, however, can only drop so far when you're busy yawning, and Vaughn's latest is like that loud, obnoxious party guest who doesn't realize his "Look how eccentric I am!" act is tiresome as hell. The superficial nihilism of director Vaughn's original – just like the superficial nihilism of his 2010 Kick-Ass – was exhausting enough, with only the natural charm of Egerton and Firth making its self-conscious slickness tolerable. This continuation, though, is an even more deadening experience, because it's impossible to give two hoots about anything that happens here when it's so apparent that Vaughn doesn't care if you care.
To the shock of no one, Elton John proves to be no actor, so there's absolutely nothing at stake in his far-too-many scenes. (Elton's casting, and the nature of his role, are meant to be jokes, and their only crime is that they're in no way funny.) Yet from The Golden Circle's punchline-designed viscera to the narrative that's just an apocalyptic version of the 21 Jump Street plot, we're not allowed to feel anything at this cynical, smirky endeavor that treats both heroes and villains like easily disposable objects good only for a few throwaway chuckles, and in no way original ones. Again, familiar tunes – Elton's "Saturday Night's Alright," Cameo's "Word Up" – are employed as "satiric" accompaniment to squib-bursting violence. Again, comic irony is intended in the dichotomy between all that advanced weaponry and all those tailored suits. And again, a Kingsman movie emerges as so noxiously self-satisfied that our being there doesn't seem at all necessary. This thing would happily give itself the People's Choice Award.
THE LEGO NINJAGO MOVIE
When Tina Fey and Amy Poehler, in 2014, took the stage for their second consecutive stint as hosts for the annual Golden Globes, Fey observed that they were only back because "this is Hollywood, and if something kind of works, they'll just keep doing it until everybody hates it." On that note, I had a decent time at directors Charlie Bean's, Paul Fisher's, and Bob Logan's The Lego Ninjago Movie ... and still kind of hated it.
There are, as ever, plenty of spiky throwaway gags and pop-culture riffs, with the unexpected arrival of Annie's "It's the Hard-Knock Life," played as a flute solo, a particularly giggly treat. (I also adored the sardonic employment of Jerry Maguire's most moving song selection, especially after that movie was mercilessly teased in The Lego Batman Movie. What did Cameron Crowe do to so piss off the Lego peeps?!) The animation is typically stellar, with the Lego figurines just scuffed and dirty enough to suggest many months of playtime usage. And even when their material is lacking, we're given amusing vocal support from the likes of Dave Franco, Kumail Nanjiani, Jackie Chan (who's also, briefly, an on-screen presence), and Justin Theroux, the latter sounding uncannily, and probably intentionally, like Will Arnett. But Lego Ninjago's underwhelming weekend box office indicates that, landing so soon after Lego Batman, I'm not alone in thinking "Enough already!", especially in regard to the tedious sameness of the series' storytelling techniques, narrative arcs, sentimental detours, life lessons, and tendencies to become the exact films they're purportedly mocking. There are several more Lego movies on the horizon, but don't be surprised if crowds begin to collectively demand a garage sale.