You can tell it's August at the cineplex, not because the newly released movies are so terrible (though a couple of them definitely are), but because there are so many of them. This annual dumping-ground month for films generally considered too weak to score summer-blockbuster dollars and too insignificant to pass as autumnal prestige fare has also, in recent years, become the cinematic equivalent of a Sam's Club or Costco: a little bit of everything, in bulk. And over four consecutive days, I caught up with seven of these debuting area titles - a collective experience that ranged from the sublime to the ridiculous ... and back to the sublime.
SHAUN THE SHEEP MOVIE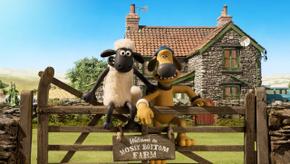 Last fall, I caught up with a few episodes of Great Britain's stop-motion-animated Shaun the Sheep so I'd have something new to talk about with my then-eight-year-old niece and -five-year-old nephew. My sister brought them to visit this past Saturday, and at one point, I was struck by the realization that I wanted to talk about Shaun the Sheep more than they did, because I had seen directors Mark Burton's and Richard Starzak's Shaun the Sheep Movie and was hoping the kids would share my enthusiasm. For the record, they both liked the film, but they also saw it on a returning flight from England back in June and were obviously so over it. I, however, am not. An 80-minute expansion on the BBC series involving a wool-covered adventurer, his officious canine pal Bitzer, and the bumbling farmer who cares for them and their barnyard friends, Shaun's big-screen debut bears all the witty hallmarks of its production company Aardman Animations. Unlike the Wallace & Gromit outings, though, Shaun the Sheep Movie unfolds completely without verbalized dialogue, and by its simultaneously hilarious and moving finale, you may find yourself wishing more family entertainments took the cue of this one and chose to shut the hell up.
There's certainly no end of sounds; a bunch of peppy pop songs decorate the soundtrack, the on-screen creatures mutter and growl and bleat in ways that make character intention instantly apparent, and this being a modern kids' movie, you will hear a couple of farts. (There are actually quite a few bum jokes here ... and by "bum," I'm referring to the British slang for one's posterior.) But the lack of chatter keeps you more alertly focused on the fabulously clever visual gags and offhandedly smart details - Burton's and Starzak's London is appropriately, nonchalantly filled with people of color and a wide range of ethnicities - and at times, the film comes close to suggesting some unearthed, silent Marx Brothers slapstick. (The scene of Shaun and his fellow sheep making accidental fools of themselves at a posh restaurant is one that Groucho and sibs would've been proud to call their own.) Yet the relative quiet also makes you more appreciative of the painstaking filmmaking process, and perhaps nothing about the bubbly, funny Shaun the Sheep Movie cheered me more than its extreme close-ups of characters that allow you to see, on the faces of the hand-animated figures, actual fingerprints - proof of the physical labor behind all that breezy humor. That's the movie in a nutshell: animated enchantment with a literal human touch.
RICKI & THE FLASH
Humanity is precisely what's missing from Ricki & the Flash, a song-filled dramatic comedy that has the unique distinction of being perhaps the worst film of director Jonathan Demme's career, certainly the worst film of screenwriter Diablo Cody's career - and yes, that includes Jennifer's Body - and quite possibly the worst film of Meryl Streep's career. (Though it is, of course, necessary to remember that Streep did appear opposite a 1989 Roseanne Barr in She-Devil.) It's the tale of a late-middle-aged rocker who abandoned her Indiana-based husband and kids in the '80s, headed to California with dreams of stardom, and wound up playing to meager crowds in a cover band. After Streep's Ricki lands in Indianpolis to help care for her suicidally depressed, recently divorced daughter (played by Streep's real-life daughter Mamie Gummer), it's also about as phony and infuriating as movies get; not a single scene plays as insightful or truthful, and despite a lot of capitalized Acting, not a single person on-screen emerges as real.
I had premonitions of bad times from the start, when Streep sang Tom Petty & the Heartbreakers' "American Girl" with such ferociously aggressive determination that she seemed the kind of desperately needy, trawling-for-encouragement musician you'd go out of your way to avoid. Ricki's barfly fans, however, ate the number up, and all throughout the movie, you feel Demme, Cody, and Streep herself oppressively, and nonsensically, goading you into finding this hot mess worthy of affection and sympathy. Her children treat her horribly and Indianapolis passers-by sneer at 60-something Ricki in her heavy eyeliner and leather-and-tights wardrobe, and the movie never stops to ask whether these responses might well be justified. It's Meryl Streep, damn it, and we're meant to adore her no matter what, especially considering one sequence and character after another is embarrassingly rigged to smack down its poor, pitiable lead. Why is the big, introductory family confrontation set in an upscale restaurant where there were sure to be hissy fits and Ricki would be glared at by the neighboring blue bloods? Why didn't they just eat in? (This particular scene is way more believable in Shaun the Sheep Movie.) Why does the maudlin music on the soundtrack weep after the stepmom to Ricki's kids makes perfectly valid arguments for the rocker's familial superfluousness? This vanity project goes more than out of its way to support Ricki's unsubstantiated heroism, and it keeps smacking you with clichés: Streep having a mini-breakdown mid-song while her long-suffering beau (the enjoyable Rick Springfield) impotently looks on; Streep making an awkward wedding toast in what feels like a blessedly deleted scene from Demme's Rachel Getting Married. By the finale, with Streep belting out her thousandth vocal assault in front of an audience that includes Kevin Kline and Audra McDonald, I wanted to hide my face. Fine, hard-working vocalist that Streep is, isn't there something rather grossly egomaniacal about her hogging the splotlight in front of a man who's won two Tony Awards for musicals, and a woman who's won six Tonys, five of them for roles that showcased her wondrous vocal chops? I hated this movie, though I will admit to loving one thing about it, because until its last 15 minutes, I had no idea that The Facts of Life's Charlotte Rae was still alive. She is, and the 89-year-old is as adorable as ever. So thank you for that, Ricki & the Flash. Now go away forever.
FANTASTIC FOUR
I'd make a similar request of the re-rebooted Fantastic Four, but I'm pretty sure that by now, thousands upon thousands of comic-book-movie lovers have beaten me to it. This thing is so wretched that it makes you look back on Green Lantern with fondness. It's so wretched that it makes you look back on Green eff-ing Hornet with fondness. Even the lamest superhero origin stories at least give you some action with the origin. Yet director/co-writer Josh Trank's is almost perverse in that regard: roughly 90 of its 100 minutes devoted to horribly labored setup, and maybe 10 devoted to our costumed crime fighters' underwhelming battle with Toby Kebbell's Dr. Doom, a climactic showdown so haphazard and ineptly conceived that nothing about this sequence even hints at it being the film's climax. (Or rather, near-climax, as we still have to suffer through the inevitable scene of our heroes figuring out their team name - a humiliating new low in the history of such moments.)
Beyond being abysmally written and directed, and beyond the tacky visuals that take all the "special" out of "special effects," may I ask: What on Earth are the talented Miles Teller, Michael B. Jordan, Kate Mara, and Jamie Bell doing in this thing? Did they lose a bet of some kind? Did their agents somehow convince them, conceivably at gunpoint, that their careers would be over if they didn't immediately sign up for a comic-book movie? Any comic-book movie? I'm not sure I've ever seen young actors in major roles (or, in Bell's case, major-until-the-CGI-takes-over) appear this listless and embarrassed; you'd almost think they were trying to sabotage Fantastic Four so they'd never have to make another and could get on with projects that actually interested them. I'm tired of discussing this sad affront to Marvel and Marvel fans alike, but if you want to continue, I'll give you a topic: Near the end, Dr. Doom intones, "The energy ... it's alive!", but the movie he's in has no energy and isn't alive. Discuss.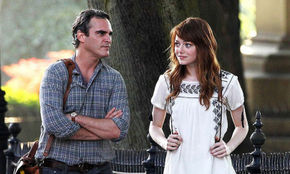 IRRATIONAL MAN
If you're familiar with the Woody Allen canon, the opening credits of the writer/director's Irrational Man might be enough to convince you that something innovative and unpredictable lies ahead, because rather strikingly, the familiar black-and-white title cards presented in Windsor Light Condensed have no jazz or classical music underscoring them - just the sounds of passing traffic. It's a bold enough break from the annual norm that I, for one, started watching Woody's latest feeling happily dislocated. Then Joaquin Phoenix, in voice-over, began quoting Immanuel Kant, and I knew I was again on safe, if incredibly well-trodden, ground. Its auteur's most recent exploration of the randomness and meaninglessness of existence casts Phoenix as a defeated, drunken philosophy professor who begins showing signs of life partly through the attentions of a beautiful student (Emma Stone), and significantly through his realization that he has the wherewithal and desire to murder a complete stranger. It's a plot that echoes everything from Woody's 1989 classic Crimes & Misdemeanors to his wildly underrated 2008 drama Cassandra's Dream, and there's just enough juicy thrill left to make it work for Irrational Man, even if, as is oftentimes the case these days, you hardly believe a word that anyone on-screen says.
It's so difficult to pinpoint why Woody's determinedly artificial dialogue sometimes works, as it does spectacularly well in Midnight in Paris and Blue Jasmine, and sometimes doesn't, as in last year's annoyingly coy and trite Magic in the Moonlight. Unfortunately, despite the present-day setting, we're in the latter's terrain here, and it can be hard to simply go with the movie's flow when even the one-line roles sound read, unrehearsed, from a teleprompter, and Stone is forced to make overtly on-the-nose declarations such as "My thoughts were very mixed-up and troubled." (Woody's repartee, here, may also be a bit too self-referential for die-hard fans. When Phoenix's prof complimented Stone's student on one of her papers, I actually muttered her reply "Am I blushing?" two seconds before she did, because that's what Juliette Lewis asked Woody himself, in an identical situation, in 1992's Husbands & Wives.) Dialogue aside, though, Irrational Man's narrative remains involving, and the cast does a fine job of disguising the verbal fraudulence whenever they can. Entering scenes with a woozy shuffle and protruding gut, Phoenix completely sells his conversion to the dark side by making that conversion so startlingly carefree, while Stone, despite an unfocused role, uses her big, imploring eyes to convey intensifying suspicion and anxiety. (Her best scene finds Stone merely regarding Phoenix with a gradually tearful stare.) And in a film in which even the minor characters are well-cast, principally Jamie Blackley and the charming newcomer Sophie von Haselberg, we're also treated to a long-overdue joy: Parker Posey has finally, finally, found herself in a Woody Allen movie. True, her role as a lascivious faculty member - a seemingly cheerful basket case who could be a cousin to Posey's heartbreakingly doomed Liz on Louie - doesn't make much sense and isn't given the adieu she deserves. Still, Posey is so electrifyingly eccentric and magnetic and scary here that you don't know how Woody has managed to go so long without her. (He likely perceives this, too, as she's already filming his next movie.) Posey is probably one solid scene away from an Oscar nomination for her performance, but hey, if it's a weak year, and the faithful can rally ... !
THE GIFT
I'm forced to admit, of course, that Irrational Man likely won't stay in the area long, and writer/director Joel Edgerton's suspense thriller The Gift might not, either, considering it's a relatively minor picture with a generic title that stars Jason Bateman, Rebecca Hall, and Edgerton himself, none of them sure-fire box-office draws. But is it too much to hope that the film bucks its odds after word-of-mouth spreads on just how excellent it is?
Some movies I want to rave about to no end. With this one, I want to say as little as possible, because I think the experience can only be heightened by entering, as I did, with minimal advance information. Bateman and Hall play a Chicago couple who, after some undisclosed professional and marital issues, relocate to the southern-California stomping grounds of Bateman's youth. Edgerton plays a nervous, twitchy schoolmate of Bateman who runs into the couple at a department store, and eventually gets invited to dinner. The tense, awkward dinner doesn't go well, and the marrieds decide not to court a friendship. But the next morning, on their front stoop, Edgerton leaves the couple a gift: a bottle of wine. The next day, he leaves other gifts: a number of fish swimming around the couple's formerly empty koi pond. The gift, however, comes at the very end of the film, and with the exception of Ex Machina's, the road to its arrival might be the most exemplary example of sustained tension and escalating fear that 2015 movies have yet provided. Employing only a few standard "Boo!" effects, with even the requisite "It was just a dream!" sequence not feeling like a cheat, The Gift marks a rather remarkable feature-film debut, as a director, for Edgerton, whose shrewd compositions and teasing use of stillness already suggest a major behind-the-scenes talent. (And this is Edgerton's best on-screen work since 2011's Warrior.) His script also allows us to luxuriate in the fundamental mystery of its central figures, and while the full measure of their personas isn't clear until the final minutes, I don't think it's a spoiler to say that no film before this one has quite so effectively explored the creepiness behind Jason Bateman's amiable façade. There are hints of appalling underbellies throughout his filmography, particularly in Juno and Up in the Air, but Bateman's surface niceness is terrifying in The Gift, and the actor gives what may be his cagiest and most satisfying performance to date - he's easily a peer to Rebecca Hall here, and Rebecca Hall is almost always peerless. Already a helmer who clearly loves actors (the underutilized but topnotch supporting cast boasts Busy Philipps, Wendell Pierce, David Denman, and Allison Tolman - the latter that unbridled sweetheart from FX's Fargo series), Edgerton has established himself as a true writer/director to watch. And The Gift is a movie to watch. Perhaps, eventually, over and over again.
INFINITELY POLAR BEAR
Mark Ruffalo, meanwhile, is an actor worth watching under any circumstances, even if it means driving a healthy distance to do it. So it was with absolutely no trepidation that I trekked to Iowa City's FilmScene for Infinitely Polar Bear, which finds Ruffalo playing an endearing yet dangerously unstable manic depressive in writer/director Maya Forbes' big-screen memoir and directorial debut. Set in 1978, the film is a lightfully fictionalized look at Forbes' own upbringing in an impoverished Boston household - her father a bipolar, unemployed, recently hospitalized trust-fund baby, and her frequently absent mother (Zoe Saldana) hoping to better her finances by pursuing an MBA in New York. While Mom is gone, the grade-school-aged kids (Imogene Wolodarsky as Forbes' proxy Amelia and Ashley Aufderheide as her younger sister Faith) live and play with Dad, and one of the central questions surrounding Forbes' movie is "How are we supposed to take this?" Forbes appears to be going for an ironic, nearly satiric tone in the style of David Sedaris' short stories or the Augusten Burroughs of Running with Scissors, yet she never quite pulls it off; the dark comedy of the family's squalor is too sitcom-cute, and the furious shouting matches inevitably end with resignation and hugs and twinkly music cues. It's all terribly Sundance-y, which I mean in a mostly pejorative way, and the lovely and touching Saldana is trapped in a sketchy role that too obviously suggests with which parent Forbes' sympathies lie.
Yet it's a heartfelt work with countless details that feel just right: the blanket-roofed living-room fort that the girls build alongside Dad's unfinished household projects; the polite condescension of Dad's grandma (Muriel Gould) as she refuses him financial aid but does offer to kick in a Bentley; the clunker car Dad buys instead, with a backseat floor through which you can see the pavement. And Ruffalo gives a bravely theatrical, ultimately devastating performance as a former preppie turned former hippie turned reluctant role model. His bearing and elocution continually make him appear one degree away from caricature, but Ruffalo holds his balance in Infinitely Polar Bear, and demonstrates such tender rapport with Saldana and his gifted young co-stars that you find yourself nearly aching for the happy ending you're almost sure the movie will provide. At my FilmScene screening, a woman sitting in the row behind me let out an ample "Aw-w-w-w!" when we first laid eyes on Ruffalo's new puppy. Ten minutes later, she let out an ample "Aw-w-w-w!" when Ruffalo's countenance - the man having been momentarily abandoned by his daughters - suggested a first-rate impression of a puppy. Both times, that woman was right to do so.
AMY
FilmScene also presented the area premiere of the Amy Winehouse documentary Amy this past weekend, which I caught less than a half hour after Infinitely Polar Bear. Part of me wishes the presentational order were reversed, because ever since that double-feature, I've been unable to get the haunted, and haunting, sadness of Winehouse's paparazzi-caught gaze out of my head. Another part of me, though, knows that seeing Amy first wouldn't have made a bit of difference, because director Asif Kapadia's achievement might well prove unforgettable. Told with a complete lack of talking-head shots, Winehouse's tragic history unfolds almost entirely through found footage - TV appearances, home movies, cell-phone images - and makes a subtly yet damningly eloquent argument for nearly everyone being collectively accountable for the singer/songwriter's 2011 demise: the star herself, her husband, her parents, her handlers, the press, the fans, and even all of us who ever laughed at a mean-spirited Amy Winehouse joke, or chuckled at the irony of her biggest hit being titled "Rehab." Without coming off as in any way didactic, Kapadia's film examines the moral rot behind celebrity-based schadenfreude, and if you ever found yourself enjoying the deeply troubled Winehouse as the butt of what became a gravely unfunny international joke, this movie will ensure that you never laugh at the late artist's expense again.
That the film is at all bearable, let alone exhilarating, is a testament to Kapadia's supreme patience (and every minute of the film's 128-minute running length proves invaluable). We're given enough of Winehouse's early, happier days, her quick-witted and irrepressible humor, and her charmingly abashed humility that you can actually watch the first half of Amy and almost forget where this doc's events will inevitably lead. And it probably goes without saying that you can't get enough of that voice; Kapadia was granted full access to Winehouse's recorded catalog, and even a standard such as "Moon River" - hell, even "Happy Birthday"- evinces the power to produce soulful, jazzy shivers. Yet shivers of an altogether different kind come with revelations you may have missed through all that TMZ coverage, such as the information, verified by her mother, that Winehouse told her parents about her bulimia at age 15 and they considered it merely "a phase." And your nerves become frayed more and more with Kapadia's gradual compounding of biographical data, and the voice-over recollections that accompany it: Winehouse's father unconvincingly stating, "We did everything we could to help her"; Tony Bennett likening the chanteuse, all too accurately, to Billie Holliday; Winehouse herself admitting, "I don't think I want to be at all famous - I don't think I could handle it." By the time blinding paparazzi flashbulbs are attacking the drug-and-alcohol-addicted Winehouse like daggers, and Jay Leno is making an obscene crack about her drug addiction mere months after welcoming her as a Tonight Show guest, you realize that the lacerating Amy isn't a traditional perils-of-show-biz cautionary tale. It's a horror movie, and one that makes many, many people - including, perhaps, yourself - at least marginally complicit in the on-screen killing.
Follow Mike on Twitter at Twitter.com/MikeSchulzNow.