22 JUMP STREET and HOW TO TRAIN YOUR DRAGON 2
This past Friday was my birthday. (Aw, thank you for asking! Belated gifts can be sent care of the Reader!) And like a present delivered specifically for me, the day brought with it not only two movies featuring Jonah Hill - even if one only features the voice of Jonah Hill - but two follow-ups I wasn't at all dreading: 22 Jump Street, the sequel to a comedy I loved, and How to Train Your Dragon 2, the sequel to an animated adventure I liked just fine. I suppose it was both fitting and inevitable, then, that I wound up liking the former just fine, and the latter ... well, I didn't love it, but I did enjoy it a heck of a lot more than the original.
My biggest and perhaps only real fear about directors Phil Lord's and Christopher Miller's 22 Jump Street, the continuation (it should go without saying) of the duo's cop-buddy slapstick 21 Jump Street, was that the film wouldn't be as clever as its predecessor. What I hadn't anticipated was that Lord's and Miller's latest would be so clever - or rather, so self-consciously clever - that it would actually be kind of annoying. As promised/threatened at the end of the 2012 movie, this new outing finds its best-bud odd couple of Schmidt (Hill) and Jenko (Channing Tatum) exercising their undercover "skills" on the university level, posing as Metropolitan City State students to suss out the supplier of a new designer drug. Along the way, there are car chases and shoot-outs and explosions. New relationships test the strength of the cops' heterosexual bromance. Schmidt falls for an adorable girl with a beaming smile. Jenko proves comically unable to grasp basic educational tenets. The guys accidentally get high on hallucinogens and experience a surreal freak-out. Schmidt's parents fawn over them. Ice Cube keeps yelling at them. Is any of this starting to sound vaguely familiar?
If you've seen 21 Jump Street, my guess is that it is - and as the movie keeps reminding us, it absolutely, intentionally is. From the early scene that finds Nick Offerman's police chief explaining how the "surprise success" of the original operation led to the department (i.e., audiences) demanding the exact same thing all over again, 22 Jump Street never lets you forget that it's a sequel; the film counters all criticism of its lack of originality by admitting its unoriginality. (Ice Cube's incensed Captain Dickson can't fathom why it's taking so long for Schmidt and Jenko to make their arrests, considering the practice they've had.) Yet the endlessly referential nature of the gags here eventually grows exhausting. There are, for instance, plenty of jokes about the cops, again, looking too old to pass for students. But even though the majority of them are delivered, magnificently, by the blisteringly sardonic Jillian Bell as a dead-eyed debutante, I don't think the film's screenwriters (Michael Bacall, Oren Uziel, and Rodney Rothman) needed to keep hurling them at us until five minutes before the film ended. And while we might have predicted that there'd be routines about the increased budget for this follow-up, Jenko's realization that the cops' surroundings look "needlessly expensive" is amusing enough the first time; the joke loses its luster on its second, third, and fourth go-rounds. Watching 22 Jump Street is oftentimes like watching a movie alongside someone who's already seen it several times over, and can't stop reiterating why the funny stuff on-screen is actually funny.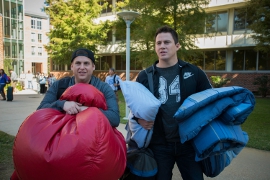 But considering that 21 Jump Street is among my three favorite comedies of the decade, I'm content to chalk up my moderate disappointment with its sequel to unfairly high expectations, and I did laugh out loud on at least two dozen occasions. (Truth be told, I was firmly in the filmmakers' corner beginning with the Annie Hall parody that landed during the "Previously on ... " prelude, a bit of throwaway wit that portended, correctly, a movie at least as smart as it was silly.) There are spectacular visual gags, such as the sting operation's new locale at the Holy Spectacle Church, and lots of excellent verbal gags; the newly P.C. Jenko's apology for being a "homophone" was almost as endearing as his responding to a history professor's question with the catch-all answer "Covalent bonds!" (That one's specifically for 21 Jump Street devotees.) Ice Cube's profane dyspepsia is showcased beautifully during a hysterical parents'-weekend sequence, while winning turns are also delivered by Amber Stevens as Jenko's crush, Keith and Kenny Lucas as a pair of frighteningly in-sync twins, and Wyatt Russell, whose jock character Zook's meat sandwich gets infiltrated by Jenko's Q-Tip - and I'm not being metaphorical. (The boneheads describe their introductory bonding moment, without irony, as a Meat Q-T.)
And, of course, there's the continual pleasure of Hill's and Tatum's chemistry, the actors so superbly, if incomprehensibly, well-matched that you can cackle at their spoofy, rom-com shenanigans and still find their affection for one another truly moving. 21 Jump Street got some good comic mileage out of the notion, but 22 Jump Street, as that early Annie Hall nod suggests it will, plays up the men's "Are they or aren't they?" relationship so thoroughly and fearlessly that it might be a new benchmark in the annals - which Jenko, here, pronounces as "anals" - of comic subversion. (The film is as close to a slapstick Brokeback Mountain as we're likely to get any time soon.) Tiresome though its obvious self-regard is, I had a terrific time at the film almost throughout, and even though it doesn't reach the highs of Lord's and Miller's precursor, or the duo's Cloudy with a Chance of Meatballs or The Lego Movie, the next-best thing is still a great thing to be.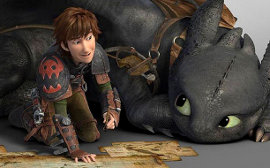 Somewhat surprisingly, I had an even better time at writer/director Dean DeBlois' How to Train Your Dragon 2 - even though, after the movie's full plot is revealed, How to Re-Train Your Dragon would seem a more fitting title. As visually resplendent as its predecessor, yet far more affecting, the film finds its heroic young warrior Hiccup (again voiced by Jay Baruchel) and his fire-breathing sidekick Toothless contending with a cadre of dragon-nappers (led by Kit Harington), a vicious warlord (Djimon Hounsou), a staggeringly enormous alpha dragon, and the surprise reappearance of Hiccup's long-lost mother. Those first three storyline elements provide us with many exciting, stunningly well-animated and -choreographed sequences. That last one provides us with the serene, throaty, gorgeously nuanced vocals of Cate Blanchett. I'm at a total loss in choosing which I preferred.
As a product of Dreamworks Animation, DeBlois' offering, like his 2010 predecessor, opts for a bit too much elbow-in-the-ribs humor for my tastes, most of it delivered by the quartet of Viking goofballs voiced by Jonah Hill, Christopher Mintz-Plasse, T.J. Miller, and Kristen Wiig. (This might be the very first movie in which Wiig, portraying the man-hungry Ruffnut, is actively irritating, but the kids at my screening did eat up her "Come to mama!" shtick with a spoon.) Yet this fast-moving, unexpectedly thoughtful entertainment is also much more resonant and emotionally complex than its predecessor - DeBlois is quoted as calling the film his Empire Strikes Back, and it's a fair analogy - and numerous scenes are legitimately frightening; small kids, especially, may be terrified by Toothless' momentary turn toward the dark side. By its finale, How to Train Your Dragon 2 emerges as a rather spectacular achievement, spirited and scary and aesthetically stunning, and enough can't possibly be said about Blanchett's contributions - or, he said while swallowing his pride, about the contributions of Gerard Butler, either. There's one scene here in which Butler's mammoth-sized leader Stoick the Vast sings a gentle little love ballad to his returned spouse, and Butler's crooning is sweeter, funnier, and more sincere than anything he's done in any of his previous screen roles. I'd argue that it maybe took Butler being off-screen to do it, but I give the guy so few compliments; why ruin it with a backhanded one?
Follow Mike on Twitter at Twitter.com/MikeSchulzNow.