THE HUNGER GAMES: THE BALLAD OF SONGBIRDS & SNAKES
Remember when movies based on young-adult fiction were all the rage?
It wasn't so long ago that we could expect at least one new Divergent or The 5th Wave or Paper Towns per month, most of these works starring pretty, earnest performers whom, with the exception of Shailene Woodley, we don't see much anymore. The hands-down most successful of these releases were the films in the Hunger Games series, but with 2015's fourth installment earning more than $100 million less than the 2012 original, it was clear that genre fatigue was setting in. Nowadays, big-screen YA-lit adaptations are nearly as uncommon as rom-coms, and their scarcity adds to the unexpected pleasure that is The Hunger Games: The Ballad of Songbirds & Snakes. The rare prequel that actually makes a solid case for its existence, director Francis Lawrence's terrific dystopian thriller kept me invested for the entirety of its two-and-a-half hours – even if it was slightly odd that this big-budget, large-scale return of cinematic YA lit is wholly stolen by its grown-ups.
Like many of you, perhaps, I initially had no idea that Hunger Games author Suzanne Collins had written a prequel to her über-successful trilogy, the BoS&S novel having the misfortune to be released in the spring of 2020, when book stores were largely shuttered, talk shows were on hiatus, and people were too busy binge-watching Schitt's Creek and Friends to notice what was on the bestseller lists. An obvious choice for a narrative would seemingly have been the violent uprising of the 12 districts of Panem against the Capitol – the revolution that, following the Capitol's victory, would lead to the countrywide punishment of the Games. Collins, to her credit, opted for a far more intriguing scenario: setting her work 10 years into the Games' annual presentation (i.e. 64 years before Katniss Everdeen got involved), right when they were on the verge of cancellation, and revealing how they eventually became the grimmest of must-see TV.
Enter 18-year-old Coriolanus Snow, who, long before he became a wrathful despot, was a brainy yet secretly impoverished student whose father – a Capitol general – was killed during the insurrection. (BoS&S' Coriolanus portrayer Tom Blyth possesses just enough of Donald Sutherland's icy handsomeness to make the casting convincing.) Having slipped into poverty alongside his cousin and grandmother, Coriolanus is hanging on to respectability by a thread, his only hope for financial gain a cash prize awarded to the brightest kid in class. Everyone, Coriolanus included, presumes the money will be his. But the young man's expectations quickly go south when it's revealed that this year, instead of the the school valedictorian being rewarded, the dough will instead go to whomever most successfully mentors one of the 24 unwilling contestants at the impending Hunger Games. This doesn't necessarily mean that the best mentor is the one whose charge lives – just the one whose charge puts on the best show for the viewing public. And although he's skeptical about her chances at survival, Coriolanus does see the potential for personal victory in his assigned District 12 competitor Lucy Gray Baird (Rachel Zegler), a traveling folk singer with a backwoods accent and gorgeous a cappella voice who, in her televised introduction, aggressively tells off the Capitol and slips a snake down a rival's dress. Coriolanus is enchanted. But is it Lucy Gray he sees, or simply what she can do for him?
Because the Hunger Games tales are as devoted to romance as they are to children forced to murder one another for sport, we can successfully predict how the Coriolanus-and-Lucy-Gray relationship will progress: After her initial (understandable) wariness, the girl will begin to trust the boy, and the boy will develop feelings for the girl, and their partnership will lead to successful game strategies and love. Yet we also know what kind of monster Coriolanus Snow grew up to become, and the name "Lucy Gray" is never referenced in Collins' original trilogy, which leads to all sorts of questions – if we haven't read the BoS&S novel – for which we have no assured answers. Will Coriolanus and Lucy Gray wind up together? (Sutherland's President of Panem may well have had a wife we knew nothing about.) Will she even survive the Hunger Games? Will the boy turn on her? Will she turn on him? Blyth and Zegler are sufficiently cagey in their character interpretations, and despite his emotional outbursts and her inherent empathy, you don't feel that you know everything there is to know about BoS&S' central figures. As its title makes clear, there are songbirds and snakes in this saga, and a major part of its fun lies in trying to determine, at any given time, which of our leads is which creature.
There's no such confusion regarding the movie's adults, however. They're all snakes, for which we can be grateful. As chief gamemaker Dr. Volumnia Gaul – God, that's a good name for a villain – Viola Davis gets to act with a hambone intensity she's never previously unleashed on-screen. With her eyes of different hues, her Bride of Frankenstein shock of gray hair, and her white dress that suggests Carrie White 30 seconds after being crowned prom queen, Davis' Volumnia is a visual hoot, and the EGOT winner's unfailingly entertaining readings are both comedic and malevolent. This is the kind of gloriously gonzo portrayal that only an actor with nothing left to prove can deliver. (Davis' closest performance equivalent, Meryl Streep, is also a master of the form.) Peter Dinklage, as the Hunger Games' "intellectual author" Casca Highbottom, goes the opposite route. Constantly seen imbibing small vials of booze, morphine, or some unknown equivalent, Dinklage also swallows most of his dialogue, his despondent, endlessly cynical line deliveries implying that while Casca may detest everything and everyone around him, he holds his most acute hatred for himself. Yet the actor isn't a pall on the film. Quite the contrary: Casca's self-loathing houses a mystery that's only resolved minutes before the movie's end, and despite the purely conceptual nature of Dinklage's role, it enables him to give his every reading an engrossing, melancholy spin.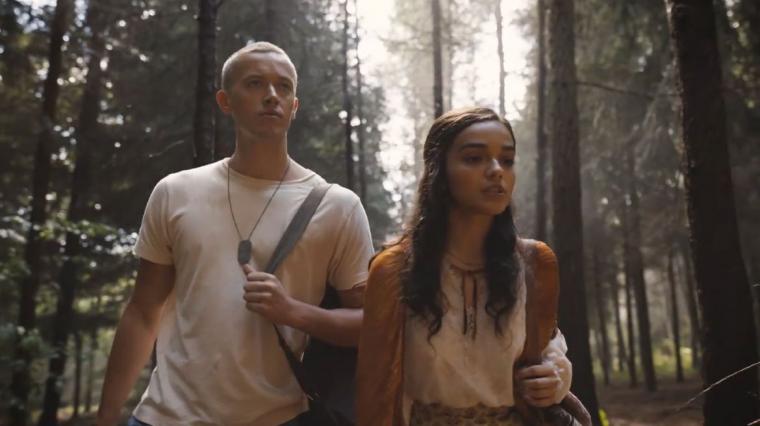 Not all of this prequel works as expertly as its performances, with fine ones also delivered by Josh Andrés Rivera as Coriolanus' best friend Sejanus Plinith and Euphoria's Hunter Schafer as Coriolanus' cousin Tigris. While they're well-executed by director Lawrence, who also helmed all but the first installment of the previous Hunger Games, the murderous scrambles tend to become a tad repetitive, and although I was consistently engaged during the film's final third, I'd argue that a good 15 minutes of marking-time footage still could've been cut with no discernible loss. Plus, as marvelous as it is to hear Rachel Zegler sing again following her 2021 breakout in Spielberg's West Side Story, I'd argue that giving her six full songs to perform in the context of this storyline is perhaps pushing things a bit. Yes, singing is baked into the movie's title, and the performer's employment of a Loretta Lynn twang is an unexpected treat. (Her throaty belter Lucy Gray couldn't sound more dissimilar to her lilting soprano Maria in WSS – it's beyond thrilling to realize we're just starting to sense the enormity of 22-year-old Zegler's talents.) Yet every time Lucy Gray croons, the momentum momentarily comes to a halt, and I could sense fellow patrons getting increasingly fidgety with each new vocal reprise.
Truth be told, though, there's so much happening in The Ballad of Songbirds & Snakes on narrative, character-driven, and prequel-specific levels that those musical interludes almost come as welcome reprieves. Regarding the latter, screenwriters Michael Lesslie's and Michael Arndt's adaptation is happily bursting with enjoyable lore concerning the Hunger Games' trajectory from their 10th year to their 74th-and-beyond familiar from the Jennifer Lawrence films. Here's why the weaponry advanced from simple knives and axes. Here's how the notion of audience donations for food and water came to pass. Here's how the whole shebang morphed from a seedy TV chore to a beauty and talent competition that may as well have been titled Panem Idol. And here, in the unimprovable form of Jason Schwartzman's Lucretius "Lucky" Flickerman, is how we eventually got to Stanley Tucci's Caesar Flickerman, who was evidently only the second-tackiest host the Hunger Games would ever see. A doofus weatherman with inane banter and up-close magic tricks to spare, Lucky is easily the movie's funniest figure, and consequently, perhaps, its most essential one. "How wonderful that we all get to be here for someone's final performance!" he chirps to the masses. Twenty-four miserable tributes would likely differ, but I, for one, found it insanely wonderful to be there for Schwartzman's performance.
TROLLS BAND TOGETHER
Unlike the latest Hunger Games, which is merely an accidental musical, Dreamworks' comedy sequel Trolls Band Together is a legit one, albeit an animated jukebox musical whose repertoire ranges from Eurythmics to Christopher Cross to Dolly Parton to the Bee Gees. Yet at the weekend screening I attended, the variety – dare I say the schizophrenia – of the music selections didn't prevent an entire row full of tweens from joyously dancing in their aisle along to every tune performed by the hyperactive, candy-colored, wild-haired figurines, creatures who appeared as delighted to boogie to "The Hustle" as they were to an original number (the first in 22 years!) by Justin Timberlake and his NSYNC bandmates. Be prepared, folks: This is what Taylor Swift's concert film has wrought. I enjoyed watching the girls have fun, but am kind of praying they aren't in my auditorium when it's time to see the Color Purple musical.
As its title implies, this latest Trolls entry is all about reuniting a band – not NSYNC (those musicians' voices don't arrive 'til the end), but rather the BroZone group of singing Troll brothers who broke up after failing to achieve the perfect family blend, abandoning Timberlake's Branch when the blue being was still in diapers. Turns out they're forced to reconcile after Branch's older brother Floyd (Troye Sivan) is kidnapped by a wannabe pop duo (Amy Schumer and Andrew Rannells) who plans to steal Floyd's essence to make their crooning bearable. Sanity forbids progressing much further in a distillation of the plot, which also involves Branch's girlfriend Poppy (Anna Kendrick) reuniting with her long-lost sister (Camila Cabello), Bergen lovebirds Bridget and Gristle Jr. (Zooey Deschanel and Christopher Mintz-Plasse) embarking on their honeymoon, and a twinkly sprite (Kenan Thompson) who treats a diamond pacifier as if it were weed. If you attend Trolls Band Together, do your best to ignore all this. Then sit back and enjoy director Walter Dohrn's veritable Skittles explosion for the goofy, visually impressive, aurally ticklish toss-off it is, with Elizabeth Tipper's script boasting so many freestanding jokes that at least one in 10 made this adult viewer laugh out loud – and given the hearty plethora of gags, that's actually a commendable number. Nothing here may have (somewhat ashamedly) activated my tear ducts the way the 2016 original's rendition of "True Colors" did, but trading a laughter-and-tears experience for a laughter-and-laughter one is hardly a hardship.
RUSTIN
It's clear why director George C. Wolfe, screenwriters Julian Breece and Milk Oscar winner Dustin Lance Black, and executive producers Barack and Michelle Obama wanted to deliver a biographical drama on noted, but not noted-enough, civil-rights activist Bayard Rustin. A man largely responsible for the organization of the 1963 March on Washington that saw some 250,000 people in attendance and inspired Dr. Martin Luther King Jr.'s "I Have a Dream" speech, Rustin is a supremely consequential figure in 20th-century American history, as evidenced by him receiving a posthumous Presidential Medal of Freedom from Barack Obama himself in 2013. Yet while watching Rustin, which began streaming on Netflix this past Friday, you can easily be fooled into thinking there was really only one reason to turn its titular figure's 1963 experiences into a feature film: to give an expansive, long-overdue leading role to character-actor supreme Colman Domingo. Regardless of the real-life Rustin's accomplishments, given the portrayal Domingo provides, that proves more than reason enough.
Although the film's chief focus is on the procedure involved in making the march happen, including getting the unconvinced heads of the NAACP on-board, a significant portion of Rustin is dedicated to its title character's personal life, and this is where Wolfe's movie most frequently stumbles. An open homosexual in a period when "open" meant "liable to be arrested at any moment," Rustin is shown in his relationships with a closeted married pastor (Johnny Ramey) and a devoted white lover (Gus Halper) with keys to Rustin's apartment, and "true" as these relationships may have been, they play as mere soap-opera contrivances. Ditto the black-and-white flashbacks to pained memories from Rustin's younger days, when he encountered abuse and humiliation that helped drive him to his status as a supreme political ally, and the awkwardly forced explanations of every character's role in the impending drama. Director Wolfe is a Tony-winning theatre legend whose credits include directing the initial runs of Angels in America's two parts on Broadway, and after more than a half-dozen tries, he still hasn't made a feature film that comes close to suggesting what he's apparently been able to do in stage settings.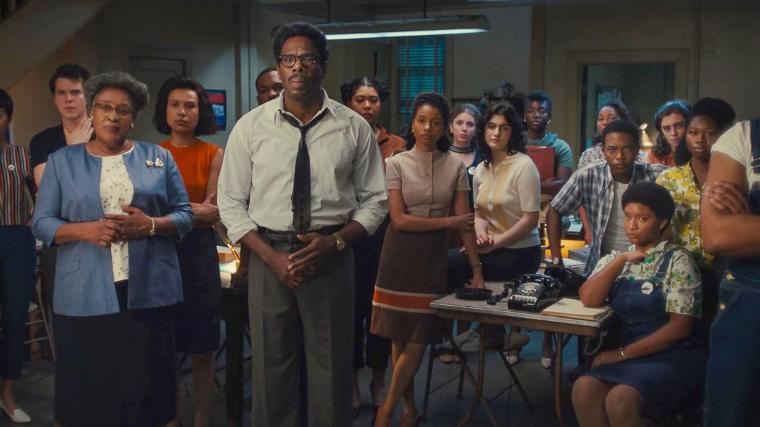 Yet while his latest is severely wanting as a cinematic experience, it's hard to be too disappointed. As a history lesson, it's indispensable – though also potentially arguable, given that the real-life Rustin ceded more credit for the march's success than the film indicates. The process by which the initial plan of a two-day event boasting tents for attendees and a full circle around the White House is lucidly detailed, and includes such fascinating tidbits as the team of hired policemen having to learn how to project strength in a non-violent manner. Wolfe's supporting cast is positively sick with talent, even if only for a scene or two; strong turns are supplied by Ami Ameen (as MLK), Chris Rock, CCH Pounder, and the director's Ma Rainey's Black Bottom scene stealer Glynn Turman, and briefer, equally memorable contributions land via stage veterans Audra McDonald, Bill Irwin, Adrienne Warren, Da'Vine Joy Randolph (killing it in her Mahalia Jackson vocals), and the sublime Jeffrey Wright.
Yet it's Domingo who keeps you not merely invested, but riveted. Even in 2023, it's exceedingly rare for an openly gay actor to be cast as an openly gay character in a major studio release, and Domingo's extraordinary performance suggests that the actor knows precisely what kind of opportunity he's been granted and isn't going to let a second of it go to waste. In Domingo's hands, Bayard Rustin is passionate, funny, maddening, deferential, vainglorious, damaged, serene, and about seven-dozen additional adjectives that are eventually demonstrated, and it's a slight shame that Rustin's Netflix presentation isn't giving his work the big-screen showcase it deserves. It is a showcase, however, and our TVs have gotten plenty big. Strike up Wolfe's movie on yours and let Colman Domingo's bravura work turn your living room, for 106 minutes, into a venue the size of Radio City Music Hall.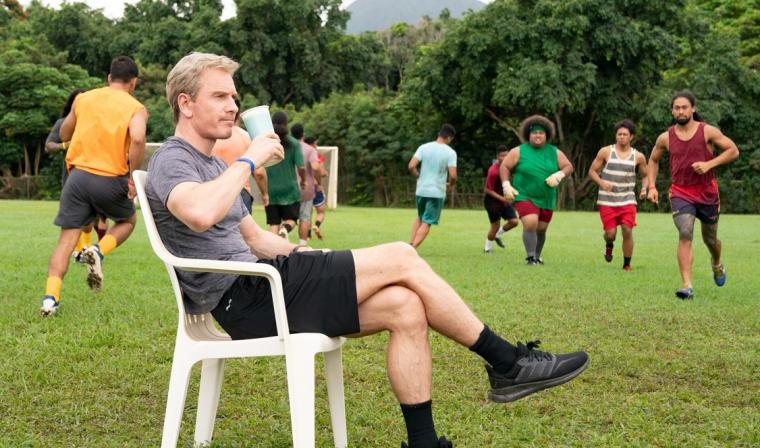 NEXT GOAL WINS
Whereas Rustin is a film you can recommend almost solely for its central performance, Taika Waititi's biographical sports comedy Next Goal Wins is a film that can be recommended, at least by me, only if you choose to completely ignore its central performance – which comes as something of a shock, given that the performance in question is by Michael Fassbender. The justly acclaimed, Oscar-nominated actor isn't famed for his comic chops, and certainly isn't for on-screen warmth. Yet I was still amazed by how detrimental he proved to be in this lazy, if occasionally effective, rehash of genre clichés. Waititi's whole movie, wrongheadedly, seems to exist solely to turn Fassbender's drunken, acerbic coach into a better person, and at no point was I convinced that a better person, even at the heart-tugging finale, was anywhere to be found.
Trying our patience from the start, Waititi himself introduces his latest with obvious fake teeth and an impenetrable "funny" accent, explaining that we're here to witness "the tale of whoa" involving the resurrection of the American Samoan soccer team after its ignominious 31-0 defeat at the 2001 World Cup qualifiers. Next Goal Wins consequently follows Fassbender's coach Thomas Rongen as he tries, a decade later, to whip these losers into shape. But from his arrival in American Samoa, everything feels off. The locals are treated as weirdos for their customs and religious practices. The teammates, with the exception of trans footballer Jaiyah Saelua (Kaimana), are given almost no distinct personality. And most detrimentally, we never actually witness Rongen coaching his team in any way that could possibly matter. He has the players perform preparatory exercises and yells at them a lot, but there's no real coaching on display; even Ted Lasso, which wasn't much interested in how the players did what they did, delivers more instructive technique in a half-hour-plus episode than what you'll find here.
And I'm sorry, but through it all, Michael Fassbender is mind-bogglingly uninteresting when he isn't being abjectly hateful – maybe for the first time in his career. It's upsetting enough that his every smile looks like one he was forced to produce at gunpoint; I never again want to see the man's teeth, and Fassbender has pretty great teeth. But when his Rongen isn't going all John McEnroe on his players, he's mooning over sad voicemail messages left by his daughter, or bristling at the thought of his separated wife with her new beau (Elisabeth Moss and Will Arnett, both offensively employed), or crudely insisting that Jaiyah detail the exact procedure involved in turning from "she" to "he" … . With its script by Waititi and Iain Morris, I got the sense that we were supposed to root for this nightmare with a whistle, and consider him as deserving of a second chance as the American Samoan team he's purportedly meant to inspire. Fassbender himself, however, inspires nothing but ennui. An early joke made about Rongen being an uninvited "white savior" does nothing to dissuade the notion that that's exactly what his purpose is in Waititi's film.
Yet even though Next Goal Wins is kind of a miserable failure regarding the kind of film it clearly wants to be, there are random perks. The biggest are the presences of Oscar Kightley, whose every reading is delightfully loopy (and who pulls off a hell of a backward-walking gag that has to be seen to be believed), and the admirably naturalistic Kaimana, whose real-life equivalent Jaiyah Saelua is more than deserving of a feature of their own. The American Samoan footballers, though deprived of individual personality, are an agreeably amusing lot. And I will credit Waititi and Morris for presenting the climactic soccer match's final minutes in a way I've never seen before – as visualized recitation to a guy on a gurney who passed out before witnessing the end result. That moment alone proved that Taika Waititi hadn't completely misplaced his sense of innovation, or his sense of humor. The rest of Next Goal Wins, however, finds its chief creator working on autopilot, and after this and two depressingly underwhelming Thor sequels, I'm not sure how confident I am in having him guide cinematic planes these days.
THANKSGIVING
Adapted, if that's the word for it, from Eli Roth's faux trailer that appeared in the big-screen version of 2007's Grindhouse somewhere between the Robert Rodriguez and Quentin Tarantino offerings, the director's splatter comedy Thanksgiving is one of Roth's less-objectionable offerings, which a number of reviewers seem to be equating to the movie actually being good. It's not. It's just mildly better.
Following a grotesquely overscaled, tortuously unfunny prelude in which Plymoth, Massachusetts residents tear each other to pieces during a Black Friday sale that preemptively begins on Thanksgiving night – one in which Gina Gershon's scalp is ripped from her head – the film picks up a year later when an unknown assailant in a John Carver mask begins making preparatory mincemeat of the melee's participants. Written by Roth and Jeff Rendell, this is a Scream scenario, and not a bad one – it's moderately fun trying to determine which of the New England citizenry might be the psychotic culprit. Yet while he's nominally better as a director than he is an actor, Roth again shows little talent for the building of suspense, though he is okay with gross jokes. One character's evisceration in a dumpster was admittedly enjoyable, even if the slow-frying of an oven-encased victim and the repeated pummeling of another with a cooking mallet left a lot to be desired. (To my friend who presumed that someone in Roth's latest simply had to wind up with an apple in their mouth, I almost hate to say that this presumed inevitability never came to pass.)
All told, Thanksgiving is perfectly harmless for the crowd who'll want to see it. The movie gives horror fans the goo they expect, and as an added bonus, it's reasonably well acted by a cast that includes Nell Verlaque as our requisite teen heroine, Milo Manheim - currently playing Joseph to the virgin Mary on a neighboring screen showing Journey to Bethlehem (!) - and Patrick Dempsey as a kindly sheriff, the actor's current status as People's Sexiest Man Alive a much-needed breakthrough for late-middle-aged white guys. But I only truly loved Thanksgiving in two scenes that didn't at all involve the spilling of bodily fluids. In one, a high-school jock recites his anti-Thanksgiving essay with a quavering voice to prove his sensitivity, lifting his shirt to dry his tears and reveal rock-hard abs, both acts causing his female peers to swoon. In the other, a beheading is quickly followed by an unexpected act of comedic kindness on the murderer's part, with the sociopath in the John Carver mask choosing not to leave the premises until the victim's cat has been fed. Thanksgiving never made me scared. Every so often, though, it did make me smile.
ALBERT BROOKS: DEFENDING MY LIFE
There is absolutely no wrong time to hear the late Garry Marshall, in his distinctive Bronx growl, utter the name "Santy Claus." If you instinctively get that reference, you no doubt know, and most likely adore, Albert Brooks' Lost in America. And if you do know and love that 1985 comedy masterpiece, there's no way you'll want to miss the new documentary Albert Brooks: Defending My Life, which recently began streaming on (HBO) Max.
Because the movie is directed by Ron Reiner – whom we discover, if we hadn't known before, has been best friends with Brooks since high school – there isn't much in the way of critical analysis. You'll never learn, for instance, that 2005's Looking for Comedy in the Muslim World was a commercial and critical bomb that effectively ended Brooks' filmmaking career; he hasn't directed a film since. What you will get, however, beyond enjoyably lighthearted scenes of Reiner and Brooks chatting over a restaurant table are reams of footage from Brooks' early standup days; astounding factoids regarding the man's family (his dad literally died on stage!); snippets from his Saturday Night Live film shorts; samplings of his innumerable talk-show appearances; and film clips. Happily, so very many film clips, encompassing everything from Real Life to Modern Romance to Broadcast News to The Simpsons to Defending Your Life to Mother to Finding Nemo to Drive to A Most Violent Year to Curb Your Enthusiasm. Defending My Life isn't (simply) a Hollywood-tribute puff piece. It's a guide to essential-viewing entertainments of the last half-century and beyond. It's the Albert Brooks nest egg. Handle accordingly. By which I mean: Keep it away from Vegas.