EVEREST
At present, the only way to see director Baltasar Kormákur's adventure drama Everest - the only legal way, at any rate - is in its IMAX 3D presentation, as the film won't be released in other, less surcharge-filled formats until September 25. Yet even if, like me, you consider yourself a generally frugal (i.e., cheapskate) cineplex patron, I implore you to suck it up, shell out the extra dough, and treat yourself to the biggest, loudest Everest available. I'm not sure how well this thing will play on smaller screens, but the IMAX 3D version is a staggering, even humbling experience for the eyes and ears - a mountain that, on your TV or computer or iPhone, might more accurately suggest a molehill.
During Kormákur's and screenwriters William Nicholson's and Simon Beaufoy's early scenes, it also suggests something else: a less-campy Poseidon Adventure with the water in solid form. Inspired by the tragic 1996 expedition detailed in Jon Krakauer's bestselling nonfiction Into Thin Air (with Krakauer, in Everest, played by Michael Kelly), the film opens by introducing us - in tried-and-true disaster-flick style - to the parties hoping to reach Everest's peak, their handlers, and their spouses. Among the vacationing amateur climbers are Kelly, Josh Brolin, and John Hawkes. Expedition teams are led by Jason Clarke and Jake Gyllenhaal. Emily Watson, Sam Worthington, and Elizabeth Debicki provide health and safety guidance. And Keira Knightley and Robin Wright are spouses offering varying degrees of support. Given the rush and abundance of familiar faces, who arrive almost like passengers on The Love Boat, you wouldn't be at all surprised to see Ernest Borgnine or Stella Stevens there, too. (We're given no cute kid who finds himself imperiled, but the screenwriters kind of take care of that with Hawkes, whose nebbishy mailman is on the trek to prove to schoolkids that anything is possible; he even carries a flag that grade-schoolers made for him to place at Everest's peak.)
Also providing a vague, disquieting sense of Irwin Allen are the incidental subplots and complications that are revealed before the climbers make their ascent, none of which, even if they're based on truth, really feel true. Clarke and Gyllenhaal, it turns out, have a professional rivalry that's only compounded by Kelly's plan to do a story on Clarke. Brolin, it turns out, headed for the Himalayas without telling wife Wright about the trip. Knightley is pregnant with her and Clarke's first child. Hawkes failed to scale Everest the year before and is hoping for redemption. Naoko Mori's fellow traveler is attempting to climb the seventh of the seven highest places on Earth, the other six already knocked off her bucket list. Nearly every figure here seems equipped with a convenient excuse for melodrama, and even in the film's really interesting first half - which details the demanding six-week preparation climbers have to endure before attempting Everest itself - my guard was up for the rigged circumstances and shameless sentiment sure to come.
Well, the rigged and the shameless kind of do come. Yet for Everest's second half, I was too busy gasping or wincing or weeping to care. Barring a few possible exceptions - Gravity being the only one that comes immediately to mind - I'm not sure I've ever seen more effective use of green screen. Kormákur's and cinematographer Salvatore Totino's swirling, soaring camera movements, and the dizzyingly vertiginous shots above and below our climbers, feature the actors (or their stuntpeople) amidst astoundingly realistic suggestions of Everest, and the horrific weather created by the film's effects team beats at them with stunning fury; you can practically feel the frostbite. The sound effects, too, are oftentimes nightmarishly violent, so much so that large swaths of dialogue are fittingly lost in the aural hubbub (though vocal intent isn't). Our climbers' ordeal, however, is peppered with moments of grace, and one of the things Everest does best is document just how crazily unpredictable Himalayan weather patterns prove to be. One moment, you can barely tell the voyageurs apart through the blinding snow; the next, they're enjoying hours of windless calm with their glasses off and ski masks down, partaking - as are we - in the stunning beauty of a vacation that suddenly seems worth the $65,000 per person spent. (And that cost us only about $16 per.)
But as its true story confirms, of course, Everest is a tragedy, and Kormákur's outing not only delivers wrenching, cathartic emotion on a par with James Cameron's epic weepie Titanic, but does so through far less manufactured means. Two of the travelers, in separate instances, perish on their returns down the mountain simply by falling off the edge of a cliff, and both deaths had me in tears merely by being so simply staged; no music accompanies their demises and the camera doesn't follow the trajectory of the bodies as they fall - they're just there one moment and gone the next. And, of course, a major perk of having a cast this accomplished lies in the performers' collective ability to dial down the potential hysteria and deliver pathos through specificity and subtlety. Clarke, Brolin, and Watson are especially moving, and even Knightley - whose character is pregnant, you'll recall, and whose portrayer literally phones in most of her performance - ignores her numerous, obvious opportunities to over-emote.
I had an unbelievably good time at Everest, but I do worry about the film's legacy once it becomes available for home viewing, and the tinniness of the banter and TV-movie contrivances become more glaring when viewed on a more intimate scale. (Have you watched Gravity lately? Technically amazing though Cuarón's sci-fi wonder is, it doesn't hold up terribly well.) So make the point moot by giving the movie a shot now. Years from now, the film's grandeur, and the emotional effect it had on you, will likely keep Kormákur's achievement - at least in memory - forever larger than life.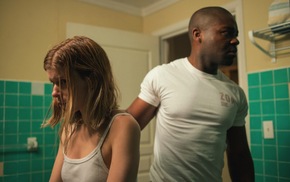 CAPTIVE
Upon learning that Kate Mara was headlining the pro-faith drama Captive, which is based on the true story of a woman who placated her escaped-murderer kidnapper by reading him passages from Rick Warren's The Purpose Driven Life, I felt a bit uneasy. Was this contrition, of some kind, for her nude scenes in House of Cards? Only Mara can say, but the pleasant surprise of the film - one that boasts precious few pleasant surprises - is that she neither outclasses her material nor evaporates into it; Mara gives a solid, thoughtful performance in a release that needs as much solidity and thoughtfulness as it can get. It certainly doesn't need more grimness, considering that director Jerry Jameson's endeavor opens with convicted rapist Brian Nichols (David Oyelowo) beating a female security guard unconscious before fatally shooting three courthouse workers. But more grimness we do get, because after several carjackings and another killing Nichols forces his way into the home of Mara's Ashley Smith - a seemingly nice young lady with a murdered husband, court-ordered separation from her daughter, and a fondness for snorting crack. War Room, needless to say, this absolutely ain't.
Smith's tale is harrowing and, eventually, inspiring, and I laud the filmmakers for positing a moral quandary truly worth wrestling with: Is everyone - even murderers, rapists, and drug addicts - worthy of the same forgiveness and love? But I also wish I had more reasons to laud them. Most of Captive's storytelling and dialogue are sadly amateurish, the oppressive ugliness of the central situation isn't mitigated by any presentational flair, and even normally enjoyable performers such as Michael Kenneth Williams and Mimi Rogers look uncomfortable and ill-directed. (Oyelowo gives great menacing glower but never seems to get a handle on his sketchily conceived figure, and comes close to embarrassing in the scene that finds the man high on crack.) There's also an unfortunate, end-credits postscript - a segment from Oprah Winfrey's talk show, actually - that turns the whole movie, for a few minutes, into a long, brutal commercial for Warren and his beloved bestseller. But Mara, at least, brings sensitivity and compassion to her damaged-goods character, and underplays Smith's moment of spiritual redemption so that it feels neither gooey nor forced. It's quite a lovely turn in a film with a profound lack of loveliness, although one could definitely argue that Mara's circumstances in Captive are still preferable to time spent in a dark subway terminal with Kevin Spacey.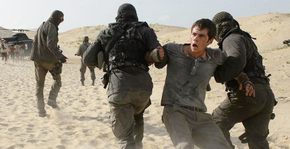 MAZE RUNNER: THE SCORCH TRIALS
As its forebear The Maze Runner was a pretty blatant hybrid of Lord of the Flies and The Hunger Games, I guess it was inevitable that the sequel Maze Runner: The Scorch Trials would find some other literary/cinematic source to shamelessly pilfer from. I just didn't expect it to be The Walking Dead. Likely, and probably correctly, presuming that no one who skipped 2014's teens-in-dystopia adventure would bother with its follow-up, director Wes Ball opens his continuation (based on the James Dasher novel) without any replay of events from his last outing. This proves fitting considering that our ethnically diverse "best hopes for the future" are now warding off attacks from virus-affected zombies whose bites can turn their victims into slavering monsters - a storyline, in other words, about 100 percent removed from The Maze Runner's (and any semblance of sense).
The more things change, however, the more they stay the same, and it wasn't long before all the elements that bothered me about the first film came back for seconds. The youths' acting, except that of Nicole Kidman lookalike Kaya Scodelario, is dully over-earnest and surface-level. The narrative is wildly over-plotted yet simultaneously meaningless. The many, many chase scenes are competent but perfunctory. The themes are nonexistent. And as I wrote last year and will likely write again next year, more than two hours manage to pass without a single sentence that's remotely interesting or incisive or even mildly amusing; the movie is fiendishly boring because for all of the visual assaults, the dialogue is just white noise. I was so starved for adult wit at Maze Runner: The Scorch Trials that I almost cried with relief when Giancarlo Esposito showed up, and along with the equally welcome Barry Pepper, Lili Taylor, and Alan Tudyk, he does make the time go somewhat faster. (Patricia Clarkson, though, is again on high-end-slumming detail, and it felt like genuflection was in order when she deigned to appear at the climax, and not as a dream figure or holograph.) Far be it for me to give away the film's non-ending, which really does push its hoped-for resemblance to The Empire Strikes Back, but I will say that it finds our underwhelming hero Thomas (Dylan O'Brien) being asked, "So what's your plan?" He doesn't tell us, but don't be surprised if it winds up having two parts.