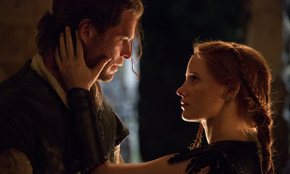 THE HUNTSMAN: WINTER'S WAR
Imagine a live-action version of Disney's Frozen minus the songs and charm, and designed by the production team behind HBO's Game of Thrones. That's The Huntsman: Winter's War. Now stop imagining that, because it'll give you nightmares – though probably more coherent ones than the nightmare that is this tonally baffling hodgepodge of suffocating seriousness, incoherently staged combat, and baggy-pants comedy.
Hollywood's latest attempt to jump-start a franchise when none was warranted, Winter's War is both prequel and sequel to Snow White & the Huntsman, 2012's deliciously dark adult fairytale that memorably cast Charlize Theron as the malevolent Ravenna. But because one evil queen is apparently so-o-o-o four years ago, this time we're treated to two: Theron in a pair of extended cameos, and Emily Blunt as Ravenna's sister Freya, who has a supernatural command over ice and looks – coincidentally, I'm sure – like a cross between Daenerys Targaryen and Frozen's Elsa. (Let it go, indeed.) Chris Hemsworth returns as Snow White's sword-wielding Huntsman Eric, though Snow herself is conspicuously absent, having been replaced in the heroine department by Jessica Chastain's archer Sara. There are also some "funny" dwarfs played by non-dwarfs Nick Frost, Rob Brydon, Sheridan Smith, and Alexandra Roach, whose diminutive statures appear to have been crafted half by CGI and half by the performers walking on shoed knees, like Tim Conway's Dorf. Toss them all into a plot salad involving kidnapped children, grubby soldiers with Stockholm Syndrome, hostile land takeovers, more-hostile rom-com banter, and possession of the fabled Magic Mirror, and you have debuting director Cedric Nicolas-Troyan's expensive and egregious mess – a movie so determined to cater to everyone that it couldn't conceivably exhilarate anyone.
To their credit, the actors have every reason to sleepwalk through this thing and don't. You can giggle, as I did, at Hemsworth's and Chastain's heavy and inconsistent Scottish brogues and still recognize that they're playing formulaic roles with legitimate feeling and casual wit. You can bemoan the constrictive, insulting nature of Freya and yet appreciate Blunt's welcome reserves of emotion. You can smile at the dwarf quartet's lame jokes and slapstick antics because they're being delivered with such cheeky aplomb. And you can be grateful to Theron merely for showing up, her gleaming eyes and terrifying grin ensuring that the performer's few moments of incandescent devilishness are moments you relish. Yet from the frenzied choreography to the underwhelming visuals to the meaningless battles – at one point, a fistfight erupts in a tavern solely because fistfights always erupt in movie taverns – The Huntsman: Winter's War is an excessively busy bummer, its title's punctuation mark suggesting that this big-budget continuation, as is the norm this millennium, is really Only the Beginning. Hollywood has colon cancer, and it's starting to look terminal.
ELVIS & NIXON
In the first scene of Elvis & Nixon, staffers to our 37th president inform their boss of a meeting with the King scheduled for the second half of his traditional napping hour, and Nixon, with expected grace and tact, briefly considers the news before grimacing and barking, "Who the f--- set this up?!" Initially, I was thinking the same of Liza Johnson's movie, a fictional dramatization of 1970's legendary Oval Office encounter boasting Kevin Spacey as Nixon, which seemed odd, and Michael Shannon as Elvis, which seemed breathtakingly nuts. Eighty-five minutes later, however, I left my screening thinking I'd rarely before seen anything so unexpectedly, charmingly nuts. It's really just a throwaway wisp of a film – an hour of goofy preamble followed by 20-odd minutes of humorously awkward conversation. But Johnson directs the proceedings with the exact light-comic touch required, and while Spacey is very, very funny, Shannon is more accurately astonishing, triumphing over his perceived miscasting with effortless panache and rather staggering power. He's genius in a jumpsuit.
It's impossible to ignore, or much care about, the excessive padding, with too much time spent on the petty bureaucratic travails of Nixon's aides (Colin Hanks and Evan Peters) and the girlfriend woes of Presley's devoted assistant Jerry Schilling (Alex Pettyfer). Yet beginning with that stealth-bomb punchline of the opening sequence, Elvis & Nixon is replete with terrific gags and conceits: Elvis' airport run-in with an Elvis impersonator who calls the King's look "not bad"; H.R. Haldeman (the excellent Tate Donovan) bristling with incredulity at Presley's request for a meeting; the volume of concealed firearms Elvis and his two-man posse leave with White House security. Johnson's smart pacing and composer Ed Shearmur's jaunty score keep events moving with smoothness and style, and every last moment with Spacey is a delight; anyone worried about presidential overload after four seasons of House of Cards is worrying in vain. (Between his amusingly satiric Tricky Dick vocals and mastery of Nixon's crazed flash-smile, it's like getting a feature-length version of one of Spacey's peerless talk-show appearances in which he lovingly channels Brando or Pacino or Jack Lemmon.) But the film belongs to Shannon, who creates a singular, complicated, and somehow equally hilarious and moving Presley through what seems like sheer force of will. Whether mourning his lost twin or railing against the communism of the Beatles (Presley and Nixon are friends in paranoia), he may not be Elvis, but he's unquestionably Michael Shannon's Elvis – a sad, lost, lonely, unfailingly hopeful figure who you deeply want to believe was as beautifully human in life as he is in Shannon's portrayal. Catch this Elvis before he leaves the building.