DEAR JOHN
Since no one's been pressing a gun to my head, I haven't read Nicholas Sparks' Dear John, which concerns a pair of star-crossed lovers whose romance is derailed by the young man's Army tenure. I have, however, seen director Lasse Hallström's screen version, which apparently follows the novel's blueprint faithfully (albeit with an altered ending), so permit me a question: Does Sparks have absolutely no shame?
Once you discover that this saga begins in the spring of 2001, and that the titular John (played here by Channing Tatum) only has to serve one more year overseas before returning to his beloved (Amanda Seyfried's Savannah), it's pretty easy to grasp what Sparks is up to. But while the specter of 9/11 hovers throughout Dear John's early scenes, I'll admit to being surprised - shocked, really - that this wasn't enough potential romantic anguish for the creator of The Notebook and Nights in Rodanthe; miraculously, Sparks also finds room for the wars in Afghanistan and Iraq, battlefield injuries, infidelity, cancer, autism, a stroke, and the stinginess of health-insurance companies. (I'm presuming it was only the author's deadline that prevented his adding chronic lateness and the heartbreak of psoriasis into the mix.)
Needless to say, if you're not a dyed-in-the-wool Sparks fanatic, Dear John should be all but unendurable. So help me God, though, the movie works. With screenwriter Jamie Linden given the unenviable task of adapting Sparks' prose, the dialogue may be hopelessly stilted, but no one seems to have informed Tatum and Seyfried of this; their screen chemistry and intensely likable performances here feel disarmingly genuine. Every time you roll your eyes at the convenient plotting and indie-pop montages, Hallström comes through with lovely, recognizably human touches, such as Henry Thomas' shy yearning for best pal Seyfried, or an enraged Tatum banging his fists against his steering wheel and inadvertently turning on the windshield wipers. And just when you're absolutely, 100-percent positive that this baldly manipulative tearjerker will not, not, jerk your tears, you're given a hospital-bedside scene between John and his dad (the expert, wonderfully moving Richard Jenkins) that turns both Tatum and you into blubbery wrecks. Against all logic and good judgment, I have to admit that I enjoyed Dear John. I'm thinking of pressing a gun to my own head.
VALENTINE'S DAY
If you're a casual moviegoer who's never been entirely certain which performer is Jessica Alba and which is Jessica Biel, director Garry Marshall's Valentine's Day will finally clarify matters: Alba is the gorgeous, mediocre actress who plays Ashton Kutcher's fiancée, and Biel is the gorgeous, mediocre actress who plays Eric Dane's publicist. And that, I'm afraid, is the extent of the film's usefulness. Obviously inspired by the romantic-comedy touchstone Love Actually - with "obviously inspired by" a kind way of saying "a blatant rip-off of" - the movie features 21 above-the-title stars dovetailing through roughly a dozen subplots. Not one, however, is a storyline I had any interest in returning to; despite serviceable-or-better work from Julia Roberts, Anne Hathaway, Topher Grace, and a few (but not many) others, Marshall's cynical, grab-the-holiday-weekend-cash-and-run outing is a decidedly unfunny, un-romantic waste of time and talent. (I wouldn't be surprised if, at the end of a day's filming, the Oscars owned by castmates Jamie Foxx, Kathy Bates, and Shirley MacLaine actually snickered at them.) Valentine's Day is too restless to be outright dull. But the only true entertainment I found came from waiting, in vain, for former TV co-stars - That 70's Show's Grace and Kutcher, Grey's Anatomy's Dane and Patrick Dempsey, Alias' Jennifer Garner and Bradley Cooper - to share a scene, and from jokes that I'm not sure were meant to be jokes, such as Twilight's Taylor Lautner insisting, "I'm a little uncomfortable taking my shirt off." Yeah, whatever, kid.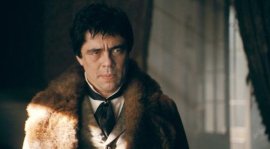 THE WOLFMAN
Despite the severed heads and gnawed-off limbs and Anthony Hopkins hamming it up to high heaven, director Joe Johnston's The Wolfman is just about the last thing you'd expect it to be: boring as sin. To be sure, the movie - set in 1891 England, and adapted from 1941's horror classic - is impeccably designed; the Victorian decay has a rich, evocative seediness, and Shelly Johnson's moonlit cinematography lends an expressive gloom to the proceedings. Unfortunately, it's also the only gloom here that's the least bit expressive. Benicio Del Toro, as a classical-actor-turned-lycanthrope, glowers and mopes, Emily Blunt enacts varying degrees of "tremulous," random townsfolk and gypsies make blandly menacing pronouncements about The Evil in the Woods, and you sit there staring at your watch until the next tooth-and-claw attack. Or rather, you would, if Johnston's unimaginative staging and the pedestrian effects were of any greater interest. (The werewolf transformations are only slightly more convincing than the film's CGI grizzly bear, which looks like a first cousin to the polar bears in those holiday commercials for Coke.) All told, it's visually handsome but a chore to sit through, and proves there's actually very little that separates a Wolfman from a really big dog.