OUIJA: ORIGIN OF EVIL
Beyond the performances of Olivia Cooke and Lin Shaye, almost nothing about 2014's dull, dopey horror flick Ouija was the least bit satisfying. Yet because the thing made money anyway, here we are with the inevitable Ouija: Origin of Evil. And while I still can't believe it, almost nothing about this unnecessary follow-up isn't satisfying, and Cooke and Shaye aren't even around this time. It's not just that director Mike Flanagan's prequel is good for its genre. It's really, really good, period – a cleverly crafted, beautifully acted, truly frightening freak-out that's more sheer fun than anything else in current release. Prefer Affleck with a gun or Blunt on a train if you must. I'll happily take a nine-year-old girl scooting around on the ceiling and kicking the crap out of Elliott from E.T.
Set in 1967, and boasting scenic and costume design that make its period wholly believable, the movie finds a single mom (Elisabeth Reaser's Alice) and her two daughters (Annalise Basso's Lina and Lulu Wilson's Doris) beset by evil spirits after they unwittingly break the three rules accompanying their new Ouija board: Never play alone, always say goodbye, and never play in a graveyard. This makes Origin of Evil rather like Gremlins, and for half its length Flanagan's and co-screenwriter Jeff Howard's outing is also funny like Gremlins, from the casually comical banter to Doris' amateur medium lending voice to a long-dead soul and snapping out of it with a giggly "That tickles!" But Flanagan's true aim lies in scaring you, and man does he deliver. After Doris becomes host to several nasty entities, there are hugely effective shock cuts and disturbing images galore (some of them teasingly viewed out of focus), and even Flanagan's cross-cutting generates expertly sustained terror, particularly when a kindly priest – the superb Henry Thomas – explains the supernatural goings-on while Doris escorts Lina's new beau to the basement. Perhaps best of all, things actually don't fall apart at the end, as we're given a Hell-breaking-loose climax of legitimately breathless action and true narrative shocks. I had a ball at Ouija: Origin of Evil, and applaud it further for the rarity of its characters actually demonstrating sense. When Alice demands that her daughter stay safe by going outside, Lina opines, "Splitting up sounds like the stupidest idea in the world." With that blessed moment of sanity, Lina suddenly sounds like the smartest horror-flick character in the world.
JACK REACHER: NEVER GO BACK
As the action sequel Jack Reacher: Never Go Back is a Tom Cruise production (quite literally, with one of its opening title cards reading "a Tom Cruise production"), I guess I have to give the producer/star credit for waiting a full half hour before he took off his shirt, and then another 45 minutes before he took it off again. Otherwise, it's more of the same in Cruise's latest vanity project, this time with the ex-military man and diminutive bad-ass trying to uncover a government conspiracy involving a pair of mysterious overseas murders, Cobie Smulders' wrongly accused Army major, and every on-screen male who isn't Tom Cruise looking shifty from the start. To be fair, director Edward Zwick's series entry is livelier than Christopher McQuarrie's Jack Reacher of 2012. To be accurate, it's also stupider, given the laughably contrived plotting, the inclusion of a cousin-Oliver-esque teen (Danika Yarosh) for Reacher to get all sentimental about, and our leads constantly running everywhere because they don't just park closer to the places they're running toward. Never Go Back may be the film's advice, but when the credits rolled, I would've happily gone back in time two hours to save myself the insult of seeing it.
DENIAL
About a third of the way into director Mick Jackson's courtroom drama Denial, there's an image so delicate and ephemeral that you could easily imagine you're imagining it. The film is based on a 2000 lawsuit in which American professor Deborah Lipstadt (played here by Rachel Weisz) was sued for libel by British historian David Irving (Timothy Spall), a vociferously insistent Holocaust denier who accused Lipstadt of slandering his name and negatively affecting his book sales. Hoping to amass evidence for her defense – in England, those sued for libel are guilty until proven innocent – Lipstadt travels with her legal team to Auschwitz, and at one point, obviously shaken and distraught, she peers down the steps leading to one of the former concentration camp's crematoriums. But while the camera remains fixed on Weisz's face, you begin to see, over her right shoulder, what looks like barely perceptible drifts of smoke – unsettling grayish movement that I initially presumed was a fault of the projection. When you stare closer, though, you realize what you're actually starting at: the near-invisible apparitions of dozens of human beings being systematically corralled down the crematorium steps. This ghostly, inexpressibly sad image only lasts a few seconds, but it's unforgettable, and proves an elegant metaphor for Denial as a whole – a grave and intelligent work that's haunted by the Holocaust without succumbing to the potentially manipulative excess of literalizing it.
There are certainly those who would prefer more drama, even melodrama, from this particular Holocaust movie. (For many, I'd imagine, a film on this theme that doesn't make you cry – that doesn't appear to even want to – isn't really doing its job.) Jackson's offering, however, remains steadfast in its "the case is the thing" presentation, and he and screenwriter David Hare deliver such a wealth of narrative detail and complexity regarding the judicial process that I didn't much mind the broader brushstrokes applied to the characters, especially considering how well they're portrayed. Weisz, barging through her scenes with headstrong attitude and a thick Queens accent, is such an empathetic firebrand that you barely notice how peripheral Lipstadt is to her own case. (Like Cuba Gooding Jr. in The People v. O.J. Simpson, Weisz's is the rare courtroom-drama star turn in which the star isn't a lawyer and never takes the stand.) Tom Wilkinson, Andrew Scott, and Caren Pistorias play legal representatives with interior life that masks the roles' unexplored dimensions, and Spall's Irving, all furrowed eyebrows and dyspeptic grimaces, is sufficiently hammy and hateful, a piggy little man blind to his toxic insensitivity. Yet it's the case's particulars, with the trial's dialogue taken directly from courtroom transcripts, that makes the impeccably paced, craftily written Denial such a riveting viewing experience. It's said that the wheels of justice move slowly. That must be specific to actual life, because in Jackson's movie, they're swift as all get-out.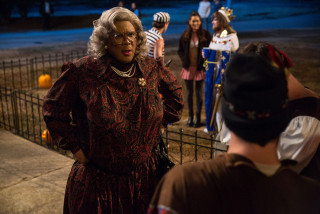 TYLER PERRY'S BOO! A MADEA HALLOWEEN
In 2009, it was Tyler Perry's I Can Do Bad All by Myself. This past weekend, it was Tyler Perry's Boo! A Madea Halloween. Given his traditional critical standing, why does Perry keep making it easy for reviewers to mock his films using their very titles? I half-expected his latest to be Tyler Perry's Boo! Hiss! Blown Raspberries! In this holiday tale showcasing Perry's house-dressed harridan, the director/writer/producer/star again shows precious little interest in niceties such as composition, continuity, and coherence, and the plot that finds Madea babysitting her hateful teen granddaughter (Diamond White) is negligible even by this series' skimpy standards. But it didn't take much more than the shrieks and cackles of the three grade-schoolers behind me to (somewhat) appreciate the movie for what it is, or at least what it works as: an unashamedly juvenile kiddie-horror comedy in the vein of Abbott & Costello Meet Frankenstein or 1980's Don Knotts/Tim Conway slapstick The Private Eyes. Those neighboring tykes didn't seem to mind the abysmal young-adult acting, the overall sluggishness, or even the consensus, shared by the film's elders, that the best way to make children behave is to routinely whup their asses. But they did howl at the incessant insults and prank-initiated comic apoplexy of Madea and company ... and in truth, I frequently joined them. Madea's shenanigans are always funnier when we're not meant to take his/her material at all seriously, and as enjoyable as the character is here, the triple-cast Perry is similarly inspired as the milquetoast dad Brian and the shockingly rude and confrontational octogenarian Joe. Add the hilarious, fearless overacting of Cassi Davis and Patrice Lovely, and Boo! A Madea Halloween boasts just enough laughs to merit a qualified "Yay!" It also features unexpected appearances by scary clowns. So the movie's timely, too.