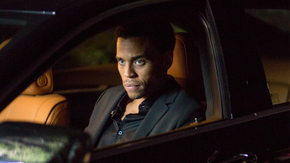 Friday, September 11, 10:25 a.m.-ish: This millennium has already delivered 18 screen hours of J.R.R. Tolkien, our first female Oscar winner for Best Director, and, astoundingly, two Fantastic Four reboots. Why, given such miracles, can't we be treated to even one stalker thriller that doesn't suck?
The late 20th Century was lousy with 'em: Fatal Attraction, Single White Female, Pacific Heights, Cape Fear. Nowadays, our options are just lousy, and while The Perfect Guy isn't as wretched as January's The Boy Next Door, it, too, elicits more derisive chuckles (roughly 20) than shivers (roughly zero). Director David M. Rosenthal's outing finds Sanaa Lathan dumping commitment-phobe Morris Chestnut for the initially sweet, secretly sociopathic Michael Ealy, whose cheekbones alone could serve as deadly weapons. The movie would also seem tailor-made for a drinking game in which you took a shot for every genre cliché - Powerless cops! Missing cat! Empty parking garage! - if it wouldn't lead to every participant dying of alcohol poisoning. It's all blandly composed and terminally unsurprising, but Lathan does well with her dim role (and spits out her PG-13 release's allotted F bomb with gusto). She's also backed by first-rate support including Holt McCallany, L. Scott Caldwell, Charles S. Dutton, John Getz, Tess Harper, and Rutina Wesley, the latter playing Lathan's BFF after having portrayed psycho magnets on TV's True Blood and Hannibal. So for our heroine, from the start, the writing was clearly on the wall.
12:15 p.m.-ish: That's when I started watching writer/director M. Night Shymalan's horror comedy The Visit. 1:45 p.m.-ish is when I realized I'd seen my favorite M. Night Shymalan movie yet. It may even be the only Shymalan movie I've unreservedly enjoyed, partly because its creator so effectively stays out of his own way. He doesn't even cameo! An updated, sick-joke "Hansel & Gretel" in which two teen documentarians (Olivia DeJonge and Ed Oxenbould, Australians navigating impressive American accents) spend a week at the country home of creepy grandparents they've never met (Deanna Dunagan and Peter McRobbie), the film is presented - surprise! - in "found footage" format. Under ordinary circumstances, this incessantly irksome narrative device would be a recipe for disaster, or at least criminal lack of invention. Yet deprived of his traditionally melodramatic music cues and stagey dialogue, Shymalan delivers one expert, giggly visual shock after another: grandma rushing the camera during a game of hide-and-seek; grandpa calmly insisting he was "just cleaning" the rifle in his mouth; the barely glimpsed shot of a friendly neighbor hanging from a tree. You feel on edge throughout The Visit, but because its kids have been designed as self-sufficient and funny, you don't feel brutalized, even when the magnificent Dunagan and McRobbie prove as harrowing as they are dryly hilarious. With Kathryn Hahn magically real as the youths' Skype-ing mom, Shymalan's latest is a blast, and I leave not at all dreading his next one. Talk about millennial miracles.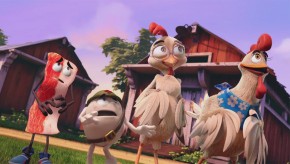 1:50-ish: Time for Un Gallo con Muchos Huevos, the first animated Spanish-language feature widely released in the U.S., and the first family film, to my knowledge, to celebrate the fine art of Mexican cockfighting. Granted, the cocks here use boxing gloves instead of pecking each other to death. But I still spend much of my viewing slack-jawed in amazement, be it at the ambulatory slice of bacon, or the full-cheeked egg doing a Don Corleone impression, or our rooster hero mooning over a chicken with his egg pal opining, "I think she wants to go all the way with you!" (Like The Perfect Guy, this one's a PG-13, although no F bomb is dropped.) Not since VeggieTales have I seen an animated work this hyperactive and bat-shit insane, and as a fellow reviewer and I were the only ones there, I can't gauge the reactions of kids - though tykes fluent in Spanish will clearly be better off, as the subtitles occasionally zip off-screen faster than I can read them. Yet writers/directors Gabriel and Rudolfo Riva Palacio Alatriste lend this lunatic endeavor a fair amount of visual and (pun-heavy) verbal wit, and I guess there's comfort in the knowledge that Hollywood hasn't a monopoly on family-flick fart jokes.
4:30-ish: The answer to the unasked question "So what's Hayden Christensen been up to lately?", 90 Minutes in Heaven is a pro-faith drama about a minister's painful rehabilitation following a horrific accident, and not, sadly, a super-size version of the best middle-school game ever. Numerous scenes are devoted to how newly impaired minister Don Piper (Christensen) and wife Eva (Kate Bosworth) will pay off their crushing hospital debts. And although it's never acknowledged in writer/director Michael Polish's narrative (although it is in the postscript), the real-life Don writing a subsequent memoir that's sold more than 7 million copies does provide a clue. Yet this adaptation doesn't feel at all like a cynical grab for the faithful's cash. It does, however, feel simultaneously lethargic and pushy, with the dour castmates forever trading unmotivated bromides and Christensen forced to suffer and suffer and then explain all that suffering in maddeningly repetitive, tedious voice-over. And what's with the incessant, even scripted plugs for McDonald's? "I'm in love with these fries," says one character. "I never thought a cheeseburger could taste so good," says another. "Can I get you anything?" asks Fred Thompson to the bed-ridden Christensen. "A hamburger? A milkshake?" Are we sure this isn't 90 Minutes in Happy Madison?
7:15-ish: To remind myself of better days for Hayden Christensen, I re-watch Shattered Glass over dinner. From McDonald's. Damn it.
Follow Mike on Twitter at Twitter.com/MikeSchulzNow.