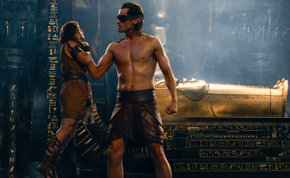 GODS OF EGYPT
When the first preview for the mythological-sci-fi-fantasy-action-adventure something-or-other Gods of Egypt landed last fall, it was met with widespread derision due to the overwhelming whiteness of its cast of "Egyptians." To their credit, film studio Lionsgate and director Alex Proyas quickly issued statements of apology for the movie's lack of diversity. But now that the ghastly embarrassment in question has been released, I'm hoping for a statement of rebuttal from slighted Egyptian actors everywhere: "Hey, you know what? No apology necessary."
Following the high-cost, low-grade kitsch of last February's Jupiter Ascending – a genre-enveloping nightmare that made you wonder just what the filmmakers were smoking and why those substances weren't mandatory for patrons – we're now faced with Gods of Egypt, which boasts a reworking of the Orpheus myth, deities with daddy issues, and another Best Actor winner debasing himself. (Happily, Geoffrey Rush is an improvement over Jupiter's Eddie Redmayne, if only because Rush doesn't even try to act.) We're also given gods who bleed gold, city-sized cobras, an eight-foot Nikolaj Coster-Waldau with an eyepatch, Gerard Butler in braying 300 mode, several dozen Chadwick Bosemans (all of them ill-used), a space worm threatening to devour the planet, a riddle-of-the-Sphynx sequence in which the sound quality deprives you of hearing either the riddle or the answer ... . Lionsgate and Proyas may have apologized for their racial insensitivity, but there's so much more they should have apologized for, not the least of which is that for all of its gauche imaginings, the movie is boring as sin. Characters continually outrun marauding CGI creatures and climb perilously tall inclines and mutter pithy sentiments such as "Death is not the end" right before dying (and being resurrected minutes later), and it's all so tedious, ineptly staged, and visually atrocious that you silently weep for the long minutes of your life that Gods of Egypt is wasting. Refusing an offer to be Egypt's queen, Coster-Waldau's lover asks, "Can you imagine anything more dull than sitting on a throne all day?" Actually, I can.
TRIPLE 9
Director John Hillcoat's Triple 9 is a tale of armed robbery, police corruption, and the Russian-Israeli mob, and its cast of familiar performers includes Casey Affleck, Chiwetel Ejiofor, Anthony Mackie, Kate Winslet, Woody Harrelson, Aaron Paul, Clifton Collins Jr., Teresa Palmer, and The Walking Dead's Norman Reedus. If I counted correctly, a couple of them even live to see the end credits. Oscar nods and beloved TV series and Marvel franchises are no doubt rewarding. I'm betting, though, that name actors sometimes just want to tackle a grubby, disreputable little action thriller that lets them chew the scenery, bleed out, and make vicious threats in exaggerated accents – in which case Triple 9 must've been Mardi Gras for its assembled talents. Matt Cook's screenplay may be narratively overstuffed and borderline nonsensical, but his characters are satisfyingly brazen stereotypes, and he writes juicy, pungent tête-à-têtes for Affleck and Mackie, Affleck and Harrelson ... Affleck and everyone, actually. (Winslet, as a scheming Russian mob wife with fingernails indistinguishable from talons, is also granted some particularly choice lines.) Hillcoat, meanwhile, stages some thrillingly visceral chase scenes, keeps the increasingly silly goings-on moving at a zippy clip, and delivers a fair number of memorable, even shocking images. While the sight of three human heads decorously arranged on the hood of a car was pretty intense, I might have audibly gasped at the arrival of a puppy whose fur was dyed an explosive fuchsia. And I know I gasped at the reveal of the dog's owner – a smooth-talking trans hooker played by, of all people, The Wire's Michael K. Williams. Triple 9 is a deviously enjoyable surprise. On a scale of one to 1,000, the surprise of Williams' appearance would rate a triple nine, too.
EDDIE THE EAGLE
Thank goodness the triumph-of-the-underdog sports comedy Eddie the Eagle has finally opened, because now I can finally stop blubbering like an infant every damned time I see its preview. (I can't possibly be alone in getting all weepy when Eddie's mum gives her son that lunchbox for his Olympic medals.) If, like many, you have fond memories of 1993's Cool Runnings, which concerned the first-ever Jamaican bobsled team, this new outing by director Dexter Fletcher will be right up your alley. Hell, as Eddie the Eagle also finds its hero prepping for the 1988 Winter Olympics, it's practically the same movie, albeit with a myopic Brit ski-jumper (Taron Egerton's Michael "Eddie" Edwards) in place of the bobsledding quartet, and Hugh Jackman in place of John Candy. In other words, Fletcher's entertainment is clichéd, formulaic, manipulative, shameless, and absolutely irresistible. Its narrative may lack even a whiff of the unanticipated, but I was frequently taken aback by the utter joy and fearlessness of Egerton's character-driven star turn; miraculously, the young lead from Kingsman: The Secret Service appears to already possess screen charisma to rival Jackman's, and the two are magnificent together. And while you can see every "twist" coming a mile off, good luck wiping the smile from your face even as you wipe away buckets of happy tears at Eddie the Eagle's wholly earned comic sentiment and the cornball perfection of its included '80s pop hits. Viewers not expecting to hear Van Halen's "Jump" just aren't thinking. Viewers not grinning and welling up at its placement here just aren't human.