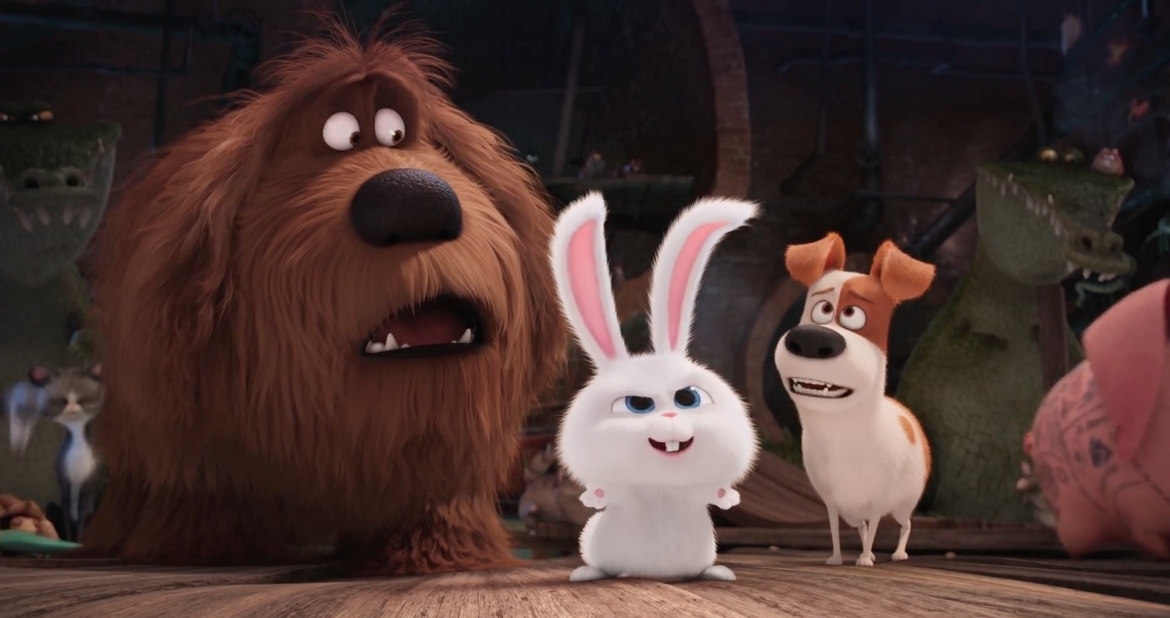 THE SECRET LIFE OF PETS
Considering it doesn't demonstrate any real ambition outside of providing 90 minutes of goofy, disposable family fun, the act of criticizing The Secret Life of Pets is almost literally like kicking a puppy. But while its pluses mirror those of many 21st Century efforts of its kind – sensational animation, a zippy pace, famous comedians voicing animals, yadda yadda – it's hard not to see directors Yarrow Cheney's and Chris Renaud's outing as a bit of a blown opportunity, given that it keeps hinting at a potential greatness it seems forever uninterested in pursuing.
The basic storyline is fine; it's 100-percent Toy Story's, but it's fine. Louis C.K. voices an adorable little pup named Max who loses his shih tzu when his owner (Ellie Kemper) brings home the ginormous hairball Duke (Eric Stonestreet), and before long the warring dogs find themselves accidentally loose on the not-so-mean streets of Manhattan. Beyond the perfunctory nature of its plot, that's the first of The Secret Lives of Pets' disappointments, because this movie doesn't get anywhere near the mileage it should've out of its Big Apple locale. Sure, it's helpful for the film (and its admittedly terrific visuals, which really pop in 3D) to be set in a locale with immediate access to high-rises, busy thoroughfares, ferries, sewers, and bridges. Yet even though Pets opens with a musical paean to NYC, and the Beastie Boys "No Sleep 'Til Brooklyn" lands on the soundtrack, and the movie is rife with Friends-like establishing shots, this movie that could have easily, and marvelously, been the New York-iest animated flick of all time doesn't feel very New York-y. I appreciated the sidewalk travelers who were too engrossed in their phones to notice the animal antics occurring beneath them. Such behavior, though, would be evident in any city (or small town, really), and the overall lack of area specificity began to feel so intentional that it almost appeared court-ordered. I was moderately grateful to be deprived of such obviousness as our heroes racing around the Statue of Liberty, but when the dogs smelled sausages and wound up at the fictional Weiner Kingdom, I rolled my eyes. They couldn't have instead hit a Nathan's Famous?
Regional disinterest is one thing; emotional disinterest is another. As Pets opens with a comedy short starring those increasingly insufferable Minions, it's evident that the feature to follow probably won't be trying terribly hard to work our tear ducts. And it doesn't, which is by no means a deal-breaker. But I'd argue that, consequently, it shouldn't pretend to. At one point during their escapades, Max and Duke find themselves a few blocks from the house of Duke's previous owner, whom Max insists they visit following a Jessie-in-Toy-Story-2 montage revealing how strongly Duke was adored. Spoiler alert: Duke's elderly owner is now deceased. Who-cares-if-I'm-spoiling alert: It doesn't matter.
Beyond his initial shock/denial at hearing this news, absolutely zero time is spent on what Duke might be feeling about his beloved owner having passed, which seems like a colossal family-film fumble. Odds are good that most kids in the audience, and certainly most adults, have had a pet, and odds are almost equally good that these kids – and definitely these parents – have suffered through the loss of a pet. We know what that loss means for us. What could it mean, though, for a pet who loses his owner? The Secret Life of Pets sets itself up perfectly for an exploration of an incredibly specific type of grief. (Woody and Buzz losing Andy to college is not the same thing.) But then, maddeningly, the movie chickens out, and the opportunity to provide kids, and all of us, with truly original types of screen heartbreak and empathy is lost. It's certainly unfair to other animation studios (this one's is Universal's Illumination Entertainment) to blithely play the "If only it were Pixar!" card. Seriously, though – if only it were Pixar. If it were, Duke's plight would have come complete with a Michael Giacchino score, Sarah McLachlan vocals, and a box of tissues tastefully tucked under each seat.
Whatever. The movie is sensationally animated and the pacing is zippy and there are plenty of famous comedians, right? Enjoyably, Louis is in literal comic-hangdog mode here. Yet amongst the heroic animals voiced by him and the likes of Lake Bell, Bobby Moynihan, and Hannibal Buress, I most appreciated Jenny Slate as the neurotic powder-puff pooch who unsuccessfully tries to mask her crush on Max. Kevin Hart delivered the few out-loud laughs I got from the film as a diminutive street bunny who proves as vicious as the hare in Monty Python & the Holy Grail, and the eternally missed Dana Carvey is priceless as an elderly canine for whom "every breath is a cliffhanger." Albert Brooks, meanwhile, voices The Secret Life of Pets' unignorably Jewish hawk with a surfeit of skeletal remains in his cage and a desire to chomp down on everyone he's supposed to protect. I probably don't have to point out that Brooks is currently on competing screens as Marlon in Finding Dory, which begs the question: Is this the first-ever time that an actor has played two movie characters in a single summer in which one would have happily devoured the other?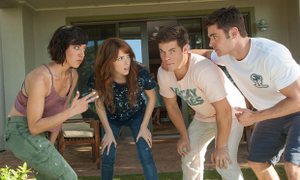 MIKE & DAVE NEED WEDDING DATES
Mike & Dave Need Wedding Dates casts Zac Efron and Adam Devine as a pair of dimwit booze-supplier brothers who need "nice girls" to take to their sister's nuptials, and Anna Kendrick and Aubrey Plaza as a pair of dimwit booze-guzzling pals who pose as "nice girls" to snag the bros. Efron made his name, at age 18, in High School Musical; Kendrick made her name, at age 12, in the Broadway musical High Society. Devine achieved fame in the sitcom Workaholics; Plaza achieved fame in the sitcom Parks & Recreation. Kendrick co-starred with Devine in the Pitch Perfects; Efron co-starred with Plaza in Dirty Grandpa. Devine and Efron were both in Neighbors; Plaza and Kendrick were both in Scott Pilgrim Vs. the World. And I promise you this game of celebrity connect-the-dots is more fun than anything you'll find in M&DNWD, a grimly unfunny slapstick that manages the singular feat of making even the superb character actor Stephen Root look like a moron.
It would be easy to call Jake Szymanski's ignominious feature-film debut a one-joke comedy, but I'm not even sure there's a joke here: Our four paralyzingly stupid leads go to Hawaii, act out in all sorts of inappropriate and sub-mental ways, and wind up getting everything they ever wanted. Where's the punchline? Theoretically, laughs could have come from the movie's hard-R set pieces, nearly all of which involve the humiliations of bride-to-be Jeanie (Sugar Lyn Beard): Jeanie getting whacked in the face and disfigured by an errant ATV; Jeanie tripping on Ecstasy; Jeanie receiving an orgasmic massage. (Silicon Valley's Kumail Nanjiani plays the masseur, joining Root among the film's lineup of egregiously wasted talents.) Yet these scenes are staged so ineptly that they don't work even on their own ludicrous terms – Jeanie clearly had plenty of time to get out of that ATV's way – and the contrivances are routinely embarrassing; screenwriters Andrew Jay Cohen and Brendan O'Brien barely come up with a decent excuse to get Efron out of his shirt, and the guy's in Hawaii. It's all just tedious insults and witless references (Dangerous Minds? Are we kidding?) and unearned sentiment and the "shocking" sight of young women acting naughty, and you'd feel bad for M&DNWD's stars if they didn't already look like they were silently kicking themselves for signing on. (Plaza, in particular, appears utterly defeated by her material, and Devine's big sobbing scene finds him wholly unable to fake-cry – bizarrely, no tears were even added during the cutaways.) Mike and Dave may need wedding dates, but after sitting through their pointlessly crude, insultingly dreadful movie, all I really needed was a shower, and maybe a lobotomy.
TICKLED
When I tell friends what the documentary Tickled is about, they don't believe me. I saw the movie at Iowa City's FilmScene on Friday, and I'm not sure I believe me. Here's the deal: While surfing the Web one day, New Zealand journalist and TV personality David Farrier (a marvelously genial presence who co-directs the film with Dylan Reeve) landed on a site devoted to an "endurance tickling" competition – a sport that he, and most humans, had never heard of. The event was being promoted by the American organization Jane O'Brien Media, and Farrier reached out to see if he could secure an interview about this odd pastime for buff young (mostly clothed) men. Before long, he received a response from company flack Debbie Kuhn, who told him, in no uncertain terms, that they were wholly uninterested in being queried, especially by an admitted homosexual such as Farrier. He was taken aback – partly because, as he tells us in voice-over, the sport sounded "really gay" – and made another inquiry. This led to another Kuhn e-retort in which the competition was explained as fiercely heterosexual and Farrier was hit with a homophobic slur. Kuhn also wrote that legal action against Farrier was being undertaken – this for his requesting an interview – and three Jane O'Brien representatives were being flown to New Zealand to discuss matters. They arrive and are incredibly friendly ... until they see Farrier's and Reeve's camera. Then they're hostile. Very hostile. And then they storm off. And then things start getting weird.
The Germans probably have a great word, one with umlauts and eight syllables, describing that look on your face when your eyebrows are scrunched and your brow furrowed and you're sort of smiling open-mouthed in a "This can't be happening" way. I'm pretty sure that was my expression during the entire 90 minutes of Tickled, which starts as something strange and funny and mysterious, and morphs, ever so deliberately, into something deeply chilling and astoundingly sad. Without spoiling the film's bevy of surprises, Farrier and Reeve – after they travel to America in a porn-y kind of Roger & Me hunt – uncover a true-life tale involving fetish erotica, exploitation, blackmail, shame-based assaults, considerable computer know-how, mixed martial arts, and even Wall Street. That they do it in such a gripping manner is a testament to the filmmakers, who employ superb pacing and editing, and make the most of their nerve-racking score by composers Rodi Kirkcaldy and Florian Zwietnig. That the movie is so entertaining, if queasily entertaining, is testament to the literally jaw-dropping shocks that pile up one after another: a Jane O'Brien lawyer casually mentioning that Reeve might want to think about his family before proceeding further; a threatening letter sent to a tickling veteran's mother, complete with reference to her deceased son; a college kid finding the Secret Service at the door to his dorm. A sick comedy in the guise of a doc, and a mesmerizing thriller in the guise of a sick comedy, Tickled is extraordinary stuff, and that's without even repeating the sentence composed of what might now be the eight scariest words I've ever heard on-screen: "We could hear laughter coming through the vents."