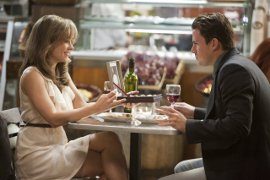 THE VOW
Even though I'm frequently annoyed, if not downright appalled, by them, I really don't ask a lot from traditional romantic weepies. If the actors involved share more-than-sufficient chemistry, and the film provides at least a decent amount of legitimate passion and pathos - with a few good jokes thrown in to keep the proceedings human - I'll generally feel that I've gotten my money's worth. And happily, I got my money's worth at The Vow. I'd hardly argue that director Michael Sucsy's love-among-the-mental-ruins effort is a good movie, but despite never being as interesting as it keeps threatening to be, this audience-friendly drama fulfills its basic requirements with the utmost sincerity and even something approaching wit.
If only it were wittier! Though inspired by a true story - and, blessedly, not a book by Nicholas Sparks - The Vow is as Hollywood as they come, telling of a Bohemian sculptor (Rachel McAdams' Paige) who survives a violent car crash and awakens from her coma with no memory of her devoted husband Leo (Channing Tatum) or their last four years together. What she does remember is being the dutiful, sheltered daughter of an affluent Chicago couple (Jessica Lange and Sam Neill) and the fiancée to a handsome, smirking d-bag (Scott Speedman), a situation positively rife with intriguing thematic possibilities. With Paige conveniently unable to recall any events that took place after she walked away from a promising law career, her intended, and her folks - Paige's parents, we learn, had never heard of Leo - the young woman's amnesia seems almost willful, a means of rejecting what the struggling artiste might consider four years' worth of poor choices. How do you return to a life that you not only don't remember but aren't even sure you want? And how, if you're Leo, do you convince your beloved that the things she thinks she wants are things she actually detests?
Those are fascinating questions, and unfortunately (and unsurprisingly), the film's four screenwriters don't appear to know how to address them. Instead, they hit all the expected narrative beats: the early, let's-start-over scenes of Paige's and Leo's cohabitation, with her blushing at hubby's casual nudity; Speedman's jerk attempting to use Paige's amnesia to his romantic advantage; Paige's dad ordering his little girl back to the suburbs, sneering at Leo with a threatening, "We know what's best for her." (I'd say it's nice to see the formerly ubiquitous Neill on-screen again, but in this hackneyed role, it's not.) In real life, the couple that Paige and Leo are based on got their Happily Ever After, but you don't need that information to know, unquestionably, that a similar fate awaits The Vow's leads; Sucsy and his co-writers scrape away anything potentially edgy or discomforting in the material in favor of bland, doe-eyed reassurance, and they're hardly ones for subtlety. (True story or not, did the eatery where our heroic pair rekindles their affections really need to be called the Café Mnemonic?)
Its blitheness, though, actually ends up working in the film's favor. The first line heard comes when Leo, exiting a movie theater on a wintry night with Paige on his arm, says, "It was barely an inch when we went in." Alas, he's talking about the snow, but the couple's shared, frequently spiky humor and easy rapport are believable from the start; you enjoy McAdams and Tatum together so much that Sucsy doesn't have to force-feed their woes for you to be touched by their plight. McAdams' freshness and naturalism mesh perfectly with Tatum's emotional openness - their responses to one another feel true even when their situations are contrived - and the stars' earnestness and friendliness and obvious affection for one another give The Vow the feeling-good-about-feeling-bad kick that too many of its genre forebears have lacked. You could easily ask for a better movie for its leads, but I'm not sure you could ask for better leads for the movie.
SAFE HOUSE
At one point late in Safe House - a noxious action thriller that finds Ryan Reynolds' untested CIA agent forced to protect agency turncoat Denzel Washington from assassination - we're treated to a second-unit shot featuring the Eiffel Tower in the foreground, while an accompanying title card reads "Paris, France." Gee, thanks. Without that geography tip, how could we have possibly known where we were? The rest of this brutal, visually atrocious, mind-numbingly dull effort by director Daniel Espinosa is a similar affront to our common sense and patience, and wastes the considerable talents of Washington, Vera Farmiga, Brendan Gleeson, and Robert Patrick. I'd say that Reynolds' talents were being wasted, too, but it's becoming harder and harder to remember what they are, exactly.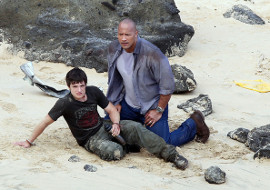 JOURNEY 2: THE MYSTERIOUS ISLAND
At first, I was thrilled to see my Saturday-matinée screening of the family adventure Journey 2: The Mysterious Island so packed, as it meant these patrons were at least opting for director Brad Peyton's dopey but genial outing over the 3D re-release of The Phantom Menace. (No, I didn't see the film this past weekend, and no, I'm not going to; life's too short to sit through crap movies twice.) Yet considering its spotty visuals and wan slapstick and horrific mugging by Luis Guzmán, did the crowd really feel the need to applaud at the end? Dwayne Johnson certainly energizes this Jules Verne-ian lark with his indefatigable comic spirit (and wickedly funny impression of co-star Michael Caine), but as Journey 2 all but defines "mediocre family entertainment," I'm a trifle concerned that the results merited clapping. Admittedly, one of Caine's final lines in the movie is, "Don't just sit there - applaud!" But audiences, even the youngest of audiences, do know that Caine himself can't hear them, right?