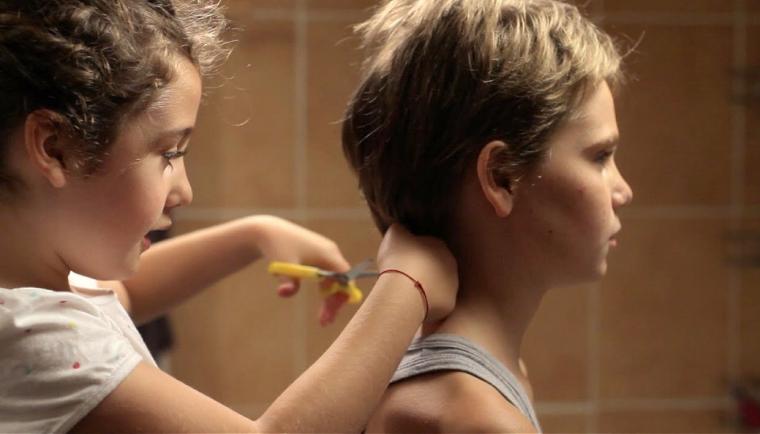 Sunday, June 18, 4 p.m.
Figge Art Museum, 225 West Second Street, Davenport IA
Lauded by The Atlantic as "brisk, precisely observed, and bracingly non-preachy in its examination of a very tricky subject," writer/director Céline Sciamma's French drama Tomboy enjoys a June 18 screening at Davenport's Figge Art Museum, this 2011 critical sensation the thirdof four award-winning independent films to be shown throughout June in recognition and celebration of Gay Pride Month.
In Tomboy, Laure is a 10-year-old whose family moves to a new address in Paris. Laure subsequently sees a group of boys playing outside the window and goes to play with them, but they disappear quickly, and Laure instead meets his neighbor Lisa. Presuming that her new neighbor is actually a boy, Lisa asks for Laure's name. After a moment's thought, Laure comes up with the male name "Mickaël"," and Lisa goes on to introduce Mickaël/Laure to the rest of the neighborhood children. Over time, however, Lisa and Mickaël become closer, and Lisa eventually kisses "Mickaël," who also becomes increasingly accepted by the group of boys. But will they remain friends if it's ultimately discovered that Laure is not the gender she claims? Describing Tomboy's themes of gender non-conforming children and gender presentation, writer/director Sciamma stated, "I made it with several layers, so that a transexual person can say 'that was my childhood' and so that a heterosexual woman can also say it."
Following its debut in the spring of 2011, Tomboy went on receive the Jury Award at the 2011 Teddy Awards, given for the best film with LGBT themes at the Berlin film festival; the Golden Duke, the main prize of the official competition of the 2011 Odessa International Film Festival; the Audience Award at the 2011 San Francisco Frameline Gay & Lesbian Film Festival; and the Best Feature Film prize at the 2011 Philadelphia QFest Lesbian and Gay Film Festival. A GLAAD Media Award nominee for Outstanding Film - Limited Release, Sciamma's coming-of-age drama was also a considerable critical hit, currently sitting with a 96-percent "freshness" rating on Rotten Tomatoes. Out Front Magazine deemed Tomboy "strikingly fresh and uncontrived," as well as "lively, with wonderful performances." Hollywood Chicago, meanwhile, said, "The film's greatest accomplishment is writer/director Celine Sciamma's stunning ability to draw natural, believable performances from her adolescent cast, who never hit a false note in this moving film."
Tomboy will be screened in the John Deere Auditorium on June 18, admission to the 4 p.m. event is free, and more information is available by calling (563)326-7804 and visiting FiggeArtMuseum.org.