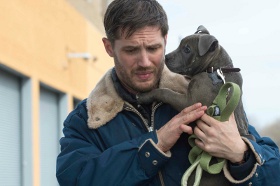 THE DROP
Tom Hardy, by this point in his career, has had enough major roles in enough major movies to qualify as a familiar face. And a good thing, too, because if we were forced to rely on his voice and specific screen type, how, from film to film, would we ever recognize him? The British star's latest is the crime thriller The Drop, and it's a solid piece of work - hardly novel, but gripping and enjoyable nonetheless. Yet it's tough to imagine any Hardy fan even thinking about skipping it, considering that, much like the recent home-video release Locke, the movie allows this brilliantly chameleon-like character actor to perform an exquisite slow burn that lasts 90-ish minutes, and to sound and seem quite unlike anyone he's ever played before.
Director Michaël R. Roskam's moody, atmospheric yarn is based on a short story by novelist (and the film's screenwriter) Dennis Lehane, and it feels like a short story by Dennis Lehane; there's just enough Mystic River- and Gone Baby Gone-style pungency, dread, and sense of looming tragedy to suggest that this minor outing is more substantial than it actually is. Hardy, employing a nasal Brooklyn dialect and higher vocal pitch than usual, plays Bob Saginowski, the bartender for a New York dive managed by his cousin Marv (James Gandolfini). Abashed and reticent to the point of appearing slow-witted, Bob makes surreptitious cash deposits for the Chechen Mafia while serving up drinks, and finds his quiet routine interrupted by his discovery of a bloodied - and freaking adorable - baby pit bull, one he finds in a garbage can owned by a doleful waitress (Noomi Rapace). It's from this seemingly innocuous rescue that Lehane weaves his tale involving a late-night heist gone wrong, a long-unsolved murder, and the threatening arrival of a potential psychopath (Matthias Schoenaerts). Somewhat surprisingly, however, the heart of The Drop remains with the dog, who becomes a perfect, four-legged metaphor for Bob himself: He may appear bruised and beaten, but if backed into a corner, this pit bull will bite.
The film is too stacked with coincidences and contrivances (John Ortiz's detective keeps popping up whenever Bob needs him the least), and nothing really comes of Rapace's screen time; I was glad she didn't turn into a stock girlfriend character, but even that might've been preferable to the glaringly irrelevant purpose Rapace serves here. Yet there are also plenty of satisfyingly creepy, cryptic scenes and diverting throwaway conversations, and the movie has exceptional, if unduly manipulative, built-in suspense, because scene after scene leaves you waiting for something awful to happen to Bob's beloved pooch. (I'll offer no spoiler regarding the pup's fate, although the scene of Bob calling for the dog and turning around with a stricken expression did make a fellow patron, who was clearly expecting the worst, mutter, "Oh, God, no.") It should go without saying that we also get Gandolfini, who delivers an expansive and beautifully modulated portrayal in his final screen role. And bless his heart, we get Hardy, who disappears so completely into his wonderfully singular, contradictory creation - endearing, steely, bashful, methodical, terrifying - that you can barely take your eyes off him, even to look at Gandolfini, which is saying a lot. Despite its flaws, I was happy to have seen The Drop, and if I wind up at a Halloween party this year, I'm pretty sure I'm going as Tom Hardy. Why spend time anguishing over a costume when you can wear one outfit and be absolutely anyone you want?
DOLPHIN TALE 2
As family entertainments go, Dolphin Tale 2 is a pretty darned good one. As totally needless sequels go, it's a pretty darned great one. Beyond bringing continued, admirable attention to the heroic rescue and rehabilitation work performed at Florida's Clearwater Marine Aquarium, there doesn't seem to be much reason for writer/director Charles Martin Smith's follow-up, which concerns the attempts to find the original film's tail-less dolphin Winter a new swimming partner. Yet in nearly every way, I preferred this warmhearted family drama to its not-bad 2011 predecessor. While the performers (who include Ashley Judd, Morgan Freeman, Soul Surfer inspiration Bethany Hamilton, and Smith himself) remain indefatigably charming and the underwater photography remains striking, the cornball elements - among them the slapstick contributions of that wacky pelican Rufus - are kept to a discreet minimum this time around. The gifted young Nathan Gamble and Cozi Zuehlsdorff enact a wary and quite touching near-romance, and are given some strong moments of standing up to their screen parents. The movie is realistically and lovingly unhurried, revealing exactly how long it takes, for example, to complete the complicated process of moving a dolphin from a van to an indoor tank. (As with Dolphin Tale, this sequel ends with pre-credits documentary footage demonstrating just how closely the filmmakers have hewed to the facts of the aquarium's rehab work.) And only a total curmudgeon could fail to be touched by Dolphin Tale 2's sincere yet not sickly sentiment - or, for that matter, by the nearly too-good-to-be-true casting of crooners Harry Connick Jr. and Kris Kristofferson as father and son. Dolphin Tale 3, I understand, is already in the works. Hopefully, asking for one tiny duet isn't asking too much.
NO GOOD DEED
Roughly one-third of the way into the suspense thriller No Good Deed, the soon-to-be-victimized Taraji P. Henson tells the soon-to-be-victimizing Idris Elba that before she was married, she was "independent, strong, and powerful." Strong and powerful? Get this woman some spandex and a Marvel Studios contract, stat! Getting her a less ridiculous movie would also have been mighty nice, because director Sam Miller's and screenwriter Aimee Lagos' ludicrous and laughable outing is an utter mess that trashes the considerable skill that Henson and Elba bring to it. Playing a woman who makes the disastrous mistake of unknowingly inviting a serial killer into her home, Henson gives an alert, intense portrayal as both a helplessly bullied hostage and an ass-kicking protective mother. But she can't be believable when forced to play one of those archetypes for three minutes before playing the other for three minutes, and back and forth again through the course of the film's second half, and while Elba is certainly an intimidating, scary presence, his "malignant narcissist" figure is written with maddening sketchiness. (The movie's big twist, revealing why the murderer picked Henson for his latest crime spree, is only a twist because your brain gets tied in knots trying to make sense of it.) Barring a couple of enjoyably saucy bits with Leslie Bibb - looking uncannily like a Tootsie-era Jessica Lange - and a frightening early escape scene, there's almost nothing even mildly plausible about No Good Deed, and my audience was clearly growing hostile at the movie long before its climax, the ne plus ultra of unintentionally hilarious gunfights. I did, however, chuckle when one of Henson's small children made her introduction to Elba by walking up to him and, without a word, violently punching him in the chest. Guess the kid saw The Wire.