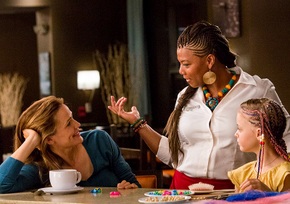 MIRACLES FROM HEAVEN
If you've seen its previews, which appear to give away every nanosecond of its plot, you'd be right in guessing that the inspirational drama Miracles from Heaven is not for those who like surprises. (Although you won't realize it until you see the film, even the narrative's climactic shot is given away in the preview.) But as wholly surprise-free outings go, director Patricia Riggen's adaptation of Christy Beam's memoir is an earnest and effective tearjerker, and sometimes even more than that. On at least three separate occasions, my stomach muscles were aching from withholding those trying-not-to-audibly-sob sobs that can make movie-viewing indistinguishable from a lower-ab workout.
The apparent last of this year's faith-based Lenten entertainments at the cineplex, Miracles from Heaven concerns the uncommon malady and unexplainable healing of 10-year-old Texan Anna Beam (an excellent Kylie Rogers), whose life-threatening intestinal condition was cured by falling headfirst through the interior of a hollow tree – a cure, it goes without saying, not generally endorsed by the AMA. Yet beyond those predisposed to detest outings this unreservedly sincere and unapologetically Christian, it's hard to imagine who wouldn't endorse the film itself. There were certainly elements I didn't care for: the awkward inclusion of Queen Latifah as an eccentric Boston waitress with a sitcom-clunky car; an unfortunately visualized trip to Heaven that suggests the second coming of What Dreams May Come; Eugenio Derbez's mugging as a Mexican Patch Adams. (The director/star of 2013's crossover hit Instructions Not Included is just fine in his more reserved scenes, but seeing him cheer up sick kids with an eye patch and balloon parrot on his shoulder was really too much.) Those gripes, however, are practically meaningless when placed alongside the luminous, complexly motivated portrayal of Jennifer Garner as Anna's harried mother Christy, a performance so overflowing with heart that you almost don't notice the considerable intelligence behind it. The film's thoughtful exploration of the limits and endless possibilities of faith is welcome and wonderful, as is its clear-headed recognition of life's little kindnesses, embodied here in beautiful brief turns by Wayne Pére, Suehyla El-Attar, and J.M. Longoria. And while you smile at Martin Henderson's warm presence as Anna's dad and the sight of Anna enraptured by one of Monet's The Water Garden at Giverny paintings, you can prep for those aforementioned moments of emotional devastation, including a scene of Garner begging for a hospital appointment that nearly sent me to the hospital. Remember how you felt watching Debra Winger say goodbye to her kids in Terms of Endearment? If not, after Miracles from Heaven, you will.
THE PERFECT MATCH
Paula Patton may be the most stunningly gorgeous human being in modern movies. But as shot by cinematographer Tommy Maddox-Upshaw, Patton might currently be competing for the title alongside every single one of her fellow actors in A Perfect Match; this is a movie so lusciously photographed, with domiciles and set pieces and clothing so yummily fetishized, that even co-star Joe Pantoliano could find himself on the cover of People's "Sexiest Man Alive" edition. In terms of story and character arcs, director Bille Woodruff's melancholic romantic comedy in the mode of The Best Man is simple, formulaic stuff: Terrence Jenkins' lothario loves 'em and leaves 'em 'til he meets his match in Cassie Ventura; Dascha Polanco and Donald Faison exhaust themselves in their efforts to make a baby; Lauren London and Robert Christopher Riley endure increasingly pricey wedding plans; rapper French Montana shows up with a literal monkey for a manager. (Okay, that last bit isn't formulaic at all.) All told, it's not much of a movie, as is constantly underlined by the barrage of montages and the soundtrack's ceaseless parade of R&B numbers and the unnecessarily (and kind of ludicrously) protracted love scenes. But as an excuse to get a bunch of sensational, under-served talents together for 100 minutes of human-scaled laughs and sentiment, Woodruff's movie is hugely appealing. To be sure, excepting the charismatic and dramatically forceful Jenkins, none of the participants is granted a narrative any deeper than the B stories in your average Seinfeld episode. But it's clear that everyone involved is having a blast, including the one-scene wonders Kali Hawk, Brandy Norwood, and Robin Givens. And even if you tune out on the storylines, heaven knows the movie and its impossibly wealthy and stylish characters always provide something amazing to look at, be it Jenkins' to-die-for apartment with the rooftop pool or Polancho's hula-hoop-sized earrings or Ventura's physics-defying wardrobe. I have no idea what the budget was for the irresistibly charming The Perfect Match, but when it comes to Ventura's outfits, I wouldn't be shocked if four figures weren't spent merely on double-sided tape.
THE BRONZE
Director Bryan Buckley's indie comedy The Bronze is preceded by the logo for Duplass Brothers Productions, and the moment I saw that logo, I readied myself for the signature visual motif of works produced and/or directed by Mark and Jay: an incessantly shaky camera. Little did I know the movie itself would prove incessantly shaky. First screened at 2015's Sundance Film Festival, the film is Sundance-y to a fault, telling of an entitled, profane, emotionally stunted, unremittingly loathsome former gymnast (Melissa Rauch's Hope) who, 12 years after her third-place Olympic victory, slo-o-owly becomes a sli-i-ightly better person after training a newbie sweetheart (Haley Lu Richardson's Maggie) for her own run at the gold. For its first hour, I actually found The Bronze almost impossible to sit through. Rauch was so ferociously unpleasant as a pint-sized hellion with a Grand Canyon-sized chip on her shoulder that none of her "jokes" landed as funny, and I cowered for those on the receiving end of her abuse: Richardson's Maggie, whom Hope forces to consume pounds of fried food and a marijuana smoothie; Gary Cole's Stan, Hope's kindly and ineffectual dad; Thomas Middleditch's Ben, a gymnasium co-owner whose facial tic leads Hope to call him "Twitchy." Watching Buckley's movie (scripted by Rauch and her husband Winston) was like being trapped in a stalled elevator with the love child of Benito Mussolini and Tonya Harding. Yet little by little, I was won over – not by any generated warmth, but by Buckley's and the Rauches' staunch insistence on a lack of warmth. While Hope may eventually soften, she never thaws; even her big inspirational speech near the finale is rife with insults and F bombs. And while I only wound up laughing during Melissa Rauch's and Sebastian Stan's hilariously gymnastic coitus – a scene that's like a live-action take on Team America: World Police's most infamous sequence – I ended up, against all expectation, admiring the movie and its intensely brave star enormously for letting the leading asshole stay an asshole, prescribed Sundance-comedy uplift or not. I'm not sure the effort would merit even a bronze medal, but if one existed, I'd be totally willing to award The Bronze a copper one.