Ah, Thanksgiving. A time of food, friends, family … more freaking movies than anyone should have to review over one long weekend … .
In order of attendance …
BOY ERASED
It's been a while since we've had a good movie for the tsk-ers – that segment of the audience that seems to live for audibly expressing moral outrage. You know the type: They're the patrons who exhaled with disgust at the condescending racists in The Help and who muttered "That's awful" when those bitchy saleswomen were mean to Julia Roberts in Pretty Woman. And the tsk-ers had an absolute field day at my Chicagoland screening of Boy Erased (currently playing at Iowa City's FilmScene), although I'm not convinced that writer/director Joel Edgerton's gay-conversion-therapy drama wholly qualifies as good.
To be sure, in telling its true tale of an Arkansas college student and conservative Baptist whose parents enroll him in a 12-day "assessment program" to quash his burgeoning sexuality, the film's heart is in the right place. But while the well-acted results are undeniably touching, the experience feels too broadly designed for easy sympathy. Lucas Hedges' chaste, conflicted Jared Eamons is so morally upstanding, and co-star Edgerton's program leader Victor Sykes is so shifty and quietly sinister, that the deck appears stacked long before the tsk-ers can vocally chide Sykes for telling our hero "God won't love you the way you are." Truth be told, I'm not sure I would've liked Boy Erased more even if its ethical arguments weren't so cut and dried; the movie features an unnecessarily confusing flashback structure, the soundtrack is rife with maudlin pop tunes, and there's so little variance in the dull, dutiful pacing that a terrifying sexual assault delivers the only moment of legitimate excitement. Still, Hedges is terrific, Russell Crowe and Nicole Kidman (the latter reprising her worried-mom role from Lion) transcend their movie-of-the-week banality as Jared's parents, and there are excellent turns by an anguished Joe Allwyn, a sensible Cherry Jones, a romantic Théodore Pellerin, and, of all people, the Red Hot Chili Peppers' Flea, who's genuinely threatening as a heavily tattooed staffer attempting to scare gay kids straight. Edgerton's film, sadly, may have been exactly what I anticipated and little more, but an opening-credits title card reading "with Flea" was something I never anticipated.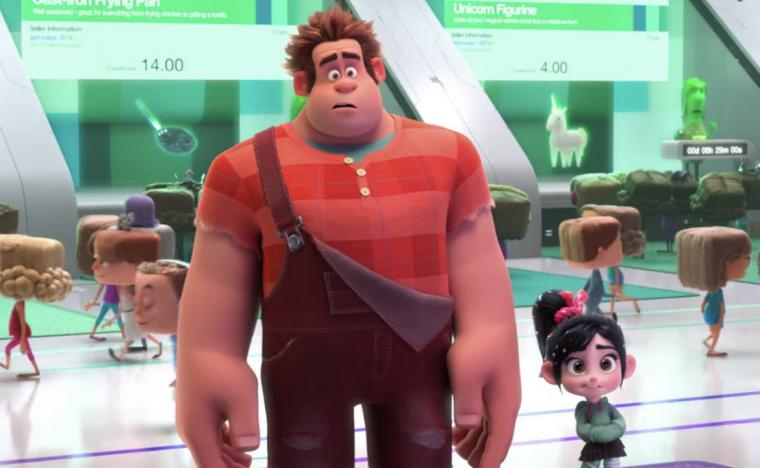 RALPH BREAKS THE INTERNET
As one of maybe, I dunno, a dozen people who didn't much care for 2012's Wreck-It Ralph, I entered its animated-comedy sequel Ralph Breaks the Internet – in which the former arcade-game villain and his speed-demon bestie traverse the geographical and moral quandaries of the 'net – with my expectations kept deliberately low. So maybe that's why, after an underwhelming opening 20 minutes, I had such a smashingly grand time at directors Phil Johnston's and Rich Moore's follow-up, though the movie's sweetness, cleverness, intelligence, and surfeit of fabulous jokes no doubt also had a little something to do with it.
With John C. Reilly again voicing the lovable doofus Ralph, Sarah Silverman again providing delightful grade-school sass as Vanellope, and additional vocals provided by the likes of Gal Gadot, Taraji P. Henson, Jack McBrayer, Jane Lynch, Ed O'Neill, and Alfred Molina, we knew the film would sound good. Given the visual possibilities inherent in an animated world of literal chat rooms and pop-up blockers, we had every reason to expect it would look good, which it most certainly does. Yet I still wasn't prepared for this Disney outing to be quite so smart. Ralph Breaks the Internet delivers astute, incisive pokes at eBay shopping and YouTube posting and the maddening, horrifying culture of anonymous message-board critiquing, and does so with both spectacular wit and uneasy twinges of recognition. In a rarity for family comedies, though, even the token life lessons are more pointed and specific than usual, and the film is masterful at verbally and visually explaining mysteries of the 'net – how viruses attack, how money is earned through viral popularity – in fresh, funny ways that both adults and kids can grasp. From the tortilla chip resembling Beyoncé (which sells online for $400) to the instant-classic scene of Vanellope cavorting and crooning with a gaggle of Disney princesses, I had an utter blast at this thing, and there was so much to look at that when my eagle-eyed friend asked if I caught the Stan Lee cameo, I had to ashamedly admit I didn't. Guess I'll have to see the movie again. I can't wait.
CREED II
To cut to the chase: Creed II is nowhere near as great as 2015's Creed, partly because director Steven Caple Jr. isn't yet a visual stylist of Ryan Coogler's caliber – effective though they are, the boxing scenes aren't very imaginatively staged – and partly because you can't help but hear co-screenwriter Sylvester Stallone's penchant for thudding obviousness. (With the scions of Apollo Creed and Ivan Drago facing off in the climactic slug-fest, we hardly need a ringside announcer stating "It feels Shakespearean!" to glean that the whole movie has been designed as Poor Man's Bard.) That being said, this continuation for Michael B. Jordan's prize-fighter Adonis Johnson and Sly's Rocky Balboa is gloriously entertaining in its own right, and borderline miraculous for making me antsy to see Rocky IV again, which I would've previously done only with a gun to my head.
Befitting a work that pays tribute to the most ludicrous of Rocky sequels – the one in which a stadium packed with Russians, in 1985, began shaking with chants of "Ro-cky! Ro-cky! Ro-cky!" – Creed II can't help but seem a bit silly itself, with the now-world-champion Adonis forced to fight the son of the man who killed his father. (Shakespearean, indeed.) But I won't deny there's also tremendous juiciness in the conceit, and anyone with even mild '80s nostalgia can't help but thrill to the first appearances of Dolph Lundgren as Ivan and Brigitte Nielsen as his (now-ex) wife severely clad in white to match her frosted hair. Better still, the cast plays the melodrama for every ounce of its worth. Despite the more formulaic arc he's now following, Jordan deepens his Adonis portrayal with expanded glimmers of braggadocio and self-destruction, Stallone continues to plumb the poignancy of Rocky's decency and sadness, and the ever-winning Tessa Thompson offers no end of gravity and tenderness. Yet in a lovely surprise, even the fearsome hulk Viktor Drago (beautifully played by professional boxer Florian Munteanu) is allowed three dimensions, and while the film feels almost lab-tested for uplift and tears, the emotions are evinced with honesty and dynamism; you can weep at the finale without feeling like a sap. (Shockingly, it turned out to be Ivan and Viktor who made me weep the hardest.) Basically, Creed II is to Creed what Rocky II is to Rocky. Flaws and all, that's an awesome thing to be.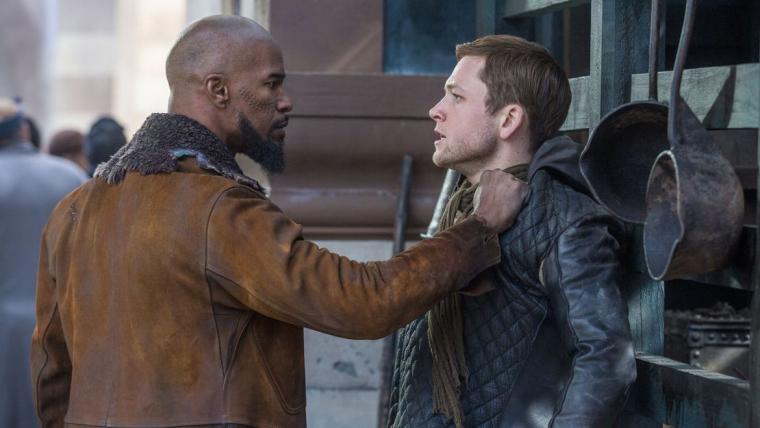 ROBIN HOOD
A friend and I initially planned to see director Otto Bathurst's new, blockbuster-ized Robin Hood prior to Ralph Breaks the Internet, but in the midst of our screening's fourth trailer, the cineplex's power suddenly blew out, and we were all eventually sent home. It felt like a sign – "Don't bother" – from above. After catching up with the film the following day, I'm pretty sure it was one.
In its opening seconds, voice-over narration introduces us to this latest reunion with Robin, Little John, Friar Tuck, et al, with a portentously intoned "Forget history, forget what you've seen before, forget what you think you know … ." We should've also been told to forget about having fun, because this tedious, lifeless, endless exercise in public-domain revisionism is a crushing bore – a desperately unnecessary origin saga so lacking in personality that I was praying for one of its whizzing arrows to blast through the fourth wall and sever my cerebral cortex. You know a movie has deep problems when even the usually reliable Taron Egerton, as the title character, fails to be charming, and when the usually irksome Ben Mendelsohn – perhaps the first Australian thespian to achieve career success through a sneer and a lisp alone – gives the film's only sustained performance as an admirably perverse Sheriff of Nottingham. But between the dim-bulb conversation ("Leave him!" "He's still alive!" "You'll get us all killed!") and the rote action chaos and the inevitable threat of sequels, Robin Hood easily stands as this year's cinematic Thanksgiving turkey, with Jamie Foxx, Jamie Dornan, F. Murray Abraham, and others employed merely as stuffing. That off-screen narrator at the start also tells us, "This is no bedtime story." Really? 'Cause I sure as hell had no trouble nodding off.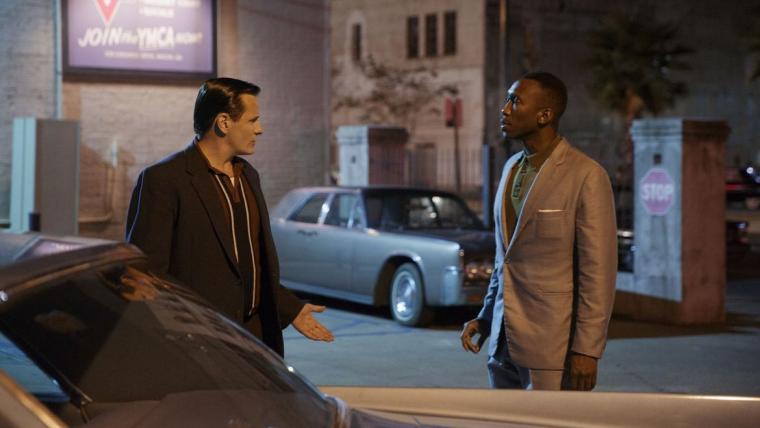 GREEN BOOK
Well, whaddaya know! Another movie for the tsk-ers! In director/co-writer Peter Farrelly's Green Book, thuggish Italian-American Tony Vallelonga acts as chauffeur to African-American piano virtuoso Don Shirley as the musician embarks on a 1962 tour of the Deep South, and if the film's previews had you expecting Driving Miss Daisy with the races reversed, it's actually … . Well, that's really it. It's Driving Miss Daisy with the races reversed. Despite being, as its poster states, "inspired by a true friendship," Farrelly's old-school dramedy is also a far more insulting version of 1989's now-notorious Best Picture winner, with its themes of Respecting Our Differences and Learning from One Another delivered with maximum obviousness, and every instance of racial intolerance (Tsk!) grossly telegraphed and glibly executed. But incredibly, I wound up having a ball almost throughout, because while the film is kind of offensive as both drama and history, it's practically irresistible as an odd-couple buddy comedy thanks to the madly inspired pairing of Viggo Mortensen and Mahershala Ali. The movie is almost as cornball as It's a Wonderful Life, and in its shameless way, it's almost as wonderful.
Mortsensen so rarely gets the chance to be an outsize, goofball comedian on-screen – come to think of it, has he ever had that chance before …? – that he's both powerfully and surprisingly hilarious here, the actor's inventive, endearing braying and double-takes suggesting an older, beefier Joey Tribbiani. (At one point, Tony folds an entire pizza in half and begins chowing down. Joey would sob with envy.) And playing Felix to Mortensen's Oscar, Ali delivers a nimble and fastidious comic turn in which his sharpest retorts to Tony are the ones you see Shirley composing in his incredulous stares and silences that double as punchlines. With both unmissable stars also delivering the emotional goods in their Oscar-bait-y closeups, I'm not sure how I would've reacted to this thing had literally any other performers assumed its leading roles (though the superb Linda Cardellini, as Tony's supportive wife, would certainly have made the pain more bearable). But they didn't. Mortensen and Ali did. And now Green Book is a movie I'll eventually have to own. Damn it.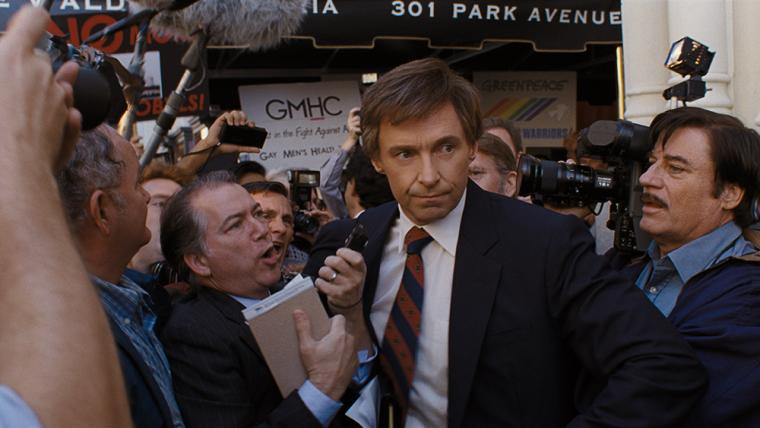 THE FRONT RUNNER
Detailing the three weeks in 1987 in which presidential candidate Gary Hart morphed from the Democratic Party's best hope for election to scandalized drop-out after allegations of an affair went public, director/co-writer Jason Reitman's The Front Runner would seem to be a movie that, given our currently politicized culture, no one wants to bother with right now. (Right-leaning viewers likely couldn't care less about Hart's fall from grace; left-leaning viewers likely don't want to be reminded of it.) Yet if you get the chance to see the film, I'd recommend taking it, because Reitman's latest, his most confident outing since 2011's Young Adult, is a far more interesting piece of work than its meager attendance and indifferent reviews would suggest.
With Reitman's presentational style seemingly borrowed from Robert Altman – specifically the director's magnificent HBO mini-series Tanner '88 – his political drama/procedural is filled with fast, loose, fly-on-the-wall conversations and overlapping war-room banter, much of it sardonically funny, and all of it acted with visible motive and close-to-the-vest naturalism by a predominantly unfamiliar cast. (Although there are significant roles for Alfred Molina, Kevin Pollak, and the marvelous J.K. Simmons, the bulk of the film belongs to such lesser-known talents as Molly Ephraim, Steve Zissis, Mamoudou Athie, Chris Coy, Ari Graynor, and Sara Paxton, the latter a heartbreaking Donna Rice.) Hugh Jackman, as Hart, subdues his natural charisma and gives a focused, committed portrayal of a deeply flawed man. Vera Farmiga enacts Lee Hart's profound embarrassment and disappointment through a few exquisitely calibrated brushstrokes. While print journalism is given a moralistic tongue-lashing – which might account for the largely negative reviews that weren't bestowed upon Spielberg's far-inferior The Post – it's hardly alone, as the film wisely suggests ethical failure on the part of everyone, from the journalists to Hart to his handlers to the public who all but demanded, henceforth, a more tabloid approach to reportage. And while Reitman's gripping, thoughtful Front Runner is steeped in regret, you don't have to search hard for messages of hope, as when Hart tells his assembled listeners, "Things change when young people give a damn." That's a sentiment, at any time of year, that deserves the giving of thanks.