JERSEY BOYS
Jersey Boys, Clint Eastwood's film version of 2005's still-running Broadway smash, is a big, bizarre, cornball, clever, terrible, wonderful movie. It's hard to fathom what, beyond its inherent appeal, made Eastwood want to take on the project; this bio-musical about 1960s pop sensations the Four Seasons seems so clearly designed for Scorsese that's it's almost some kind of joke that it instead wound up in the hands of a man who, stylistically and temperamentally, is Scorsese's polar opposite. Yet somehow, astonishingly, the damned thing works. Its parts may be stronger than the whole - at least if you're allowed to cherry-pick the parts - but the film is affecting and entertaining and alive, and exudes more sheer joy than any other title on Eastwood's 43-year directing résumé.
In basic outline, Jersey Boys is a fairly standard rags-to-riches saga, tracing the career trajectories of Four Seasons Frankie Valli (John Lloyd Young), Tommy DeVito (Vincent Piazza), Nick Massi (Michael Lomenda), and Bob Gaudio (Erich Bergen) from the singers' humble, Garden State beginnings to their 1990 induction in the Rock & Roll Hall of Fame. But there's almost nothing standard about Eastwood's treatment of the material, which flip-flops so radically between presentational styles that you're left practically dizzy.
At times, the film is nearly as broad as an old Jerry Lewis comedy; there's a slapstick heist and a booze-guzzling nun, and Valli's wife Mary (Renée Marino) is conceived as a braying shrew whom Valli is much better off without. (You're left feeling that Mary has been made extra-nightmarish just so we won't judge Valli harshly when he cheats on her.) In many instances, however, this broadness also works in the film's favor. There are riotous light-bulb moments in which characters get brilliant ideas from comically obvious sources - the inspiration for the band's name arrives as a literal (fluorescent) light-bulb moment - and the over-the-top humor really sails when Massi rants about DeVito's slovenliness, or when Joseph Russo does anything as the musicians' pal Joey, who, we learn, became an actor named Joe Pesci. (Russo's cadences are unmistakably Pesci-an, and pointedly so when, in a great GoodFellas in-joke, Gaudio tells Joey that he's funny, and Joey responds, "Funny how?")
And for all the bits and sequences that are intentionally exaggerated here, there are subtler, more down-to-earth ones serving as counterpoint - albeit not always to the film's credit. Every scene involving Valli's marital troubles and his struggles with estranged teen daughter Francine (Freya Tingley), for instance, reads as hopelessly false, with the canned emotions and soap-opera sentimentality made more noxious by the addition of those maudlin piano strains that Eastwood, as a composer, is so inordinately fond of. (I had mistakenly presumed that, with constant Four Seasons tunes at his disposal, we'd be safe from Eastwood's traditionally sappy music cues in Jersey Boys, but alas ... .) Yet Eastwood's frequent knack for eliciting restrained performances serves him well whenever the terrific Piazza or Bergen or Mike Doyle (superb as "theatrical" lyricist Bob Crewe) is on-screen, and Christopher Walken is excellent as a wizened gangster bankrolling the group - even though, as usual, Walken's singular rhythms threaten to make his every reading unintentionally hilarious.
If I sound wildly inconsistent in my feelings toward the movie, it's because, as I hope I'm demonstrating, the movie is wildly inconsistent, too. As they did in their original book for the musical, screenwriters Marshall Brickman and Rick Elice choose to have each Four Season tell one-fourth of the group's collective tale directly to the audience, a witty, fourth-wall-busting conceit that Eastwood adopts for the film, and that works much better here than it does in, say, The Wolf of Wall Street or House of Cards. (At least Jersey Boys' narrators aren't constantly relaying information we've already been given.) But for some reason, Eastwood drops the convention as soon as we reach Valli's final quarter of the tale; until the film's final minutes, Young never addresses the camera directly, even though, to make consistent sense of this storytelling device, he really needs to. And while, unlike the stage show, the numbers here are all performed "realistically" within the context of the narrative, that decision leads to a number of odd, awkward segments, such as when songs from jukeboxes comment on the on-screen dialogue. ("Stay," for example, is heard just as Valli is asking, "Why does everybody leave?")
Still, Eastwood's smartly designed, inarguably unusual achievement is worth seeing - and definitely worth hearing, even if Young's deservedly lauded falsetto is beginning to sound rather strained. (In yet another strange touch, the Broadway-soundtrack version of "My Eyes Adored You" plays as background in a pair of critical junctures, and it's obvious that Young's vocals, at present, aren't what they were when he won a 2006 Tony Award for his Valli impersonation.) Numbers such as "Sherry" and "Big Girls Don't Cry" and "Who Loves You" are rambunctious and thrilling, and the exhilaration of the finale - a glorious cinematic curtain call set to "December 1963 (Oh, What a Night)" - almost singlehandedly erases any gripes made during the film's previous 130 minutes. Jersey Boys is a mess. Do your best not to miss it.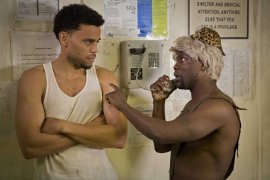 THINK LIKE A MAN TOO
After years of mostly winning work portraying motor-mouthed second bananas, Kevin Hart - as was solidified earlier this year in Ride Along - is officially a bona fide movie star. But does his newfound mass popularity mean that, from now on, his co-stars are going to be required to speak as quickly as he does? Hart's latest, the rom-com sequel Think Like a Man Too, reunites the cast from 2012's Think Like a Man (plus, happily, Wendi McLendon-Covey) for a Vegas-wedding weekend filled with testy squabbles, slapstick encounters, and lots of male and female bonding, and inconsequential and obvious though it all is, it's diverting enough. Yet if I may ask: What's the freaking hurry? From moment one, the characters in director Tim Story's outing banter and bicker with such inhuman velocity that you can barely acknowledge the punchlines even three seconds after you've heard them, and consequently, nothing that's said means a thing, which kills the film's eventual attempts at sentiment. (These scenes wouldn't necessarily succeed if played slower, but still ... .)
Yet within Think Like a Man Too's frenzied rush to get nowhere special awfully damned fast, there are lovely contributions made by Regina Hall, Taraji P. Henson, and Gabrielle Union, the latter of whom, at one point, attempts some seductive role-playing by donning a platinum-blond Game of Thrones wig. (Emilia Clarke, eat your heart out.) There's the expected charisma of Romany Malco, Michael Ealy, and Jerry Ferrara - who, I swear, has been going through some weird, Benjamin Button-esque age reversal since his 2004 debut on Entourage - and Hart hits us with some fantastically throwaway, light-speed cracks, especially when he chides his stick-in-the-mud buddies by calling them his "non-tourage." And among the repartee that was actually delivered slowly enough to be instantly understood, I particularly liked it when Gary Owen's dipstick suggested that, for the bachelor party, he and his buddies take in a show, and Hart verbally smacked him with, "We're not seeing no damned Jersey Boys!" You should really think twice about that, Kevin.