Friday, September 19, 10:10 a.m.-ish: It's been six weeks since my last quadruple feature, and I'm expecting this one to start with supreme novelty, considering that the poster for the day's first feature, A Walk Among the Tombstones, boasts the image of a brooding Liam Neeson holding a gun. That's right: Liam Neeson! That guy from Schindler's List! Brooding and holding a gun! How does Hollywood keep coming up with such fresh ideas?!
I'm opening on a note of levity because, trust me, writer/director Scott Frank's brutal, foreboding crime thriller won't give you much else to smile about. Based on a book in Lawrence Block's series of Matthew Scudder novels - one of 18, so Neeson better stay fit for the next few decades - the film follows private investigator and recovering alcoholic Scudder as he hunts for a pair of serial killers through the rainy streets of Manhattan. And when I say rainy, I mean rainy; instead of a gun, Neeson would've been better off carrying an umbrella on that poster for all the portentous precipitation he runs and drives through. I'll admit that in terms of technique and craftsmanship, A Walk Among the Tombstones is impressive. Frank's pacing is sharp and his compositions memorable, and he's able to suggest obscene horror without wallowing in grimness; women are certainly victimized here, but in a welcome change-of-pace for the genre, not by the camera. (The writer/director also does a fine, clever job of establishing the movie's Y2K-anxious 1999 setting. When a passing cab advertises Eugene O'Neill's The Iceman Cometh, it's both period-accurate - Kevin Spacey starred in a '99 Broadway production of the play - and a pretty excellent metaphor for Tombstones' plot.) And while Neeson, despite my joking, gives a solid, forceful performance, he's also surrounded by terrifically seedy types played, with vitality, by Dan Stevens, Boyd Holbrook, Ólafur Darri Ólafsson, and the always-excellent David Harbour. In the end, it's all a bit rote and generic for my tastes (instead of a walk, there's a really boring shoot-out among the tombstones), but the only times Frank's movie actively annoyed me were in the scenes - and there are way too many of them - involving Scudder's tag-along "partner" T.J., played by the teenage rapper Brian "Astro" Bradley. A precocious, homeless, vegetarian smart-aleck who too-casually name-drops Sam Spade and Philip Marlowe, this mouthy pest is all contrivance, and kills the film's momentum and dramatic intensity with his every arrival. I guess T.J. is there to humanize Scudder by providing the avenging crusader with a Robin-esque ward. I would've respected the movie more, though, if so much of it wasn't suggesting David Fincher's take on About a Boy.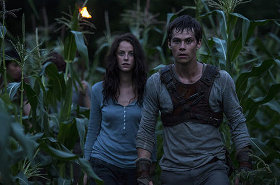 Noon-ish: Tombstones' longer-than-advertised running length makes me a few minutes late for The Maze Runner, and talk about novel: This one is adapted from a YA-lit adventure set in a dystopian America where teens fight for survival amidst vicious challenges orchestrated by unseen adults intent on controlling their fates. Ummm ... I'm sorry, but isn't the next Hunger Games due in November? To be fair, director Wes Ball's outing is less Suzanne Collins than William Golding, as this tale of three dozen boys forming a makeshift society in, and occasionally attempting to escape from, a mysterious enclave surrounded by an impenetrable maze is reminiscent of nothing so much as Lord of the Flies. (It even comes with its very own Piggy in the form of a chubby nerd so sentimentalized that you just know he's in for a dreadful fate.) But it's Lord of the Flies without any tension or threat or psychological complexity. Despite the random attacks by hulking spiders and the strained expressions of panic on the part of the cast, all of whose funny bones (even those of We're the Millers' great Will Poulter) and sex drives appear to have been surgically removed, the danger level here never rises above that of two bros taunting each other at a high-school kegger.
Oh, and the endless explaining of it all! Throughout the film, recent arrival Thomas (Dylan O'Brien) is constantly bombarded with Cliff's Notes on his surroundings and their effects - "We call it The Glade," "We call it The Flare," "We call it The Changing" - and not one interesting, evocative, or amusing sentence is uttered through the whole of the relentless exposition. (We're nearly two hours in when the film's trio of screenwriters finally grants us an actual joke.) High seriousness is one thing. But Ball treats original author James Dashner's goofy setup and his teen martyrs so solemnly that the picture begins to suggest Lost if every character in it were played by Matthew Fox. And by the time Patricia Clarkson shows up, cast in the same heartless-autocrat role played by Kate Winslet in Divergent and Meryl Streep in The Giver, I relinquished hope of any humanity sneaking through the movie's drearily earnest façade. With its fuzzy nighttime photography particularly irksome and its climax that - surprise! - merely sets the stage for future adventures, I found every minute of The Maze Runner a drag. Of course, something miraculous could have happened in those first three or four minutes I missed, but I'm not curious enough to ever bother finding out.
2:35 p.m.-ish: Time for Kevin Smith's horror lark Tusk, and advance word on his newest release suggested that it was a little nuts. It's not. It's absolutely bat-shit insane, like what you'd get if you mixed Clerks, The Twilight Zone, Misery, and The Human Centipede in a blender, poured it in a margarita glass, and had it served to you by Captain Jack Sparrow. I freaking love this movie. Having finally caught up with Smith's 2011 Red State a few weeks ago - an embarrassing act of tardiness on my part, as the film probably boasts the strongest writing, acting, and technical prowess of its creator's screen career - I'll admit I was greatly looking forward to the Jersey auteur's latest trip to the dark side. But while it's less structured than Red State, although not in an unsatisfying way, I never dreamed I would have so much fun at Smith's gut-busting gross-out, a movie whose plot (which really shouldn't be spoiled) I'll merely summarize through one of numerous tongue-in-cheek lines delivered by co-star Michael Parks: "You will be a walrus, or you will be nothing at all."
Given what happens to Justin Long's noxious podcaster in the film, "nothing at all" would certainly be the preferable option. But that would deny us the spectacular fearlessness of Long's portrayal and close to half of Tusk's astonishing ballsiness; not since 1985's Re-Animator, maybe, have I seen a horror comedy so happily unrepentant about its cheesiness, so adept at transcending that cheesiness, and so willing to carry its central joke to its logical yet mind-blowing conclusion. You could argue, as with most Smith offerings, that the filmmaker is overly indulgent toward his actors, whose scenes (some of which feel improvised) tend to run several minutes longer than necessary, and the observational gags about Canada feel mostly stale. But those gags are at least enthusiastically delivered, and considering the cast Smith is working with here, why the hell not let them prattle on? Haley Joel Osment has some strong, unaffected moments, and Genesis Rodriguez is given a beauty of a speech that her director allows her to perform in a teary-eyed, unbroken, three-minute take. Johnny Depp, hiding beneath pallid flesh tones and a protruding honker, is magnificently funny as an outré French-Canadian Inspector Clouseau who tells deliriously rambling stories and demonstrates detective skills learned from The Big Lebowski. And Parks, following his dementedly brilliant turn as Red State's chief psycho, must now be considered as much of a Kevin Smith muse as Jason Mewes. Given fantastically florid, nearly lyrical monologues about Ernest Hemingway and the Normandy invasion and his close acquaintance with an enormous sea mammal, Parks is both hysterical and utterly terrifying, much like the grotesquely riotous creations, in the film's final third, by makeup artist Robert Kurtzman. But I've probably already said too much. Go. Enjoy. And good luck, for several days after, trying to get Tusk out of your head.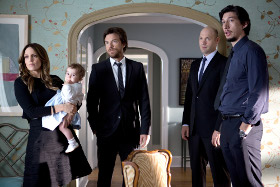 4:30 p.m.-ish: My cineplex duties end with This Is Where I leave You, which is based on a book by screenwriter Jonathan Tropper. It's the story of an estranged, quarrelsome family that, according to his dying wish, is forced to sit shiva following the patriarch's demise, despite the clan's non-Jewish leanings. (How non-Jewish? When Mom barks at a child for momentarily leaving his shiva seat, she's reminded, "You're sitting in the same place we put our Christmas tree.") Jason Bateman, Tina Fey, Corey Stoll, and Adam Driver are the siblings, Jane Fonda is their mother, and assorted spouses, lovers, friends, and hangers-on are played by Connie Britton, Rose Byrne, Kathryn Hahn, Debra Monk, Timothy Olyphant, Ben Schwartz, and Dax Shepard. That means, among them, their TV credits include major roles in 30 Rock, American Horror Story, Arrested Development, Damages, Friday Night Nights, Girls, House of Cards, House of Lies, Justified, The Newsroom, Parenthood, Parks & Recreation, and Saturday Night Live. And that means, almost inevitably, that director Shawn Levy's dramatic comedy feels less like a movie than the greatest Emmy Awards after-party ever.
As least, that's how I chose to view it, because I didn't really get much satisfaction from the film otherwise. As seems to commonly happen when a novelist adapts his or her own work for the screen, Tropper appears so enamored of his dialogue that he can't bear to part with a single line of it, which leads to too many over-explicit, overly on-the-nose conversations in which characters spout sentiments that would be perfectly obvious in silent reaction shots. (Tropper hasn't yet learned to trust actors to convey themes nonverbally, and as busy with comedic schtick as they are, Levy doesn't allow his cast members much time for introspection.) And the movie doesn't resemble reality so much as a tightly structured, inherently fraudulent sitcom. Byrne's cute eccentric who shows up with eyebrow-raising convenience (and who owns a skating rink that, also conveniently, never has any customers), Olymphant's damaged goods across the street, Schwartz's "wacky" rabbi ... . These and other characters are given exactly one personality trait that fits them into one prescribed box in the narrative, and very little that they say or do has any true-to-life ring to it. Still, pretty much throughout This Is Where I Leave You, I was content to just enjoy the familiar TV stars and let believability take a back seat. Bateman may be too predictably cast as the put-upon, responsible member of the clan - Michael Bluth has been a pop-culture fixture for more than a decade now and it feels like it - but he has slick, spiky chemistry with Fey, and Stoll lets a lovely sense of loss permeate his sheen of bland respectability. Fonda is wonderfully domineering; Hahn is quietly heartbreaking. And Driver gives simultaneously the funniest, most energized, and overall best performance of the bunch as the baby black sheep of the family clearly overjoyed at hanging with his much-older siblings as an adult. (In the film's most tender sequence, he thanks older sis Fey for being "the voice in my head" during his formative years with absent parents.) I didn't ever really buy the movie, but the pleasure I took in its performers suggests that someday, I might just buy the movie.
6:30 p.m.-ish: This is where I leave you.