THE INFILTRATOR
A true tale that plays like fiction, director Brad Furman's The Infiltrator concerns a federal agent (Bryan Cranston) who poses as a money launderer to help bust Pablo Escobar's drug cartel, and it's based on a memoir written by said agent Robert Mazur, not on a pre-existing movie. Yet it somehow feels like even more of a remake than the new Ghostbusters – principally a remake of Donnie Brasco, The Departed, or any number of similar entertainments involving disguised cops playing long cons, wire-tapping, bloody retribution, and swarthy gangsters in flashy suits conversing while topless women pole-dance in the background. It may boast saltier language and more bare breasts than broadcast-TV allows, but the movie wasn't even 20 minutes old before I thought, "Hey ... haven't I already seen this episode of Miami Vice?!"
Furman's outing does have one spectacular thing going for it, and to the surprise of probably no one, it's Cranston, who lends the film his expected Breaking Bad intensity and focus, and appears to find, and evince, every last shred of character complexity. The problem is that Mazur, here, doesn't have much complexity; from the start, he's shown as such a fundamentally decent family man and honorable enforcer of the law that there's never any real possibility he'll turn to the dark side, even with the arrival of the beautiful FBI rookie (a fine Diane Kruger) recruited to play his launderer's fiancée. Devoid of what might have been a fascinating central question – Just how far will Mazur go to maintain his cover? – The Infiltrator has nothing much to do but give us low-wattage retreads of incidents we've seen dozens of times in other works, but with the danger levels significantly diminished. (When Mazur receives the threat of a miniature coffin in the mail, there's blood, but no human appendages in it.) And while the editing feels really awkward – with several scenes appearing to come out of nowhere and John Leguizamo, as Cranston's partner, disappearing for baffling stretches of time – it doesn't inspire as much confusion as numerous sequences that play in full. Why send Kruger's agent to pick up a tuxedo from Mazur's house, where such an action would surely humiliate Mazur's wife Evelyn (Juliet Aubrey), when he could just as easily have rented one? Why, on their anniversary date, are the Mazurs presented with a hilariously, inappropriately huge chocolate cake that could conceivably feed a party of 16? Is it just so someone's face can get safely planted it it? (Answer to that last one: Yup.) Cranston aside, there's nothing much to latch onto or care about in The Infiltrator – although I did love discovering that its screenplay was by one Ellen Sue Furman, making this the only major motion picture I can think of in which a director's script was written by his mom. Cocaine, strippers, gunshots to the head ... . That Brad, I tell you. Such a good boy.
DE PALMA and WIENER-DOG
If my memory is correct, the last Brian De Palma movie that screened in the Quad Cities was 2006's The Black Dahlia, and the last Todd Solondz movie to screen here was none of them. Consequently, it was a pleasure to trek to Iowa City's FilmScene for a Saturday double-feature of De Palma, a 105-minute talking-head documentary on the legendary director, and Wiener-Dog, the eighth feature by the director of the legendarily nihilistic Welcome to the Dollhouse. I left one of them wanting to watch as many movies as possible; I left the other thinking I might never watch another movie again, considering I was planning to kill myself. Guess which was which!
Directed by Noah Baumbach and Jake Paltrow, De Palma is nothing more or less than its subject guiding us through every single one of the 29 full-length releases on his résumé, with attention also paid to De Palma's crucial cinematic influences (primarily Hitchcock's Vertigo), his early shorts, and his "Dancing in the Dark" music video in which Springsteen boogied on-stage with Courteney Cox. It is, in other words, absolute movie-geek nirvana. We see a baby-faced Robert De Niro in his big-screen The Wedding Party debut and a tanned-to-immobility Cliff Robertson in Obsession, the director hilariously expounding on Robertson's performance deficiencies. We discover how Carrie and Star Wars were being cast simultaneously, with images of De Palma and Lucas leading casting sessions with Amy Irving, William Katt, and Harrison Ford. We learn how the Keith Gordon scenes in Dressed to Kill were inspired by De Palma's own past following his father with a camera as he cheated on Brian's mother. We're reminded of the career-best greatness of John Travolta in Blow Out and the amateurish awfulness of Craig Wasson in Body Double. We glean insight into the creation of instantly iconic scenes in Scarface and The Untouchables and Mission: Impossible. We get De Palma's true feelings about his critically lambasted The Bonfire of the Vanities. ("It's a good movie. Just don't read the book!")
Baumbach and Paltrow pull off a magnificent feat in making the entire documentary feel like a single-take, one-sided conversation interrupted only by film clips – a tour de force not unlike the seamless, intensely graceful Steadicam shots their subject is routinely lauded for. Yet the filmmakers graciously cede the spotlight to De Palma himself, who recounts his half-century in show business with a joyously gregarious spirit, supreme intelligence, and an infectious laugh, and if you're a fan of any of his aforementioned movies – or Sisters, Phantom of the Paradise, The Fury, Casualties of War, Carlito's Way, et cetera, et cetera – De Palma will prove too deliciously satisfying to miss. On more than a half-dozen occasions, the explored filmmaker wraps up some piece of amazing trivia with a breezy "Holy mackerel!" That's maybe not the go-to phrase you'd expect from the guy who had Angie Dickinson slashed to death in an elevator and treated Sissy Spacek to the world's crappiest prom night. But yes, Mr. De Palma. "Holy mackerel!" indeed.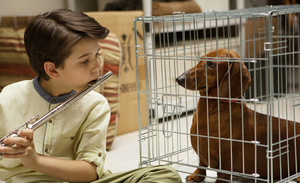 After so many clips of telekinetic massacres, subway stalkings, and Al Pacino saying hello to his little friend left me almost obscenely happy, I guess I should have expected the tale of an adorable pet dachshund to leave me utterly miserable. And so it was with Solondz's Wiener-Dog, although there was a great deal about the writer/director's latest – the casting, the compositions, the Edward Lachman cinematography – that did put a smile on my face. A four-part pastiche in which the titular pup passes from one sad-sack owner to another, you may think, right off the bat, that things can't get worse for the dog than they are in his first home with a short-tempered patriarch (Tracy Letts), morbidly passive-aggressive matriarch (Julie Delpy), and well-meaning young cancer survivor (Keaton Nigel Cooke) whose treat of granola power bars leads to debilitating diarrhea. If that's what you think, you don't know Solondz. Having seen his other works, and having even enjoyed a couple of them, I feel I somewhat do know him, and was consequently less surprised than shocked at how much of this film wasn't relentlessly downbeat.
There are solid laughs in Wiener-Dog's segment involving Danny DeVito as a struggling professor of screenwriting and a gleeful scene of that little kid and Wiener-Dog trashing the living room, plus a cheeky "intermission" song reminiscent of the title tune to Blazing Saddles. And I never expected Solondz to bring such sweetness and tenderness to his reunion with Welcome to the Dollhouse's horrifically maligned Dawn and her high-school tormentor Brandon, played here by Greta Gerwig and Kieran Culkin. (Gerwig's mere presence gives Dawn a sunny facelift, and Culkin, in his strongest screen performance yet, is heart-wrenching when informing Brandon's brother of their father's death.) But unlike in Solondz's 1998 masterpiece Happiness, or even 2009's underrated Life During Wartime, the individual vignettes here don't morph into any kind of unifying vision, even after a late fantasy sequence involving Ellen Burstyn's sour senior seems to underline the movie's themes in thick black Sharpie. It's just 90 minutes of rather typical (for Solondz) black-comedy anguish tempered by occasional grace notes, and although it features images you may never forget – much as you may want to – I'd be surprised if the experience overall is one that will linger. It feels dog-tired.