In a rather perverse bit of scheduling, at least for me, last weekend brought with it the area release of exactly zero debuting films, while this past weekend delivered six ... on the same weekend, I should add, that I had a lengthy road trip out of town and appeared in four performances of a local stage production. But I'm not one to complain. Onward!
Friday, 11:30ish: I adore Jonah Hill, but I'm entering director David Gordon Green's The Sitter with more than a touch of trepidation, as the previews suggested nothing more than a profane Adventures in Babysitting with an even curvier lead. For nearly a half-hour, though, my fears prove happily unfounded. While Hill is awfully funny, his three pint-sized charges - Landry Bender, Kevin Hernandez, and Where the Wild Thing Are's terrific Max Records - manage to match him in personality and comedic confidence, and inspired supporting actors such as Ari Graynor, Jessica Hecht, Bruce Altman, and Sam Rockwell routinely supply added cheer. (As the movie is by the helmer of Pineapple Express and Your Highness, you won't be surprised to learn that James Franco also makes a cameo, albeit as the Franco of General Hospital.) Yet you might feel a premonition of Bad Times to Come with The Sitter's early, retrograde stereotyping - there are lazily offensive swats at blacks, Latinos, and gays even before the plot officially gets rolling - and as the film progresses, the initially sharp humor morphs into a thoroughly unappealing blend of tired slapstick and maudlin sentiment, neither of which Green appears to have any interest in staging. Those on-screen continue to do their all, but by the end, they're totally undone by the by-the-numbers script and their director's relentless filmmaking apathy. Remember when David Gordon Green, after the indie dramas George Washington and All the Real Girls, seemed poised to be the next great thing? Nah, neither do I.
Friday, 1:35ish: Walking into the auditorium at the tail end of the trailers, I notice that the framing is off at my screening of Like Crazy. I alert a cineplex employee and the problem is quickly fixed, but then I realize why no one else had brought the matter to anyone's attention: I'm the only one there. Considering that director/co-writer Drake Doremus' romantic drama is premiering sans advertising a couple months after its national release in larger markets, this isn't terribly surprising. But it is unfortunate, because this slight yet tender independent movie is filled with the sorts of lovely, touching, instantly recognizable fringe moments that practically never pop up in major-studio releases. A simple, sad story about a lovestruck American and Brit (Anton Yelchin and Felicity Jones, respectively) who make one stupid decision and wind up paying for it forever, Like Crazy features a script with dialogue mostly improvised by its leads, and the film would've benefited from tighter structuring; a few of Yelchin's and Jones' arguments, especially, sound distractingly like generic banter created on-the-spot in an intermediate acting class. Yet while the film is under-written and occasionally over-directed - Doremus' fast-motion and blackout effects call too much attention to themselves - there are so many sequences of legitimate passion and intensely subtle emotional anguish that its failings are mostly irrelevant. (The stars' first kiss is a spectacularly delayed thrill, and once the characters are separated by an ocean, their teary late-night phone call will likely turn to jelly anyone who's ever endured a painful long-distance relationship.) Jones, who seems magically able to appear 16 or 45 at will, is particularly fine here, and I leave the film delighted to have seen Yelchin sharing screen time with the sweet, sane Jennifer Lawrence, because the last time they appeared opposite one another was in The Beaver. I'm now slightly closer to erasing that repellent movie from memory.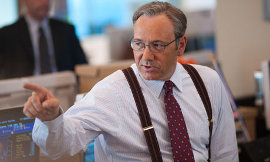 Friday, 5:00ish: Compared to Like Crazy, the audience at my screening of Margin Call is positively jam-packed, as I'm seeing this dramatic thriller - another recent release getting to us somewhat tardily - with two other people. After the film ends, I consider us to be three of the area's luckiest people. A fictional account of 24 hours at the genesis of 2008's economic meltdown, with a Manhattan investment firm facing the loss (or, rather, the nonexistence) of more than a trillion dollars, the movie is the writing/directing debut of J.C. Chandor, and I'm a little floored to think about what he might eventually accomplish down the road. How on Earth did this guy craft such a smart, cogent, exciting, unfailingly entertaining movie through little more than hushed conversations in dimly lit board rooms? And how did Chandor not only elicit performances from Kevin Spacey, Jeremy Irons, and Stanley Tucci that rank with their very best (which is already saying a lot), but get Simon Baker, Penn Badgley, and even Demi Moore to match them? For 105 minutes, and with Zachary Quinto and Paul Bettany rounding out the pitch-perfect cast, Margin Call zips along like a higher-stakes version of David Mamet's Glengarry Glen Ross, emerging as a lacerating, trenchant, and - against all odds - remarkably empathetic piece of work. It's also a stellar reminder of what great, if perhaps overly familiar, character actors can do when treated to material that actually deserves them. Prior to Chandor's film, I'd say that Irons' most memorable big-screen villain over the past 20 years was The Lion King's Scar. Call it heresy, but I'd argue that his cartoon feline might now be the runner-up.
Friday, 7:30ish: I saw director/co-writer Alexander Payne's dramatic comedy The Descendants in the Chicago area on Thanksgiving night, and as I didn't much care for it, I thought I'd better give this George Clooney vehicle another try after the movie finally made its way to our area. Considering that most reviewers are turning cartwheels over the film - Payne's first directorial outing since 2004's Sideways - surely I'd enjoy it more on a second try, yes? No. I'm fine with the praise being bestowed on Clooney, who gives a moving, deeply felt performance as a man forced to contend with two angry, alienated daughters (Shailene Woodley and Amara Miller), a comatose wife, and the recent revelation of his spouse's affair. And every so often, Payne and his cast come through with wonderfully humane touches that feel just right: Clooney sprinting downhill and having to navigate a tricky turn in boat shoes; Robert Forster quickly, unapologetically punching a teenage snot in the nose; Matthew Lillard grinning through small talk with an unwelcome house guest. But how are the nation's genuflecting critics so willing to ignore Clooney's voice-over narration that spells out plot points in overly explicit detail and then, halfway through the picture, suddenly vanishes? Or the protracted subplot about an impending real-estate development whose eventual resolution is obvious the minute it's introduced? Or young Miller's misdirected, grating sitcom acting? Or the character of the appallingly insensitive stoner sidekick (Nick Krause), who's revealed to actually be a wise-beyond-his-years sweetie-pie? Or Payne's trashing of Judy Greer's sensitive portrayal by turning her into a shrill, hysterical punchline? Viewing The Descendants again, I just get more and more frustrated by everything that bothered me the first time around, and especially by Payne's penchant for punctuating scenes with easy laughs that consistently undermine the drama. The movie's nowhere near as wretched as Payne's About Schmidt, thankfully, but it's similarly unmoving and overrated, and I leave the screening realizing it's probably bound to be my least favorite Best Picture nominee since 2008's The Reader and The Curious Case of Benjamin Button. Well, three years is a good run.
Saturday, 10:30ish: In the first five minutes of Garry Marshall's romantic-comedy mosaic New Year's Eve - a follow-up, of sorts, to the big-screen Love Boat that was the director's Valentine's Day - Michelle Pfeiffer attempts to cross a Manhattan intersection and gets knocked over into a big pile of garbage. That's about as appropriate a metaphor for the movie as I can think of. Over the course of two interminable hours, not one remotely funny or charming or even mildly engaging thing happens amongst a cast that includes, in descending order of bearability, Halle Berry, Josh Duhamel, Abigail Breslin, Lea Michele, Sarah Jessica Parker, Jessica Biel, Jon Bon Jovi, Hilary Swank, Hector Elizondo (natch), Katherine Heigl, Seth Meyers, Ashton Kutcher, Sofia Vergara, and Zac Efron. (Seriously, he had lots of competition here: How is Efron still able to be the worst performer in every movie he makes?) About two dozen people are joining me and a fellow area critic for this screening, and I'm not sure I heard one laugh the whole time; with a half-hour of New Year's Eve still to go, I found my attention shifting to the backs of the empty seats in the row ahead of me, which was a calming sight considering all the mirthless rom-com mayhem taking place above them. At one point, Robert De Niro, as a cancer-stricken man on his deathbed, mutters, "I've made so many mistakes." Indeed. And you're not done yet, Bob.
Saturday, 4:30ish: I end the weekend's half-dozen screenings with another film I've actually seen before, albeit two years ago, and in a slightly less-polished state. Writer/director Edward T. McDougal's Civil War drama Dog Jack, which concerns a runaway slave who joins the Union army (with his faithful pooch adopted as his regiment's mascot), has secured a somewhat surprising and certainly limited local release, considering that this very, very low-budget outing was filmed in the middle years of the last decade. I was able, however, to catch a rough cut of the movie at an invited preview in Chicago in 2009, as one of the cast members is my friend and frequent area actor Eddie Staver III. And while I'm no doubt biased because of the coolness factor in watching a pal perform - and, I must say, quite well - on the big screen, I probably would've had a fine time regardless. Given the shaky portrayals by much of the ensemble and the wan dialogue and the over-reliance on Louis Gossett Jr.'s narration (he's got a beautiful voice, of course, but never shuts up here), this effort doesn't really qualify as a good movie. But with his telling of this true-life tale, McDouglas delivers an earnest, heartfelt family drama nonetheless, with several moving sequences, terrific turns by Eddie Huchro, Paul Jaquith, Stephen Schuch, and the haunted-looking lead Benjamin Gardner, and numerous passages featuring lovely cinematography by Michael N.J. Wright. I couldn't really argue with the opinion of the gentleman who exited the movie in front of me, and complained, "It wasn't about the dog at all." (Despite the film's title, the canine does seem like an afterthought here.) But God knows that, for a fraction of the budget, Dog Jack is still a more professional, and more rewarding, achievement than New Year's Eve.