WANDERLUST
If I could pick one show-biz personality with whom I could be best buds, I'm pretty certain I'd choose David Wain, the director of Wet Hot American Summer, The Ten, and the new fish-out-of-water comedy Wanderlust. Can you imagine how awesome a Wain-hosted party must be? Even if there were awkward moments, and draggy moments, and things weren't quite as wild as you hoped, he'd still invite the likes of Paul Rudd, Justin Theroux, Ken Marino, Michaela Watkins, Malin Akerman, Kathryn Hahn, and Joe Lo Truglio. Whatever your qualms, wouldn't the hilarity they provided make the experience totally worth it?
That, at least, is how I felt upon leaving Wanderlust, in which Rudd's and Jennifer Aniston's tense, financially strapped New Yorkers enjoy an unplanned night in a Georgia commune, and decide to ditch their big-city ambitions for a simple life with their guitar-strumming, weed-smoking, free-loving hosts. As a huge fan of Wain's early, deliriously crackpot efforts, his latest, for my tastes, was a bit too reminiscent of his genial yet disappointingly formulaic Role Models; the hysterical bits were frequently offset by unconvincing sincerity, and I think I audibly sighed when it was revealed that developers wanted to tear down the commune to build a casino. (Wasn't this hoary plot device just employed for The Muppets?)
Yet everyone in the cast - which, in addition to the aforementioned talents, includes the well-used Alan Alda, Lauren Ambrose, Kerri Kenney, and Linda Lavin - scores laughs and keeps you smiling throughout, and every so often, Wain and his performers manage to shoot Wanderlust into the stratosphere. I adored the scene that found the hippies gathering for a Truth Circle, and the TV newscast that turned into a misogynist nightmare for Jessica St. Clair's anchorwoman, but it was Rudd's bathroom soliloquy - feverishly talking (or rather, drawling) himself into a one-night-stand - that had me cackling 'til I wept. His inspired episodes of the Adult Swim series Childrens Hospital notwithstanding, David Wain may be mellowing these days. Paul Rudd, however, just seems to get funnier and more fearless as the years progress, and has become an almost completely reliable indicator that, no matter a movie's weaknesses, you'll be treated to at least a few bursts of happily unpredictable comic invention. I love him, man.
ACT OF VALOR
With its cast of nonprofessional actors yet intensely professional Navy SEALs, and numerous action scenes shot from the first-person perspective - suggesting our participation in a particularly high-stakes video game - the only way Act of Valor could be a more obvious advertisement for military service would be if it routinely flashed the phone number for the Navy's local recruiting office. But damn is it a frequently effective ad. Based, as its opening title card tells us, "on real acts of valor," this exciting, sometimes horrific action thriller by directors Mike McCoy and Scott Waugh overdoes the slow-motion and keening on the soundtrack and long, meaningful glances between SEAL warriors; for all of the movie's vérité, it's awfully Hollywood. The attack and rescue sequences, however, are spectacularly well-edited and -shot - there are passages here, such as one in which our heroes sneak up on kidnappers by walking along the bottom of a river, featuring images I've never seen before - and despite their (understandably) rather stiff performances, the SEALs display true screen presence, and make the camaraderie and carnage more moving than it'd likely be with actual actors assuming their roles. Act of Valor is a little one-note, but it works, and I was grateful for the occasional spikiness of screenwriter Kurt Johnstad's dialogue. At one point, describing an incident in which a terrorist made an unexpected getaway, a SEAL commander says, "He pulled a Roman Polanski on my ass." God, let's hope not.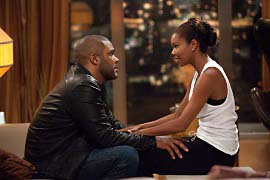 TYLER PERRY'S GOOD DEEDS
For the record, Tyler Perry's alter-ego harridan Madea does not appear in the auteur's Tyler Perry's Good Deeds, and I don't think I've ever missed her/him quite so much; this dour, oppressively weepy drama about a middle-aged CEO finding his true self could only have benefited from the character's exuberant, malapropism-dropping sass. Still, Perry's latest is so sincere and well-meaning that it's almost impossible to fully dislike. And while there's no Madea, and Perry himself proves utterly unmemorable as lead Wesley Deeds (get the title now?), we are given an exceptionally impressive Thandie Newton playing against him, Gabrielle Union as a surprisingly complex romantic rival, and, best of all, Phylicia Rashad as Perry's scheming mother, who strolls into several scenes, smiles with wicked malevolence, and slinks off. She isn't quite Perry in an oversize house dress, but in a work as devoid of lightness as this one, she'll do quite nicely, thank you.
GONE
Tweeting my immediate response to director Heitor Dhalia's boring, ridiculous, hysterically inept thriller in which saucer-eyed Amanda Seyfried tries to prove a serial killer's existence by making one criminally stupid decision after another, I wrote of Gone, "I really wish I hadn't." Some movies just don't deserve more than 23 characters.
Follow Mike on Twitter at Twitter.com/MikeSchulzNow.com.