CAFÉ SOCIETY
Woody Allen has made dozens of movies I've been happy to watch. Café Society may be the first one I'd be happy to eat.
Beginning with its opening shot, the camera fixed on the twilight exterior of a gleaming white mansion and its perfect swimming-pool reflection, you know that the legendary Apocalypse Now cinematographer Vittorio Storaro is going to make Woody's new comedy look like a zillion bucks. What you might not anticipate is just how many shots here are going to make you drool – not in the food-porn way of, say, Babette's Feast or Chef, but in the breathtaking dazzle of Storaro's blues and silvers and, in particular, his golds that suggest a lip-smacking luxury to send Donald Trump to his fainting couch. As the writer/director weaves his tale of an unfocused young man (Jesse Eisenberg's Bobby Dorfman) who attempts to make his mark first in the 1930s film industry and then in the burgeoning supper-club scene, half of the movie is set in Los Angeles and half in New York. Yet whether he's photographing a bustling Hollywood soirée or an intimate candlelit dinner, Storaro gives his post-Depression images a sheen more suggestive of The Last Emperor than Radio Days. And while they're always beautiful on-screen, I'm not sure that Kristen Stewart and Blake Lively have ever looked more ravishing than they do here bathed in the Storaro glow; in one nightclub conversation with Eisenberg, Lively, in an open-back gown, is so off-the-charts stunning that I was frankly amazed her co-star could remember his lines. I could watch Café Society all day long. I could do so less grudgingly if that didn't mean also having to listen to it.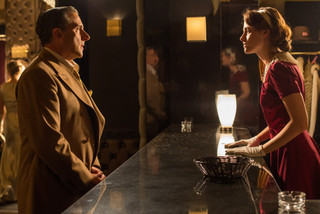 The narrative, one of Woody's more sprawling efforts in recent years, is actually quite engaging, and you're intrigued to see how the filmmaker is going to merge his two geographically distinct storylines: one involving Bobby's L.A. dealings with Steve Carell's blustery agent Phil Stern and Stewart's luminous secretary Vonnie, and one concerning Bobby's working-class family in Brooklyn. (This clan, by the way, is priceless: Jeannie Berlin and Ken Stott as Bobby's parents, A Serious Man's Sari Lennick as his sister, and Corey Stoll – Midnight in Paris' Ernest Hemingway – as Bobby's gangster brother.) But Woody sure doesn't make the getting there a picnic. For one thing, as in Radio Days, Woody himself narrates, and it's my sad duty to report that he sounds awful – or maybe not awful so much as really, really old. To be fair, the man is 80. But he sounds sluggish and disconnected here, his obvious attempts at careful enunciation only exacerbating the lethargy and murdering the few jokes he allows himself. Eisenberg, though, is equally difficult to bear, and doesn't have Woody's excuse of eight decades on Earth. The actor was a terrific surrogate for the auteur, signature stammer and all, in his portion of 2012's To Rome with Love. In Café Society, however, Eisenberg is so vocally mannered and artificially beholden in his impersonation – listen to the way he pronounces "joint" – that you long to be rid of him; given that its cast includes the aforementioned talents along with Parker Posey, Paul Schneider, and Anna Camp, you begin to wish the film were about anyone other than Bobby.
Yet regardless of whether the voices of Eisenberg or Allen are heard, the movie is a bummer. Thankfully, its worst scene – a deeply unnecessary, desperately unfunny motel encounter between Bobby and Camp's prostitute on her first day of work – comes near the very start. We still, though, have to endure poorly staged repartee and sequences that don't have any point even on reflection, plus a number of bits, primarily Stern's rationale for his adultery, that sound uncomfortably close to what a Woody Allen confessional might sound like. As for the filmmaker's usual thematic obsessions (morality, death, the afterlife), they get their standard workouts here, but are introduced, and consequently dropped, with rather thudding awkwardness, the skilled performers too often forced to mask fundamental weaknesses in their material. Woody's latest may look wondrous, but beyond its visuals and appealing supporting cast, I can't think of many reasons to see it more than once – and this mega-fan almost never sees a Woody Allen movie only once. Late in the film, while discussing his mortality, Bobby's father snaps, "I accept death – but under protest!" Being a completist, I'm sure I'll one day own Café Society. But under protest.
CAPTAIN FANTASTIC
At present, Quad Citians wanting to see Café Society will have to drive an hour to do so, as the closest venue currently screening it is Iowa City's Marcus Sycamore Cinema. You'll also have to drive an hour in order to catch Viggo Mortensen in Captain Fantastic at Iowa City's FilmScene, but that particular experience is far more worth the gas money. Writer/director Matt Ross' family dramedy casts Mortensen as patriarch Ben Cash, who, along with his wife Leslie (Trin Miller) and their six school-aged children, lives in a deep-forest compound in Oregon with loads of survivalist gear, plenty of literary classics, and a complete absence of neighbors. After a tragedy forces the Cashes to leave the state for Arizona, they hit the road in their makeshift school-bus home christened "Steve," and we're initially primed for a lot of deadpan fish-out-of-water humor – a kind of Swiss Family Robinson-meets-Alexander Payne affair. But while there are laughs, and big ones, Ross' achievement is a richer and more complexly satisfying entertainment than that.
It certainly has its share of contrivances; financial concerns for the jobless clan are never an issue – perhaps because our heroes' last name is Cash? – and plot developments toward the end are certainly made more manageable by Leslie's estranged parents (the outstanding Frank Langella and Ann Dowd) being conveniently super-rich. It's also not always clear whether Ross is treating those outside of the Cashes' orbit – the trailer-park denizens played by Missi Pyle and Erin Moriarty, the suburban homeowners portrayed by Steve Zahn and the marvelous Kathryn Hahn – with clear-eyed honesty or mere condescension. The movie, though, is teeming with personality, in large part because Ross and his excellent young actors (George MacKay, Nicholas Hamilton, Samantha Isler, Annalise Basso, Shree Crooks, and Charlie Shotwell) make each of the six Cash kids distinct and memorable; although they may behave as a unit, these youths are fierce individuals. There are bewitching, moving set pieces galore: Ben demanding that daughter Kielyr use critical thinking to describe the book Lolita; son Rellian turning on his father for his selfishness; 18-year-old Bo proposing, on bended knee, to the first girl he's ever kissed. (Not long after the film begins, the family indulges in a wonderful, improvised musical jam at a campfire, marking perhaps the first time guitars have been spontaneously pulled out at a gathering and I didn't want to run screaming.) As for Mortensen ... . Well, if your movie is called Captain Fantastic, you might find a more appropriate star for the title role, but it's hard to imagine who that star might be. Witty, forceful, ironic, tyrannical, and above all gloriously humane, Mortensen is a powerful presence here with an emotional transparency to break your heart, and it's to his and Ross' immense credit that Ben Cash never emerges as either a savior or a monster. He's simply, or rather "simply," a man – though given Mortensen's eternal charisma and talent, he's really more like Superman.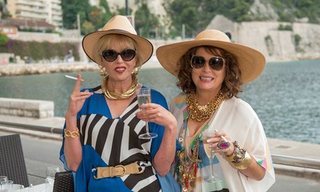 ABSOLUTELY FABULOUS: THE MOVIE
Never having seen a single episode its Brit-com predecessor, and having only rudimentary knowledge of what that BBC series was about (two middle-aged besties smoking and drinking and spending – am I right, darling?), my visit to director Mandie Fletcher's Absolutely Fabulous: The Movie was like visiting another planet: I wasn't familiar with the terrain, I sure as hell didn't know what these creatures were wearing, but it certainly was a trip. Here are a few of the mental souvenirs I came home with. Stars Jennifer Saunders and Joanna Lumley sharing deliciously depraved comic chemistry. Julia Sawalha, as Saunders' put-upon daughter, looking uncannily like a depressed Emily Blunt. Supermodel legend Kate Moss reminding me that somehow, after two decades of fame, I still wouldn't be able to pick her out of a lineup. Chris Colfer reminding me that while I miss him, I don't miss Glee. Stale sitcom jokes indicating that some comic material truly needs a laugh track to thrive. Celebrity cameos proving utterly meaningless when you don't know who the celebrities are. Rebel Wilson again demonstrating herself impervious to weak gags. Jon Hamm again demonstrating himself the best of good sports. Stella McCartney suggesting that, in real life, she may be kinda funny. Gwendoline Christie, that peerless Game of Thrones Amazon, looking splendid in black feathers. Chanteuse Lulu, in a surprisingly major-ish role, making me nostalgic for To Sir, with Love. Mark Gatiss making me pine for another season of Sherlock. "Hand money" being an acceptable variant on "cash." "Brigitte Bardot" being a more-than-acceptable setup for a killer punchline. And Jane Horrocks, as an über-bizarre assistant named Bubble, wearing at least three outfits – one of them a human-face dress with oversize eyeglasses as a necklace – that should net costume designer Rebecca Hale an Oscar. Absolutely Fabulous? Not exactly. But pretty freakin' fascinating.
Follow Mike on Twitter at Twitter.com/MikeSchulzNow.