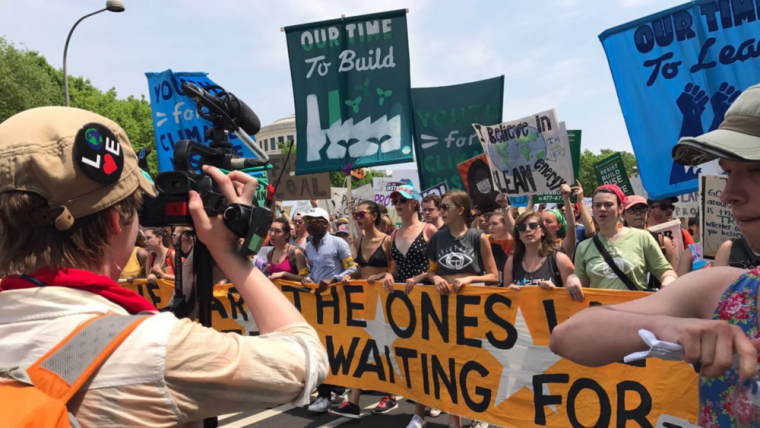 Sunday, February 5, 2 p.m.
North Scott High School Fine Arts Auditorium, 200 South First Street, Eldridge IA
Lauded by Films for the Earth as a work that "captures the vibrant untold story of the global youth climate movement," the documentary Youth Unstoppable serves as the third presentation in River Action's annual QC Environmental Film Series on February 5, its presentation at North Scott High School underlining why First Showing deemed the work "a powerful film documenting the rise of the youth climate movement through the eyes of climate activist Slater Jewell-Kemker.
Youth Unstoppable's filmmaker was 15 when she began documenting the untold stories of youth on the front lines of climate change, telling of a generation of activists who refused to let their futures slip away without a fight. Over the course of 12 years and set against stunning visuals of a planet in crisis, Jewell-Kemker's documentary follows the evolution of a diverse network of youth rising up to shape the world they will live in. After screening at more than 100 film festivals and events around the world, Youth Unstoppable had its global premiere during UN Climate Week in New York City on September 23 of last year, and its updated version reveals how youth have become the most powerful force in the international climate debate. The documentary demonstrates how the younger generation is shaping politics in the form of the Green New Deal, presidential campaigns, and climate emergencies being declared in major cities worldwide, with a key moment in the update a speech delivered at COP24, the UN Climate Summit in Poland.
Beyond showing the human side of the climate emergency, Youth Unstoppable reveals how high the stakes are for the generation that didn't ask for the crisis but has become determined to solve it. As Davis Guggenheim - the Oscar-winning director of 2006's An Inconvenient Truth - stated, "It's up to young people to get the word out that the climate crisis is one of the most severe problems of our time and we have to tell the story of how we're going to fix this Earth, and how we're going to change man's relationship to it. It's up to young people to galvanize people around this issue, and thanks to Slater, we're going to get this done."
Jewell-Kemker has been making movies since she was six. An award-winning filmmaker and climate activist, she has twice been featured in Forbes magazine, and was selected by The Hollywood Reporter as one of 15 filmmakers under 30 to watch. Also an accomplished activist and public speaker who is frequently invited to speak on film and climate change panels to represent the voice of youth, Jewell-Kemker lives in a tiny house on wheels on her farm in Southern Ontario, Canada.
Youth Unstoppable will be screened in the North Scott High School Fine Arts Auditorium on February 5, admission to the 2 p.m. showing is $5, and more information on the QC Environmental Film Series is available by calling (563)322-2969 and visiting RiverAction.org/filmseries.