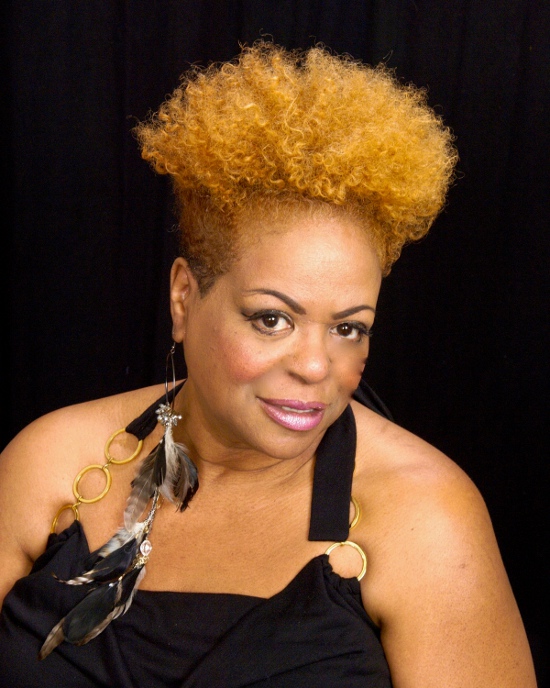 Lady Bianca. Her very name suggests confidence and brio and more than a hint of glamor, qualities that are readily apparent in the artist's soulful, soaring renderings of blues originals and covers, and that led Blues Revue magazine to call her "a great talent whose hearty, refreshing approach tugs at the heart while moving the feet." (For a quick, thrilling introduction to Lady Bianca's gifts, check out her performances of "Ooh, His Love Is So Good" - from her 1995 debut album Best Kept Secret - and Elvis Presley's "Heartbreak Hotel," both viewable on YouTube.)
So when you learn that Lady Bianca (born Bianca Thornton) was given her stage moniker at age 17 - a name bestowed on her by the noted San Francisco-based bluesman Quinn Harris, for whom she sang backup - you might think that even then she boasted the electrifying magnetism and blues-fueled assurance that she does now at age 58.
"Oh, no," she says, with a laugh, during our recent phone interview. "Quinn Harris named me Lady Bianca because I was so square."
Regarding the headliner of the R&B ensemble Quinn Harris & the Masterminds, Lady Bianca recalls, "He'd say, 'You're just so square. So conservative. You're such a lady.' And guess where they worked? They worked at, like, places where there were topless dancers and stuff like that. When I took the job, I didn't know he was in that kind of club environment. All I knew was I was singing in a band.
"It was very scary," she continues, "and I was underage, so it wouldn't have been good for the club owners if they knew. But I could sing my butt off, see? And I loved the music. So I never sang topless - I never got involved in any of that - but when it was time for me to come out and sing, I sang."
By age 17, Lady Bianca had already been singing for many years. Born in Kansas City, she and her family moved to the San Francisco area when the future blues artist was four, and she credits her stepfather, Ernest Lee Thornton, with much of her childhood interest in the blues.
"He was very instrumental in showing me about the music," she says. "We basically listened to a lot of gospel and R&B. Aretha Franklin, The Mighty Clouds of Joy ... . Ray Charles was one of my favorites. And B.B. King. My stepfather loved them so much."
Beyond singing, young Bianca Thornton also showed an affinity for a particular musical instrument. "I always played the piano," says the artist. "Since I was four. But I wasn't classically trained or anything. I just played and sang what I heard in my mind. What they call 'play by ear.'"
At an age when many high-schoolers are getting jobs in fast food, Bianca, as she tells it, "was just a singer with the nice rhythm-and-blues bands that they had at that time in the Bay area" - among them Quinn Harris'. "We lived in San Francisco up on a really tall hill, and I got introduced to Quinn ... ," she says. "I don't know where it was, actually, but he did the music I liked. There were some really topnotch R&B bands that worked around there."
In 1970, Bianca made her recording debut on Quinn Harris & the Masterminds' All in the Soul, an album featuring two tracks ("Stop Telling me Lies" and "We Got to Live Together") that she herself wrote and performed. And two years later, she appeared on-stage in a presentation of jazz legend Jon Hendricks' Evolution of the Blues, a production that found Lady Bianca playing Billie Holliday, and singing the artist's classics "Good Morning Heartache" and "God Bless the Child."
When she first got the role, says Lady Bianca, "I didn't really know about her. But something about Billie Holliday struck me, and I tried to find every inch of everything about her, and mimic how she sounded. In the end, I really loved her."
Despite these early successes, the nightclub gigs that Lady Bianca continued to play were ones her parents didn't necessarily approve of.
"Oh no, they never came!" she says, laughing, when asked if her folks attended any of her performances as such topless venues as Big Al's and The Brass Reel. "My mother would never come to anything like that, and my stepfather wouldn't, either."
In a partial attempt to appease them, Bianca applied for, and earned, a four-year scholarship to the prestigious San Francisco Conservatory of Music, which she says pleased her parents to no end: "They wanted me to stay with the opera and be a colaratura.
"But I didn't finish," she says of the school she attended "for a couple of years," where she studied music theory and composition, and received additional vocal and piano training. "I left because I felt, as a young person, that I basically couldn't create my own music there. Because I was changing all the arias. I was changing the piano parts and key signatures to fit how I felt the music, and when I got into Bach and Chopin and Beethoven, I kind of heard a gospel spin on them. I don't know why I heard that, but I did."
However, it didn't take long for Lady Bianca to again score professional work after her time at the conservatory, and among her first jobs were singing backup for the San Francisco gay icon Sylvester - who, she says, "taught me the extravagance of dressing" - and performing as a pianist and background vocalist for Sly & the Family Stone.
"I lived up the hill from Sly in San Francisco," she says, "and I went to school with his sisters, and I always loved his music, and always loved him. I just thought that the music was so creative. So I promised myself, 'One of these days I'm going to sing with Sly.' And I didn't get to sing with them when they were really big - I only got to sing with him on the other end - but I did get to. He's a fantastic guy."
During this period, Lady Bianca also toured as a backup singer and pianist for Frank Zappa. But her 1976 tenure with the musician, she says, lasted only one month, partly because of the suggestiveness of Zappa's lyrics. "I was still young, and instead of just going out and doing it, I was thinking, 'What are my mother and father going to think of this?'"
She laughs. "But to this day, I'm really thankful for that experience, because even though I was afraid of it, it did give me the confidence I needed. The confidence to go out there and be able to sing that."
Years of touring, studio, and commercial work followed; Lady Bianca frequently toured with Van Morrison from 1981 to 1985, recorded background vocals for such artists as Merle Haggard and Taj Mahal, and could even be heard singing on several California Raisins commercials. Yet as she attests, her solo career truly started when, in 1984, she met the man she would go on to marry - songwriter/producer Stanley Lippitt.
"He says he met me on the radio," says Lady Bianca with a laugh. "I was singing at a local nightclub, and he heard me on the radio, and he ran down there to have me do some of his songs. But he didn't get down there until about one o'clock, and I wasn't there. I had left."
Eventually, though, the pair did meet, and on their first date - which Lady Bianca says consisted of "wine and pork skins at my house" - the two also teamed up for the first of what would go on to be many collaborations.
"It was a song called 'Passion,'" she says, "and we were crying when we wrote this song. I don't know why, but I think Stanley loved me, and I loved him, too - though I didn't want him to know how I felt about him. So we kind of continued our friendship for about four years, and then we moved in together ... . And in 2001, we finally got married."
They also worked together to release 1995's Best Kept Secret debut, an album featuring songs written by Lady Bianca and Lippitt, and the first in a series of solo recordings and professional collaborations that includes 2001's Rollin', 2003's All by Myself, 2005's Let Love Have Its Way, and this past January's Serving Notice.
"He writes fantastic music for me," says Lady Bianca of Lippitt, "and we just have a fantastic time. I mean, we fight and cuss and argue about the work, but when it gets done - when I get to play the music the way I want it to go and Stanley gets to put his lyrics to it - it's a very good combination."
With Living Blues magazine writing, "Lady Bianca's music enhances and brilliantly synthesizes most major American vernacular strains - blues, country, gospel, jazz, and rock," local audiences will be treated to the artist's signature style during her July 1 Mississippi Valley Blues Festival performance, the singer's first appearance at the fest since her 2001 booking. She admits, though, that she's hoping for more cooperative temperatures this time around.
"Oh my God it was so hot!" she exclaims with a laugh. "I was just breathing in hot air. It was a great set, but we almost died!"
And following her Davenport engagement, Lady Bianca will return to California, where she was inducted into the Bay Area Blues Society's Hall of Fame in 2008, and was even awarded a special citation, in 2002, by Jerry Brown, then Oakland's mayor and now California's governor.
"That's right, I got the keys to the city!" she says. "I thought that was just fantastic. Although my keys don't seem to work in the city. I don't know where in the city they will work, but I have them, so I'll keep trying doors 'til they do."